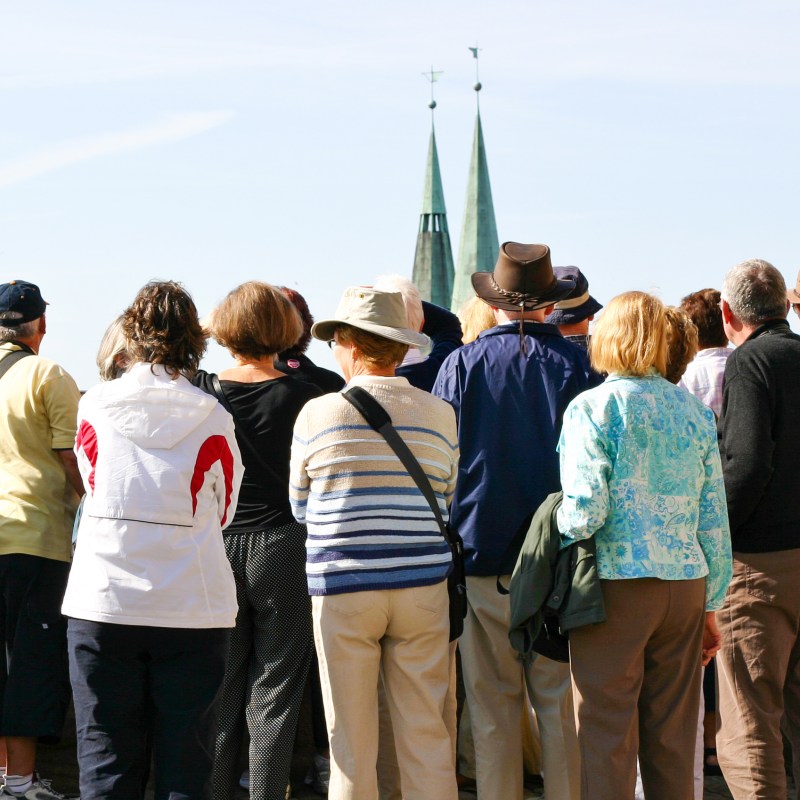 Picture setting off on a self-guided adventure with the ability to get up and go as you please. You'll journey to places you've learned about during endless hours of research while also stopping in new places you discover along the way.
Perhaps everything about that scares you out of your mind and sounds like the worst trip ever. Maybe you say "Forget being Dora the Explorer!" and would much rather be led by a tour guide where you're surrounded by fellow travelers who are equally excited about seeing places you would never have discovered on your own. If you're the type of traveler who appreciates the guidance and structure a group tour offers, you'll be excited to hear about the benefits firsthand from seasoned travelers. That said, if you prefer to DIY your vacations, it's time to understand why you might want to book your first group tour travel experience.
Sit back, relax, and discover some of the benefits you can expect participating in a guided group tour trip for your next vacation!
Depending On The Area, It's Safer
Something that should always be taken into consideration when deciding on whether to opt for a group tour or go it alone is the safety of the location you want to travel to.
Talek Nantes of Travel with Talek said, "If it is a remote and potentially dangerous destination, you are better off with a knowledgeable guide."
Choosing to explore off the beaten path in a foreign country always comes with risks, and this is especially true when a country or region has known safety and security issues. Beyond safety concerns, it is equally important to note whether the country you're traveling to widely embraces and speaks your language. If not, then venturing off on your own without the proper knowledge of the local language will pose many problems.
Travel blogger Becky Breshears of Over 50 Traveling (formerly known as Traveling from Boise) said, "Frequently it is worth the money for safety and language barrier reasons. It does depend on the location to which you are traveling and how savvy you are with language and technology. We have had great luck on adventures planned for us in Southeast Asia as well as Ecuador."
It Saves You Research Time
Some people find a thrill and sense of excitement in researching and mapping out their own itineraries for their trips. If you are not this person, then this benefit will be especially appealing to you. You may pay a bit more, but in the grand scheme of things, if researching takes away from the joy of vacationing, turning it into more of a job, then sitting back and paying for a group tour will greatly benefit you. Instead of stressing over what you'll do and see each day, your tour guide or company will do that for you. You'll have planned out, day-by-day itineraries for your trip before you even step foot on a plane.
Julie Dawn Fox of the travel blog Julie Dawn Fox in Portugal said, "Tour packages save the traveler a considerable amount of research time, both before and during the trip as there's no need to look into hotel and tour reviews, restaurants, museum opening times, et cetera. If you're a busy person, the savings in time and stress can be invaluable."
You Can Cover More Ground
Often, when you decide to do your own thing on a trip, seeing multiple cities or towns within your chosen country can become quite tedious or even impossible. Maybe you only have a few days and want to see what variety a country or region larger than you feel comfortable traversing alone has to offer. If yes, this benefit will speak to you.
Lyn Lindfield of The Travelling Lindfields said of her trip to Cambodia and Vietnam, "Visiting all the little villages and larger towns would have been almost impossible on our own."
Of her trip through Greece, travel blogger Barbara Weibel of Hole in the Donut Cultural Travel said, "I find a tour is a good way to sample many different destinations within a country or region in a short timeframe. Doing so allows me to identify places I might like to return to for a longer stay."
You Won't Have To Obsess Over Transportation
Sometimes nothing makes people more nervous on a trip abroad than having to figure out public transportation. The bottom line is, Uber isn't a thing everywhere you want to go. Public transportation can either be confusing or sketchy and renting a car isn't always as easy as you would think. Luckily, by partaking in a group tour you can lay your transportation anxieties to rest.
Linda and David of Retired and Travelling agree that group tours are a better way to explore, especially when it comes to transportation. "A travel tour package has worked out well for us when exploring a new destination where we were not sure how easy it was to get around," they said. "When we visited the Czech Republic we were not sure about public transit to less touristy places and were not sure about renting a car. We did an amazing land tour from Prague to Budapest as a group tour. We saw so much more than we would have on our own."
You're Surrounded By Fellow Travelers
Sometimes solo travelers set off on their own journeys simply because they find more enjoyment in being alone. That said, if you're a solo traveler who loves the company of others, then this is a great reason to book a group tour.
Suzanne Stavert of Adventures of Empty Nesters put it simply: "I think group travel is an excellent idea for single women — and men."
Travel blogger Beverley Malzard of Travelgal on the Move also said that with group tours, "there's company for either singles or couples who like to travel with like-minded people."
Of course, there are the key landmarks and attractions that are essential to experience when visiting any destination, but what happens when you want to take a deeper dive into a country's culture? Discovering those tucked-away treasures can be hard to do on your own because, let's face it, you probably have no idea where to go or what to prioritize. When you invest in a group tour, however, your tour guide will most likely have in-depth knowledge about some amazing sights that the typical tourist would never know to visit.
Inka Piegsa-Quischotte of GlamourGranny Travels said that she ditched her norm of self-guided traveling and tried a group tour in Mongolia. "I usually travel on my own schedule, but was very happy to join a package tour to Mongolia as otherwise I wouldn't have been able to see certain places and meet out-of-the-way tribes."
Michela Fantinel of Rocky Travel believes group tours are worth the investment. She told us "A tailor-made tour package can be of great value in terms of the wealth of information you get out of the tour, plus things and places that you aren't likely to see without a local expert guide."
They're Great For The Shy Adventurer
We all have an inner adventurer in us just waiting to burst out. Some people just have a harder time letting it take the lead than others. For the shy adventurer, booking a group tour can majorly help you avoid some of the traveling anxiety you may have.
Nancie Lee of Aperture of my Soul shared several thoughts about group tours for people who are anxious about traveling. "Travel tour packages can be worth every penny in many cases. I believe they allow people to travel that might not otherwise. Traveling to unfamiliar foreign lands or home country locations can be daunting. Not everyone has that adventurous, follow-the-wind spirit. Many people want to see great attractions and experience the local culture in a scheduled amount of time."
Diving into an adventure is one of the best ways to overcome any travel fears you're facing according to Weibel, and a group tour will help you ease into that.
"I've come to realize that there is no one best formula for everyone and that, especially in the U.S., many people are afraid to travel independently," Weibel said. "If a tour removes that fear, it provides a valuable service. The most important thing is to travel, to meet people from different cultures, and to realize that there is no reason to fear people who are different."
Sometimes You Don't Have A Choice
This isn't the case always, but when it comes to some foreign countries and regions, you'll really benefit from a group tour — or have to skip going at all. That's right: It's illegal to tour certain places any other way. especially because it's illegal to tour the area anyway else.
Weibel told TravelAwaits her feelings about group tour travel have changed over time. "For years I was adamant about blazing my own trail. These days, although I still prefer to travel independently, I do occasionally take tours. Sometimes there is just no other option, as when I recently went to Tibet with Himalaya Journey. Obtaining a Tibet Travel Authorization requires travelers to be booked on a tour with an approved Chinese operator."
Before scheduling a trip abroad, check to see if there are any travel restrictions and plan accordingly!
Now that you know some of the pros of group tour travel, maybe you want to prepare for a seamless group trip. Consider these common group travel challenges and how to overcome them well in advance!