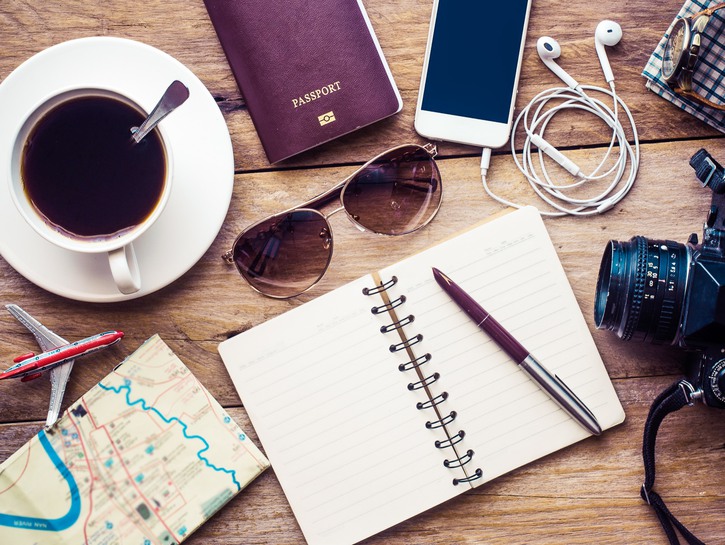 There are some folks who can't hit the road without also hitting every snag and bump along the way. Why them, and how do other people travel so seamlessly?
As it turns out, there are a few little-known travel hacks that not only save money and stress but can help you make the most of your vacation. All of these hacks are easy, and most of them are free! You're on vacation to get away from it all, have some adventure, and see the world — not to deal with scary or irritating situations. Who has time for that?
Fortunately, with a little planning and insider information, you will be able to glide through your trip and put the focus where it belongs — on having a ball.
1. Get In STEP
U.S. citizens can and should sign up for the Smart Traveler Enrollment Program, or STEP, when traveling internationally. This nifty program lets you choose which parts of the world you'll be visiting and sends you information that you need to know to stay safe.
A natural disaster, civil conflict, or other emergencies could have major ramifications for your vacation. At best, you might be inconvenienced. At worst, you could find yourself in danger. Signing up for STEP is easy and free, and the program will not spam you with unwanted emails. Enrollment is a precaution that could pay off in a big way later on.
2. Find The Best Flights
Seasoned travelers know that you can find cheaper flights if you shop around.
There are several different programs, including Viator, Google Flights, Skyscanner, and Secret Flying, that allow you to scan through multiple airlines and select the flight that works best for you. You'll almost always get a better deal if you are willing to fly during low season, deal with multiple layovers, or fly at times that are less popular.
Layovers are never any fun, but depending on how much you can save, they might be worth it. Check out LoungeBuddy for a list of upscale airport lounges all over the world where you can put up your feet, enjoy a cocktail, or even catch a nap while you wait for your next flight. Also review our tips on how to access airport lounges even when you're not a member.
Big savings on Airport Transfers
3. Bring Your Own Water Bottle To The Airport
Airports are notorious for raising the prices of just about everything. Bringing your own reusable water bottle with you is good for both your pocketbook and the environment.
It needs to be empty when you go through security, but you'll be able to fill it up almost immediately when you're on the other side. Note that this may not be an option in areas where tap water isn't potable. Committed to using your own bottle? Invest in a personal — and portable — filtration system like the water bottles available from LifeStraw.
4. Get Past That Language Barrier
Download the Google Translate app on your smartphone and you'll be able to break through that language barrier like a pro. Google Translate is very easy to use. You can either type in the word or phrase that you want to be translated, or you can speak into the app itself.
Google Translate will only work with Wi-Fi or data, so you'll need to keep that in mind, but it really is a fun little tool that facilitates communication with local people and can help you get around.
5. Watch Your Wi-Fi
Speaking of Wi-Fi, be wary of logging in to public sources of Wi-Fi while abroad. Many networks are unsecured, meaning that if someone knows what they're doing, they can watch your activity in real time. Need to use public Wi-Fi? Don't access your bank account or other sensitive information until you're on a trusted network.
A handy trick to know if you are on secure or insecure Wi-Fi is simply to check the settings on your phone or laptop computer. The network will say either "secured" or "open." Secured networks much safer because they are encrypted.
Of course, you can check the news, the score of the game, or do a little research on your final destination while using public Wi-Fi. Just save the banking for later!
6. Use Local ATMs
Traveler's checks used to be the preferred way to pay for things abroad, but they are no longer the best choice. It's far better to use local ATMs. Check with your local bank to see if they have a sister bank in the country you're visiting. If they do, you can likely avoid paying some charges and fees. Also, always keep the following ATM rules in mind:
Only use ATMs in well-lit enclosed areas.
Do your research and use ATMs affiliated with reputable local banks.
Remember that smaller towns might not have operational ATMs and plan ahead.
7. Park With Ease
Many travelers opt to rent a car when traveling as it provides them with a lot more freedom. It can be difficult to locate parking in a new city, though, so check out the lay of the land beforehand with a website or app like Parkopedia.
The simple step of planning ahead will pay off in big ways when you arrive in your destination, especially if your plane lands after the sun has set. Knowing where you're going is always a huge stress reliever.
The biggest hack of all is to remember not to make a mountain out of a molehill. Most hassles and minor problems pale in comparison to overall travel experiences. Prepare thoroughly and have fun exploring the corners of our big, beautiful world!
Photo Credit: photobyphotoboy / Shutterstock
Photo Credit: hxdyl / Shutterstock