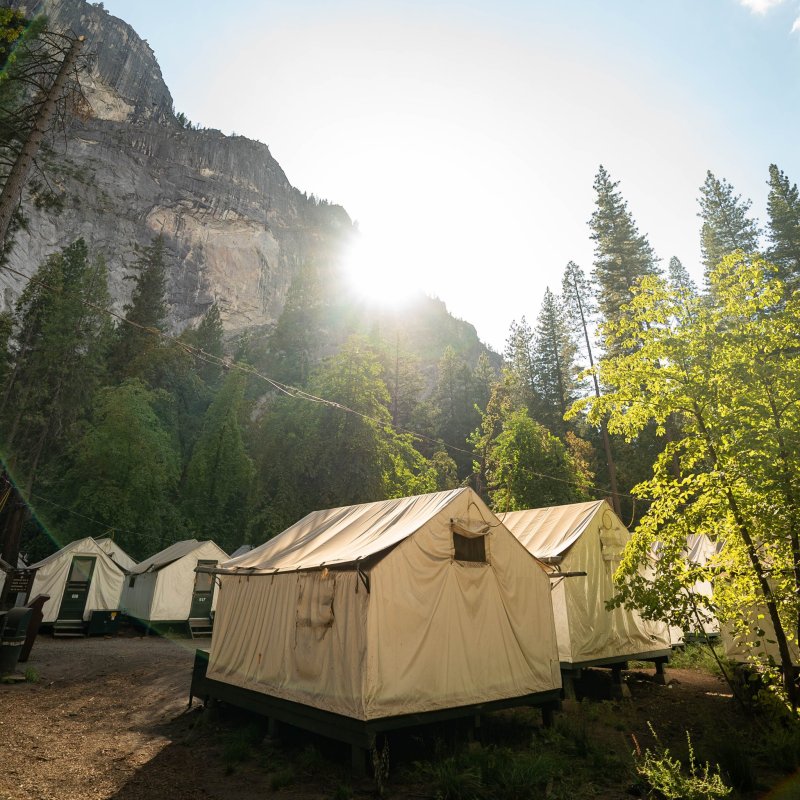 Luxury camping isn't usually the first thing that comes to mind when planning a trip to Yosemite National Park. Travelers typically envision pitching a tent, snuggling up in a sleeping bag, and sleeping soundly within the wilderness of one of America's most cherished natural landscapes.
While idyllic in theory, the reality of roughing it in the outdoors (bugs and all!) isn't for everyone. Many travelers (myself included!) crave those essential creature comforts — a mattress, a shower, electricity — after a long day of hiking, exploring, and sightseeing. Should you just book a hotel room near Yosemite, and accept the fact that you'll miss out on some in-park stargazing?
No way. While still few and far between (hey, this is a rustic destination, after all!), a small number of glamping sites around Yosemite National Park have popped up, inviting visitors to completely immerse themselves in the wonders of the wilderness — no need to sacrifice the comforts of home. And with some options that allow travelers to stay in truly unique accommodations (think: a vintage train caboose or a covered wagon straight out of the Wild West!), glamping near this incredible park becomes a bucket list experience in its own right.
Here are eight gorgeous glamping spots near Yosemite National Park.
Vintage Santa Fe Caboose
This glamping spot near Yosemite National Park puts a new spin on the "sleeper train" concept. Whereas you typically book a berth on a train to catch a few z's en route to a destination, this luxury camping site in Oakhurst, California (just 20 minutes from the park entrance!) is the permanent station for this vintage caboose.
The two-story rental comfortably sleeps up to four people, and includes modern amenities like a coffee maker, satellite TV with a DVD player, air conditioning, fresh towels and linens, plus a fridge, microwave, and even a hairdryer. In true glamping fashion, the caboose also features a 300-square-foot deck (perfect for barbecuing!) and a jacuzzi — just the way to wind down and soothe sore feet after hiking through Yosemite. Bliss!
AutoCamp Yosemite
Glamping start-up AutoCamp is taking luxury camping around Yosemite to the next level with its brand new property in Mariposa County. Nestled in the Sierra Nevada Mountains, this glamping park tempts travelers with a variety of accommodations, each with its own charms. AutoCamp Yosemite's 80 Airstream trailers feature sleek, minimalist designs with spa-inspired bathrooms, plush linens atop queen-size beds, convertible sofas, private decks, and fire pits.
Looking for something a little closer to traditional camping? Book one of AutoCamp's luxury tents, which are every bit as gorgeous as the Airstream trailers, just a bit more outdoorsy. And if you like more structure, try the classic cabin suites (vintage A-frame cabins decked out with modern interiors and furnishings) or the X Suite — a fully accessible cabin studio with a trellised deck, galley kitchen, and patio.
No matter where you stay, you'll have access to the mid-century modern clubhouse (with complimentary coffee and tea) and heated pool.
Yosemite Pines RV Resort
Glamping near Yosemite National Park gets the Old West treatment at Yosemite Pines RV Resort & Family Lodging, where you can stay in an 18th century-style covered wagon. Unlike the original covered wagons that early Americans used to forge their way out West, these wagons (which sleep four or six people) feature air conditioning, heat, a fridge, a microwave, and king-size beds.
Each wagon also has its own adjacent picnic table and barbecue. If you're looking for something slightly less antique (but just as fun), Yosemite Pines RV Resort has also converted a number of vintage Airstream trailers into luxury camping accommodations. Just the sight of them will induce some serious nostalgia for old-school family vacations.
Half Dome Village
If you'd like to stay at Half Dome Village, you better plan ahead — accommodations at the largest lodging facility in Yosemite Valley sell out 10 to 12 months in advance. Opened in 1899, the facility now features 70 cabins (some of which have private bathrooms), 18 standard motel rooms, and more than 300 canvas tent cabins for people who want an elevated camping experience just below glorious Glacier Point.
The property's amenities make it a major draw for travelers. Splash in the outdoor swimming pool in the warmer months, or glide around the ice skating rink in wintertime. There's also a pizza parlor, cafe, dining pavilion, and a bar where you can enjoy a nightcap with your fellow campers.
Ambitious hikers at Half Dome Village should take advantage of the property's easy access to the famous Half Dome Trail, one of Yosemite's "quintessential attractions" that covers over 17 miles and 4,800 feet of elevation. The views at the top make it worth every step of this rigorous trail.
Gorgeous Yurt
Glamping near Yosemite National Park finds its romantic side in this gorgeous yurt in Oakhurst, California. Located in a woody landscape in the foothills of the Sierra Nevada Mountains, the secluded rental gives travelers the opportunity to sleep in an architecturally interesting space, complete with curved walls and radial rafters.
Each morning, you'll wake up in a queen-size bed to watch the sun rise over the treetops and snow-capped mountains. You can also curl up on the sofas and armchairs in the lounge area, or snuggle up with your sweetheart near the wood-burning fireplace. From the spacious front porch, keep your eyes peeled for wildlife during the day and shooting stars in the evening.
Don't forget your marshmallows and chocolate — the yurt's fire pit is the perfect place to roast some s'mores.
Yosemite RV Resort
Does your dream luxury camping experience near Yosemite National Park involve a country cottage or rustic cabin? If so, look no further than Yosemite RV Resort in Coarsegold, California. The 35-acre property, with majestic oaks, roaring waterfalls, and rolling hills, offers quaint accommodations that make the most of nature.
The resort's Mountain Cabins and RVC Resort Cottages have kitchenettes, comfy beds, and loft spaces that give them a treehouse-like feel. Larger groups will feel right at home in the Summit Cabins, which sleep up to five people in a small house that looks like it was plucked from a sleep-away camp. The Cozy Cabins, on the other hand, are the ideal glamping option for a weekend getaway for two, with kitchenettes, queen-size beds, and private bathrooms.
With free Wi-Fi throughout the resort and an on-call concierge, you can be as tuned in to (or disconnected from!) the rest of the world as you wish.
Sophisticated A-Frame Cabins Above Bass Lake
Glamping around Yosemite National Park doesn't get more sophisticated than it is at this pair of A-frame cabins above Bass Lake. With the appearance that they were built atop a stack of firewood, these beautiful structures feature high ceilings, floating staircases, and sun-drenched living spaces.
The 16-foot windows offer some of the best stargazing opportunities in the area. Plus, you'll have access to 20 private acres of land to explore, spot animals, or lay out a picnic — it's like your own private Yosemite, sans the crowds. Talk about luxury!
Rustic Retreat At The Redwoods In Yosemite
For some, luxury camping doesn't involve anything that remotely resembles a tent. Enter the Rustic Retreat vacation rental at the Redwoods in Yosemite. The Platinum-rated, three-bedroom, three-bathroom cabin sleeps up to 10 guests and has tons of luxurious amenities that give other glamping spots near Yosemite a run for their money.
Heated tile floors in the kitchen and three private bathrooms mean you'll always have toasty toes, and the stone fireplace in the living room is the perfect place to sip hot cocoa or a glass of wine after a day at Yosemite. Plus, the 2,068-square-foot space has Wi-Fi, a washer and dryer, and even a jacuzzi hot tub. You'll feel like royalty every moment of your stay.
Need more glamping inspiration? Check out the top five places to glamp worldwide.
As of June 11, 2020, visitors need a day-use reservation in order to enter Yosemite. For more information about park guidelines, check out our full list of national parks requiring changes for visitors.
Photo Credit: The Redwoods in Yosemite
Photo Credit: Frode Bjorshol / Flickr