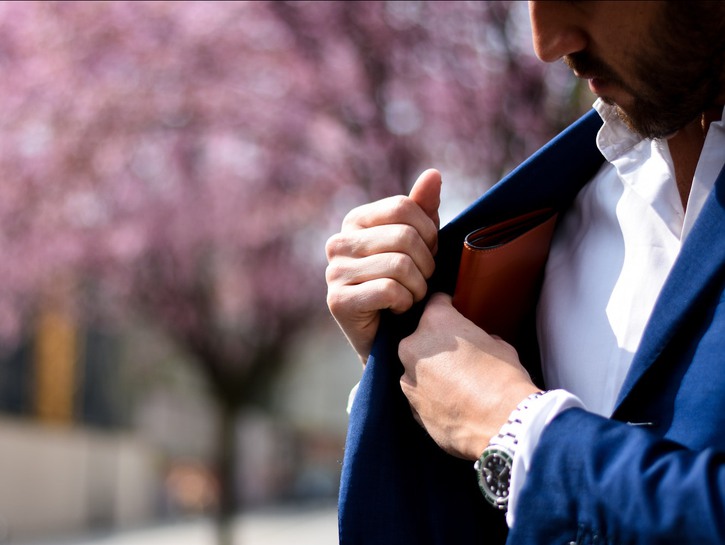 Whether your priority is style, security, or size, one of the wallets from this list is sure to be just what you're looking for.
1. The YaY Wallet
If you're looking for something small, affordable, and made in the USA, the YaY wallet should be right up your alley. It's made of stretchy, woven elastic, and comes in dozens of different designs, ranging from understated to downright funky, and it features double stitching for durability. If you can't decide which design to go for, you can certainly afford to experiment with more than one, since the wallet only costs $9.99. This little wallet doesn't have RFID blocking, but if you're looking for a small, utilitarian wallet, the YaY Wallet will fit the bill nicely.
2. Zoppen Multi-Purpose Document Organizer And Wallet
This travel wallet by Zoppen packs a lot of features into a relatively small package. Among other things, this tri-fold wallet offers a smartphone pocket, passport pocket, zippered pocket, key holder, and even a SIM card pouch. It is made of polyurethane leather and faux suede and features RFID-blocking shielding to keep your information safe. There are plenty of colors to choose from, and Zoppen manages to cram all these benefits into a wallet that has a footprint of 7.5″x5″x1″. Costs range from $11.99 to $16.99 depending on which color you select.
3. Tarriss RFID Neck Wallet and Passport Holder
Sometimes, you've just got a lot of stuff to carry, and you want to keep it safe. In that case, this neck wallet by Tarriss is sure to please. You can wear it over your clothes for ease of access, under your clothes to keep your goodies stashed away, or even folded up to become a more traditional travel wallet. There's even a breathable backing for those who choose to wear it under their clothing. It's durable, versatile, comfortable, and thanks to its RFID blocking capabilities, secure. It's only $16.97 and ships free within the United States.
4. Agilisk Travel Wallet And Document Organizer
If you're the designated pack mule of your traveling party, this wallet by Agilisk should give you the storage capacity you need. This wallet can hold up to nine credit cards and four passports, along with all the other odds and ends you need to lug around. It is made out of quality nylon and has an RFID blocking liner. The built-in side strap helps keep your wallet by your side, and ease of pocket access was a major consideration in the design. You can wear it around your neck, across your body, or on your shoulder. It costs $24.99 and comes in black, blue, or red.
5. Seawhisper Travel Clutch
Made of high-density waterproof nylon, the Seawhisper Travel Clutch is an ideal choice for those of us who refuse to let a little rain keep up from exploring. This clutch features four passport pouches, making it a solid option when traveling with a family. There are also 10 credit card slots, a spot for cash, and a zippered pocket for your most precious items. The detachable strap allows you to hook this wallet to your belt, backpack, or wrist. It comes in a variety of vibrant colors and offers RFID blocking and a lifetime guarantee. For $15.99, this travel wallet is tough to beat.
6. Active Roots Security Belt
While not a traditional travel wallet per se, the Active Roots Security Belt deserves mention for being streamlined and inconspicuous. No, this belt can't hold your passport, or even a credit card. That's not its intention. It's designed to hold your money, and maybe a key. It could hold a copy of your passport, at least, which could come in handy. Unlike traditional money belts, this belt is slim and unobtrusive. It keeps your money hidden in plain sight, keeping it safe from pickpockets and muggers. It costs $21.95, and you might like it so much that it becomes your everyday belt.
7. Pacsafe RFIDsafe V50
Pacsafe offers an assortment of travel equipment, with their priority being security. Therefore, it should come as no surprise that the strongest asset of the Pacsafe RFIDsafe V50 is security. As the name suggests, if offers RFID blocking, and the detachable strap is constructed of difficult-to-cut Dyneema webbing, which means you can attach it to your belt or backpack without fear of a strap-slashing thief cutting it loose. It is made of nylon and boasts five card slots. No, it won't hold your passport, but it's stylish, light, compact, and it will keep your cash and cards protected. It costs $24.95 and comes in three color options.
When it comes to choosing a travel wallet, the options are endless. The wallets from this list will keep your items safe, meaning you won't have to worry and can focus on having a good time, wherever you may roam.