During the cold and dark days of a winter that feels like it may never end, we find ourselves daydreaming about warm afternoons lying on the beach listening to the soothing sound of waves crashing to shore. Sunny days and quality time with loved ones is the recipe to refresh the soul.
Renting an Airbnb is the perfect way for families or snowbirds to vacation without the fear of crowds. A personal vacation home allows your group to spend your vacation surrounded only by its members to create a lifetime of memories. We rounded up some of the best Airbnb rentals on Florida's stunning East Coast beaches, stretching from Daytona Beach to Miami. No matter your price range, we included the top bargain, mid-range, and splurge rental homes available.
Daytona Beach
Bargain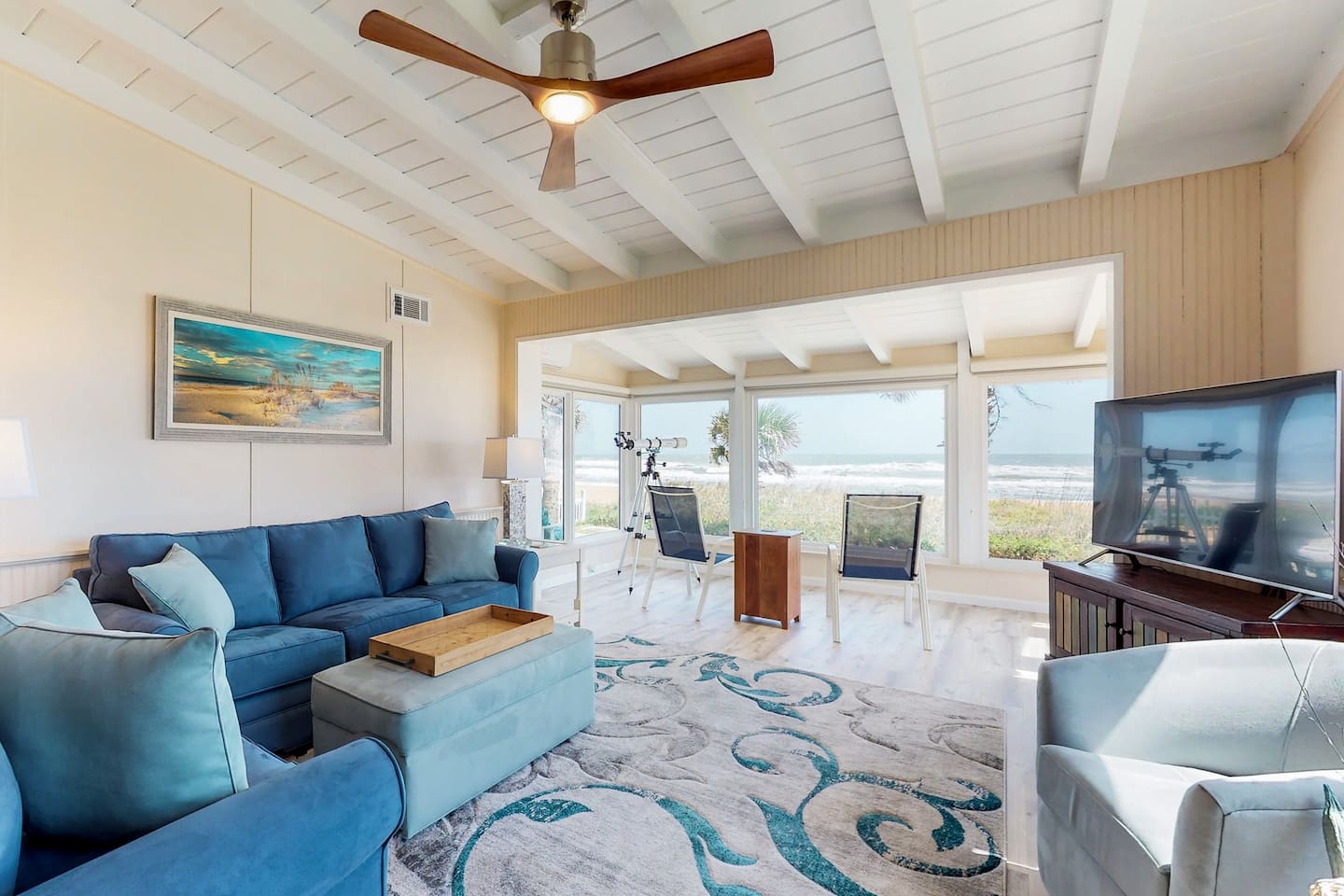 Buy Now
Bedrooms: 2
Baths: 2
Starting Price: $137/night
This Daytona Beach bargain rental home is located on the breathtaking coral sands of Ormond Beach. With private beach access and equipped with beach toys, umbrellas, and chairs, you may never want to leave. It's also dog-friendly so your favorite furry companion can enjoy the stay with you. If you decide to explore, it is only eight miles from Daytona Beach's most popular attractions.
Mid-Range
Buy Now
Bedrooms: 3
Baths: 2
Starting Price: $179
The modern Blue Marlin vacation home is a 2-minute walk to the white sandy beaches, boasting its own private pool and screened-in porch. It's conveniently located near the popular Daytona Beach but still distanced enough to allow quiet and solitude. Beach toys and bikes are included with the rental, offering plenty of activities for all.
Splurge
Buy Now
Bedrooms: 3
Baths: 4
Starting Price: $351
This waterfront home looks out onto your own private beach! The home is designed for maximum ocean views with floor-to-ceiling windows, a large deck, and an enchanting second-story balcony. Lounge in the private hot tub only steps away from the sand, and you'll feel like you've found paradise. With many extra amenities, including a sauna and garage, this home has all you need for a winter getaway.
Jupiter
Bargain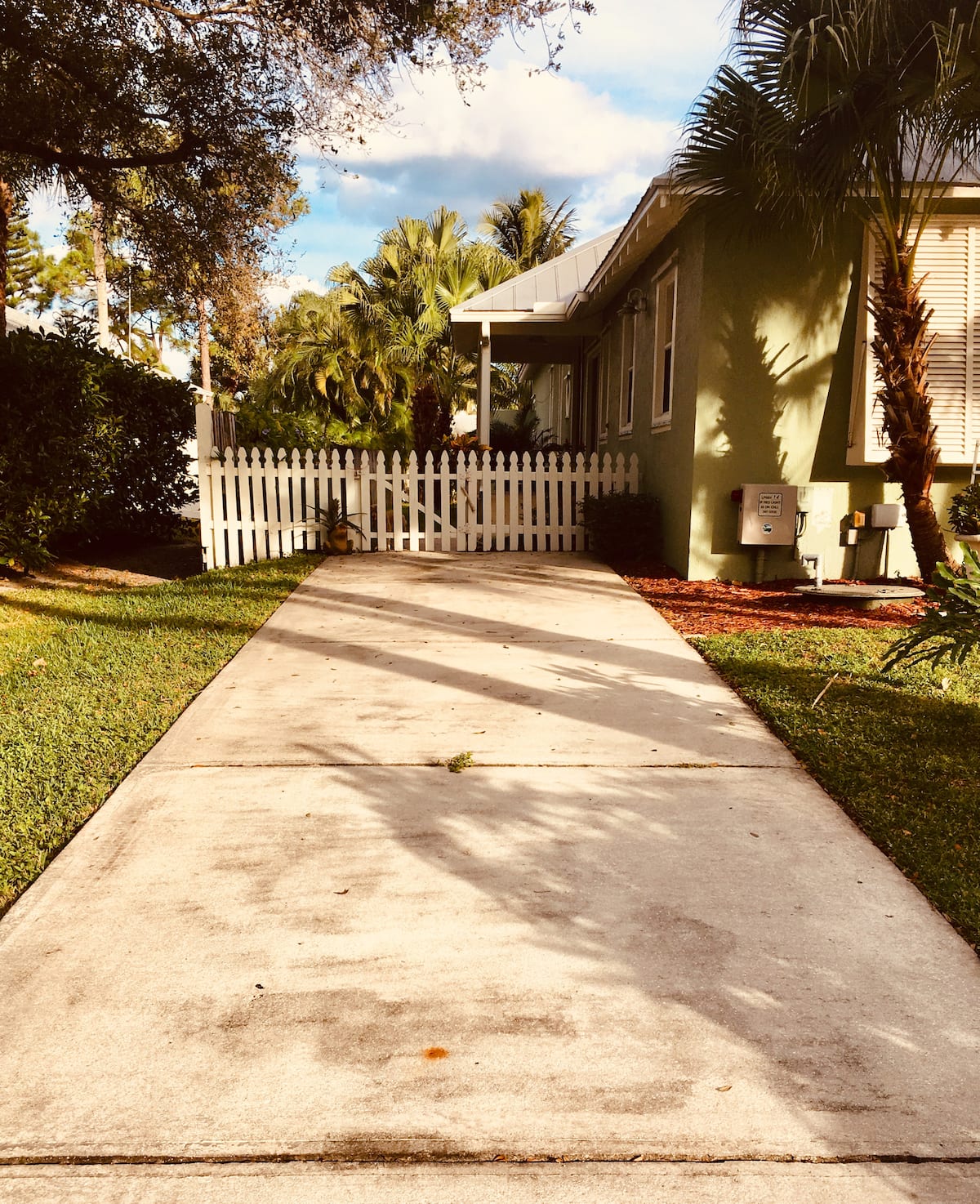 Buy Now
Bedrooms: 1
Baths: 1
Starting Price: $89
This "kozy kottage" is exactly what the name describes, an adorable 430-square-foot beach town cottage ideal for solo or couple travelers. In addition to the basic living amenities, it also offers a hammock, barbecue pit, and private yard with a garden to maximize your living quarters. It's located less than 2 miles from the beach and a quick drive to the St. Louis Cardinals and Miami Marlins Spring Training facilities.
Mid-Range
Top Jupiter Mid-Range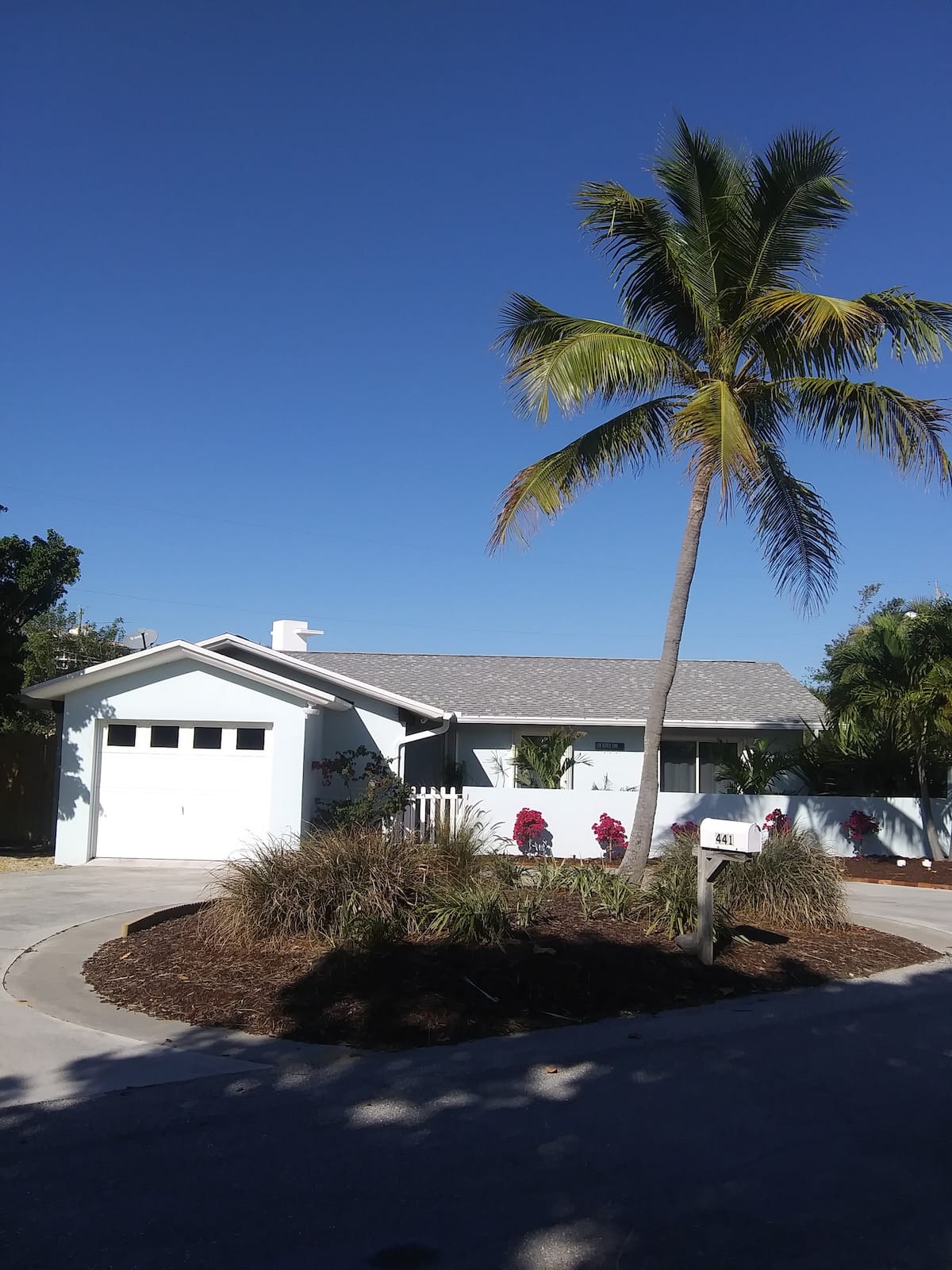 Buy Now
Bedrooms: 3
Baths: 2
Starting Price: $225
This uber clean remodeled home offers extra perks like a tiki hut, an outdoor rain shower, and all the beach necessities you'll need, including towels, chairs, an umbrella, and a cart for easy transport. Don't pass up this Juno Beach gem, boasting 100% 5-star ratings from over 60 happy guests.
Splurge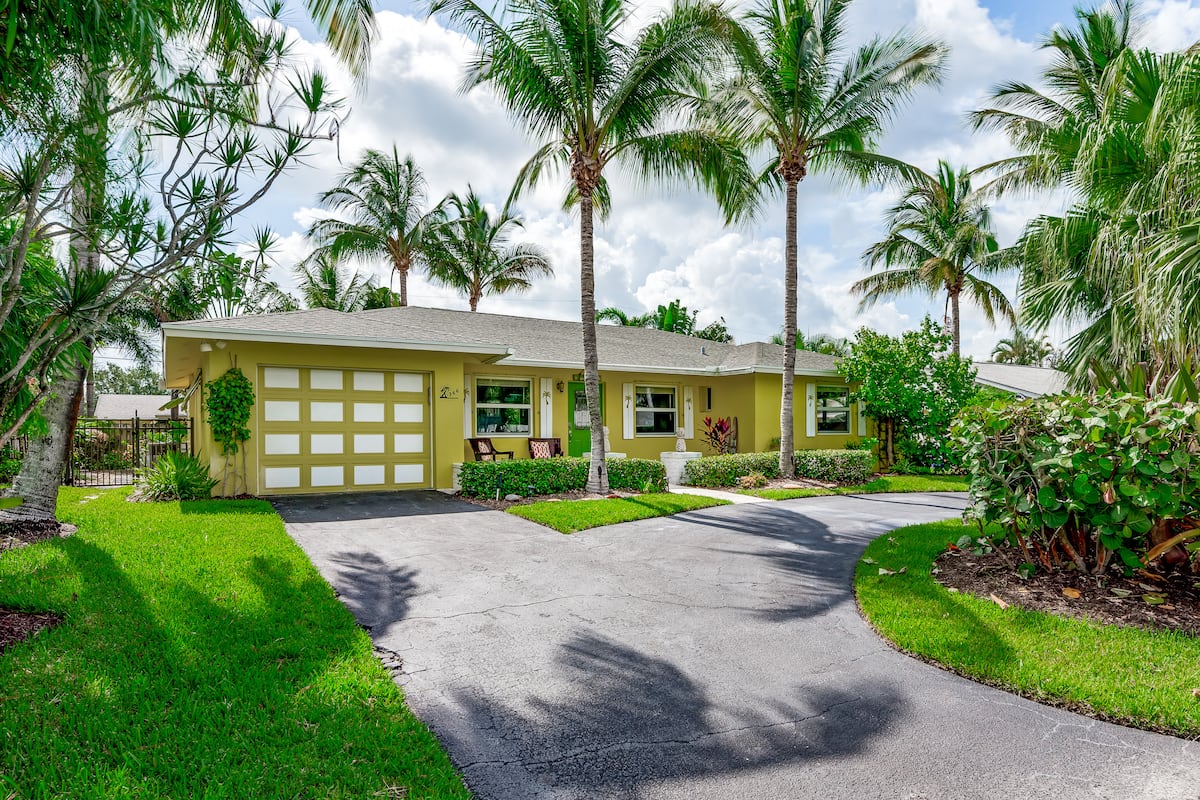 Buy Now
Bedrooms: 2
Baths: 2
Starting Price: $300
This Floridian-style home is beautifully clean and modern on the inside while offering the ideal tropical escape vibes on the exterior. The home includes a private heated pool, hammock, outdoor tub and shower, and a large patio dining space for the ultimate relaxation destination. It's a quick drive to everything Jupiter has to offer, including the beach, Spring Training facilities, plenty of dining and shopping, a state park, and the Jupiter Lighthouse for history buffs.
Miami Beach
Bargain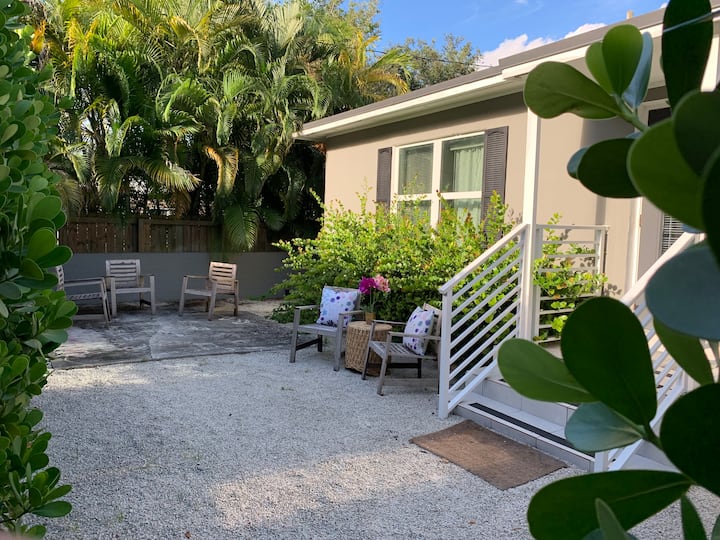 Buy Now
Bedrooms: 2
Baths: 1
Starting Price: $101
This affordable home is located within a 15-minute drive of both Miami Beach and Miami International Airport for easy accessibility. It's on the Biscayne corridor within quick walking distance of the Design District. The cutesy and private front patio begs for long afternoons spent lounging and catching up on a good book.
Mid-Range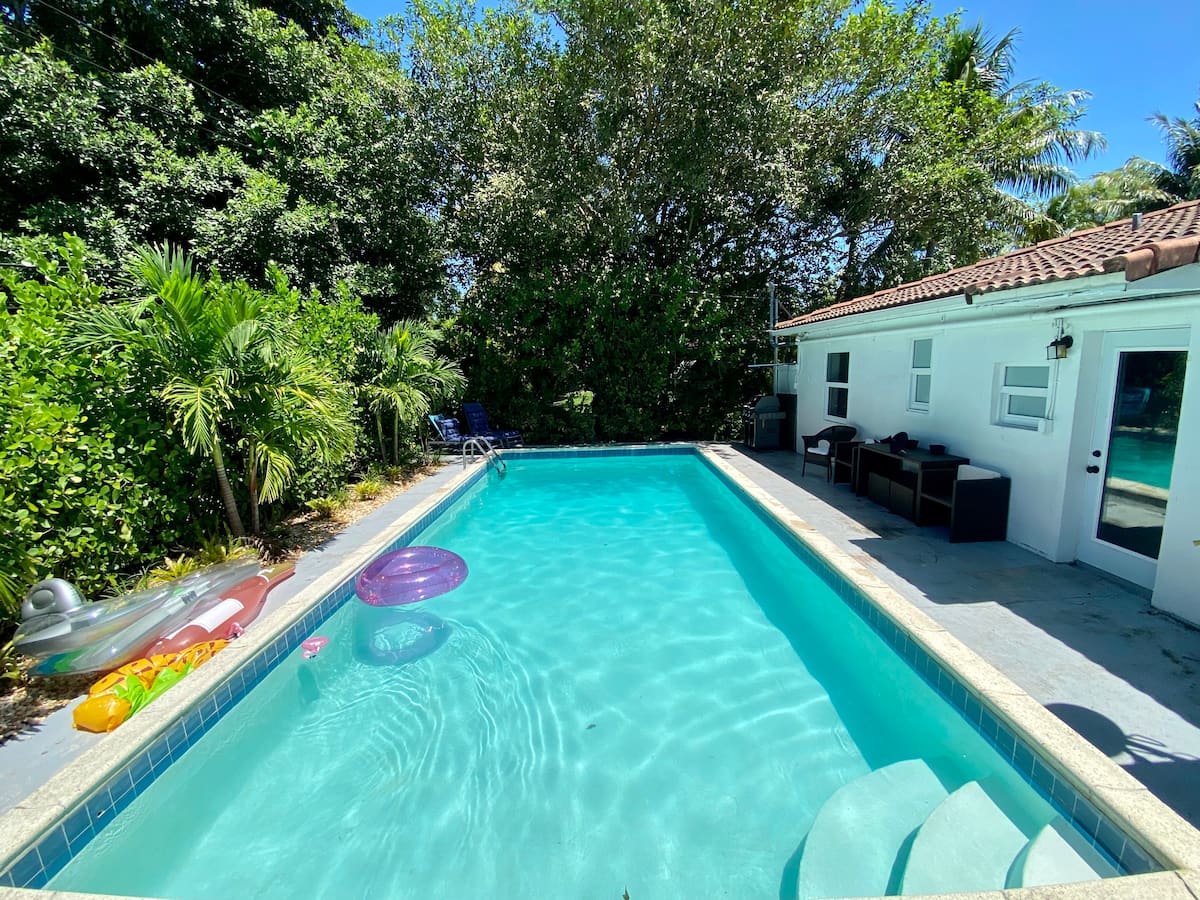 Buy Now
Bedrooms: 2
Baths: 1
Starting Price: $169
This home is located within a 10-minute drive of the beach in Biscayne Park. It has your own personal pool with a barbecue pit and patio if you're more of a poolside person than an ocean lover. It's also near a golf course for the avid golfers out there. This affordable home in Miami promises quiet and relaxation.
Splurge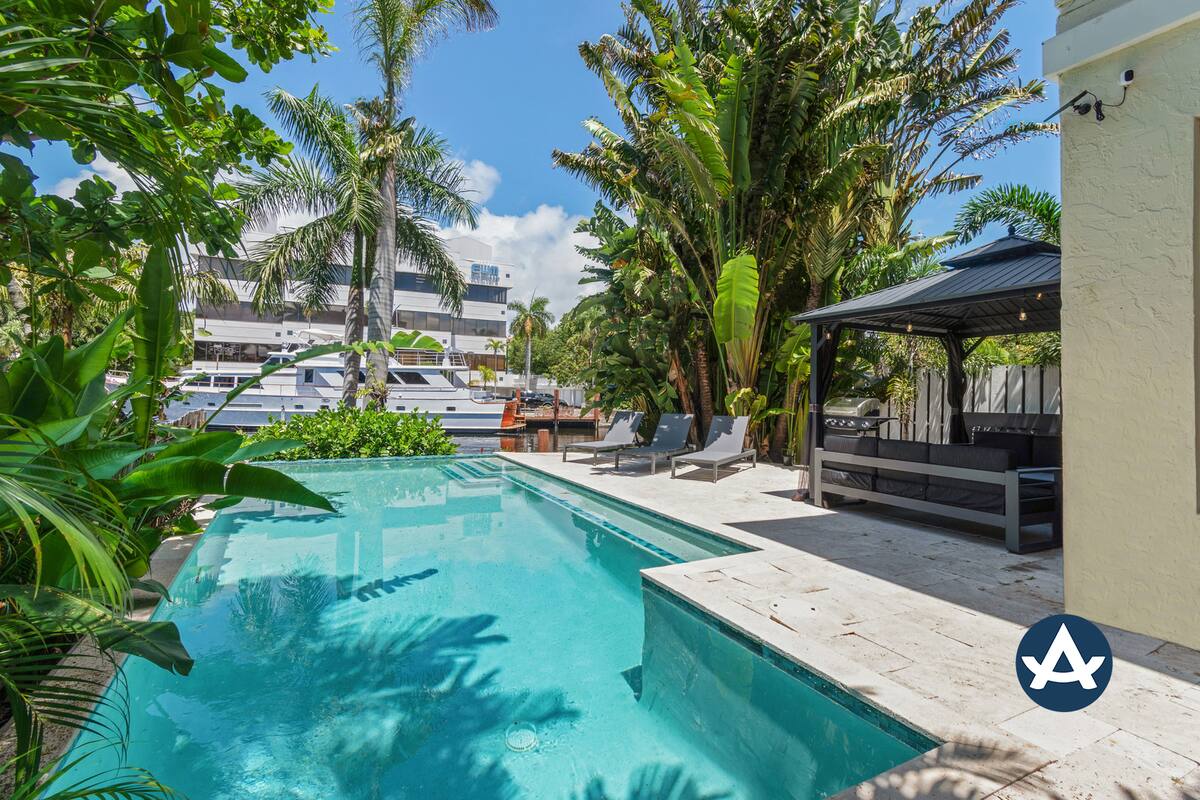 Buy Now
Bedrooms: 5
Baths: 5
Starting Price: $993
This gorgeous chateau is located directly on the Intercoastal for those who enjoy watching luxurious yachts travel by. It has its own private pool, hot tub, and charming terrace, yet it's only a 10 min drive to Miami Beach, which means the possibility of endless activities during your stay. This large home sleeps up to 12, so round up your family members for the ultimate private Miami getaway.
Vero Beach
Bargain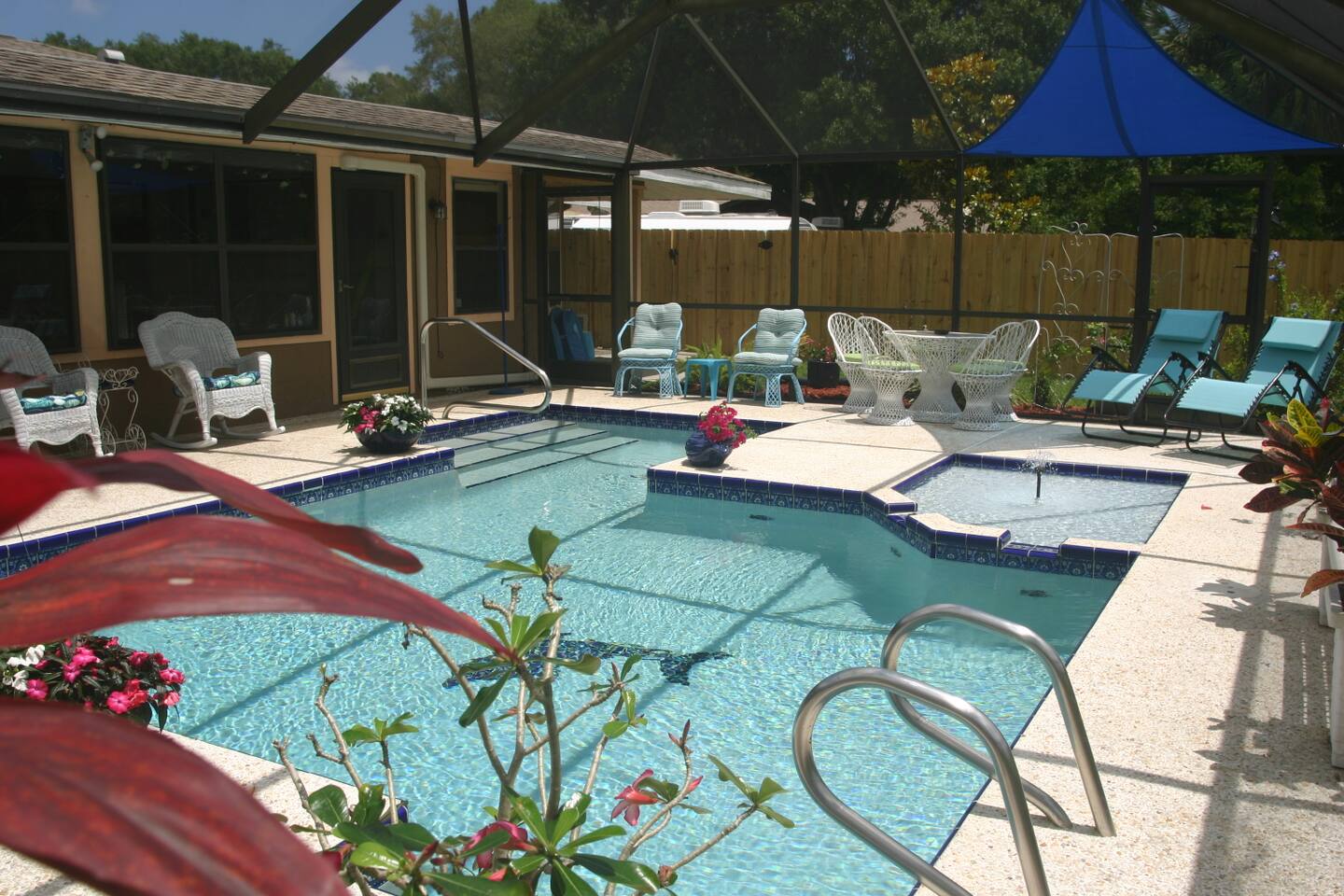 Buy Now
Bedrooms: 3
Baths: 2
Starting Price: $149
While this home is a bit longer drive to the beach (24 minutes), the private heated pool and cheerful screened-in lanai make it well worth it. Past guests rave about the cleanliness and hospitality the host provides in this well-stocked home. It's conveniently located within a short drive of the town's zoo and downtown area, and is only a 90-minute trek to Orlando.
Mid-Range
Buy Now
Bedrooms: 3
Baths: 3
Starting Price: $160
This cute home is located in a quiet Vero Beach neighborhood and is a short 9-minute drive to the beach. Enjoy your own private pool and gazebo in the backyard and a jacuzzi in the master bedroom. This home is great for longer getaways, as it has a garage and washer and drier included for renters' use.
Splurge
This gorgeous house is located on the Indian River canal and includes 3,600 square feet of outdoor entertainment space, along with private beach access. It is perfect for extended family getaways and offers plenty of activities for all ages, including a huge pool and jacuzzi overlooking the canal. This home is the perfect setting to create a lifetime of memories.
Dreaming of Vero Beach – your dream vacation awaits you
Top guest reviews
Beautiful place! Great view and location. You have it furnished lovely. Two things you might want to let owners know. The pool person came on Tuesday and I told him the vacuum appeared not to be sucking up the debris in pool. Told him the filter was full. He said it was fine and didn't empty it. Basically did nothing and left. Also the debris basket by the main equipment is full. That should be cleaned out. We know because we have a pool at home. So I tried to clean up as much as I could with the pool net. Lastly, the doors near the small table in the kitchen do not lock very well. We had to push from the inside and outside to get it to finally lock. So we just used the doors near the covered outdoor area and big kitchen table. You might want to have those doors checked. Hope you don't mind me sharing this. I would want someone to tell me too.
We absolutely loved staying up in Vero Beach! We visit the A1A yearly and this was bar far the best trip. Beautiful home where we could swim, fish, and play games together. Playing games around the table with our teens was so special. We loved our simple trip to visit family and spend time together. Julie was amazing and super response if needed. Looking forward to our next stay.
Home was beautiful and amazing however the hottub never worked for the duration of the stay and the a/c was set to 75. It was hot in the house. At one point it reached 80 and there is no way to control the thermostat. The house is decorated beautiful and supplied with everything you need. Would stay again if the hot tub is. functional.
WOW, what a beautiful home! The property was super clean and the owners were very responsive to any questions that we had. Having private beach access nearby was amazing! Being that it was the off-season, most days we were the only family on the beach–it was like being on a private island! Our multi-generational group found the home to be very comfortable. It was absolutely perfect for our needs. I wouldn't hesitate to book again.
The house is lovely! The dock was a special treat for my 3 grandchildren. They spent hours fishing! The house is set up nicely for 2 families. A great location!
Read Less ∧
Read More ∨
Top Palm Beach Bargain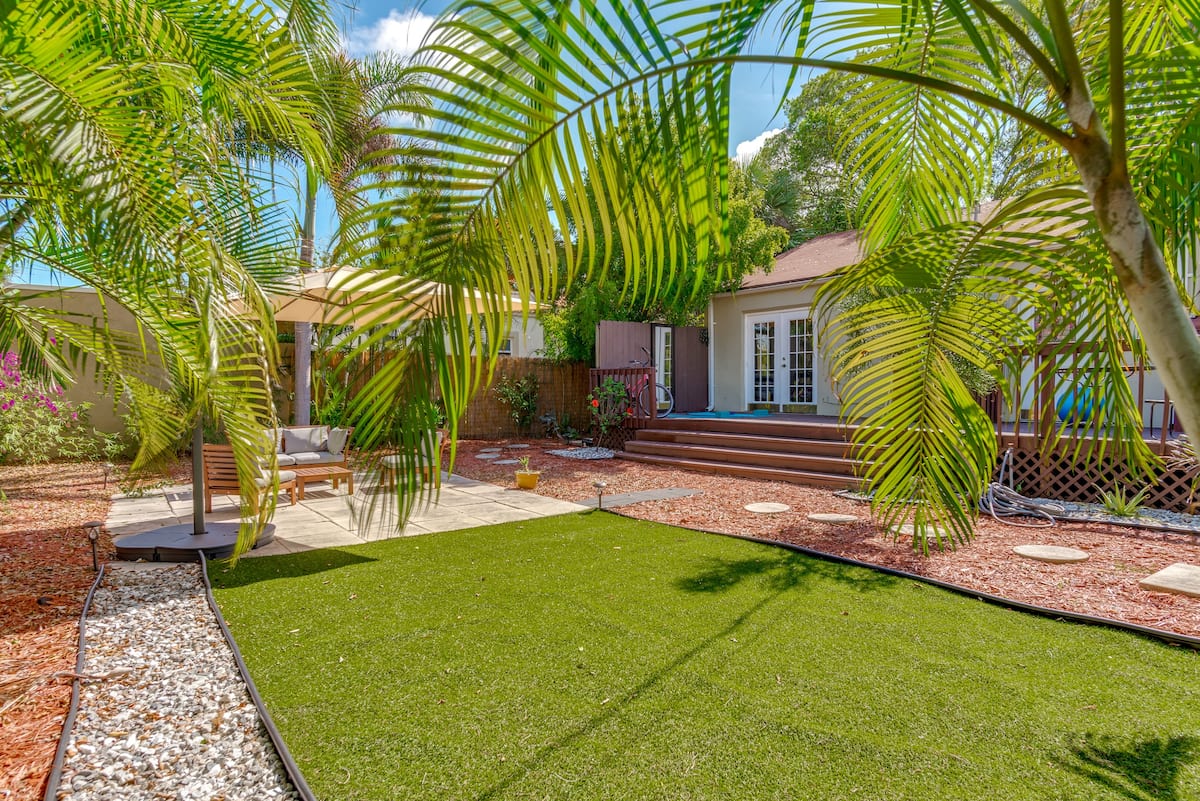 Buy Now
Bedrooms: 2
Baths: 1
Starting Price: $113
This "Piece of Paradise" vacation rental is designed specifically for ultimate relaxation. We're all in need of a refresh after this year's events, and this owner added many unique touches to motivate this. It has a large yoga deck, encouraging its inhabitants to recenter themselves. It also comes with bikes for an easy and healthy way to explore the community. Don't miss this bargain retreat!
Mid-Range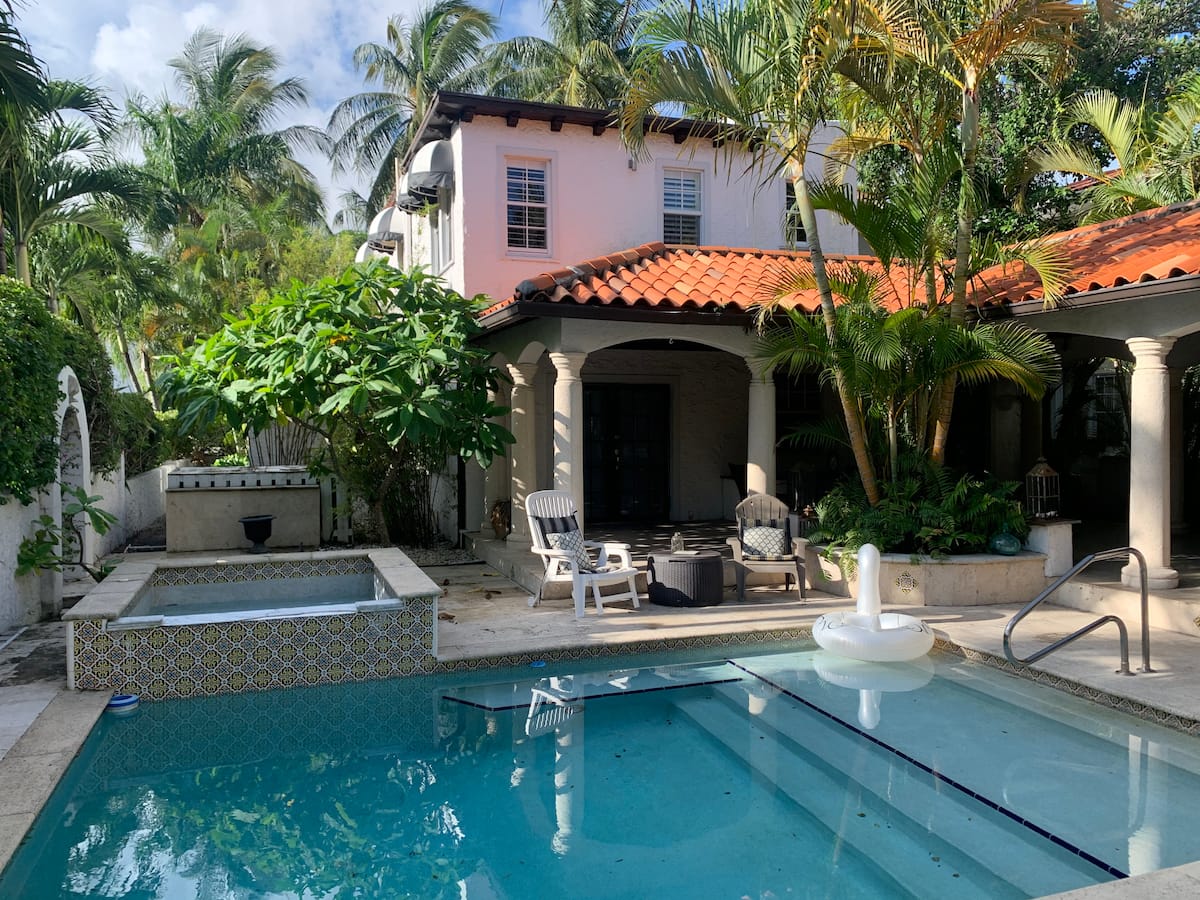 Buy Now
Bedrooms: 2
Baths: 2
Starting Price: $214
This stunning two-story home is complete with a private pool, laundry facilities, and all the basic living essentials for a relaxing long vacation. It's conveniently walkable to some of the best Palm Beach attractions, including Palm Beach Island. The cozy and cheerful Mediterranean decor makes you forget you're renting, instead, you'll instantly feel at home.
Splurge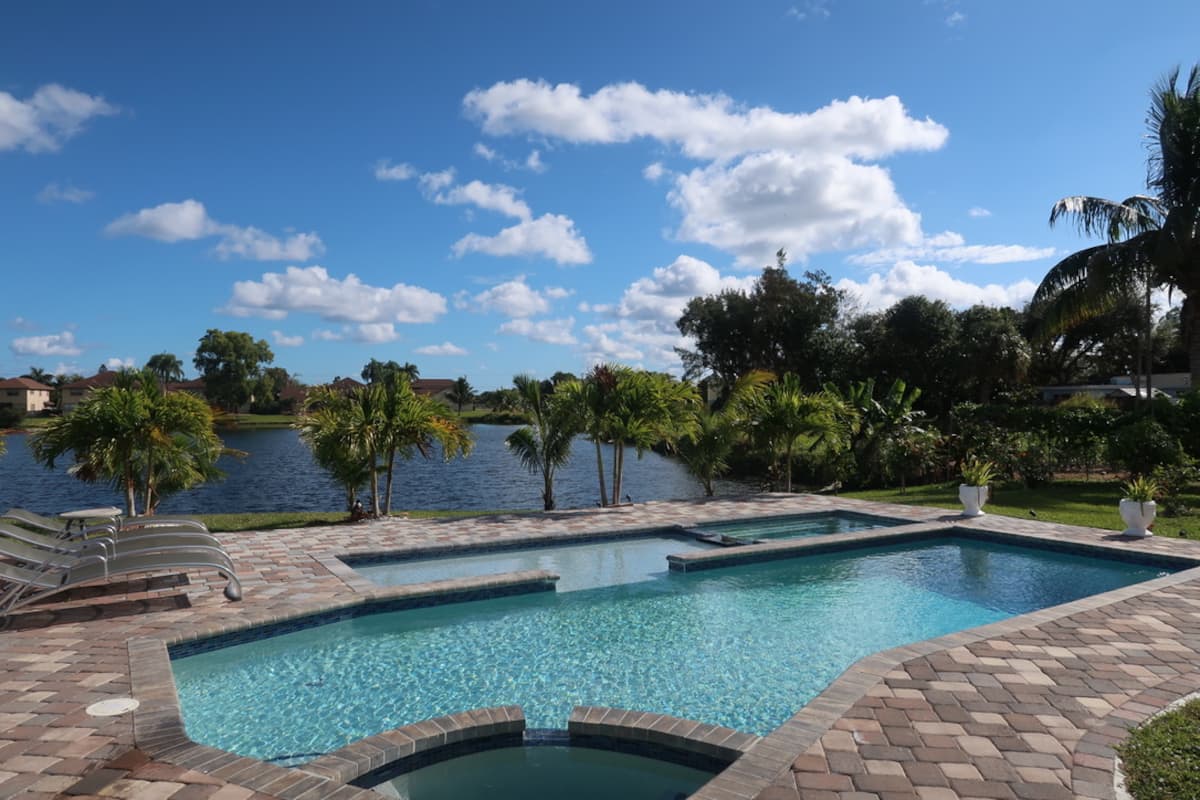 Buy Now
Bedrooms: 5
Baths: 3
Starting Price: $457
This incredible waterfront home truly has something for everyone. It is equipped with a private pool overlooking the water, a hot tub, a massage chair, and even a full home theater. Comfortably sleeping ten people, this is the place to reconnect with both parents and grandkids alike.
Would you like your vacation home rental featured on TravelAwaits?