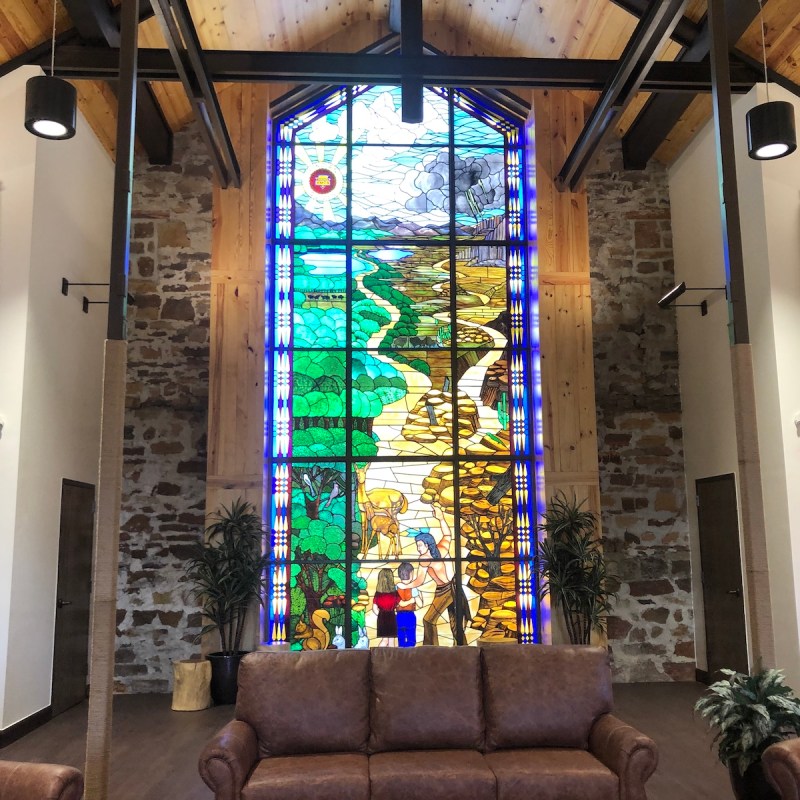 Have you ever been to a small town that is just charming? A town where you feel welcome, and everyone is friendly? That's what Pawhuska, Oklahoma is like. This small town in the Osage Nation has so much to offer visitors, from unique experiences to incredible scenery and some fun shopping. If you're looking for an off-the-beaten-path destination with plenty of charm, Pawhuska is worth checking out!
Last fall, when my husband and I were discussing a trip to Kansas and Oklahoma, I knew I wanted to visit Pawhuska. Several years back, I had followed the Confessions of a Pioneer Woman blog, where Ree Drummond talked about her life on the ranch and purchasing and renovating the building for the Mercantile. I wanted to see the finished product. I was not disappointed and was pleasantly surprised with the town.
The historic town of Pawhuska is located about 2 hours north of Oklahoma City and 2 hours southeast of Wichita. It is Osage County's county seat and the Osage Nation's capital. It is named after an Osage chief, Paw-Hiu-Skah. Founded in 1872, 86 of the 98 downtown buildings are on the National Register of Historic Places.
Below is my list of "must-see and do" places and experiences in Pawhuska.
Pawhuska and Bartlesville hosted our visit. All opinions are my own.
1. Pioneer Woman Mercantile
If you have followed Ree Drummond's blog or cooking show on the Food Network, you probably know about the Mercantile. The Pioneer Woman has built an empire from her home in Pawhuska, Oklahoma. As her business grew, so did her impact on the small Oklahoma town. The Drummond's purchased an old Osage Mercantile building on Main Street and put a lot of sweat and hard work into refurbishing it. You can see the before and after photos on her blog.
Now known as the Pioneer Woman Mercantile, the "Merc" (as the locals call it) is a store, restaurant, coffee shop, and bakery located in the middle of town.
Shop
You can find dishes, cookware, t-shirts, aprons, ornaments, home decor, books, toys, and more in the Mercantile. The one side of the Merc is a unique store offering various products, including Ree's Pioneer Woman brand merchandise. It's a fun place to browse, and you're sure to find something you didn't even know you were looking for.
Restaurant/Deli
The other side is a full-service restaurant/deli. The Pioneer Woman Deli is a delectable place to eat. The restaurant has a relaxed and casual atmosphere and the most delicious food you can imagine. I enjoyed the spicy Dr. Pepper pork belly served with green beans when we visited. It was delicious.
The restaurant was packed, but the service was excellent, everyone was friendly, and the prices were reasonable. There is often a line for the deli, but it moves fast.
Bakery/Coffee Shop
Up the wide staircase, you will find a bakery and coffee shop. The shop is more of a gathering place for the community with sofas, comfy seats, and large and small tables and chairs. It is a gigantic area, and the bakery and coffee shop are on one end of the room.
The coffee shop uses beans sourced and roasted exclusively for the store, and let's just say the bakery items were what took my eye. They had the most mouth-watering cupcakes I have ever seen!
Behind the serving area in the coffee shop were floor-to-ceiling glass walls, and you could look through and watch them creating their scrumptious masterpieces.
Pro Tip: While Pawhuska is a small town, be prepared for a crowd in the Merchantile. They often see approximately 6,000 visitors per day.
2. Ben Johnson Cowboy Museum
Ben Johnson is the only man to win both an Academy Award and a Rodeo World Championship. Born and raised in Pawhuska, he was a hometown cowboy who made it big by starring in films with John Wayne, Ann-Margret, and others. He brought authenticity to the parts in westerns and TV shows such as Gunsmoke, Bonanza, and other westerns.
The Ben Johnson Cowboy Museum is one of the coolest places to learn about the Old West. The museum houses an impressive collection of artifacts and memorabilia related to Ben's life. Visitors can view original stage coats and hats Johnson wore in his movies, as well as personal items like his gun belt and spurs. The museum also features a wealth of information on Johnson's storied career, including photos, interviews, and behind-the-scenes stories.
The museum contains exhibits on everything from gunslingers and outlaws to Native Americans and pioneer settlers. Sections of the museum showcase other things pertinent to the town. There are several photo opportunities; you can even try your hand at roping a steer in the hands-on area.
Whether you're a diehard fan of Johnson or simply curious about the Old West, the Ben Johnson Cowboy Museum is well worth visiting.
3. Osage Nation Museum
If you want to learn Osage history, culture, and art, the best place is the Osage Nation Museum. The headquarters for the Osage Nation is located in Pawhuska, and the museum is the oldest tribally-owned museum in the country, founded in 1938.
They offer continually changing exhibits and programming that celebrate the people, history, and culture of the Osage Nation. Features include historical artifacts, an extensive photograph collection, and traditional and contemporary art. When we visited, we enjoyed the Native American drum display.
Pro Tip: Photos are not permitted inside some of the exhibit rooms.
4. Charlie's Sweet Shop
Indulge your tastebuds in a cone of delectable ice cream at Charlie's Sweet Shop. A favorite flavor is the huckleberry ice cream. The shop is named after Drummond's pet, Charlie the basset hound, who passed in 2017.
5. Buckin' Flamingo
The Buckin' Flamingo is world-famous and guaranteed to provide a chuckle or two as you walk through this locally-owned store specializing in unique items, turquoise jewelry, metal yard signs, decor, and more.
You can't miss this store with the pink storefront that promises to be a good time once inside.
6. Boutique Shopping
The Pioneer Woman's success has brought many visitors to the town who like to shop. Over a dozen boutiques have opened to sell jewelry, clothing, boots, home goods, and more.
7. The Pioneer Woman Collection
You will find another one of Ree Drummond's stores down the street from the Mercantile. It sells only Pioneer Woman branded items and features her clothing line.
8. Immaculate Conception Church
This 1910 Catholic church has gorgeous stained-glass windows that are unique and absolutely stunning. Since COVID, they have limited tours on Thursday and Friday. We were there on a Tuesday, so we did not get to tour, but it is on our list for our next visit.
9. Constantine Theater
Located in downtown Pawhuska, the Constantine Theater is a performing arts center (the second oldest in Oklahoma). Constructed in the 19th century, it has served as a hotel, opera house, and theater. The historic Constantine was restored in 1987, providing free documentary films Thursday through Saturday.
10. The Boarding House
This "cowboy luxury" hotel known as The Boarding House is another business owned by Ree Drummond. It features eight rooms in a building dating back to 1920. It is an excellent choice for lodging if you plan to spend the night in Pawhuska.
Each room is unique and themed, such as The Photograph Room, The Butterfly Room, and The Drugstore Room.
11. Tallgrass Prairie Preserve
The largest protected remnant of native tallgrass prairie on earth, The Tallgrass Prairie Preserve has approximately 2,500 free-ranging bison roaming the area. You may also see deer, coyotes, and bobcats.
The visitors center has information on hiking trails, exhibits, and self-guided tours.
12. Woolaroc Museum
About 20 miles from Pawhuska near neighboring Bartlesville, you'll find Woolaroc (short for woods, lake, and rocks.) It is a former ranch retreat of oilman Frank Phillips and is now a world-class art museum and 3,700-acre wildlife preserve. You will see zebras, elk, bison, and more as you drive the property. As we were making our way to the museum, a bison came walking down the road.
Once you enter the museum, you will be amazed by the contents. The museum's primary focus is Western art, Native American materials, and artifacts. They have one of the largest collections of Colt firearms in the world. Oil industry memorabilia and the private planes Frank flew across the country are part of the collection.
There is also a visitor center, snack bar, and other buildings.
We had several hours scheduled for this museum and could have easily stayed longer. It is worth a visit if you are in the area. There is just so much to see.
13. Drummond Lodge
One of the things I wanted to do while in the area was check out the lodge where The Pioneer Woman shows are usually filmed. I thought this would just be a mile or two from town. I was mistaken. It is about a 20-minute drive, and then you turn off on a gravel road for another 5 miles. It is worth the trip.
The lodge is the family's guest house and a filming studio. It is huge and gorgeous. You will find everything from pantries full of Pioneer Woman dishes and cookware to prepping kitchens, her filming kitchen, a dining room, living room, four bedrooms, and more. Family photos adorn the walls. The view from the back wraparound deck is also beautiful.
There are also several photo opportunities in the pioneer woman kitchen to pretend you are cooking something wonderful.
Tickets are required for lodge tours. When you visit the Mercantile, you can ask for directions and a free ticket for entry to the lodge. You can only pick up tickets at the Merc on the day of the tour. The lodge is only open on certain days, and you can check their website for open dates.
Pro Tip: Dogs are not permitted. The ranch dogs are protective of their area. If you have a dog with you, do not visit.
If you are ever in the area, be sure to visit Pawhuska and take advantage of all the unique experiences it has to offer. From The Pioneer Woman Merchantile to Ben Johnson Cowboy Museum and Osage Nation, there is something for everyone in this charming town. Be sure to add Pawhuska to your travel bucket list!
For more on Oklahoma, check out these articles: