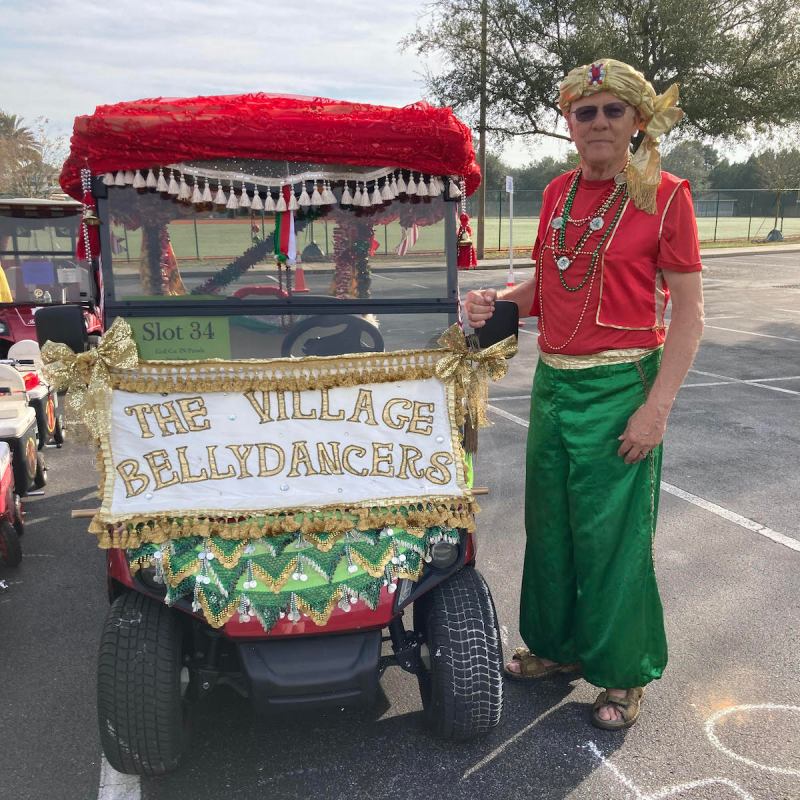 Florida is known for its beaches, sunsets, and retirement. I've lived here for more than 10 years, so I know why someone would want to sit on the beach, sip a margarita, and enjoy a sunset. Sounds amazing, doesn't it? But you can only do that so many days in a row. There has to be something more. And what if that something more includes finding someone to sit in the sand with you? Or maybe you've spent a lifetime with someone and you're simply looking for companionship? Look no further than The Villages.
If you haven't heard of The Villages, I'm about to let you in on the worst-kept secret in the Sunshine State. Nestled in central Florida, it's been ranked as the top-selling master-planned community for residents 55 and older. In fact, in 2020 it was ranked the number one active adult community in the country. More than 138,000 people call it home. They even have a name for themselves: Villagers.
Betsy Agnew is a 67-year-old Villager. "I have always said, if you can't find anything to do in The Villages, it is your own fault!" she told me. Originally from East Tennessee, she's lived here for 16 years and says there are so many opportunities to meet and be with people. "The friendships made have been endless. I join a group of ladies every Tuesday night for drinks and dinner. We all live on the same street and it's a good way to catch up on everything plus caring for each other's needs and concerns. This along with neighborhood street parties gives a sense of family. We all truly look forward to every week. Sort of a time to unload and unwind and laugh, listen, cry — whatever it takes."
There's something here for everyone. I'm serious! There are more than 3,000 social clubs and resident lifestyle groups. They include everything from car clubs to state clubs to sports, art, and health clubs. Plus, there are more than 130 clubs specifically designed for singles. There are more than 450 events on the calendar in just one day! All those numbers are a little overwhelming, so here are six of some of the most popular and best things about The Villages for your consideration.
1. Pickleball
The Villages has been called the Pickleball Mecca for good reason: There are more than 100 pickleball courts that are open year-round. If you're new to the sport, it combines tennis, badminton, and ping-pong with two to four players. The community hosts clinics so you can learn the game. Once you're up to speed there are tournaments and open play in several locations.
Want to learn more? Don't miss our Everything You Need To Know About Pickleball guide.
2. Dancing And Live Music
Villagers love their dancing! Whether it's ballroom, line dancing, or live events on the square. Each night from 5 to 9, there is free live music on each of the three town squares. DJs, country bands, pop, rock, and Motown line dancing are just some of the styles that get people on their feet all night long. If you'd like something more intimate, there are also singles dances where you can mingle and still move! In fact, twice a month there's a Dine and Dance at The Pub.
3. The Villages Singles Club
The Villages Singles Club is the original singles club in The Villages. There are 750 members who pay annual dues. It's a singles-only social club that meets twice a month, and they like to dance! Every meeting there is dancing. (See? I told you dancing is popular here!) But there are other activities as well, including shuffleboard, bocce, and Talent Rehearsal. Club President Mary Ann Bale moved here as a widow in 2003. She says it's not about finding a spouse, it's about finding other singles. "I want a place to go meet a friend, whether it be male or female. Someone to have dinner with, go bowling with. Friends are important."
4. Village Singles Cards And Games
If you're looking for more of a laid-back atmosphere, one of the oldest singles clubs is The Villages Singles Cards and Games. This club has more than 700 members. Anyone who is a member can turn up to play games like Mexican Train, Rummikub, and Yuker. Geoffrey Squire is the point of contact for the club. He's been a Villager for 7 years and loves it. "You can do as much or as little as you want. It's important for you to do what works for you and meet people that you like."
5. Free Golf For Life (Well, Kind Of)
One of the big selling points for The Villages is that you get to hit some of the links for free as long as you call it home. It's a nice perk, too, because there are more than 50 golf courses here. The community makes it easy to pick it up as a new hobby. The Executive Courses are rated by difficulty, and you'll always enjoy complimentary golf. If you're an avid golfer, the Championship courses are geared to you. They'll cost you, but you'll automatically be a member. You'll enjoy the challenge and find ways to lower a few strokes off your score. A few were even designed by Arnold Palmer and Nancy Lopez. There are private, group, and beginner lessons for all.
6. Bowling
Bowling is one of the most popular activities in The Villages. In fact, at one time it was more popular than golf! There are two bowling alleys: The Fiesta Bowl and Spanish Springs Lanes. Combined, there are 64 lanes for you to throw a strike. Each has a restaurant and live entertainment so you can have parties, get-togethers, or tournaments. There is always open bowling, but you can also join a league. Both alleys have pro shops where you can get your shoes and gear. They'll even custom drill your bowling ball!
As a Villager, you're likely to find something for your kind of lifestyle, or the one you'd like to create. Being active is an important part of staying healthy at any age. You can check out The Villages' calendar to see all of the events and activities that take place daily. If you really want to see what life could be like as a Villager, you can stay as a guest and experience everything the community has to offer as part of The Villages Lifestyle Preview Plan. There's a reason all those postcards from Florida say "Wish you were here."