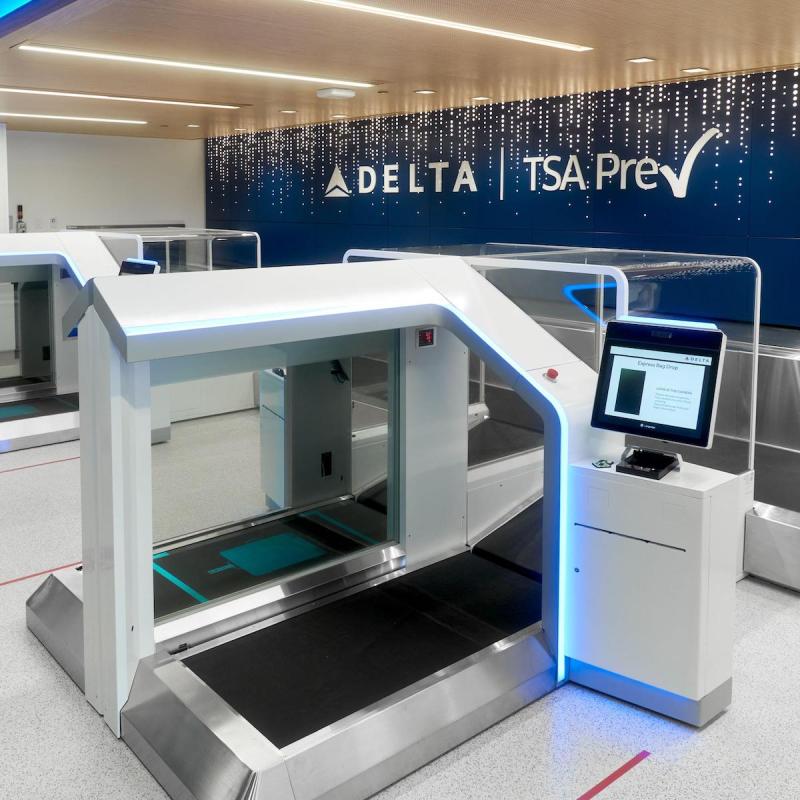 If you're flying on Delta and the use of facial recognition technology doesn't make you uneasy, it's about to get easier and faster to pass through Atlanta's Hartsfield-Jackson International Airport.
Delta Air Lines announced that SkyMiles frequent flier program members who are also registered for Transportation Security Administration (TSA) PreCheck will be able to drop their bags, go through security, and board their plane simply by showing their face beginning next month. In other words, they can go from curb to gate, hands- and device-free.
"Our target here is 30 seconds," Delta's managing director of airport experience Greg Forbes said in a press conference, a TechCrunch article reports. "The way that we're going to get there is not only through the use of technology, the fact that there's no choreography — you don't have to launch the app or look for your driver's license, [but because] we're also gathering together people who travel very similarly."
The announcement comes just ahead of what some analysts predict will be the busiest travel period since the COVID-19 pandemic began. For instance, for the Thanksgiving holiday period, Delta expects to fly up to 5.9 million passengers, which is still below the 6.3 million passengers who flew with Delta during the same period in 2019.
How The Process Works
Passengers flying direct to an international destination on Delta — or its partners Aeromexico, Air France, KLM, Korean Air, or Virgin Atlantic — have been able to use facial recognition technology from curb-to-gate since 2019 because the airlines can rely on U.S. Customs and Border Protection's federal passport database for facial image matching. The problem, until now, for domestic travel is that many passengers rely on a driver's license as their form of ID – and those photos reside on databases managed by individual states rather than on a central database.
Delta has partnered with the TSA to address that issue and create what it calls the "Delta-TSA PreCheck express lobby and bag drop." The key is that passengers use a so-called digital identity – which includes their SkyMiles member number, passport details, and Known Traveler Number – using the Fly Delta app when checking in.
Here's how it works. First, after checking in on the app, passengers will walk up to the dedicated bag-drop area and complete a hands-free facial scan.
After the system validates their identity in the TSA's database, the machine will print a baggage label. Next, the passenger attaches the label to their baggage and places the bag on the automated conveyor belt.
The next step is for the passenger to walk to security, where they can again use a facial scan to pass through the domestic checkpoint in the dedicated TSA PreCheck lanes. This step replaces the need to provide a passport, government ID, or boarding pass.
Finally, when it's time to board the plane, passengers will once again use a facial scan instead of producing a boarding pass.
"In trying out the experience firsthand, the promise of a 30-second bag drop seemed quite achievable," the TechCrunch writer explained. "The facial recognition, with the mask briefly removed, takes a few seconds. Attaching the luggage tag probably took longer than anything else."
Privacy Concerns
Of course, not everyone is completely at ease with the use of biometrics, especially by non-government companies or agencies. Or perhaps by the government, as well, for that matter. However, Delta does note that it doesn't touch or save any of the biometric data.
When asked on Good Morning America about privacy issues, Ranjan Goswami, Delta's senior vice president of customer experience, admitted that it is a valid concern for passengers and further explained the process.
"First, we aren't storing any photographic imagery at all. All we do is take your photo," Goswami said. "And because you've uploaded your passport number as part of your Delta profile, we just take that passport number and that picture. We just check it against the customs database from your passport photo."
You can find more details about Delta-TSA PreCheck express lobby and bag drop here.
If you're interested in other places facial recognition is being used for traveling, be sure to read: