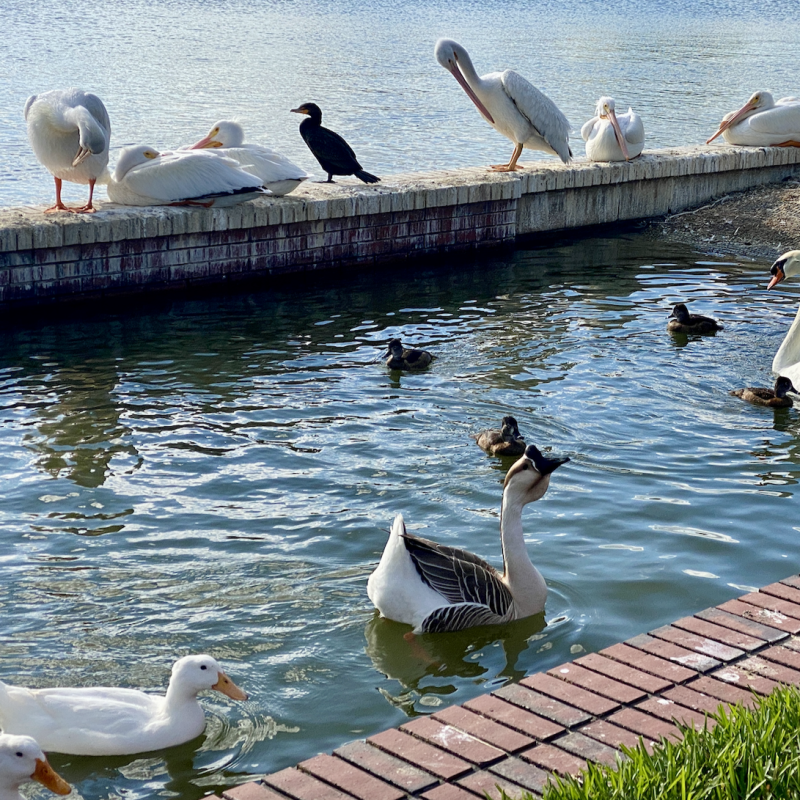 Lakeland is literally in the middle of Central Florida. If you've never experienced the notable towns in Central Florida, you are in for a real treat. While the crowds are more scarce than the coastal cities, the scenery, service, and offerings are equally good, minus beaches. You can reach Lakeland by road trip or by flying into the Orlando or Tampa airports — it is about equal distance to both.
Admire Lakeland's Swans
If you happen to visit Lakeland's Lake Morton in the springtime, you will be privy to something so unique that it feels like it belongs in a fairytale. Swan nesting season. Lake Morton has dozens of white and black swans, with swan nesting areas marked off with caution tape. The swans have been an iconic presence in Lakeland for almost 100 years. In addition to seeing these majestic creatures, you'll also have hundreds of white shorebirds, enormous pelicans (not the same type we have in Vero Beach), ibis, and wood storks.
Overall, I know we had to see 1,000 birds or more in one afternoon. Feeders around the lake will dole out a handful of bird food for a quarter fee. The ibis loved following us around for a bite.
Wine And Dine
Harry's Seafood Bar and Grille is a Lakeland favorite, serving downtown patrons a delicious Louisiana-inspired cajun and creole menu. From hurricanes to jambalaya, crawfish etouffee to red beans and rice, you can find all of your favorites at this neighborhood eatery. Save room for Banana's Foster.
Pro Tip: There is usually a wait for tables at Harry's. They do offer the Call-Ahead Seating Program to help reduce your wait time. Call 30 minutes before arrival to get your party's name on the list.
Wander An Exceptional Garden
Downtown Lakeland is home to Hollis Garden, a beautiful and serene landscape that sits on the banks of Lake Mirror. Besides the occasional sculpture and statue, the plants are unique and well labeled, which I always find refreshing. There are also ornamental shrubs and vegetable gardens meticulously placed amidst the typical flowers and trees, which are exceptionally done. Hollis Garden is free to visit, and I suggest you walk along the lake, too, for photo-ops and bird sightings.
Fun Fact: Historic Lake Mirror Tours are offered on the fourth Tuesday of every month. Call 863-834-2280 to book the time and "look for the lantern."
Those seeking unique getaways or those interested in architecture and Frank Lloyd Wright, quaint downtowns, and world-class animal and art attractions will love Lakeland. The town keeps growing and growing, and before long, everyone will discover just how uber cool and fun this Polk County city is. Roll down your windows and get a good whiff of the tantalizing orange blossom scent you are sure to experience from the native orange groves. Buckle up for a grand time as you discover the best things to do in scenic Lakeland as I did on my partially hosted trip with Visit Sebring and Inn on the Lakes.
See The Largest Frank Lloyd Wright Collection
Florida Southern College is home to the most extensive collection of Frank Lloyd Wright architecture in the world. While the tour isn't currently running due to COVID, and with the college not encouraging visitors at the moment (to ensure the students' safety), when it does reopen, this is one place you're not likely ever to forget.
Tour highlights include the Usonian Faculty House (inside house tours available once touring resumes), its unique fountain and Frank Lloyd Wright statue, the iconic Annie Pfeiffer Chapel, and the gorgeous Water Dome. You will get your eyes full of Frank's exquisite work and intricate details, 13 works in total, at this National Historic Landmark property.
Take Me Out To The Ballgame
Florida is home to spring baseball, and for us Floridians, it is the primary sign of spring — and one of the best things to do in Lakeland. Venture over to Publix Field (Joker Merchant Stadium) to see the Detroit Tigers play during pre-season spring training. Games are affordable, and if you can get tickets, it is an excellent way to spend the day. Tigertown USA, as the field is referred to, is easy to get in and out of, clean, and every seat is genuinely a good one. Parking is $10.
Drink Delicious Coffee
Lakeland has a handful of locally-owned coffee shops, but Black and Brew really stood out to me. It has indoor and outdoor seating, elegant but straightforward exposed brick decor, and a full-service menu with paninis, homemade soup, salads, and sandwiches. The Dill Pickle and Bacon flatbread was a perfect choice, and even though it didn't really pair with my frozen peanut butter latte (drink and dessert in my eyes), they were both superb.
Have A Mind-Blowing Breakfast
I discovered Frescos Southern Kitchen and Bar on my last Lakeland visit, and let me tell you, the food is terrific. For breakfast, try the Knuckle Bowl, piled high with hashbrowns, loads of cheese, peppers, chicken, shrimp, and Andouille. Then, they top the concoction with eggs done your way — I chose poached. It was seriously a great dish. Though my husband ordered the perfect Eggs Benedict, he was jealous after tasting mine. Frescos also has boozy adult shakes or deluxe shakes with all of the candies and edible decorations around the glass that make for jaw-dropping photos and fun.
Go Golfing
Visitors can find a handful of public golf courses in Lakeland, so bring your clubs and set a tee time. Choose between Big Cypress Golf and Country Club, Cleveland Heights, Sandpiper Golf and Country Club, Sanlan, and The Club at Eaglebrooke. Lakeland's courses are described as "beautiful and affordable."
Fun Murals And Outdoor Art
Lakeland is quite an artsy city with many creative murals and art exhibits around town. My favorite murals were Oranges and Greetings from Lakeland, at 802 N Massachusetts Avenue and 505 MLK, Jr. Drive, respectively. Also, stop by Munn Park for the lovely fountain with dancing waters and several cool art installments around the historic green space.
Hike At Circle B Bar Reserve
Circle B Bar Reserve, formerly a 1,267-acre cattle ranch in nearby Bartow, is the premier hiking, cycling, and bird-watching spots in Polk County. You can learn about the ecosystems, see alligators in their native habitat, and explore the Polk Nature Discovery Center during your visit. For an easy hike, consider the Shady Oak or Lost Bridge Trail. Be on the lookout for spoonbills, pelicans, fox, woodpeckers, and great blue herons.
Pro Tip: Wear comfortable shoes, stay hydrated, and bring bug spray.
Visit An Art Gallery
The Polk Museum of Art is a small but mighty gallery with two floors of modern and contemporary art exhibits, most temporary and rotating. The first floor currently houses the Toulouse and Lautrec of the 1890s Paris, France fame exhibition. Framed and matted drawings and paintings tell the Moulin Rouge and Paris dance halls' story in these descriptive and unique pieces.
Upstairs, an exhibit of how families around the world eat, with details of their diet, income, and work hours, was fascinating. There are beautiful outdoor sculptures at the gallery, too. Don't miss the upscale gift shop — one of the best I've seen in Florida — and the Pablo Picasso ceramic plates.
Take A Safari
Safari Wilderness is one of Lakeland's hidden gems. This covered safari-style ride-through park on 260 acres is truly one of the most amazing things I've done in The Sunshine State. You can take a private group or go with the other scheduled guests in a socially distanced safari vehicle through the rugged terrain to see exotic game such as Grant's zebra, oryx, Watusi cattle, and Greater Kudu up close and personal. We even fed water buffalo, ostrich, and camels out of our hands … it was so cool!
For an additional fee, you can hand-feed grapes to the cute little lemurs with velvety-soft hands and mesmerizing eyes. Other feedings include guinea pigs and budgies. Kids and adults will love Safari Wilderness. Bonus, they have several other animals, many rare, to engage with and see.
See In A Drive-In Movie
Experience first-run movies at one of the two screens at Lakeland's Silver Moon Drive-In Theatre. Tune in to the film through your FM dial (though I'm sure all of you remember these good ole days) and relax in the comfort (and safety) of your vehicle and enjoy the show. Silver Moon has been delighting moviegoers since 1948. Admission is $6 per person. Concessions are available.
Where To Stay In Lakeland
One of Lakeland's newer hotels is the pristine SpringHill Suites by Marriott. The property is in a good location and features 126 stylish and spacious suites and a full-service bar off the lobby. A swimming pool surrounded by bright and cheery lime green loungers and covered tables and chairs awaits you outside. Parking and high-speed internet are complimentary with your stay.
Pro Tip: If you have time, consider staying in the area for a few days. Other nearby towns to see in Polk County include Winter Haven (LEGOLAND), Lake Wales (Bok Tower), and Bartow (Wonder House).
Related Reading: