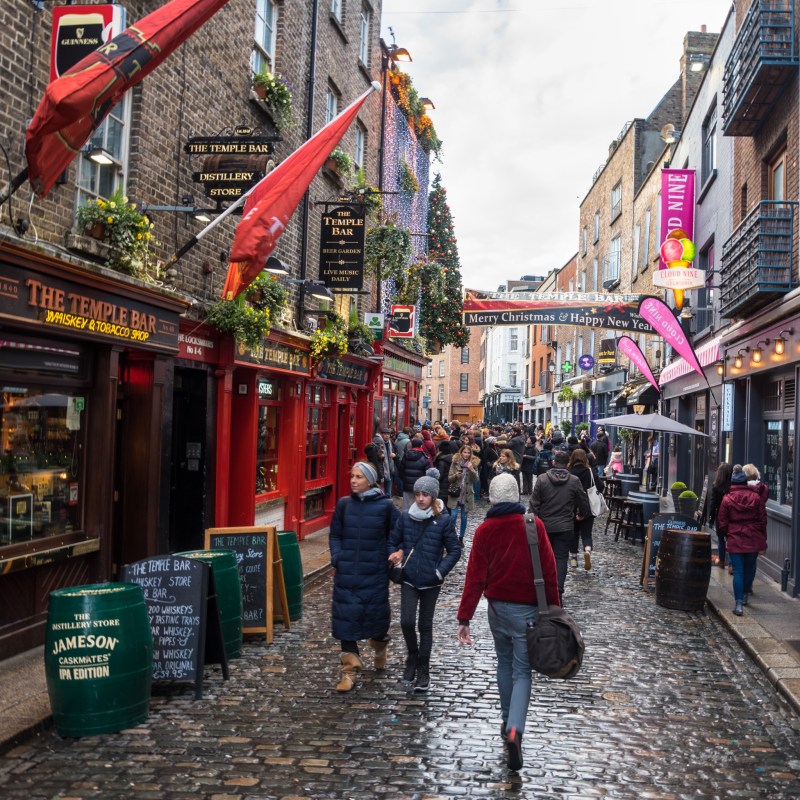 Ireland has come into its own as a foodie destination in recent years, with excellent farm-to-table restaurants, a new generation of inventive chefs, and a growing number of food companies that offer excellent produce, superior dairy products, and exceptional wheat. Dublin has excelled in the new food movement of Ireland, and it best shows up at the restaurants and cafes with their talented chefs and inventive owners.
We have gathered a list of some of the most fantastic places to dine in Dublin.
1. Glovers Alley
One of the top hotels in Dublin, the five-star Fitzwilliam, can also boast about having one of the top restaurants in the city, Glovers Alley. Dublin-born Andrew McFadden first went to London to show off his culinary talents and, at age 28, became the youngest chef ever to earn a Michelin star in the UK. McFadden decided to return to his roots and opened Glovers Alley in tandem with the hotel.
The decor of the elegant but comfortable dining room, with marble-topped tables, clementine-colored, plush banquets and club chairs, floral carpeting, and Art Deco style lamps and sconces, is a smart match to the contemporary cuisine. Dublin Bay prawns with tarragon and carrots, lamb with black curry, parsnips, and pears, and a citrus souffle with dark chocolate for dessert are just a few of the inspiring dishes to be enjoyed at Glovers Alley.
Various menu options are offered at different price points, from a two-course lunch menu for 45 euros to a six-course dinner menu for 115 euros, and 265 euros with prestige wine pairings. A vegan and a vegetarian menu is also available.
2. Hatch And Sons
Downstairs from the quirky and delightful Little Museum off of St. Stephens Green, which is housed in a handsome former mansion from the late 1800s, is one of the best lunch and tea rooms in Dublin. Hatch and Sons delivers an authentic Irish dining experience by sourcing many of its products, including handmade preserves, cheeses, and yogurt, from local, artisanal producers. Enjoy a menu that includes Irish beef stew with Guinness, house-made scones with raisins served with iconic Irish butter, homemade soda bread, and sandwiches made with blaa, an Irish roll from Waterford. Hatch and Sons also serves breakfast dishes all day long, including organic porridge, double-baked eggs with bacon and roast tomatoes, and a toasted blaa roll with bacon. Leave some room for their lemon and blueberry polenta cake, and fruit crumble drowning in Irish cream. Hatch and Sons has a second location at Charlemont House on Parnell Square North.
3. Fade Street Social
Fade Street Social is one of the most happening places in Dublin. It has an extensive 8,000-square-foot space that incorporates a restaurant, cocktail bar, tapas and gastro bar, and rooftop terrace in one building. MasterChef judge Dylan McGrath has gathered the best Irish foods and ingredients and presents them in a stylish setting.
The cocktail bar has an impressive list of classic cocktails and wines from France, Italy, Portugal, Austria, and Spain. The wood-fired menu consists of foods cooked over a wood-burning fire. It includes dishes such as crispy duck confit, mac and cheese for two with truffle cream, lamb calzone, and wood-fired carrots.
The restaurant has a straightforward menu of familiar comfort foods such as roasted salmon, poached butternut squash (a vegetarian main course), roasted pumpkin soup, and burrata.
4. Balfes
A brasserie with a French-inspired interior of wicker cafe chairs, a zinc bar, and white ceramic tiles, Balfes is a popular favorite with locals. Its eclectic menu, served all day, combines some Irish classics along with other renowned specialties such as haddock fish and chips, 28-day dry-aged steak, dry-aged burger on a brioche roll, and for vegetarians, hearty chargrilled winter squash with piri piri, charred leeks, and feta cheese.
On the weekends, Balfes offers a brunch menu with Irish smoked salmon and scrambled eggs, a three-egg omelet with honey-roasted ham, smoked Gouda, caramelized onions, Eggs Benedict, and buttermilk pancakes.
The extensive bar menu serves wine, beer, spirits, and original cocktails such as Spring Skye (prepared with Johnnie Walker Black Label scotch, fennel, citrus, and egg white) and In a Pear Tree (prepared with Hennessy V.S., red wine, black pepper, winter spices, poached pears, and fresh cream).
5. Chapter One
You can dine at Chapter One, one of the finest restaurants in Dublin, for less than 40 euros for a two-course lunch. Chef Ross Lewis has spent 27 years refining and creating his award-winning cuisine, winning accolades and stacking up numerous awards, including a Michelin star. He was the head chef for Queen Elizabeth's visit to Ireland in 2011. Set in the Dublin Writers Museum on Parnell Square, the restaurant is proud to support local craftspeople by featuring their products, including baskets and wood tables, in the dining room.
There are a range of menu options at Chapter One, including premium four- and six-plate dinner menus. You can add matching wines for each course for an additional price. For the ultimate dining at Chapter One, you can book the Chef's Table, a private dining room that seats four to six and serves either a six- or seven-course menu.
6. Clanbrassil House
An intimate restaurant seating only 25 people, Clanbrassil House has recently gained momentum with chef Grainne O'Keefe at the helm, who has worked in a number of the top Dublin restaurants. The cuisine focuses on grilled meats and vegetables. The four-course set menu, with two seatings at dinner, starts off with light snacks, followed by a choice of two appetizers, two entrees, two sides, and dessert.
Pro Tip: Clanbrassil House also has a separate vegetarian menu with five courses.
7. Grano
If you have a hankering for Italian food, Grano is the spot. It's a family restaurant that is so authentic, the mother is often still the cook. The reasonably priced restaurant offers appetizers under 10 euros and main courses below 20 euros, and they're proud to have recently been listed in the Michelin 2020 guide.
Grano uses mostly organic and biodynamic Italian products. The food menu includes dishes such as spicy meatballs in red sauce with smoked ricotta cheese from Calabria, pappardelle in a wild boar ragu, eggplant parmigiana with pesto, stuffed ravioli with butternut squash, and amaretti with toasted hazelnuts on top.
Pro Tip: Most of the pasta dishes can be made with organic, gluten-free pasta.
8. Legit Coffee Company
With the explosion of artisanal coffee bars in almost every city on the globe, listing at least one is required when writing an article like this.
The rustic setting of Legit Coffee Co., with wood tables, counters, and floors, plus baristas wearing flannel shirts, give the coffee "legitimacy." The coffee is from one of the top coffee companies in Dublin, Full Circle Roasters, and the menu includes espresso, cappuccino, lattes, macchiatos, Americanos, and filtered coffee.
The food menu is heavy on breakfast and brunch dishes such as homemade granola, sausage rolls, eggs and sourdough toast, almond and oat porridge, and pancakes topped with fresh berries, toasted almonds, orange butter, and maple syrup. The sandwich board offers roasted veggie and goat cheese melts, roasted chicken and cheddar cheese, and pulled pork in a brioche.
House-made desserts like brownies, granola coffee and dark chocolate bars, salted caramel cookies, and white chocolate and cranberry cookies, are last but not least.
9. The Pig's Ear
Located in the old part of the city near Trinity College, The Pig's Ear presents a modern Irish menu in a cozy and comfortable setting. House specialties include slow-cooked beef cheek with beets, black pudding, and truffles, barbecued pork belly with pineapple, butternut squash soup with chestnuts, and for dessert, the special Pig's Ear vanilla cheesecake or chocolate custard with peanut butter ice cream. The Pig's Ear is open for dinner Tuesday to Saturday, and for lunch on Friday and Saturday.
Pro Tip
Since there's a big theatre scene in Dublin, many restaurants offer pre-theater menus, sometimes with a set price for two or three courses. Reservations at the restaurants above are essential, and you can reserve online at most of them. The tipping policy in Dublin and Ireland is 10 to 15 percent.
Supplemental Reading: