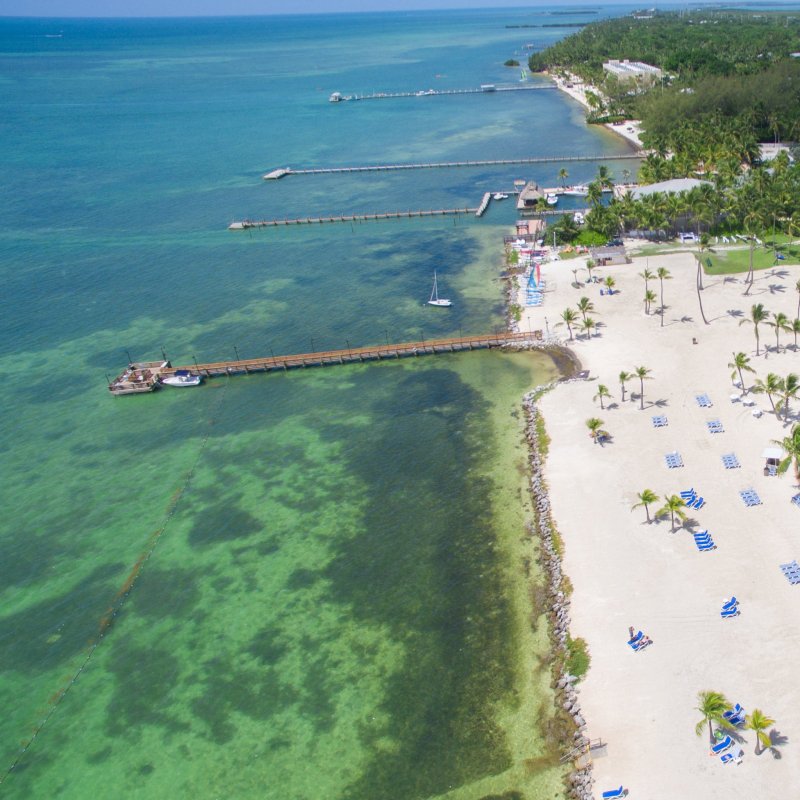 A village made up of six of the Florida Keys, Islamorada lies halfway between Miami and Key West. Whether you're making the entire fabulous road trip across the Overseas Highway or just heading here for a day trip from either end, this fun getaway will provide you with plenty of water sports, history, and succulent local food.
If you're driving the 90 minutes from Miami or Key West, you'll pass lovely keys and bridges with the Gulf of Mexico on one side and the Atlantic Ocean on the other. The best time to visit this laid-back, kid-friendly destination is between March and May, when it's not too humid. Avoid the hurricane season, which peaks in August and September. A day of fun and adventure awaits!
Things To Do In Islamorada
Stroll around and visit the many sights at your leisure, or get a bit of exercise with an outdoor adventure like kayaking. Whatever you do, make time for some fishing in the Sport-Fishing Capital of the World. Here are some of the best things to do in Islamorada.
1. Swim With Dolphins At The Theater Of The Sea
The family-owned Theater of the Sea is probably Islamorada's best-known attraction. A sanctuary for bottlenose dolphins, sea lions, rays, and even parrots, the site protects the animals as well as educates and entertains visitors. You can swim and play with dolphins (always under the watchful eye of their caretakers), get close to sea lions and sea turtles, go on a boat tour of the lagoon, and much more. The grandkids in particular will be so delighted that they may refuse to leave!
2. Learn All About Diving At The History Of Diving Museum
Islamorada is all about activities on, in, and under the water. Naturally, that includes diving. The History of Diving Museum is an incredible source of information about the underwater world, humankind's attempts to explore it, and the techniques and equipment that have been used over the centuries. It also pays tribute to the Florida Keys' protection of sea life and contributions to the sport of diving. A lot of special events and conferences take place here, so consult the schedule before you visit.
3. Experience The Florida Keys History & Discovery Center
There is a lot more to the Florida Keys than lovely beaches and pretty fish. The history of the area is a long and interesting one, and there's no better place to learn about it than the Florida Keys History & Discovery Center, located at the north end of the Islander Resort.
The second floor of the 7,500-square-foot building contains permanent exhibits on the First People of the area, the Spanish treasure fleets, pirates, Henry Flagler's Over-Sea Railroad, and the devastating Labor Day hurricane of 1935. On the floor below are interactive libraries and other devices that will allow you and your grandkids to learn even more, all within the tropical gardens of the Islander Resort.
4. Soak Up The Sun At Anne's Beach
Named for local environmentalist Anne Eaton, Anne's Beach is an absolute must during your day in Islamorada. The water is shallow, and the beach is white and soft and lined with mangrove trees. Swim or snorkel to your heart's content, looking for octopuses and other fish. Dry off and walk along the wooden boardwalk through a natural wetland to get acquainted with the unique vegetation of the Florida Keys. There are picnic facilities, too, so bring a lunch basket if you'd like.
Pro Tips: Wherever you go in the Keys, sunscreen is an absolute must. When walking on the beach, be careful not to step into the crab holes.
5. Look For Shipwrecks At Indian Key Historic State Park
This state park on a tiny island is only accessible by boat. In the 19th century, wrecking was a thriving business in the Florida Keys, and Indian Key was the center of a wealthy wrecking community. Rent a kayak to see the many ruins that are left, yet another part of the local history. Indian Key is also surrounded by an exceptional bed of seagrass, and the park's purpose is to preserve it and the many birds that have made it their home.
Pro Tip: Bring shoes when visiting the parks, as well as bug spray.
6. Feed The Tarpon At Robbie's Of Islamorada
You could easily spend all day at Robbie's of Islamorada! Located at mile marker 77.5, the complex is best known for its tarpon feeding, an exciting experience that you can participate in. At the marina, you can arrange a fishing trip, party boat rentals, or indulge in a delicious tarpon sandwich and a Trailer Trash Bloody Mary or two. But there is so much to see and do in the area that you might want to limit your time at Robbie's to the tarpon feeding.
7. Explore The Morada Way Arts & Cultural District
The six-block Morada Way Arts & Cultural District forms the only downtown district between Key West and Miami. You'll find the Green Turtle Inn on one end and the Hurricane Monument on the other. Morada Way is the main road, so to speak, and the whole complex was created to provide artists and visitors a safe and inspiring environment. As a result, you can amble from one shop, stall, or studio to the next, admiring — and perhaps buying — works of art.
8. Search For Fossils At Windley Key Fossil Reef Geological State Park
When workers were excavating for Flagler's Over-Sea Railroad, they discovered a vast deposit of fossils. On a visit to Windley Key Fossil Reef Geological State Park, you'll see fossilized coral and other ancient sea life embedded in what's known as the Key Largo Limestone. There are also some red stripes in the quarry; these were formed by thousands of years of acid rain, which dissolved dust blown from the Sahara and deposited it here. That might be hard to believe, but visit the geological site, and you'll learn about this fascinating aspect of the region's history.
9. Kayak The Whale Harbor Channel
For a somewhat different adventure that not many visitors know about, make your way to Whale Harbor Marina and hire a kayak (or jet ski if you prefer). Head to the sandbar located on both sides of the Whale Harbor Channel. The sandbar is a fabulous place to see the ocean before you and Islamorada's little islands behind you.
Best Restaurants In Islamorada
After exploring Islamorada's sights and activities, you'll want to enjoy the area's food and drink. Seafood is naturally at the top of the list — tarpon sandwiches and conch fritters are popular — and of course, there's Key lime pie for dessert.
1. Whale Harbor Restaurant
Whale Harbor Restaurant might just be the best seafood buffet in the country. You can sit indoors, outdoors, or on the rooftop and enjoy all the specialties you can eat. Conch fritters, mussels, shellfish, oysters… you name it, they've got it. There's no need to make a reservation — just turn up when you're hungry.
2. Hungry Tarpon Restaurant
The Hungry Tarpon Restaurant in Robbie's Marina is another great place to go for breakfast, lunch, or dinner. Try one of their signature dishes: tuna tacos, shrimp burritos, and lobster frittata. If you went fishing, they'll even prepare your catch to your specifications.
3. Chef Michael's Restaurant
Chef Michael's Restaurant has been an Islamorada classic for more than 20 years. Of course they serve the finest seafood, but if you fancy a juicy steak, this is the place to go.
4. Blond Giraffe Key Lime Pie Factory
The Blond Giraffe Key Lime Pie Factory doesn't really require an explanation. Suffice it to say that 173 items are on sale, from traditional Key lime pie to cookies and other sweet things.
Where To Shop In Islamorada
You will certainly want to buy a souvenir to remind you of the great day (or days) you spent in Islamorada.
1. Morada Way Arts & Cultural District
Look for key rings, handbags, picture frames, and coasters decorated with seashells. You could also take home a small painting by a local artist. Stroll through the Morada Way Arts & Cultural District for the best selection.
2. Rain Barrel Village
If you have time, stop by and say "hi" to Betsy the Lobster at Rain Barrel Village, a funky open-air complex of specialty shops, galleries, and boutiques. Here you can find everything from paintings to pottery.
Best Hotels In Islamorada
If you've decided to stay overnight, we've got you covered — Islamorada offers several great accommodations.
1. The Moorings Village
The Moorings Village is a tropical paradise. You can stay in a private cottage, lounge on a private beach, explore the gardens, and much more at this oceanfront Islamorada resort.
2. Postcard Inn Beach Resort
Less pricey but also very pretty and comfortable is the Postcard Inn Beach Resort. There's even a tiki bar!
Related Reading: