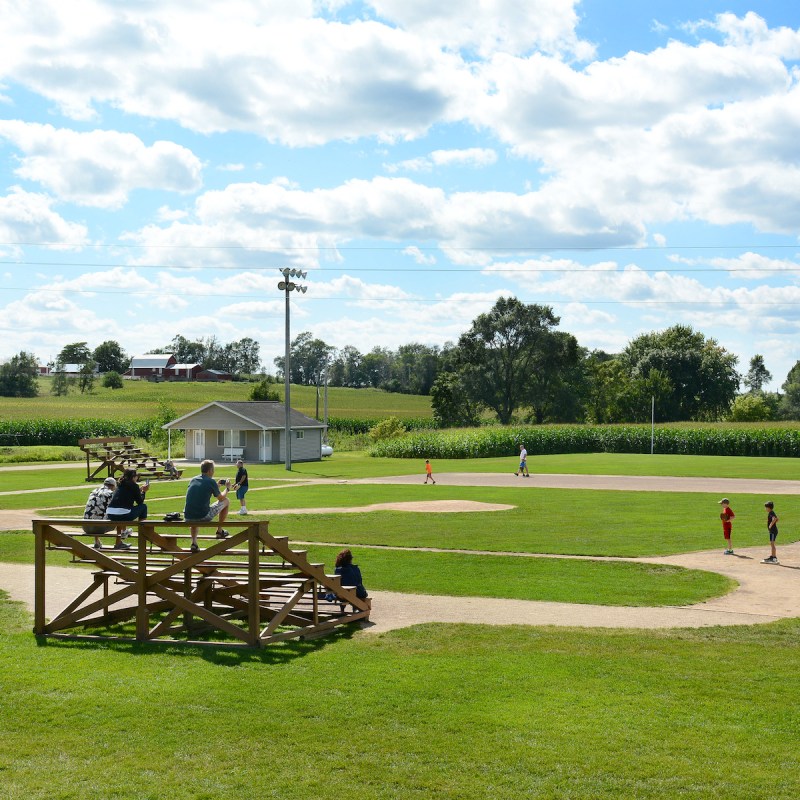 When you think of pop culture locations that people from around the world travel to see, chances are a cornfield in the middle of Iowa won't immediately come to mind. But thanks to the 1989 blockbuster Field of Dreams, starring Kevin Costner as farmer-turned-baseball field architect Ray Kinsella, the Field of Dreams in Dyersville, Iowa, has become an enormous tourist attraction, drawing movie and baseball fans alike and routinely hosting celebrities and sports stars. Recent attention from Major League Baseball has also reignited interest in the film site and its legendary field. 
Here's what you need to know about the real-life Field of Dreams and what you can expect to experience when you visit this special spot. Because after all, if you build it, they will come!
1. It's A Little Piece Of Hollywood In The Heart Of Farm Country
In 1987, the Lansing family of Dyersville got an interesting visit from a member of the town's Chamber of Commerce. Universal Studios was scouting locations for its new project, wanted to build a baseball field in the middle of a cornfield, and thought the Lansing farm might just fit the bill. After a series of meetings and test shoots, the producers chose the Lansing land, the field was constructed, and filming for Field of Dreams began on the site. The Lansing home also made an appearance in the film as the Kinsella farmhouse.
Dyersville is located 26 miles west of Dubuque, Iowa, part of the Quad Cities metro area. It's a 4-hour drive from Chicago and a 3-hour drive from Des Moines. The area is served by the Quad City International Airport, which is about 1 hour and 30 minutes away in Moline, Illinois; the airport is serviced by carriers American, Allegiant, Delta, and United. While the area isn't a major metropolitan center, it's still quite accessible for those who want to experience this unique baseball site beloved by movie buffs and MLB fans alike.
2. You'll Ask If It's Heaven
As you approach the farm, it's impossible not to feel both nostalgia and anticipation. Half-hour tours of the home are on offer and can be booked online in advance. They cost $20 for adults and $12 for children, but they are a great way to take a peek inside the home, where several pivotal scenes from the movie were shot.
Admission to the field and the surrounding area is free, and you can snap as many photos as you'd like. Plan to take your time, play a few games of catch, get your selfies in, and savor being there. In one of the most famous scenes from the movie, the ghost of legendary outfielder Shoeless Joe Jackson emerges from the cornfield, looks at the diamond, and asks, "Is this Heaven?" You'll likely wonder the same thing.
Aside from the home tour and field, there's a great gift shop on-site where you can purchase movie memorabilia and trinkets, baseball-related items, and much more. Be sure to check it out and grab something to remember your visit by.
For the ultimate over-the-top evening, consider staying in the farmhouse itself! If you opt for the luxe Kinsella Experience, you will have access to a homey bedroom on the upper level of the home, be personally greeted by the site's staff, and receive all sorts of fun items, including an official MLB Field of Dreams baseball. You'll also get a bottle of wine and a picnic blanket so that you can recreate the scene where Ray and his wife picnic centerfield. It's not cheap — prices start at $500 per night during the off-season — but you'll get a one-of-a-kind stay and a great story to tell!
3. There Are A Variety Of Lodging Options
If an overnight stay at the farm isn't in your budget, don't fret. There are plenty of other places to stay nearby.
In Dyersville, you'll find low- to mid-level chain hotel options. Keep in mind that their prices are elevated because of their proximity to the Field of Dreams, and you won't get a whole lot of bang for your buck. If you've driven to the site, or you have a rental car, consider staying at one of the nicer options in the nearby Quad Cities. You'll pay just as much for a hotel room, but you'll end up having a more upscale experience.
Nearby Dubuque is home to a variety of bed and breakfasts, most located within the town's charming and historic downtown district. The Redstone Inn & Suites is a spot with a fascinating past: Constructed as a home for some of the town's elite, it was used as a tavern before it was saved from the wrecking ball and converted into an inn. There's also the Hotel Julien Dubuque, with its modern chic, historic touches, array of amenities, and on-site spa.
4. You Can Make It Multigenerational
Our best tip for visiting this iconic spot: Splurge and make it a whole-family trip. Baseball is all about nostalgia. Love for the game and its traditions is sewn into our country's fabric and is passed down from generation to generation. The Field of Dreams was made famous by an Academy Award-nominated film that has inspired baseball fans for 30 years, so when you visit, invite the extended family to come along.
You'll see fathers and sons, moms and daughters, and grandparents and grandchildren playing catch, taking terrific family portraits, and making memories that will last a lifetime. Some wear jerseys from their hometown teams; others pose near the corn where the players of yesteryear mysteriously emerged in the movie. It's a touching and endearing thing to see and experience.
This is a bucket-list trip that will delight the whole family. With that in mind, consider including older relatives, especially if they love the game of baseball. You won't regret it.
5. The Best Time To Go Is During Baseball Season
While the Field of Dreams and the Kinsella farmhouse are open year-round, Iowa can and often does get pretty cold in the winter. To avoid the crowds, consider a late fall or early spring trek to the site; the temperatures will be bearable, and you'll still be able to run the bases, play catch, and tour the home.
That said, the place really comes alive in June, July, and August, once it's warmer. Just like in the movie, the corn is high, the sun is hot, and the boys of summer are up to bat on diamonds — Major League and Little League — across the country. The bottom line is this: Summertime is baseball season, and it's really the best time to visit this iconic spot dedicated to the game and all the things that make it great.
6. The Site Plans to Host A Major League Baseball Game Again In 2022
As aluded to earlier, the most-quoted line from Field of Dreams is, "If you build it, they will come." It's the ghostly, mysterious message that Ray Kinsella keeps hearing, and the one that ultimately compels him to plow over his cornfields and construct a regulation baseball field. It's also the mantra that Major League Baseball will be banking on again in 2022.
After the success of its White Sox/Yankees matchup in 2021, the MLB will host another primetime game Thursday, August 11, 2022, between the Chicago Cubs and Cincinnati Reds. The league expects a capacity crowd at the 8,000-seat ballpark, adjacent to the actual Field of Dreams. The game will be televised to a national audience, and fans, both in-person and watching from home, will get to see their favorite players once again emerge from the cornstalks. Tickets were only available via a June lottery, so if you haven't scored them yet, plan on watching the game from home.  
Planning a road trip through Iowa? Here are the best things to see and do in Des Moines. When you've seen everything the capital has to offer, make one of these amazing day trips from the city or check out these family-friendly activities in Cedar Rapids.
And why not make the Field of Dreams part of a baseball road trip? Here are the best places to explore baseball history in the Midwest.