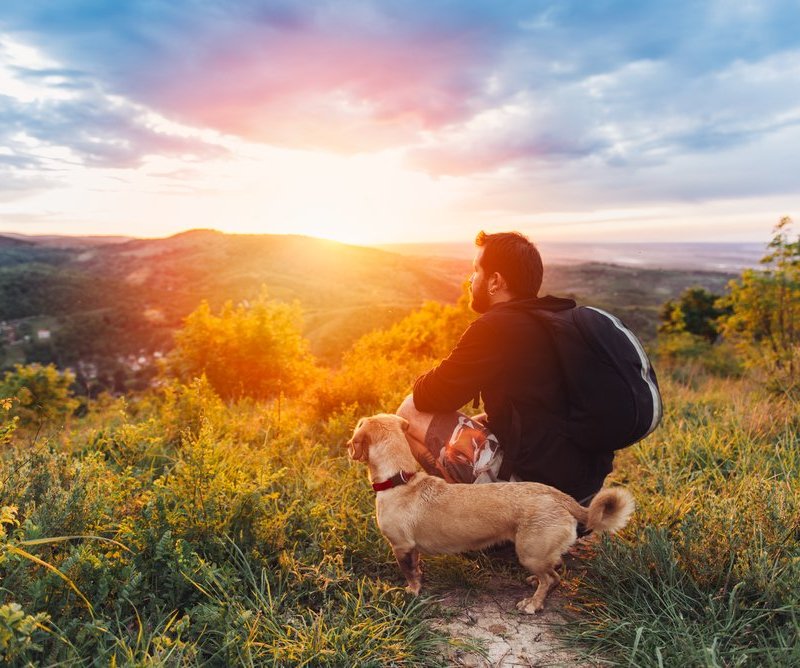 A vacation isn't complete without loved ones alongside you. That's fine when you book a cabin with your best friends, but what about the four-legged members of your family? We don't know about you, but we have a hard time relaxing without a dog in the room.
It's no surprise that more and more of us are taking our dogs on vacation. A recent American Pet Products Association survey found that 40 percent of dog owners vacation with their pets. Ten years ago, only 20 percent of dog owners were likely to hit the road with their pup in tow.
If you count yourself as a dog lover, chances are you plan vacations with your pup's best interests at heart. Next time you need to get away from it all, why not double down by putting your beloved pet front and center?
Plenty of vacation destinations cater specifically to the tail-wagging demographic. It isn't hard to put together a trip that your dog will love as much as you do — if not more. Here are some of the top options for pampering your pet while recharging your own batteries.
1. Dog Camps
Summer camp isn't just for Scouts anymore. For outdoorsy types, there's no better way to spend some quality time with a four-legged friend than to visit a camp designed just for dogs — and their owners, of course.
Check out Camp Dogwood in Lake Delton, Wisconsin, near the Wisconsin Dells. Animal Planet called this sleepover camp one of the "planet's best dog-friendly destinations," and with its range of dog-centric activities in a gorgeous wilderness setting, it's easy to see why.
Stay in a cabin, an air-conditioned lodge, or camp out on the grounds in your own tent. Pack your daytime schedule with training, play, and informational lectures that will bring you and your pet closer than ever. Run agility courses or enjoy some social time with the pack. Vacation packages are available in winter, spring, and fall.
If you're closer to the Berkshires of western Massachusetts or the Blue Ridge area of Georgia, visit one of Camp Unleashed's two locations. Relax in a rustic cabin with friends, furry or otherwise. Swim together in the lake; take dog-and-you classes on behavior, health, and nutrition; and hike the trails with new friends or just the two of you.
The only question left is who will have the most fun — we're betting it's the dog.
2. Dog-Friendly Luxury Hotels
Looking for some canine-centered relaxation closer to the city? Book a stay at a luxury hotel that welcomes pups with open arms. New York's Ritz-Carlton (no less) is happy to book a stay for you and your pet, as long as your pet is under 60 pounds; the hotel will set your room up with a special dog bed for naps and lounging. Treats are available, and when it's time to do business, the hotel hands out clean-up bags with a special holder.
If the Ritz isn't your speed, look for a Kimpton Hotel. This boutique chain operates lodgings all over the United States and the world. Unlike many dog-friendly hotels, Kimpton doesn't place a size limit on the pets it welcomes. "If your pet fits through the door, we'll welcome them in," the hotel chain says. Employees will even greet your dog by name and send pet beds and bowls for food and water to your room — all at no extra charge.
Other hotels that have generous pet policies include La Quinta, Loews Hotels and Resorts, and, depending on the location, Fairmont Hotels and Resorts.
3. Spa Days For Dogs And Their People
Pamper yourself and your puppy all in one trip. Believe it or not, spa services are available for canines, too. You just have to find the right spa.
Check out Nemacolin Woodlands Resort in western Pennsylvania, just 70 miles south of Pittsburgh. It offers the full range of spa services, from manicures to holistic healing practices, within a luxury resort. Stay for the week, soaking your worries away.
Pick the Chateau Lafayette rooms or a two-room townhome; dogs under 50 pounds are welcome in both of these. If your dog is bigger — or if you just want some time to yourself for a massage or some hydrotherapy — drop your pet off next door at the Nemacolin Wooflands Pet Resort & Spa. The resort offers luxury daycare and spa services for animals, and the employees will take good care of your pup.
You could also book a trip to the Lake Austin Spa Resort, located outside of Austin, Texas. You and your pet alike will enjoy the thorough pampering. Staff members provide dog beds, customized food bowls, and a treat with the nightly turndown service. They even hand your pup a squeaky toy when you show up.
Best of all, the resort's chef offers a special gourmet menu just for dogs. Choose grilled hanger steak over brown rice, a luscious chicken breast, or even a bison burger. Why shouldn't your dog eat as well as you do?
4. Dining With The Dogs
Speaking of eating, who's up for a little food tourism? People travel for special meals all the time, and if you pick the right destination, you can happily keep your dog at your side all through the meal.
Stop by Ciao Hound Kitchen and Bar in the Florida Keys. People will enjoy the light Tuscan fare, while their dogs get to order off the Canine Cuisine menu, available only on Ciao Hound's Pooch Patio. There's even a (non-alcoholic) beer for your dog to enjoy, and water is always free.
Or how about Morristown Deli in Morristown, New Jersey? It's only about 20 miles west of Newark, and dogs are always welcome at the deli's outside café. The café is only open in nice weather, so plan accordingly. Morristown Deli offers a special menu for dogs, booster seats and high chairs for your furry friends, and even access to an on-site dog trainer.
Then there's Pub Dog in Colorado Springs, Colorado. This restaurant goes all out for puppies, billing itself as "the first restaurant in Colorado where you can eat with your dog." It would be just as accurate to call Pub Dog the first dog park that also serves dinner and drinks!
Pub Dog features a 3,000-square-foot leash-free zone where your pets can frolic while you enjoy a libation. Take a seat in the patio area (with your dog, of course) for dinner. If your dog doesn't have an early bedtime, you can hang out late; Pub Dog is open until 9 p.m. most nights and until 10 p.m. on Saturdays.
Your dog will love it, and you'll love seeing your dog happy. That sounds like a win for everyone.
Photo Credit: Javier Brosch / Shutterstock
Photo Credit: Zivica Kerkez / Shutterstock