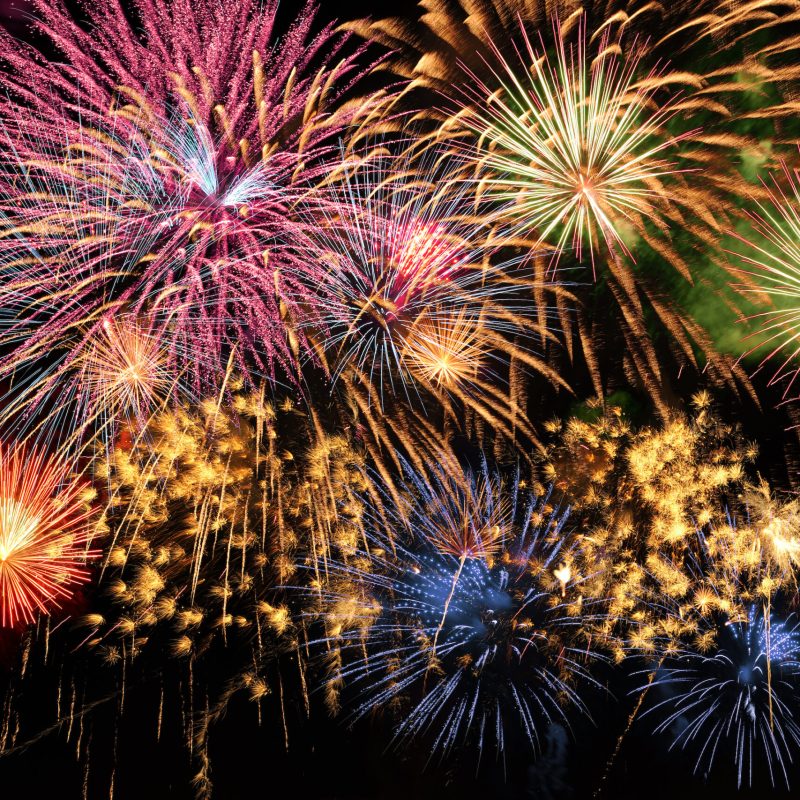 The Fourth of July is when we mark America's birthday with food, festivals, and fireworks. But you don't have to be in the big city to celebrate all of the things that make our country great. For a slice of small-town Americana mixed with beauty and tradition — plus patriotic fun — consider these places for your Independence Day getaway.
Bristol, Rhode Island
For a dose of colonial history with your holiday celebration, Bristol, Rhode Island, is the place to be. This small seaside town, located southeast of Providence, has quite the claim to Fourth of July fame: With a parade that dates back to 1785, Bristol has celebrated America's birthday since the country was just nine years old. The parade is thought to be the oldest Fourth of July parade in the country.
The town might also host the longest patriotic party as well: The fun officially kicks off on Flag Day in June, with concerts, fireworks, a vintage baseball game, and even a formal ball. All of those events lead up to the big parade that begins at the intersection of Chestnut and Hope on the morning of the Fourth. It's truly one of the most star-spangled and patriotic ways to spend your Independence Day, and it's a great reminder of where America began and what our country is all about.
To take in the evening fireworks over some littlenecks, cherrystones, or quahogs, head to Quito's Restaurant.
Cody, Wyoming
For a bit of Wild West adventure with your Fourth, check out Cody, Wyoming. This town, located about 50 miles from Yellowstone National Park's east entrance, was founded by none other than William "Buffalo Bill" Cody in 1901. Cody still retains a frontier-town feel, as evidenced by its nickname: "Rodeo Capital of the World."
Cody comes to life during the week of the Fourth with its annual Stampede Rodeo (July 1-4). In the mornings, traditional parades with veterans' groups, marching bands, and floats wind through historic downtown Cody. At night, you can witness bull riding, barrel racing, and plenty of bucking broncos as cowboys (and cowgirls) compete for hundreds of thousands of dollars in prize money at Stampede Park Arena. It's a galloping good way to spend the Fourth.
For even more Wild West entertainment — and great eats — stop at the Cody Cattle Company for dinner, where you can enjoy a family-style barbecue meal while a country western band performs.
Cooperstown, New York
There's nothing more American than baseball, and by spending Independence Day in Cooperstown, New York, you can celebrate both baseball and country in a quaint upstate setting. Cooperstown is home to the National Baseball Hall of Fame; however, the town's historic homes, charming downtown, nearby wineries, and gorgeous Otsego Lake add to the allure of spending a summer weekend here.
The Fourth of July celebration and parade in the nearby town of Springfield is as star-spangled as it gets, featuring floats, marching bands, tractor brigades, and veterans' groups. In the evening, enjoy cool breezes, colorful fireworks displays, and a concert at Glimmerglass State Park.
Consider a stay at the historic and iconic Otesaga, a grand lakefront resort that's been around since 1909. It's known for its great golfing.
Flagstaff, Arizona
Flagstaff, Arizona, just a two-hour drive north of Phoenix, is perhaps best known as the gateway to the Grand Canyon. However, this alpine town is more than just a stopover spot. Outdoor activities abound, and miles of mountain biking and hiking trails wind through the city and out to the foothills of the nearby San Francisco Peaks. The town also boasts a bevy of microbreweries, fabulous museums, and some of the best stargazing in the world: Its Lowell Observatory, established in 1894, is where Pluto was seen for the first time.
Flagstaff's Fourth of July celebration features a number of activities, including a parade, road races, and a concert, but the standout is the Hopi Festival of Arts and Culture. Since the 1930s, this festival and show has celebrated Native American artists from Hopi villages in northern Arizona.
Check out — or check in to — the Weatherford Hotel, where artists and authors have stayed since 1900.
Friday Harbor, Washington
Only 65 miles from Seattle, San Juan Island is the largest of the islands in San Juan County, Washington, and it can be reached by ferry or float plane. Be sure to whale watch on your way there, since you'll often see orcas in the Salish Sea; much of the island itself has been designated a national park.
Friday Harbor, the county seat and largest town in the island chain, is home to art galleries, shops, cafés, and a variety of inns and bed and breakfasts. While you're there, take advantage of the gorgeous, temperate climate: Rent a bike, hike, or sunbathe on the rugged coastline. Learn more about the fascinating history of this place that was first an army encampment, then endured a Pig War before becoming a fish-canning town and ultimately a peaceful tourist haven. The Pig War is remembered each year during the Fourth of July celebration at Friday Harbor, when the town's Kiwanis Club hosts — what else? — a Pig War barbecue. Other highlights include a picnic, a parade, live music, and fireworks.
Gulf Shores, Alabama
For a bit of sand, seafood, and surf with your Fourth of July, consider the Alabama Gulf Coast. Once a sleepy fishing community, the town of Gulf Shores, Alabama, grew up around Gulf State Park, which opened in 1939. Now dotted with beachside condominium complexes and fabulous cafés, Gulf Shores is a popular holiday destination. Anglers will want to check out the park, which boasts a long fishing pier, poles for rent, and licenses available for purchase on-site.
On the Fourth of July, a street festival takes place at the Wharf at Orange Beach, a couple of miles up the coast. Even the palm trees there sparkle red, white, and blue for the occasion. If you're feeling adventurous, sign up for (or just watch) the Shark Run on Independence Day morning. Participants wear flag football belts and are chased by "sharks" along the 4-mile street-to-beach course. And on the evening of the Fourth, check out the incredible fireworks display on the Gulf State Park pier; Gulf Shores Beach is the perfect place to stake out a spot in the sand and see the show light up the sky.
Independence, California
There's no better place to celebrate the holiday than Independence, California. This tiny, remote village nestled between Kings Canyon National Park and Death Valley National Park is popular with the hiking and rock-climbing set. Trout fishing is also a favorite pastime here, and camping and glamping options abound in the Eastern Sierra nearby.
The population booms each Fourth of July, since the town named for freedom celebrates in grand style. The day starts with a 5K followed by a pancake breakfast. An arts and crafts festival takes place on the grounds of the Inyo County Courthouse, and at the town's Dehy Park, activities include a parade, pie social, and barbecue. In the evening, the Independence Volunteer Fire Department puts on a traditional fireworks display.
Mackinac Island, Michigan
For cooler temperatures, a Great Lakes setting, and a throwback sort of Fourth, head to Michigan's famous state park, Mackinac Island. Situated between the state's upper and lower peninsulas in Lake Huron, this historic vacation spot is known for its horse-drawn carriages (no cars allowed!), fragrant lilac trees, and decadent, delicious fudge. The island is only 8 miles around, so you can easily bike down the shoreline, explore areas occupied by the British during the War of 1812, and hike the limestone cliffs and caves, including Arch Rock and Sugar Loaf.
The island's stately homes and historic downtown are carefully maintained, and so is the gorgeous Grand Hotel, which hosts an all-American Fourth of July picnic. There's also the chance to win bragging rights at the island's annual Independence Day stone-skipping contest, and you won't want to miss the fireworks over the lake.
Williamsburg, Virginia
Last but certainly not least, consider spending a truly historic Independence Day in Williamsburg, Virginia. Founded as the state's capital in 1699, it was one of America's first planned cities. When the capital moved to Richmond, Williamsburg avoided explosive population growth and was able to maintain its historic center. Now the city is famous for shopping, wineries, and of course, Colonial Williamsburg.
Spend a Fourth of July here, and you'll feel as if you've been transported back in time. The holiday features a reading of the Declaration of Independence on the courthouse steps by an actor portraying Thomas Jefferson. You can also enjoy Fife and Drum Corps salutes and military exercises and reenactments. In the evening, there are numerous fireworks shows from which to choose, including displays in historic Williamsburg as well as in Yorktown and Busch Gardens.
Photo Credit: Ricardo Reitmeyer / Shutterstock