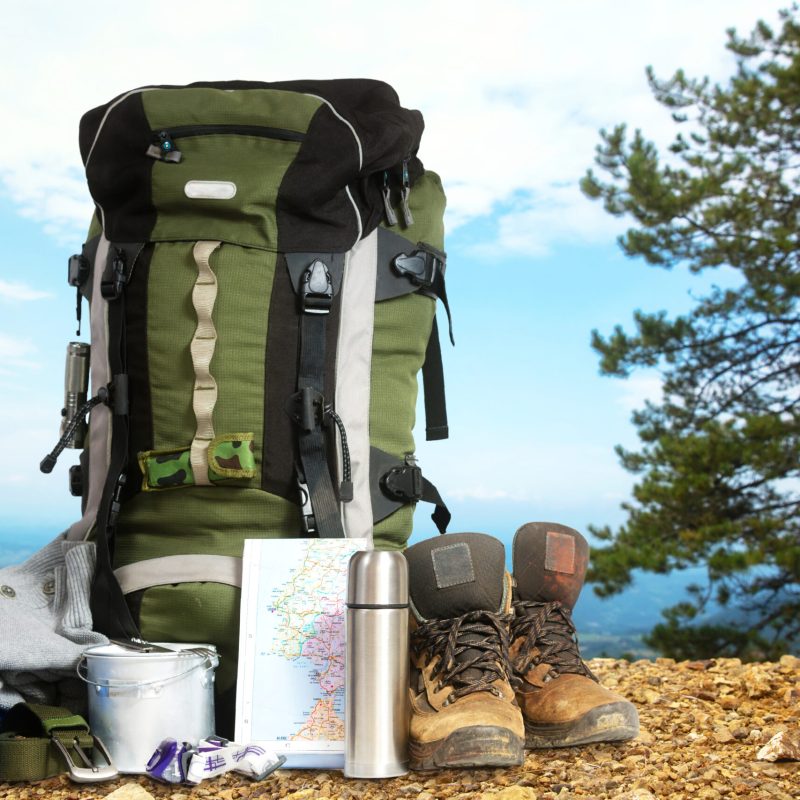 The outdoors are a retreat for many of us now, more than they ever have been. If a friend or family member is always inviting you to go on a camping trip, you're sure to find something special for them here. These products are great picks for both beginners and lifelong adventure junkies.
Buy Now
Hiking is one of our favorite activities, and KEEN Footwear is one of our favorite brands to hike in. Known for high-quality, long-lasting footwear, our travel experts detailed some of their favorite KEEN hiking boots here.
$55
Buy Now
Perfect for the wannabe outdoorsman in your life! Janie Pace says, "I ordered the buffalo beards for my husband and son-in-law. They were shipped promptly and they are of great quality. Two straps fit around the head and neck to hold the beard on. Our gag gift for the season!"
Fan Favorite
$79.99
Buy Now
Good for a year's worth of visits, this pass gets you access to over 2,000 federal recreation sites across the country including all of the national parks. This pass covers entrance for a driver and all passengers in the vehicle.
$29.99+
Buy Now
A thoughtful gift for the gadget and gear lover in your life! Janie Pace describes The Nomadik Subscription Box for adventurers as "my go-to for all things camping and a wonderful holiday gift for the camper, hiker, and adventurer."
Buy Now
A clever and unique gift for the national park lover in your life! TravelAwaits expert Wendy Lee explains, "I emailed them my favorite photo from a trip to Death Valley National Park and they created a vintage poster that I love! While I love to frame my travel photos, I already have too many of those around the house. The vintage poster looks great on my wall and constantly reminds me of a fun trip."
Buy Now
Add some color to your favorite green thumb's landscape! Janie Pace says, "I shop Wildseed Farms every time I visit my brother in Fredericksburg. The farm is down the road from the LBJ boyhood home — remember Lady Bird Johnson was responsible for wildflowers on the roadsides in Texas during her lifetime and that tradition has lived on since her death. I spread these wildflowers along our road at the cabin, west of Walnut Springs, Texas, and got a good crop of bluebonnets last year."
Top Pick
$199.99
Buy Now
Dubbed the world's most portable fire pit, the Solo Stove Ranger is the perfect accessory for the camper in your life. In addition to being durable and smokeless, users say you can use it to boil water in just 10 minutes!
$29.95+
Buy Now
Perfect for the hiker in your life, hiking poles can provide anchor points for balance and even reduce swelling in the hands by keeping hands level to the heart and improving blood flow. Lightweight and functional, these babies will help you cover more ground safely and comfortably.
$129.95
Buy Now
With an overall rating of 4.8/5 stars, reviewers repeatedly remark that the Nikon Prostaff Binoculars are extremely lightweight and great for birding or other wildlife viewings. These binoculars have 8x magnification capability, fully coated eco-glass lenses for optimal clarity and lighting, are waterproof, and only weigh 14.8 ounces.
$99.99
Buy Now
If forgotten tea or coffee is the bane of your life, Ember has a solution for you! Loretta Berry says, "as a writer, my favorite gift was my Ember coffee cup. In the mornings I will pour myself a cup of coffee, get busy writing, and lose track of time, forgetting to drink my coffee while it's hot. After several attempts at reheating, it just isn't the same as fresh, hot coffee. The Ember Mug keeps my coffee warm for an hour and a half with no reheating. " This smart mug is perfect for a weekend off the grid or a busy day at home!
$250
Buy Now
Known for top-of-line quality coolers, Yeti continues to come out with products perfect for the outdoor adventurer. TravelAwaits expert Janie Pace says, "Yeti is the brand for quality ice chests — we own several. I love this pink version, smaller, made perfectly for a girl!"
Buy Now
Fabletics is the athletic brand for every body, known for its high-quality activewear in sizes XS to 3X. TravelAwaits expert Loretta Berry says, "I like Fabletics brand for working out, or in my case walking. The leggings have a thick, high-waisted band (helps to hold me in). They are thicker than ordinary leggings (which makes me feel comfortable wearing them out in public) but made of breathable material and are silky smooth. Oh, and they have three sleek, hidden pockets to hold my keys and phone. I especially love the funnel-neck tunic that comes with this set. It is lightweight but fleece lined to keep me warm on those chilling mornings outside. The set comes bundled for extra savings, but can be ordered individually, too."
Must Have
$35
Buy Now
Bag envy is strong with this one. Sick of hunting for hand sanitizer, your face mask, or even your wallet while on the go? Keep valuables and essentials front and center with Nixon's Bandit Bag, offered in a variety of colors and fully equipped with internal organizers, this is sure to be a favorite travel companion.
For even more outdoor gifting inspiration, check out: