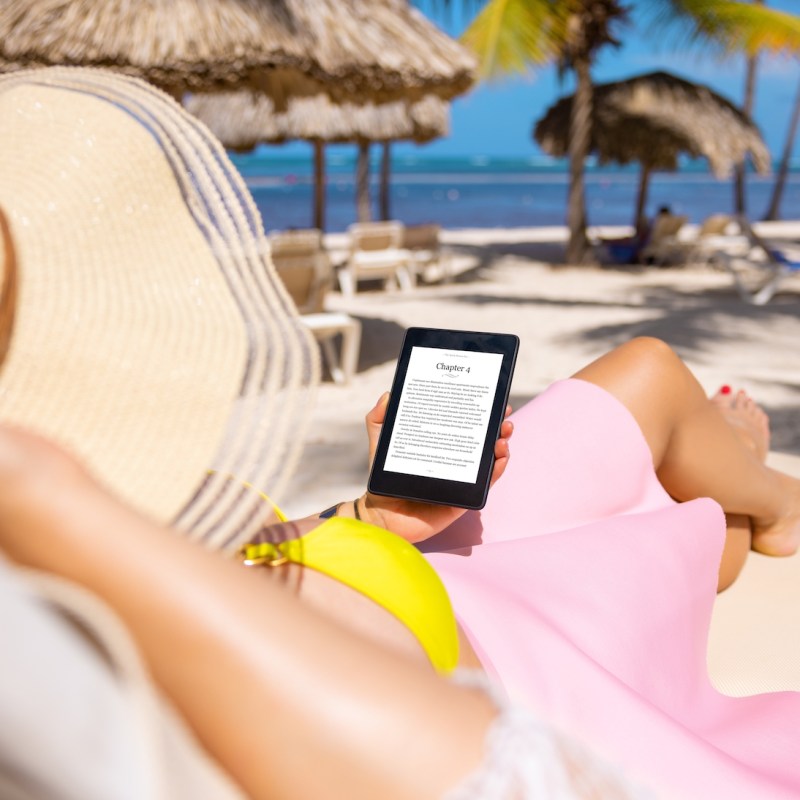 If you don't have a Kindle yet or are in need of an upgrade, Prime Day is your big chance to get one at a deep discount.
Prime Time
Amazon Prime Day is somewhat of a misnomer, as it lasts two days, July 12-13. Also, there are early Prime Day deals, including up to 60 percent off of Amazon devices. This Prime Day, there is a huge sale on Kindle Essentials Bundles.
Kindles Are Perfect For Travelers
Kindles are a great companion for any traveler. Instead of hauling around heavy books, you can slip this tablet into your bag and have access to more books than you can imagine.
Books Galore
Yes, just about any book you can think of is available on Amazon, but did you know that you can also read free books from the library? Apps like OverDrive allow you to reserve e-books and audiobooks from your local library. Just sign up by using your library card to log in, then start adding titles to your bookshelf.
Amazon also offers Kindle Unlimited, a subscription service that gives you access to millions of titles as well as audiobooks and magazines for a monthly fee.
Do Kindles Require Wi-Fi?
Yes and no. Unless you buy a data plan for your Kindle, it will only work on Wi-Fi. However, Wi-Fi is only necessary to browse and download books. Once a book is downloaded to your Kindle, you can access it at any time — whether you are connected to the internet or not.
Can You Use An E-Reader Like Kindle On An Airplane?
Yes! As mentioned above, the device only has to be connected to Wi-Fi to download books, so you can use your Kindle on the plane, no problemo. Just remember to put it in airplane mode!
Other Kindle Benefits
Look Up Words
One of my favorite things about e-readers like Kindles is how they let you highlight a word to define it. This way, I don't have to look it up on my phone, where I inevitably get distracted by something else. It also makes it easy to translate words and highlight passages for future reference.
Read In The Dark And Outside
The adjustable light lets you read indoors and outdoors, any time of day or night. Kindle's glare-free touchscreen won't blind you in the sunshine like a phone screen or iPad does.
Adjustable Text Size
Change the size of the text and the font for your reading pleasure.
Easy Transfer Of Titles
If you are upgrading from an older Kindle to a newer version, it is so simple to transfer your titles to your new device. Simply sign in to your Amazon account, and all your books will be there waiting for you!
Seamlessly Switch From E-Book To Audiobook
Newer versions of Kindle have Bluetooth so you can connect your headphones and listen to audiobooks on them too. When you buy a Kindle book on Amazon or an audiobook on Audible, it usually gives you the option to purchase the other version as well, so you can read when it is convenient or listen when you want.
Shop Prime Price
Why is this Kindle Oasis bundle so much more expensive than the one above? For starters, it is waterproof, so you can read in the tub or by the pool. Secondly, it has 32 GB of memory, whereas the Kindle above only has 8 GB. This means you can store more books.
Thin and light, the graphite-colored Kindle comes with a black leather cover and power adapter. Its flush-front Paperwhite display features an adjustable warm light so you can change the screen shade from white to amber. The only downside is it does have page turn buttons, which can wear out over time. The Kindle Oasis is Bluetooth-enabled to connect to headphones or speakers so you can switch seamlessly from reading to listening.
Shop Prime Price
Also waterproof, this Kindle Paperwhite features wireless charging (wireless charging dock sold separately) and can last up to 10 weeks on a single charge. Like all Kindles, it features a glare-free display, but it also has an adjustable warm light and auto-adjusting front light. We love this option because it is highly customizable. You can choose how much storage you need: 8 GB or 32 GB. Lockscreen Ads display sponsored screensavers on your device's screen when it is locked, and this Kindle Paperwhite is available with or without Lockscreen Ads. It also comes with a three-month free trial of Kindle Unlimited, which you can opt out of if you'd prefer. It is also available as a bundle with three choices of cases: cork, fabric, or leather.
Shop Prime Price
This refurbished Kindle Paperwhite isn't a bundle with a power adapter and cover, but it is waterproof and does do its small part in helping to save the planet. TravelAwaits editor Linsey Stevens outlines why she is a big fan of her refurbished Kindle:
"Spending as much time on a screen as I do, I never thought I'd like an e-reader — and I especially hate reading anything lengthy on an iPad. We're also big on reduce, reuse, recycle, so I'm always hesitant to try new and potentially unnecessary tech. But when I saw Amazon offering refurbished Kindles for a fraction of the price of new, it seemed like a perfect option to try a lightweight, travel-friendly reading option.
This is one of my favorite purchases to date! My refurbished Kindle Paperwhite is so small it fits in almost all my purses (no more getting to coffee dates early and aimlessly scrolling on Instagram), and I've mastered borrowing electronic books through my local library and Netgalley (super fun for review copies!), meaning I've only outright purchased a few books I want to have for reference. Everything else on my Kindle has been free.
I just finished Vanessa Hua's A River of Stars and am partway through Kinari Webb, M.D.'s Guardians of the Trees, and strongly recommend both. Either would make a great in-flight or poolside read."
For even more Prime Day deals, check out: