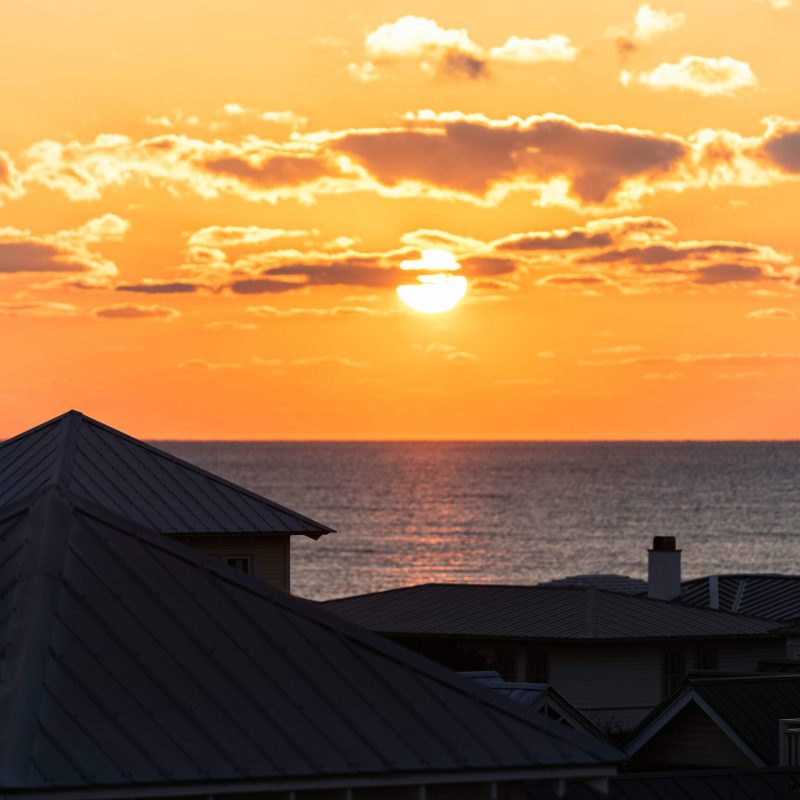 The Gulf of Mexico boasts some of the most beautiful white-sand beaches in the United States. Finding the perfect beach home for a long-term winter stay or quality family vacation can be overwhelming, so we've taken the guesswork out of it. No matter your budget, consider our top Airbnb rental house choices in Clearwater, the Florida Keys, Rosemary Beach, and Siesta Key, all within walking distance of the beach.
Clearwater Beach
Bargain
Buy Now
Bedrooms: 1
Baths: 1
Starting Price: $82
This clean and simple rental duplex in Clearwater offers many options to travel the 2.2 miles to the beach, including free bikes and both a local trolley and ferry within walking distance. The home includes all the basic amenities for a comfortable stay, with bonus additions like a washer/dryer and covered parking. For those that travel with their pets, small dogs are welcome!
Mid-Range
Buy Now
Bedrooms: 2
Baths: 2
Starting Price: $90
This traditionally-decorated bungalow offers 7 sizeable rooms and a huge private fenced-in backyard. For the baseball fans, it's minutes from both the Philadelphia Phillies' and Toronto Blue Jays' Spring Training facilities. It's also a quick drive to Clearwater Beach, local golf courses, and excellent fishing areas. This rental specializes in long-term rentals for those looking to escape the cold weather at home and spend the winter in the brilliant Florida sunshine.
Splurge
Bedrooms: 4
Baths: 3
Starting Price: $233
This simply majestic waterfront home in Clearwater offers many deluxe amenities, including a 2,500-square-foot pool, hot tub, and adorable Floridian tiki hut! Each room is designed for maximum ocean views, wrapping guests in peaceful serenity. This beauty sleeps up to 10 guests, perfect for those looking for a vacation home large enough for the extended family.
Florida Keys
Bargain
Buy Now
Bedrooms: 4
Baths: 4
Starting Price: $196
This gorgeous, tastefully decorated waterfront property on Key Largo sleeps up to 9, making it ideal for a large family getaway. The dog-friendly house is equipped with all sorts of indoor and outdoor activities, including scuba and snorkeling gear, a hammock, a telescope, and even a popcorn machine for movie nights. It's steps away from the water and offers idyllic canal views from almost every room.
Mid-Range
Buy Now
Bedrooms: 2
Baths: 2
Starting Price: $247
Attention snowbirds: This Key West retreat is only available for those looking for a long-term stay — at least 28 days or longer. It's designed to provide all the comforts of home, including allowing the family dog to join. The robin's egg blue cottage has its own private pool and relaxing, fenced sandy backyard. It has extremely high walk and bike scores, meaning visiting most attractions and running errands are easily accomplished without a car.
Splurge
Best Of The Keys
Buy Now
Bedrooms: 4
Baths: 2
Starting Price: $435
This oceanfront home on the canal in Marathon is complete with a private pool, boat slip, and a rooftop patio with a TV and fire pit. The house is stocked with tons of games and all-ages entertainment. It also comes with plenty of outdoor toys, including paddleboards, a kayak, and four bikes. Don't miss this five-star getaway!
Rosemary Beach
Bargain
Buy Now
Bedrooms: 3
Baths: 2
Starting Price: $94
The "Beachy Keen" vacation cottage is located 200 yards from the magnificent white sandy beaches of Rosemary Beach. The huge community pool and veranda offer excellent relaxation options steps outside. Local restaurants and boutiques are within walking distance. This cute home is priced affordably for couple travelers but sleeps up to 7 people for larger family options.
Mid-Range
Buy Now
Bedrooms: 4
Baths: 3
Starting Price: $124
This adorable home on Rosemary Beach has a second story front balcony and a five-star resort-style pool. Sleeping up to 11 people and starting at only $124 per night, it's a true bargain vacation home. It's conveniently located within walking distance of the beach and all of Rosemary Beach's favorite attractions, so you can explore without ever needing a car.
Splurge
Buy Now
Bedrooms: 4
Baths: 4
Starting Price: $189
This home was remodeled prior to Summer 2020 and has all the newest and nicest amenities for a memorable stay. Don't miss the chandeliers and canopy bed! The private beach is a short half-mile walk, or use the owner-provided bikes. While it does not have its own private pool, access to the Seacrest neighborhood pool and jacuzzis is included. It offers plenty of outdoor lounging with a ground-level porch and second-story balcony.
Siesta Key
Bargain
Bedrooms: 3
Baths: 2
Starting Price: $145
This beautiful modern home is only one block from the bustling streets of Siesta Key Beach and also includes a private screened-in lanai with a pool. In addition, there is plenty of outdoor seating. To complete the vacation, this home includes a garage, washer and dryer, barbecue pit, pool toys, beach chairs, outdoor shower, and free Wi-Fi.
Mid-Range
Dreaming of Siesta Key – your dream vacation awaits you
Top guest reviews
We were very happy with this rental. We've been renting houses in Siesta Key for years and this is the best one. The location was perfect. The proximity to the beach was exactly what we wanted. The house is beautiful. The pool off the porch was screened, so no mosquitoes. And the lot feels very private. The kitchen was better equipped than most rental houses. You can actually prepare a real meal with sharp knives, good pots and pans. Also, the house was well stocked with beach items. We'll definitely come back.
You know when your anxious and your expectations are high ! This house and the area met our expectations and did not disappoint ! We were here for 30 days to decompress,. and WE DID ! The house was very clean, well supplied and comfortable. The beach was down the street and you were able to stretch out. and it was not blanket to blanket. After the beach there's nothing like a refreshing pool to relax you even more. Siesta village was easy to get to and had great restaurants , shops and people watching ! Just a few minor problems with the TV …a phone call and the next day fixed and problem solved ! The I trip office in Siesta Key was amazingly attentive to their clients and very friendly. We appreciated it so much !! WE WILL BE BACK !!
The location of this property is perfect. The house well-equipped for all of us. We slept slept well and every day walked to the beach, to town, or both. We hope to come again next year! Impressed with the staff who answered any concerns immediately (even over holiday weekend). Pool guys, lawn guys, sprinkler system, sanitation system, neighborhood etc..very well kept. Loved it !
Jerry was great he was there very promptly when something needed fixed.Thank you Jerry!
Read Less ∧
Read More ∨

Buy Now
Bedrooms: 3
Baths: 2
Starting Price: $274
This luxurious Ocean Beach Gleason home sits on a small lake offering gorgeous water views from the private saltwater pool and back patio dining area. The nearest public beach is only one mile away in Siesta Key Village, which is a quick walk or bike ride. The home includes all the beach toys required to easily kill a day in the sand.
Splurge
Most Unique Home
Buy Now
Bedrooms: 2
Baths: 2.5
Starting Price: $299
This super unique Siesta Key rental home has been dubbed The Coolest House in Siesta Key Village thanks to its Sarasota School of Architecture styling. The art enthusiast will absolutely fall in love with this decor. On top of the visual appeal, it's less than 10 minutes from the beach and includes a private pool and spa.
Would you like your vacation home rental featured on TravelAwaits?
For further reading about places to visit along Florida's Gulf Coast, check out: