All products featured on TravelAwaits are independently selected by our writers and editors. We may earn commission when you click on or make a purchase via our links.
The Best Snowboarding Boots
Top Pick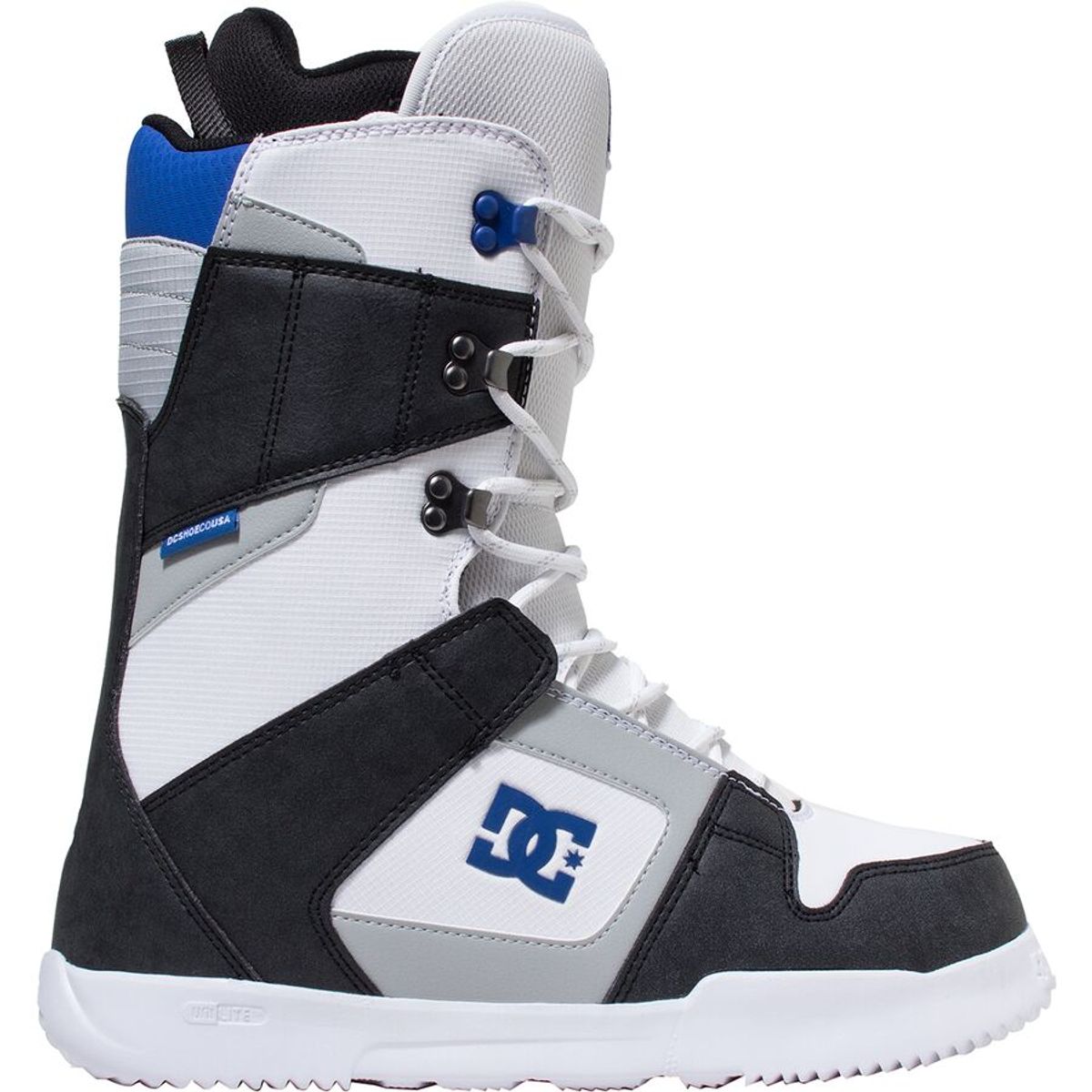 Check Latest Price
These boots are our top pick for men who are ready to invest in a pair of the best snowboarding boots on the market, and it's not just because they're made by iconic U.S. footwear company DC Shoes. Yes, these snowboarding boots have the look, but it's the tech behind them that makes them such a solid pick — and has earned them so many rave reviews from verified buyers and seasoned snowboarders.
Snowboarders' favorite thing about these boots is the fact that they are so lightweight. In fact, they're made with Uni-Lite, DC's lightest weight outsole. The traditional lace-up design will appeal to those who aren't after a futuristic closure system, and wearers say between the exterior lacing and the interior liner lacing, these boots (which have die-cut, moisture-wicking EVA insoles) will keep your feet warm.
Note that some snowboarders feel these boots don't provide quite enough support (DC gives them a Flex Rating of 5/10) and worry that the sole is a little to plasticky or slick, but even those buyers call them comfortable.
Pros
Ultra lightweight
Boot and boot liner both lace up
Compatible with Flow and old-school bindings
Cons
Don't provide the support some snowboarders need
Sole might be a little slick
Key Features
Traditional lacing
Multi-density EVA construction
Uni-Lite outsole
Specifications
Brand: DC Shoes
Sizing: Men's
Currently available in: Sizes 7 and 8
Honorable Mention
Check Latest Price
These super-sleek, slightly more mature-looking black-on-black boots are considered a solid choice by multiple snowboarders. Like the DC Phase, they're less rigid, meaning they don't come with the support of stiffer boots. This isn't a bad thing — in fact, the flexibility and softness makes them more wearable and forgiving, which could be especially good if you're new to the snowboarding game.
5th Element's ST-1s will keep you warm and dry with their synthetic shell and removable EVA liners. The traditional laces take fussing with closure gadgets out of the equation.
Some snowboarders who wear the ST-1s recommend sizing up and investing in gel insoles as the insoles that come with the boots aren't the most supportive.
Pros
Compatible with any modern bindings
Rider-friendly flex fit
Cons
Some buyers say these boots run small
Boots may benefit from addition of gel insoles
Key Features
Classic black-on-black aesthetic
Traditional lacing
Comfort EVA liner
Specifications
Brand: 5th Element
Sizing: Men's
Currently available in: Sizes 6-14
Also Consider
Check Latest Price
Three cheers for a women's option making our best snowboarding boots roundup! This is also the first pair on our list to feature a a dial-it-in lacing system that's meant to retain quick and easy lace adjustments. The Boa dial system featuring Coiler technology might look a little newfangled and enigmatic, but reviewers love what they call a top-notch lacing system that allows for a snug fit.
All of Burton's boots come with warrantied-for-life New England Rope laces, and the ultra-cushioned boot liners lace up, too. The Mint Boa boots' DynoLITE outsoles mean 20 percent less weight, and the compound is engineered to withstand freezing, thawing, and shock absorption, which are all in a day's work on the slopes. Note that reviewers say you should size up for the right Mint Boa boot fit.
Pros
Come in a variety of colors and patterns
Ultra lightweight
Broken-in feel right out of the box
Cons
May need to size up to get the right fit
Key Features
Snow-proof internal gusset
Coiler lacing technology
Burton-exclusive New England Rope laces
Specifications
Brand: Burton
Sizing: Women's
Currently available in: Sizes 5-10
Check Latest Price
We're proud to feature a second pair of Burton women's boots on our list, in part because of Burton's 2020 Sustainability Goals. These Limelight snowboard boots, with their traditional laces and Burton's DynoGRIP outsoles, also come backed by a commitment to achieving 100 percent Fair Labor Association compliance, zero use of biocides, less water consumption, and the list goes on (think sustainable cotton, reduced carbon emissions, and 100 percent recyclable packaging).
Of course, you need to know you're investing in a quality pair of snowboarding boots, not just a company's sustainability goals. And these boots fit the bill. Like the 5th Element ST-1 Lace Up Snowboard Boots that earned honorable mention, these women's boots have a classic black-on-black or desert look. Total Comfort construction supports a cushy, broken-in feel on day one, and reviewers agree that Burton's liners make for a very warm and form-fitting snowboard boot experience.
As with Burton's Mint Boa boots, you may need to size up to get the right Limelight boot fit.
Pros
Made by a company that has sustainability in mind
Ultra lightweight
Cons
May need to size up to get the right fit
Key Features
Traditional lacing
DynoGRIP outsoles
Classic black-on-black or desert aesthetic
Specifications
Brand: Burton
Sizing: Women's
Currently available in: 5-10
Check Latest Price
These thirtytwo Shifty Boa boots boast the ultimate snow bunny look. They come in three color combinations: gray on black, gray on purple, and mint. Like the Burton Mint Boa, these boots feature the Boa dial-it-in lacing system, which is appreciated by riders who don't feel they can tie laces tight enough. The interior liner has a traditional lacing system and is made of dual density "intuition" foam.
The comfort tongue promises less uncomfortable bunching than some other snowboarding boots, which means less time fussing about fit and more time enjoying the ride. The STI Evolution foam outsole (comparable to Burton's DynoLITE) keeps you light on your board. Note that wearers recommend sizing up for the right fit.
Pros
Available in multiple colors
Ultra lightweight
Cons
May need to size up to get the right fit
Key Features
Can be customized with heel hold kits and heat molding
Definite snowboarder aesthetic
Dial-it-in lacing system
Specifications
Brand: thirtytwo
Sizing: Women's
Currently available in: Sizes 5-10
Snowboarding Boots Buying Guide
Purchasing snowboarding boots might feel indulgent when you could just rent them, but whether you already know you love hitting the slopes or are committed to trying snowboarding for the first time on an upcoming getaway, you will have a fresher-feeling and, odds are, far more comfortable experience if you invest in the best pair of snowboarding boots for you rather than accepting whatever potentially sweaty, rundown boots the rental attendant hands across the counter.
Here are the most important things to keep in mind if you're considering your first snowboarding boot purchase.
Closure Mechanism
Do you want to lace your boots up or ratchet them shut? Traditional laces give you more control over the support your boots offer in specific spots as you can tighten them here and leave them looser there. But you can't get traditional laces as tight as you can ratchet a dial-it-in lacing system like the Boa (an integral part of the Burton Mint Boa and thirtytwo Women's Shifty Boa boots reviewed above).
Some snowboarding boots also have quick-pull lacing, which leverages toggles and doesn't involve tying. The tightness of quick-pull boots can be adjusted without taking your gloves off, but might not get as tight as Boa lacing or offer as much control as traditional lacing.
Consider your dexterity, preferred boot tightness, and desire for control over the lacing when deciding which snowboarding boot closure mechanism is right for you. Also note that lace material makes a difference. If the laces your traditional lace-up boots come with seem too slick, consider investing in laces that will hold steady.
Boot liners that lace up independently are an added bonus that can contribute to an even more secure, and warmer, fit.
Flex
Most of the snowboarding boots we've reviewed are flexible, and that's because they're more comfortable. It also means they provide less support as they're more soft than stiff (the soft-to-stiff range is a snowboarding industry standard, but not all boot manufacturers market their products using that lingo, and numeric values assigned to softness and stiffness aren't streamlined across brands).
On the whole, more advanced riders will want more support, or stiffer flex, to protect them as they push the limits on the slopes, while newer or more recreational snowboarders will want soft or flexible boots, which are assigned lower numbers — think 1 to 5 — on the soft-to-stiff scale, which goes up to 10.
Materials
The best snowboarding boots boast some fancy materials, both in terms of their outsoles and their footbeds and liners. When it comes to outsoles, look for an option that is engineered to be light and withstand freezing and thawing. This will enhance the longevity of your boots, which will inevitably go from freezing conditions to toastier ones (Hello, warming up in the lodge!) and back again many times during their tour of duty.
Your snowboarding boot liners should be made of water- or moisture-resistant, heat-retaining, cushy materials that will keep you warm and comfortable. Most involve multiple layers that serve different purposes — think foam that will mold to your feet and ankles and fleece to retain heat. Some liners mold over time and others are heat moldable, meaning you can follow a process that involves a shot of hot air (from a hair blowdryer) and a specific amount of time with your socked feet in your boots to get a custom fit.
Note: If you invest in heat-moldable boots, follow the manufacturer's heat molding instructions carefully, or consider having them professionally molded!
Some snowboarding boots come with specialized insoles or liners; others don't. If the boots you decide on don't boast the best liners or insoles, that's alright. Some snowboarders recommend upgrading your boots with gel inserts or customized insoles for maximum comfort. The right socks can also go a long way.
Binding Compatibility
Your boots need to be compatible with your bindings — the contraptions that will attach you to your snowboard. Strap-in, rear-entry, and Burton step-on bindings (which you'll "click" into) all have their pros and cons, and unless you own your own board, your best bet is to buy boots that are compatible with multiple binding types to ensure a secure ride on whatever rental board you're assigned — no swapping out required.
If you own a board and like the bindings, get compatible boots. As you spend more time on the slopes, you might decide to invest in better bindings, and new boots could be in your future in that case, too.