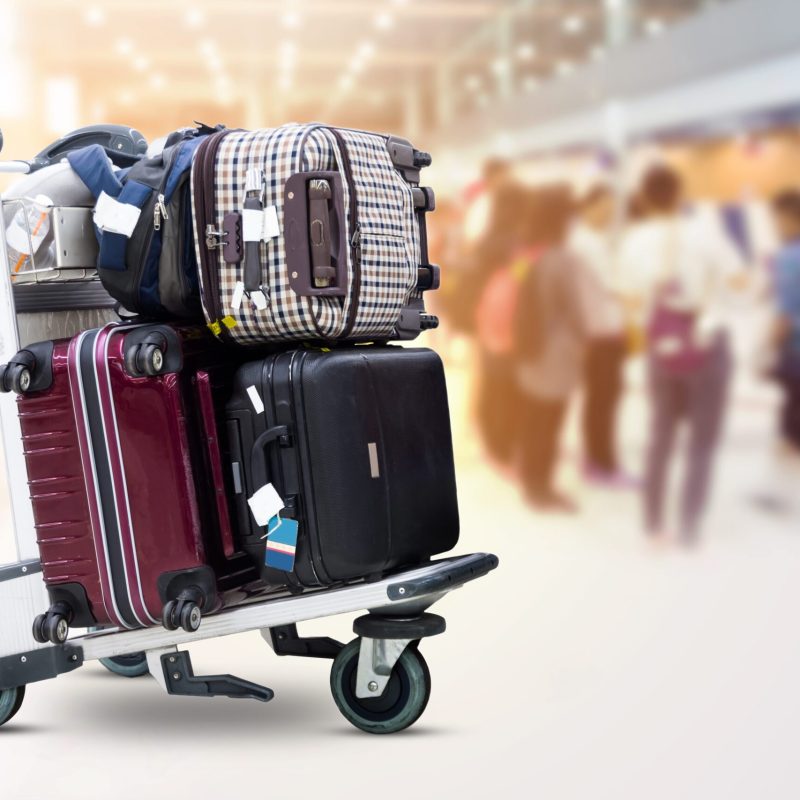 There's a lot to consider when you're choosing what luggage to take on your next trip, and when you're traveling by train, there's even more to think about. You might think air travel is restrictive with all its luggage size and weight rules, but at least you know exactly what you can take. When it comes to traveling by train, it's all up to you to make those important decisions. 
The most crucial thing to think about is how much space for luggage there is on a train. Anyone who's been on a train in the UK will know the answer — not a lot. Luggage racks are located at either end of the carriages and they fill up fast. There is some overhead space, but, just like on a plane, that's for smaller handheld pieces. On busy trains, it's not unusual to see luggage left in the doorways, squashed in under tables, or even left in aisles. Don't leave your luggage in the aisles. Apart from it being a hazard for anyone trying to get past, a guard will soon come along and tell you to move it. 
So, to make life easier for yourself, you need the right piece of luggage for your UK train journey. I had a look at the best, most practical, and most stylish pieces of luggage out there — all perfect for traveling by train in the UK.
Buy Now
$545
For the ethically-minded traveler, Horizn Studios is the top choice. Their products are all vegan and sustainably made, with partly recycled hard shells and recycled polyester interiors, so you can feel safe in knowing you are doing your bit for the planet while traveling. In fact, the production of Horizn products is 99-percent waste free, which is quite an achievement. But as well as being sustainable and ethically produced, these pieces of luggage are also beautifully designed, with every detail well thought out. 
The M5 Smart is water resistant, so no need to worry about the unpredictable British weather. There's a handy front pocket, with a zip, that's the perfect size for a laptop. But perhaps this suitcase's stand-out feature for train travel is its removable smart charger. UK trains do have power sockets near many seats, and if you book a table seat, you're likely to be fine. But not all seats have one and you can sometimes be left with no power for your journey. If you have a long journey, this can be a problem. Then there's also the time you spend waiting in the train station without access to power. This suitcase solves the problem with a built-in smart charger you can remove from the case and use wherever you are. It has its own battery pack, concealed, so ideal for when you're mid-traveling. This is a very modern, stylish, and practical piece of luggage.
Buy Now
$575
Although space for luggage is often at a premium on UK trains, you do have more wiggle room than you do when taking your luggage on a plane, especially when it comes to weight. The great thing about the ROAM Large Carry-On is the option it has for expansion. These cases are well built, functional, stylish, and totally adaptable to your travel needs. The expansion option gives you a little more room without even using the extra zip space. When you do need the extra space, you'll find you can fit a whole lot more into your luggage and it doesn't take up much more room on the train's luggage rack. Because it's not any taller, you can easily stack it with the other luggage in the rack. 
The ROAM case also comes with a lifetime guarantee for its wheels, so no need to worry about maneuvering the case on and off trains and rolling through stations with it. It's also totally customizable and you can even choose the color of the wheels separately from the color of the case's shell. You can have different colors for the front shell, the back shell, the wheels, and the zipper — making your case unique to you. You'll have no problem spotting your case on the luggage rack when it's time to get off the train.
Buy Now
$375
Just like the Horizn Studios M5, the H5 has a useful removable charger, so no matter where you are, you know you have power. The main difference with the H5 compared to the M5 is it's entirely a hard shell with no front pocket, and that can just be about personal preference. Some travelers like the hard shells for durability and protection, and the H5 certainly gives you that. It's also water resistant and very durable, while also being lightweight for you to easily carry it up and down the stairs at stations and onto the train. 
One thing I love about this piece of luggage is the hidden laundry bag. It might sound like a small thing, but these thoughtful little touches are what make Horizn luggage so loveable. This tucked away quality laundry bag means you can sort your clothing from worn and unworn before you return from your trip. All Horizn cases come with a combination lock for opening, so your luggage is secure. As a sustainable brand, Horizn guarantees to offset their carbon footprint when it comes to shipping. All luggage is shipped in eco-friendly packaging. Your case will arrive in its own dust bag, which is great for storing your case until you need it next.
Buy Now
$699
The Baseline is a traditional-looking suitcase, with some surprising up-to-date features. It might look like a conventional piece of luggage — though a very stylish one— but when you open it up, you'll find Briggs & Riley have thought of everything. First impressions tell you this is a quality suitcase and the more you explore, the more you find that it's borne out. A lot of thought has gone into keeping the contents of your case in perfect condition. Premium garment panels keep your clothes in place no matter how much hauling up and down your case has to go through. This is designed to cut down the risk of anything creasing. There's also a built in tri-fold garment folder with a foam roll bar that can hold two suits without wrinkling. The one-touch expansion is nifty, and there's also a Smart Link strap that allows you to attach a second bag and carry them together like they are one. 
The Baseline would be great for any business travelers, as it has features for transporting formal wear and pays attention to details that make your life easier, but it's also very appealing to anyone who likes their luggage to feel opulent. The stand-out feature of this suitcase is just how luxurious it feels. The inner lining is soft and quite beautiful. The entire case feels like it's a cut above.
Buy Now
$159
For anyone who travels light, the Elements Backpack gives you everything you need from a piece of travel luggage — pockets, zips, and so many compartments you'll have a place for everything — while being compact enough to fit in the overhead luggage spaces on the train. It's big enough to fit a laptop, camera, and enough clothes for a couple of days, and it's easy to carry up and down the stairs at the station. It's comfortable to wear on your back, with contouring to fit against your body perfectly. It slides easily from backpack, to shoulder bag, to carry-on bag. 
The entire design of the backpack is contoured. There are two water bottle holders, but they appear seamless with the rest of the bag, as do all the pockets and compartments. The fabric of the bag is weather proof, so it will easily withstand a British downpour, just don't go dropping it in a lake or anything. The zippers are lockable with an anti-theft combination lock. The thing I like the most about this backpack is the deep-zip pockets. You can really fit quite a lot in there and if you have a big phone, like I do, you can slip it in the pockets with room to spare. 
For more packing and luggage tips, check out:
Why The Samsonite Luggage Set Is The Best Selling Luggage On Amazon