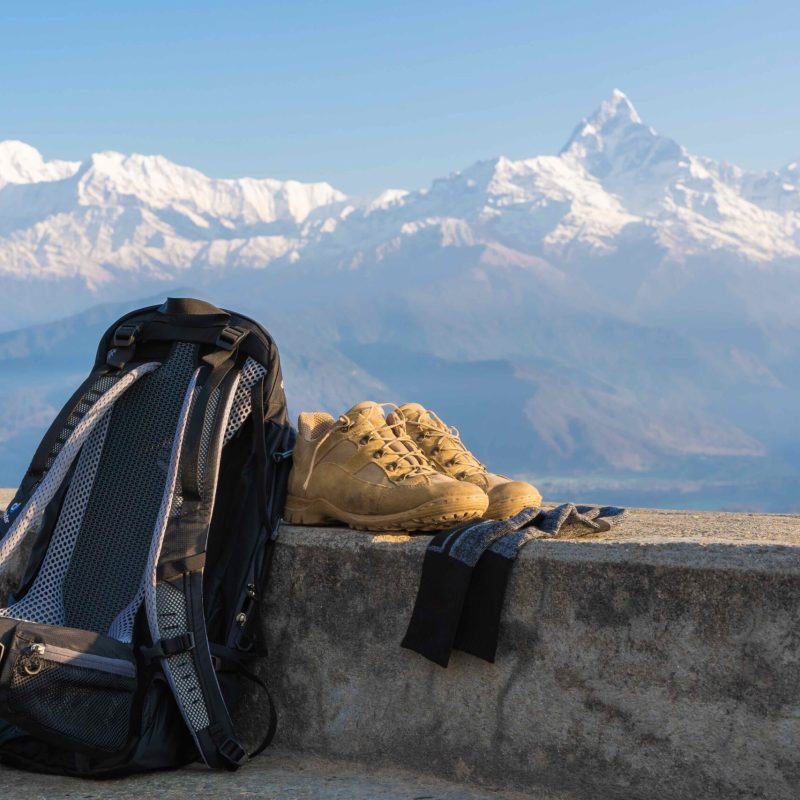 Hiking and backpacking are some of my favorite activities to do while on vacation. Trekking down a trail in warm or cold weather immerses me in the natural beauty of the area and gives me a good workout. Perhaps most importantly, it allows me to take stunning photos I always treasure when I get back home.
However, taking a hike isn't as easy as picking a trail, jumping out of bed, and getting started. To stay safe and have a successful hike, some planning is involved. 
First, of course, do some research on the hikes you are interested in: investigating the difficulty, length, and location. But even past researching the hike itself, you need to spend some time preparing your clothes and personal belongings before you begin. 
The proper outfit can make or break a hike. Depending on the location, your clothes need to protect you from sun, rain, rough terrain, bugs, and more. One essential part of your hiking gear pact is a high-quality pair of hiking socks. 
Now, these are more than just your typical acrylic ankle socks. Everything from sock height to material is carefully chosen with hiking in mind.
If you want to include a nice hike in your next vacation itinerary, keep reading to get all the information you need on the best hiking socks to throw in your suitcase. 
My Favorite Hiking Socks
I have tried plenty of hiking socks, but these are my go-to choices: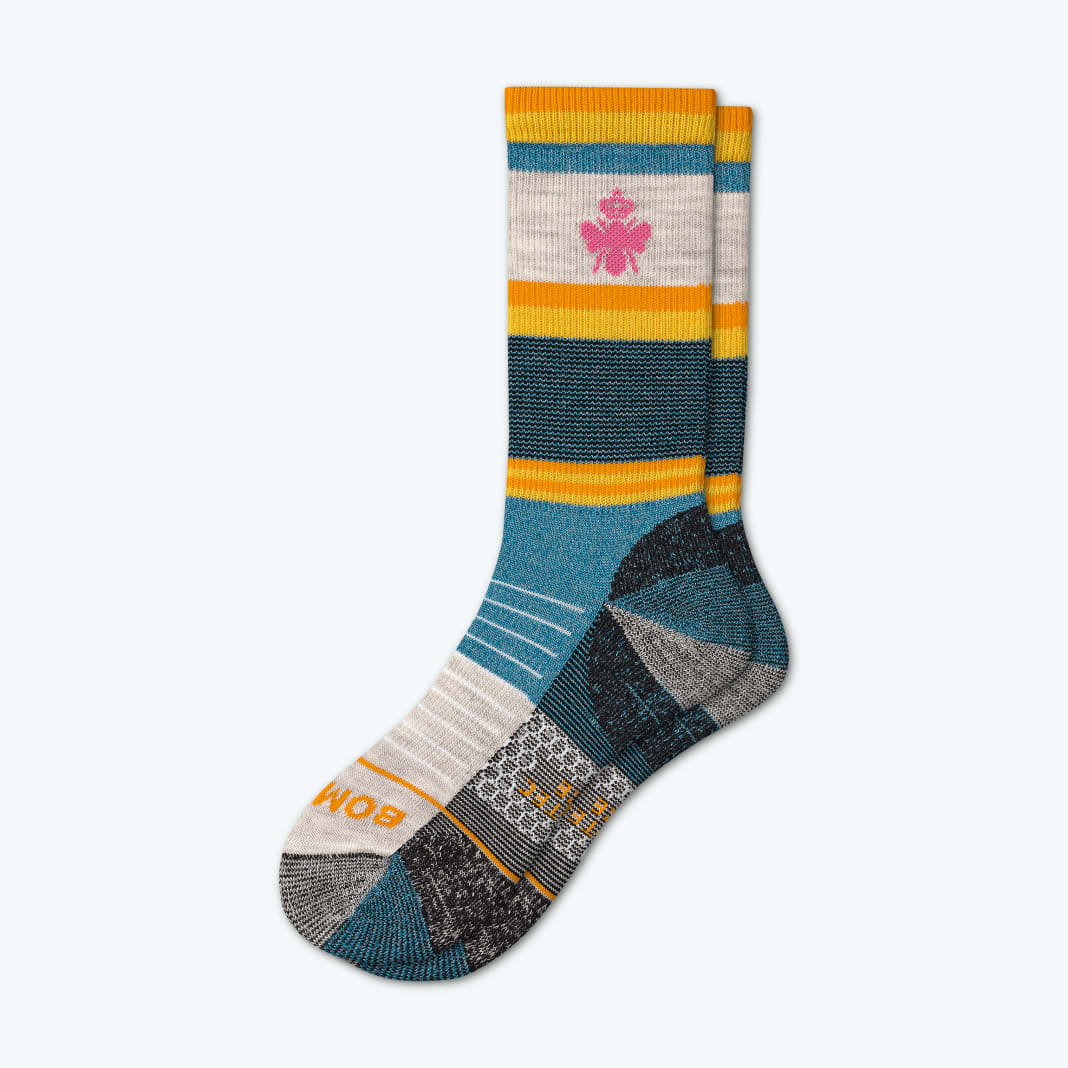 Buy Now
$26
Bombas is a classic option for unisex hiking socks, considering they have been in the business for over 10 years. Their no-show socks and low-cut sock options are both extremely popular, but it's their hiking socks that rise above the rest.
The Bombas x Cotopaxi Merino Wool Hiking Calf Sock is the perfect option for reliable, protective features with a sustainable twist. They are made from leftover Merino wool from other hiking socks, which helps reduce waste. 
They are reasonably priced and still provide cushion, support, and moisture-wicking properties. Because of their mix of wool materials, each pair has a unique design and color scheme, which is so fun (and makes for some pretty cute pictures).
Buy Now
$24.95
If you want something to keep sweaty feet at bay when you're covering miles in your hiking boots or trail runners, these ultralight boot socks are your best friends.
The Hiker Micro Crew Cushion Socks are designed with temperature regulation in mind and provide full-cushion support, making it easy to stay comfortable. Pick from colors like aqua heather, dark teal, eclipse, sage, moss heather, plum heather, and slate.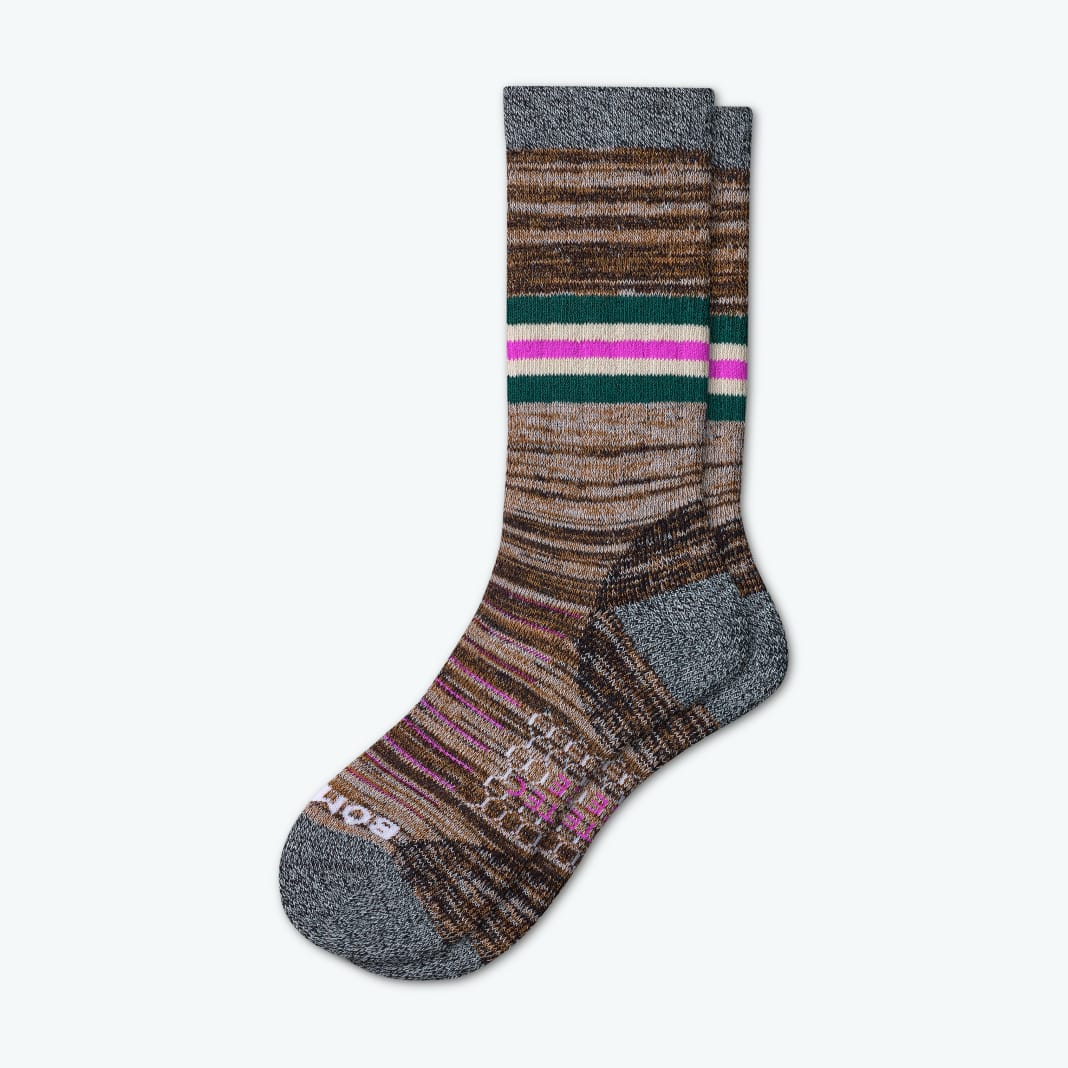 Buy Now
$18
The Women's Hiking Calf Socks, also from Bombas, are a fantastic choice for comfort and versatility. Coming in three different, beautiful color schemes, these socks rise above the ankles for the ultimate level of support. 
Additionally, they feature Hex Tec technology which provides the socks with the proper ventilation to keep your feet cool in the summer and warm in the winter. They're perfect for hikes at any time of the year and thin enough to wear under running shoes!
If you hate the extra fabric that usually sits above your pinky toe and rubs on your shoes, you won't have to worry about that with these hiking socks. They are designed with a unique knit stitch on the toes, creating a snug, seamless feel that eliminates the annoying feeling of excess fabric.
Buy Now
$24
These socks are a product of Smartwool, another leader in the hiking sock business. Their Hike Classic Edition Extra Cushion Crew Socks are designed for the ultimate level of comfort. 
Although all hiking socks come with some degree of cushion under your feet, these socks are designed to provide extra cushion under the balls of your feet as well as your heels. It usually takes almost double the amount of time for my feet to get tired when wearing these socks, making it easier for me to keep up with my kids. 
Still made from a nylon and Merino-wool blend, these socks also feature recycled materials to reduce waste. 
Buy Now
$24
However, sometimes, for a shorter hike, I don't want the feeling of thick socks. That's when I use the Women's Hike Light Cushion Crew Socks. These socks fit tightly and feel light on the feet, giving me an incredibly comfortable fit. However, even though they are lightweight, they still provide enough cushion to protect my feet on my hike.
These socks come with a special toe stitch for a proper fit, ventilation zones for breathability, and a tight fit that will keep your socks in place for the entire hike.
Buy Now
$24.95
For those long hikes, when I need a bit of everything, the Hiker Micro Crew Cushion Socks come in handy. These socks have all of the classic features of a good Merino wool sock — a toe stitch for comfort, medium cushion for arch support, and ventilation for temperature control. However, these socks go above and beyond with features you didn't even know you needed. 
One of the best parts of these socks is their odor-fighting powers. For multi-day hikes or on the last day of vacation when I am out of clean clothes, these hiker socks still look and smell fresh and ready to wear… almost. 
Additionally, they have the perfect level of cushioning — enough to absorb impact on long hikes but not too bulky for short hikes or biking around the neighborhood.
These always make their way into my suitcase when I am packing for a trip. 
Buy Now
On Sale Now $21.59
The FLITE XT TRAIL FIVE pushes the limits of what a hiking sock can do. Just like the Hiker Micro Crew Cushion Sock, these socks will provide you with all of the time-honored features, but they are described as the most technologically-advanced sock for hiking and trail runs. 
The fabric that wraps around your ankle contains strong elastic, supporting your ankles and guarding them on rough terrain. Additionally, these socks feature exceptional arch band support during your hike. 
The mesh patches increase breathability and keep your feet cool, while the Merino wool patches keep your feet dry and blister-free, preventing slippage and discomfort while you hike.
The heel is stitched with fabric in a Y shape to support the natural curves of your heel and reduce any slipping or bunching. 
What Are Hiking Socks?
Hiking will introduce your feet to environments that differ from your daily neighborhood walks. You might be walking on rocky surfaces, through mud, or uphill, so your feet could need extra support.
Hiking socks are simply tall socks that are thicker than an everyday sock and provide extra cushion under the balls of your feet and your heels. 
Benefits Of Hiking Socks
Safety 
The most important reason to have a pair of hiking socks on-hand during your vacation is to protect your feet and ankles. Hiking socks often come up to the mid-calf, covering your feet and ankles.
They are woven tightly to provide a comfortable level of compression. This compression may help protect your ankle from possible twists or sprains even if you are on uneven terrain. The compression will also help keep the blood flowing properly in your legs while on your hike. 
Additionally, wool hiking socks are designed to reduce friction, meaning you won't have to worry about pesky blisters forming on the sensitive parts of your feet. Although blisters typically aren't a huge deal, the pain and rubbing can dampen the fun.
Durability 
Hiking socks are generally more expensive than the socks you wear every day. Although you might be hesitant to pay $15–$30 for one pair of socks, you will be grateful when they last from one vacation to the next. 
The cushioning and tight-weave on the socks make them durable and long-lasting. There are a lot of things that can damage clothing on a hike, such as twigs, rocks, bushes, etc. Hopefully, you don't have to worry about your socks snagging and ripping halfway through your hike. These socks are made to last and will stay strong for many, many adventures.
Cool And Dry
Most hiking socks are made from Merino wool, which is high-quality, soft, and dense. This type of wool is perfect for moisture-wicking. Moisture-wicking fabrics allow your feet to stay nice and dry, no matter how much you sweat.
Additionally, since your feet will stay dry, they will stay nice and warm on those early-morning or fall-time hikes in cool weather. But, no need to worry; they are still breathable. Even on hot hikes, your feet will still get some airflow and won't get overheated.
Other Helpful Hiking Clothes
Now that you have a reliable pair of hiking socks and hiker boots to protect your feet, it's time to think of the rest of your body. 
Hats
First, you want to throw on a hat. While a baseball cap can work in a pinch, invest in a wide-brimmed hat. Even if you think your hike will be shaded or cloudy the entire way, you are most likely going to run into patches of sun.
Maintaining visibility on your hike is a necessity, so a wide-brimmed hat will ensure you aren't squinting in the distance or staring at the ground for your entire hike. The good news is that even the chicest of hats come with UV-resistant fabric. 
Long Sleeves
Speaking of sunlight, hiking can get extremely hot, especially if you are hiking in a desert climate. While it might seem counterintuitive to wear long sleeves on a warm-weather hike, it's super important. If you are going on a hike with a short-sleeved shirt or tank top, you have to worry about reapplying sunscreen almost every hour. 
With a breathable long sleeve, you will be protected from the sun, and you won't have to make constant pit stops to slather on suntan lotion. 
Proper Shoes
Lastly, to go with your new hiking socks, you should be wearing supportive hiking shoes that are designed for rough or unstable terrains. It's time to upgrade your raggedy sneakers and buy a pair of The Best Hiking Shoes In 2022 that will protect your feet, ankles, shins, and back on your hike. 
The last thing you want is to get injured on your hike, keeping you from the rest of the fun planned for your vacation. To avoid this, look up the intensity of your hiking trail. Then, simply slip on a pair of shoes that match the demands of the terrain. 
Time To Hike
No matter your skill level, you should take time to prepare your hiking gear so that your body is protected from potential injuries. Even if you aren't planning on hiking during your vacation, you might be tempted to check out a beautiful trail once you are at your destination. 
Throw in some protective clothing, including your favorite pair of hiking socks, into your bag while packing so you can be prepared for a planned or spontaneous adventure. Happy trails!
To continue shopping for your next hiking adventure, check out:
The Best Hiking Shoes In 2022