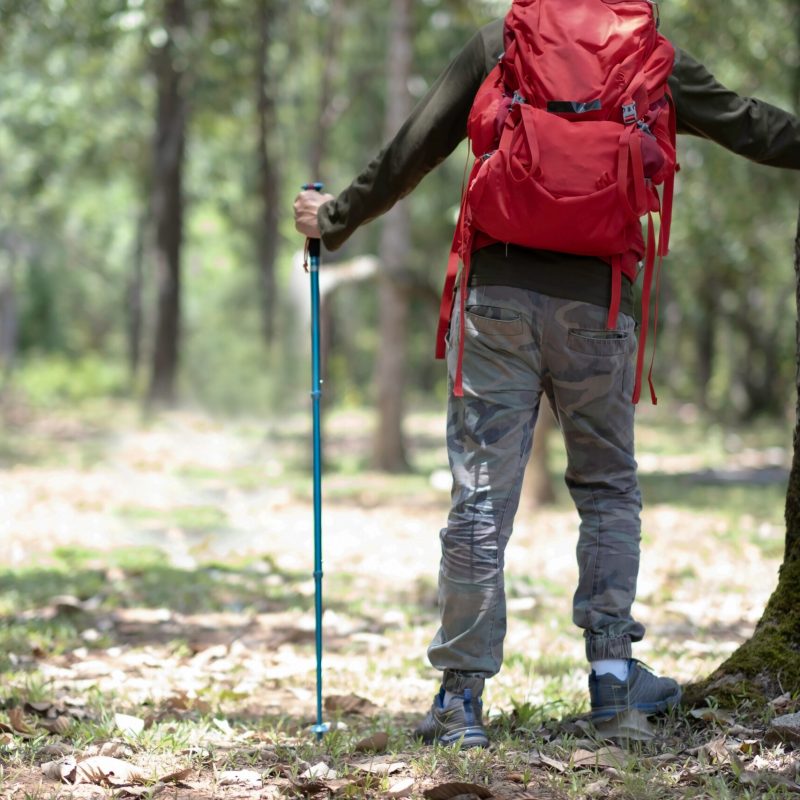 There might be few things worse in life than realizing halfway through a 6-mile hike or backpacking excursion in the backcountry that your pants are chafing (or not warm enough, or making you overheat, or — well, you get the idea).
Wearing appropriate and comfy clothes on the trails is one of the most important factors in ensuring you enjoy your hike rather than just suffer through it. But there must be a million hiking pants on the market — how are you ever supposed to choose the best pair for you?
I'm here to walk you through the important qualities to look for in a pair of hiking pants — and the seven best pairs on the market right now. Keep reading for all of your questions about hiking pants, answered.
Here are my top picks:
Best Overall: Outdoor Research Men's Ferrosi Pants
Buy Now
$89
The Outdoor Research Men's FerrosiPants are just about as well-designed as hiking pants can get. Lightweight and breathable, these pants incorporate several smart design choices that allow them to shine in hot climates.
The fabric is a high-quality, durable ripstop material, yet is still light enough to keep you cool during summer hikes. Drawstrings around the ankles allow you to cinch these pants higher up on your legs, ideal for when you really start sweating.
The fabric is 14% spandex, which allows for more stretch and bend than other traditional hiking pants might — perfect for hikes that incorporate some hardcore trekking or rock climbing. Pair them with your favorite hiking boots 
The Men's Ferrosi Pants come in seven different colors and are water- and wind-resistant with a UPF of 50+, making them durable in a wide range of weather conditions.
Their updated model also incorporates feedback from users, including design updates for the waistband, which previously was infamous for stretching after a few washes. Other design updates include a sustainability initiative — the pants are now made with 46% recycled material, which is great to see.
My one caveat about the Ferrosi pants is that thanks to their lightweight material, they aren't very insulating for those cold-weather hikes. If you tend to get cold easily or prefer hiking in cooler temps, consider layering these with a pair of hiking tights, or keeping them on the shelf until it gets warm again.
Other than their limited functionality in the cold, I can think of no other constructive criticism for these pants. For a pair of high-quality, relaxed, lightweight hiking pants (at a reasonable price point!), look no further than the Outdoor Research Men's Ferrosi Pants.
Best Convertible Pants: Athleta Trekkie Convertible Hike Pant
Currently on Sale
Buy Now
$49.99
The Athleta Trekkie Convertible Hike Pants are one of the most universally flattering and size-inclusive hiking pants I've seen. They can taper at the ankles but remain comfortably loose around the thighs and waist with a midrise fit.
They also come in an inclusive size range of 0 to 26 and are made of 95% recycled material (both of which I personally feel should be the norm these days).
Other features of the Athleta Trekkie pants include an elastic drawstring waistband, two zippered cargo pockets in the front, and one back pocket. Zippered pockets are fabulous when I need to secure valuables like my phone or car keys. 
The material is lightweight and moisture-wicking, with a UPF 50 rating — perfect for hot and humid hikes. Despite these nifty features, the pants can still be machine washed and dried, which is a huge plus.
By far, the best part of the Athleta Trekkies is that you can style them three ways: as straight-leg pants, as cropped joggers, and as shorts. A bungee cord at the hem converts them from straight pants into joggers, and they can unzip above the knee to become stylish hiking shorts.
I absolutely love this feature and wish more hiking pants included it. It means you can stay warm and dry during frosty morning hikes, then cinch or strip off the material to remain cool in the warmer afternoons. As far as convertible hiking pants go, the Athleta Trekkies are the best out there.
For Trail Guides And Serious Hikers: Eddie Bauer First Ascent Guide Pro Pants
Buy Now
$85
The first thing you should know about these pants is that they've become so popular that Eddie Bauer created a whole spin-off line inspired by them, including slim, cold-weather, and dual-layer versions.
The second thing you should know about the Eddie Bauer First Ascent Guide Pro Pants is that they were designed and approved by professional guides (hence the "Guide Pro") and are nothing to scoff at. It's clear that a lot of thought has gone into the making of these pants, yet they're still stylish and comfy enough for amateur hikers to appreciate too.
Some of the thoughtful details of these pants include a two-way stretch fabric and articulated knees, making them versatile for a range of outdoor activities, including scrambling, climbing, hiking, and even relaxing in a recliner-style camping chair.
They have roomy front and cargo pockets and include Polygiene odor control in the waistband — it's always the little details that make the most difference in these types of purchases.
The best feature of the Eddie Bauer First Ascent Guide Pro pants, however, is the sheer quality of the fabric. At 94% nylon and 6% spandex, they're stretchy enough to accommodate your typical range of motion without sacrificing durability and shape.
The fabric is a lightweight UPF 50 and is coated in StormRepel moisture-wicking durable water repellent (DWR), all of which make these pants as weather-resistant as possible. The only update I'd like to see is the use of recycled material.
In terms of the actual quality, I have no notes — Eddie Bauer knocked it out of the park with the First Ascent Guide Pro pants.
Most Stylish: Lululemon Convertible High-Rise Hiking Jogger
Final Sale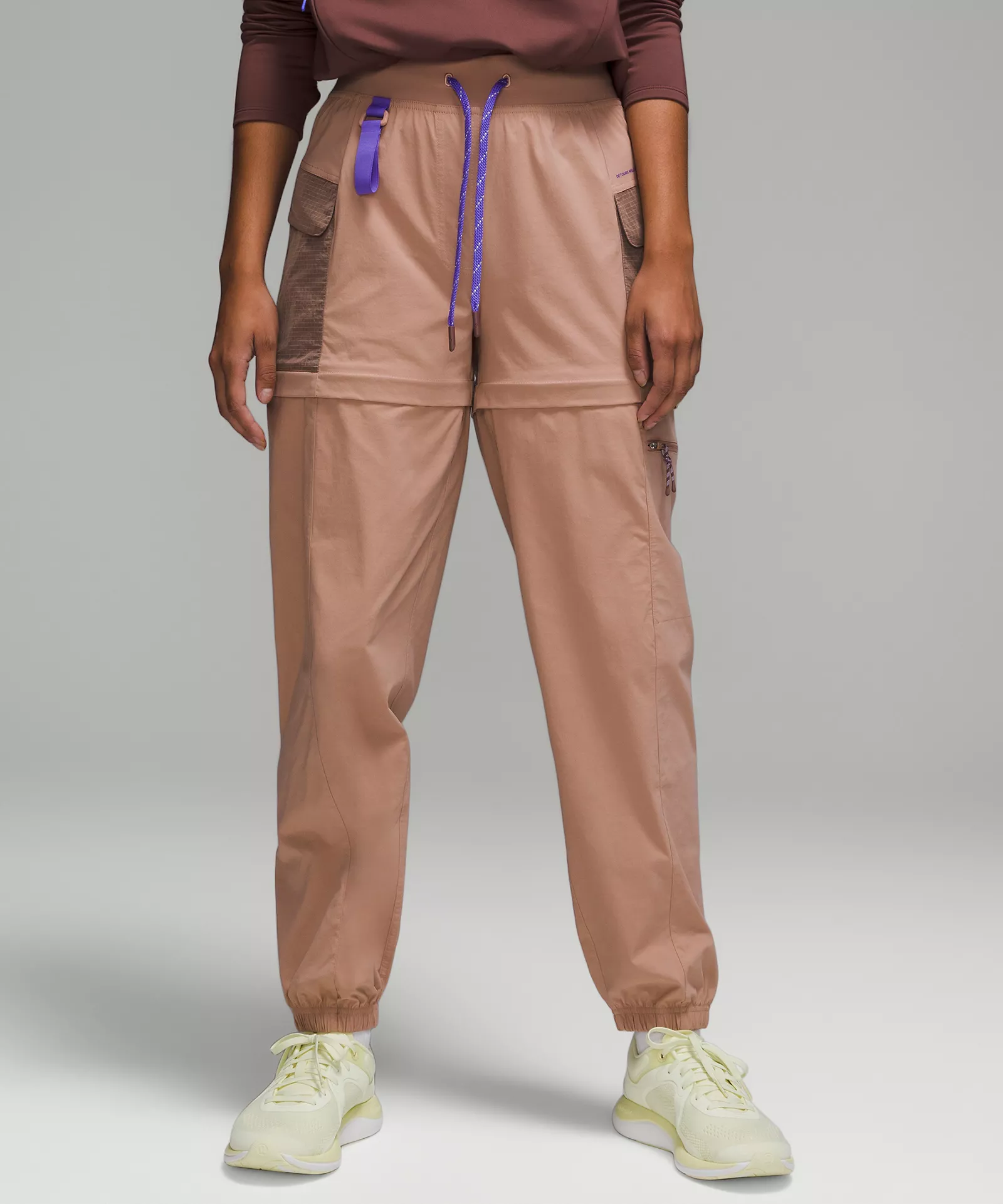 Buy Now
$159
Lululemon recently released an assortment of hiking gear, including shorts, sports bras, and, of course, hiking pants. My favorite item from this collection is the Convertible High-Rise Hiking Jogger, which is actually one of my favorite hiking pants on the market right now. 
I love a good high-rise pant — they're so universally flattering — and the fact that these joggers unzip into shorts makes them that much more worth the price point.
There are a lot of nifty features incorporated into these pants, including a carabiner attachment at the front, locker loops for easy hanging, and zippered cuffs for easier removal. As we've come to expect from Lululemon products, they're both practical and stylish, and you'll likely find yourself wearing them on and off the trails.
These pants are water repellent and abrasion resistant and bring style to substance. They have the baggy comfort of sweatpants but, in an elevated way, transform women's hiking pants into a high-fashion essential, accented by a colorful drawcord. 
But if you're more of a casual hiker and looking for luxe convertible pants on your next day hike, pull on the Lululemon Convertible High-Rise Hiking Jogger and head out on a new adventure.
For Colder Hikes: Kühl SILENCR™ ROGUE
Buy Now
$95
The Kühl SILENCR™ ROGUE pants are the tapered version of the classic Kühl SILENCR™, a favorite among hikers. The standout feature of these pants is the proprietary REFLEX Softshell fabric — lightweight, water resistant, and rated at UPF 50. They'll keep you comfy and dry in a range of weather conditions.
Unlike many moisture-wicking pants, the Kühl SILENCR™ ROGUE pants are genuinely water resistant. While this is super handy, it also makes them a tad less breathable. If you're prone to overheating on the trails, you might want to save these rain pants for the colder months or your next Alpine adventure. 
The ROGUE features six pockets (two on the front, two on the back, and two on the upper thighs).
It's clear a lot of thought went into the waistband — I found the micro-chamois lining to be incredibly comfortable. All in all, these pants are great for colder hikes or for serious hikers who don't mind getting a little sweaty in exchange for a more durable pair of pants.
Best Budget Option: Columbia Men's Silver Ridge™ Convertible Pants
Buy Now
$65
Reliable hiking brand Columbia has come through once again with its men's Silver Ridge™ Convertible Pants. Crafted from 100% nylon, these pants are extremely breathable, lightweight, and dry out in no time.
In return for its quick-drying abilities, the pants give up on stretch — you may find these pants to be a little more restrictive than those with materials such as Spandex incorporated into the knit. (Although, if you find yourself feeling a bit claustrophobic, all you have to do is zip off the bottoms and convert them into shorts.)
The Silver Ridge™ Convertible Pant is thoughtful — you'll find two mesh-lined pockets in the front, two in the back, and two secured cargo pockets on the sides. I appreciate the included belt and two elastic sections in the waistband that allow for a bit more stretch than expected.
Although I wouldn't recommend these pants for extremely intensive or wet hikes, they'll more than do for the casual hiker, especially in hot weather, where you might be inclined to zip off the pant legs and opt for shorts on the second half of your hike.
Plus, there's no beating that low price tag!
Best Range Of Motion: Prana Halle Pant II
On Sale
Buy Now
$71.25
If you like to do a little more on the trails, such as climbing and biking, these are the pants for you. Lighter and more breathable than their predecessors, the Prana Halle Pant II boasts a durable fabric that I've come to associate with this brand.
What's your favorite style? Well, you can get these pants in a straight-leg cut, as shorts, in all sizes, and with three different inseam lengths. That's the sort of inclusivity and thoughtfulness that I'd like to see in all clothing brands.
These pants have a mid-rise waist, gusseted crotch, articulated knees, and endlessly stretchy fabric, all of which make for possibly the best range of motion I've seen in a pair of hiking pants.
The Prana Halle Pant II strikes a nice balance between breathable and durable — you might not want to wear these in the heat of a desert, but they'll do well for hikes in moderate temps and when it gets a bit chillier.
A durable DWR coating makes these sufficiently water repellent to survive light showers and early-morning dew. I'd recommend these pants to anyone who likes to stay active, whether that means primarily hiking or a whole range of other outdoor activities.
To break in your new hiking pants, check out some of our favorite hikes: