Compression socks are a great way to improve your body's blood flow and blood circulation, especially if you live a primarily sedentary lifestyle. As someone with restless leg syndrome working from home, compression socks are necessary for me. There is a big difference between the days when I wear compression socks and the days when I don't. I can feel the difference in my energy levels, but mainly in my legs. My main symptoms with my legs are muscle weakness and fatigue. Compression socks have been a great help.
Restless leg syndrome has been connected to varicose veins, which, though it's rare, can cause deep vein thrombosis (DVT), more commonly referred to as blood clots, to form in the legs. This risk, along with the sedentary lifestyle I lead, made compression socks a daily essential.
Plan Ahead: If you're planning to travel soon on a long-haul flight, these socks are great for preventing clots and keeping your blood flow strong, too.
Benefits Of Compression Socks
Along with reducing the risk of blood clots in the legs, compression stockings help with a variety of medical conditions including muscle fatigue, blood flow, reducing edema, and relieving pain and soreness.
Compression socks look like regular socks, so people are often skeptical about how helpful they are. Well, according to the Cleveland Clinic, "Compression socks help squeeze veins in the legs, helping blood return to the heart. Compression socks also help the movement of lymph (a fluid found throughout the body) which can help reduce swelling."
Trust me, you can feel the difference. Here are three compression socks that I've tried and what I think of each one.
Best Compression Socks
Buy Now
$32
If you're looking for minimal but comfortable compression, then Pear's graduated compression socks are for you. I was lucky enough to have two pairs of their compression socks sent out to me to try. I tried the pink polka dot knee-high socks and the white knee-high compression socks. What I loved the most about these socks were the comfort and style they afforded me. The cute and stylish pink polka dot socks go great with a white and pink accented outfit. If you're looking for stylish socks without much compression, consider checking these socks out.
Compression Type:
Graduated Compression
Compression Level:
15-25 mmHg
Buy Now
$19.55
These compression socks by COOLOVER are available on Amazon in several different colors and patterns. I went with the traditional all-black socks. They have become a daily staple for me and are my favorite. You can feel the compression with these socks, but they are not suffocatingly tight. These socks are tougher to take on and off than the Pear compression socks because they are tighter, but you can feel them working throughout the day.
These socks also have copper infused into the fabric. Copper is an antimicrobial material that helps with poor odor from sweating, so that is a plus. As you go about your daily tasks, your feet tend to build up odor as they sweat and with changing environmental temperatures. With these socks, I haven't had an odor issue.
Compression Type:
Graduated Compression
Compression Level:
15-25 mmHg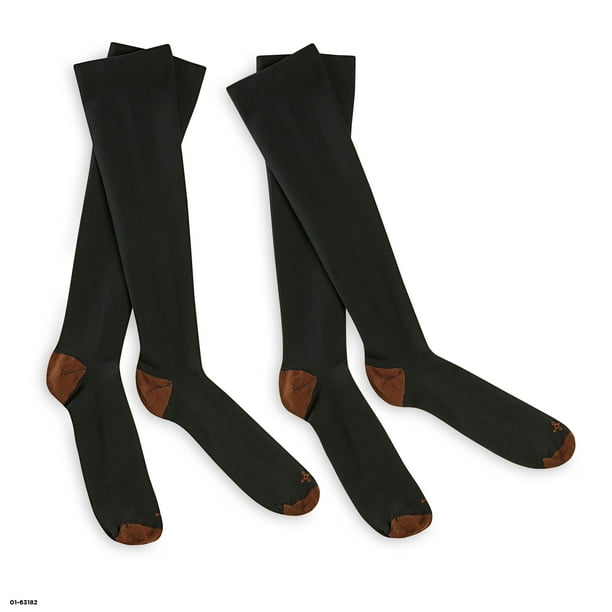 Buy Now
$9.88
The Tommie Sport compression socks are the most convenient compression socks to purchase on this list because they are available at your local Walmart. If you need compression socks immediately, these are reliable socks for an affordable price that you can buy locally.
These socks are great for athletes and people with a more active lifestyle. Like my favorite COOLOVER compression socks, these socks are copper-infused, so they prevent foul odor throughout the day (and during workouts).
The downside that I found with these socks is that they are super tight. Of all three socks, these are the most difficult to put on. However, this may not be a downside for you. Everyone has different needs, especially when it comes to choosing the right compression socks. I have heard people complain about compression socks being too tight while others complain that their socks are not tight enough.
Compression Type:
Full Compression
Compression Level:
Non-Medical Grade
How To Choose The Right Pair Of Compression Socks For You
For the former group of people (socks too tight!), I would recommend the Pear compression socks and for the latter (socks too loose!), I would recommend the Tommie Sport compression socks.
I prefer the somewhere-in-the-middle compression option offered by the COOLOVER compression socks. Although I still wear the Tommie Sport ones on days when I'm going to be more active and the Pear compression socks when I'm looking for a stylish touch, the COOLOVER compression socks are the best for daily use. The classic black socks never go out of style and the medium compression is the best for me while I'm working from home. I recommend you try two or three pairs so you can find which socks fit best for you.
To continue your comfort shopping, check out: