All products featured on TravelAwaits are independently selected by our writers and editors. We may earn commission when you click on or make a purchase via our links.
Check Latest Price
The Sockwell Full Floral Wide-Calf Compression Socks have 20 percent more space in the calf for those who appreciate a wider fit. The floral design is perfect for ladies who want to remain stylish while flying or exercising. These socks feature 4 zones of moderate (15–20mmHg) graduated compression, specifically designed to speed up recovery, reduce soreness and swelling, and to energize the pep in your step.
Check Latest Price
Similar to the women's socks above, these Sockwell Circulator Compression Socks are designed for those who require moderate compression to improve blood circulation issues. These socks are designed for men and, although they are not wide-calf, they are available in sizes M/L and L/XL appropriately. The moderate compression level is ideal for traveling long-distance via plane or car or those that endure many hours of sitting at a time. These socks are made of a fiber blend of wool, bamboo, and spandex to adequately balance durability, thermoregulation, luxurious comfort, and the assuredness of all-day wear.
Check Latest Price
The CEP Tall Compression Socks 3.0 are the ideal socks for the traveler or outdoorsman looking for a premium circulation solution. The 20-30mmHG graduated compression is a higher level designed specifically for the seasoned athlete looking to reduce muscle strain and swelling. These socks also offer a clima-management system called HeiQ Smart Temp, which maximizes breathability, cools the skin, and helps keep legs sweat-free and dry. For the avid hiker, they also include performance padding on the footbed to protect against painful blisters.
Top Style Pick
Check Latest Price
This 6-pack of cutesy compression socks is a top-seller! These socks are all 20-30mmHG compression level to help increase circulation for those who spend hours on their feet, are worried about sitting for a long trip, or, simply the outdoor adventurer looking to spice up their hiking gear. The fun designs also make great (and functional) gifts!
Top Skiing Pick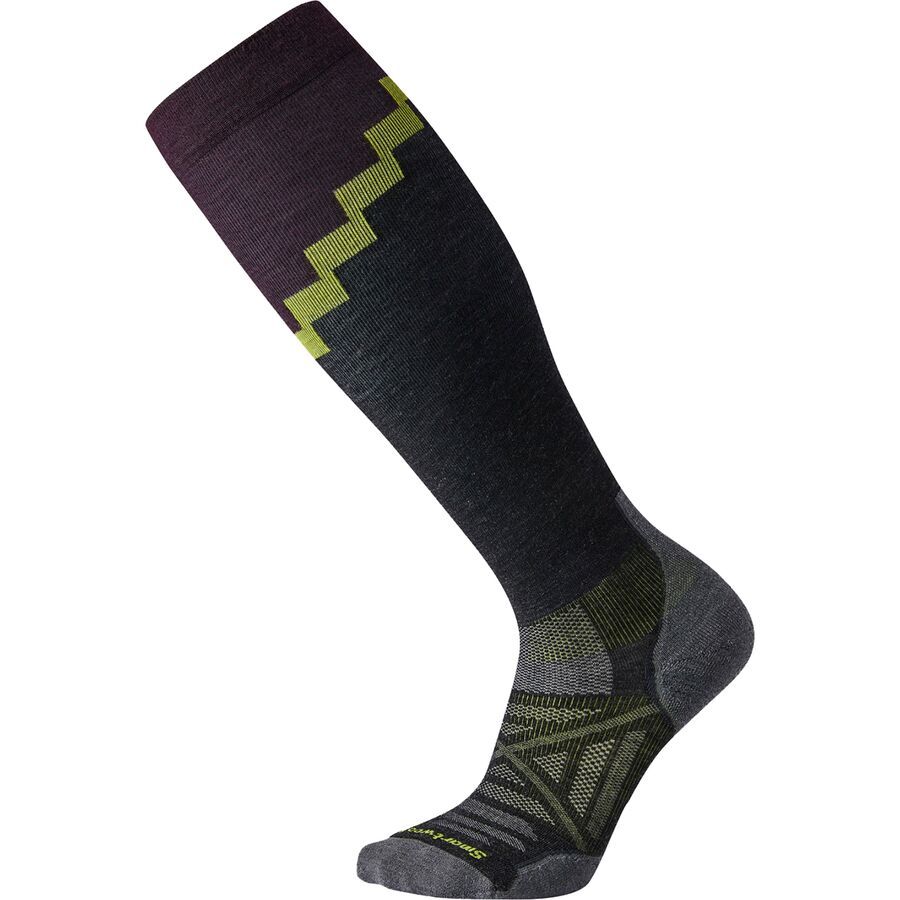 Check Latest Price
The Smartwool PhD Pro Mountaineer Compression Socks are the ideal pick for the avid skier and winter outdoor explorer. The material is made of two different elastics to ensure a perfect fit, includes a nearly seamless toe to reduce friction and blisters, and adds light cushioning to the foot without adding much bulk to your boot. As one reviewer writes, "These are the best ski socks on the market. I buy 4 or 5 pairs of ski socks every year and these are hands down the best brand. I like the thick and the medium the best. The material is the best, the cushioning is the best, the quality is the best."
*These socks are on sale at the time of publishing.
Top Flying Pick
Buy Now
$19.99
The +MD Ultimate Travel Bamboo Compression Socks are the ultimate medical-grade travel socks.
Pros:
The compression level, 8-15mmHg, is light enough to comfortably wear on long flights and road trips to combat edema.
The bamboo material is moisture-wicking and has anti-microbial properties to naturally reduce odors and discomfort.
Check Latest Price
These budget-friendly medical-grade compression socks by Treat Your Feet are truly some of the best quality for the price. The moderate compression level is great for both athletic performance and treating chronic swelling and pain alike. These socks come in multiple colors and sizes to please all style preferences and are affordable enough to get a few pairs!