All products featured on TravelAwaits are independently selected by our writers and editors. We may earn commission when you click on or make a purchase via our links.
Best Budget Binoculars
Check Latest Price
These budget-friendly binoculars are an Amazon bestseller, with a 4.5 rating from over 5,000 happy consumers. Don't let the low price lead you to believe they're low quality; these binoculars have 12x magnification, 25mm objective lenses, and a wide field of view of 1000 yards. They also promise comfort while wearing with or without sunglasses or glasses thanks to their adjustable eyecups. Finally, the super compact size makes them the ideal travel companion!
Check Latest Price
The Celestron Binoculars are similarly great for beginners or those looking for an affordable price point. They still boast the same features of the higher-priced competition, including a waterproof exterior, fog-proof lenses, and BaK-4 glass prisms for excellent color precision. Furthermore, they are fitted with a protective rubber exterior to ensure durability on all your outdoor adventures.
Check Latest Price
As one reviewer comments, "I was surprised when I got this that it was great, as I only thought that Olympus was good for only electronics, but I was proven wrong when I got this product. This product is good for trips and sightseeing." Olympus has entered the binocular market and excels! Joining the low-priced compact group, these binoculars are ultra-lightweight and easy to throw in any on-the-go travel bag. They also have excellent short-range viewing capabilities, so they're great for indoor events (when those resume again).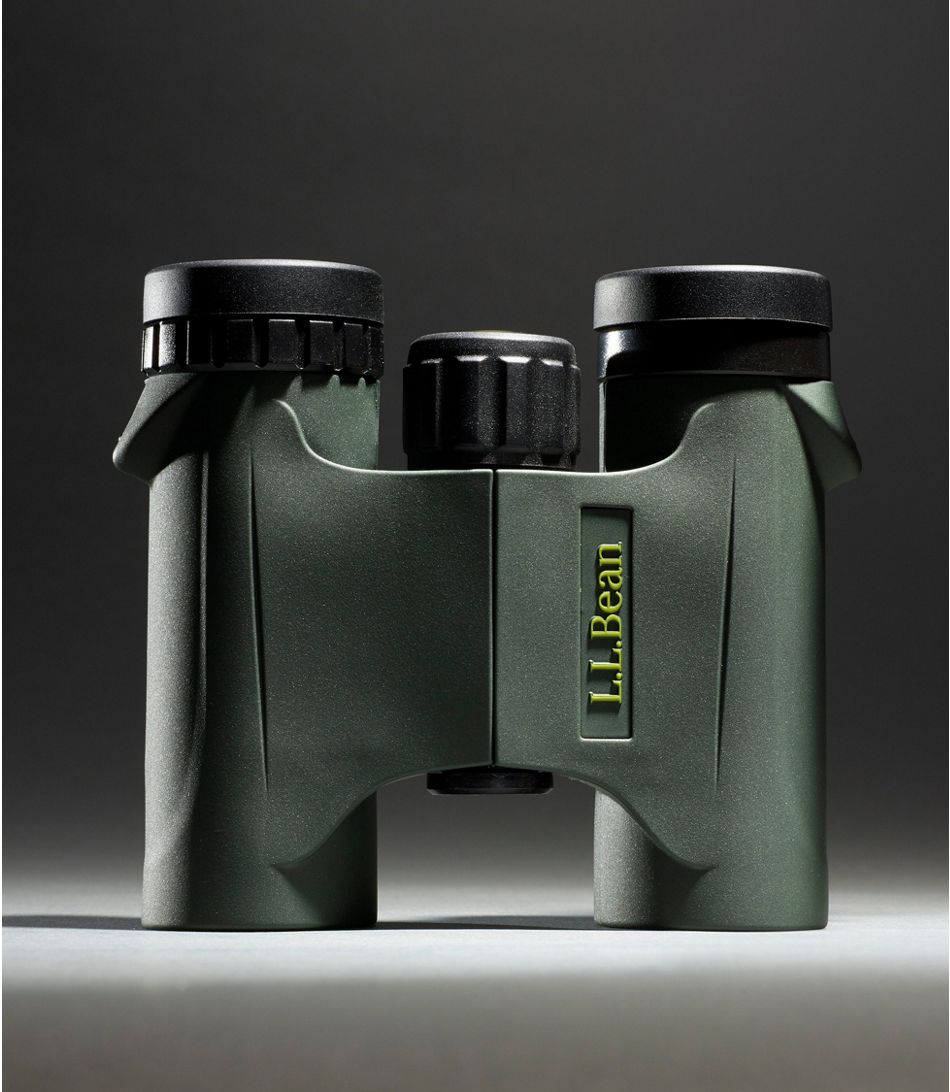 Check Latest Price
L.L.Bean has long been known for their excellent outdoor products, and these Discovery Sport Binoculars are no exception. Reviewers boast about the excellent birding and fishing capabilities with their sharp BaK4 optics and a 1,000-yard field of view. They also come with a strap and carrying case for easy transport and convenience while exploring the great outdoors.
Best Mid-Range Binoculars
Check Latest Price
These mid-range Explorer Series Binoculars by Olympus are available in 8×40 S, 10×50 S, and 8-16×40 S models with multiple magnification ranges and sizes. They even included a handy guide to determine the ideal magnification range for your planned activities, including nature and bird-watching, hunting, city exploration, stargazing, and watching sporting events up close and personal. The large-focus dial makes the adjustment effortless and is also used in their Pro series (without the Pro price!).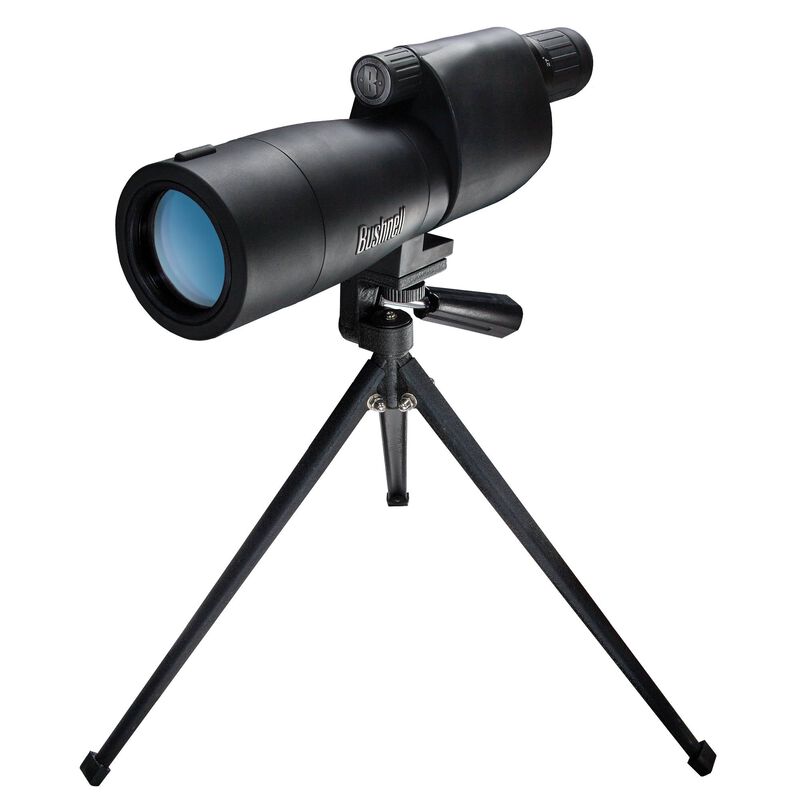 Check Latest Price
This is the only scope on the list, but for those planning to mainly use their binoculars for target shooting, hunting, or stationary birding, it's a quality choice. The specs include versatile 18–36x 50mm BaK4 prism magnification ranges, fog-proof housing, fully multi-coated lenses, and a waterproof design airtight enough to withstand full submersion. To look and feel like a professional, grab this scope and begin your viewing adventure.
Buy Now
$129.95
With an overall rating of 4.8/5 stars, reviewers repeatedly remark that the Nikon Prostaff Binoculars are extremely lightweight and great for birding or other wildlife viewings. These binoculars have 8x magnification capability, fully coated eco-glass lenses for optimal clarity and lighting, are waterproof, and only weigh 14.8 ounces.
Digital Camera Feature
Check Latest Price
The Sharper Image Digital Camera Binoculars are a customer favorite! These high-tech binoculars combine a 12X zoom digital binocular system with a high-definition 4X zoom digital camera to capture still photographs and videos during your viewings. They come with a 4MB memory card but support up to 32MB for plenty of media storage. No longer will you simply have to describe the beautiful sights and wildlife you found, the proof is already in your hands!
Best High-End Binoculars
Top Professional Pick
Check Latest Price
For high-end binoculars, the Nikon Monarch Binoculars are a very affordable option. As one reviewer says, "I used to use a high-end glass, but decided I didn't want to travel out of the country with something so expensive. This blew me away. The contrast alone was awesome (especially in the jungle). I use these for birding and can't say enough good things." The Monarchs boast a professional quality, high-reflective, multilayer prism coating and fully multicoated extra-low dispersion lenses for advanced sharpness and light transmission.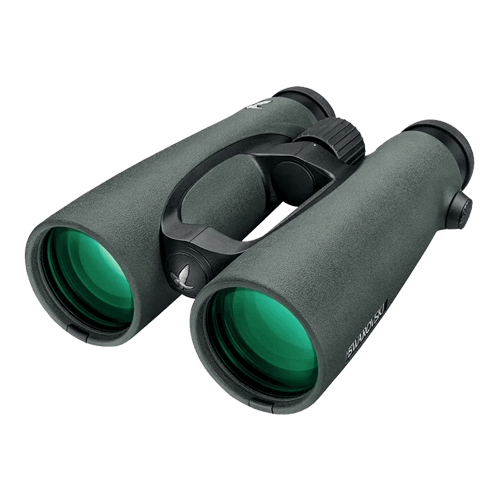 Check Latest Price
Far and away the most advanced binoculars on this list, the Swarovski EL Binoculars have all the bells and wishes an outdoor enthusiast could ever want. They are a superb choice for the dedicated hunter, boasting Swarobright, dielectric prism coating, for superior crisp, clear images with enhanced depth in all lighting and extreme rugged protection. Like many of the others, they are also waterproof, but unlike some of the low-cost models, they are submersible up to 13 feet. These binoculars include all the accessories you'll need for your next hunt: padded carry case, cushioned neck strap, rain guard, and rubber objective lens covers.