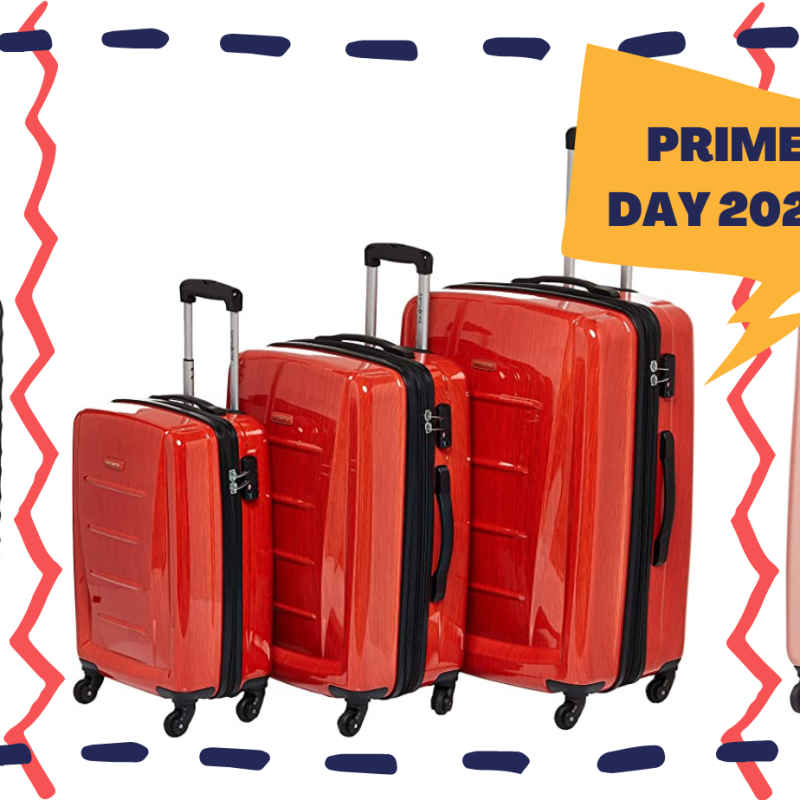 Summer and Prime Day are in full swing, which can mean only one thing: It's time to snag a deal on luggage. Whether you are going on a trip this summer, planning a winter getaway, or dreaming of traveling abroad next year, the first step is to make sure you are prepared to pack. These deals will have you ready for any adventure whenever it finds you.
This hardside suitcase is beautiful inside and out. The 360 wheels provide smooth maneuvering through the airport, and its lightweight construction makes for easy lifting when needed. You'll be surprised at how much room this suitcase has for being 28 inches. It is the perfect match for your upcoming trips. Nothing complex about space, style, and smooth maneuvering. You also have three sizes to choose from, plus 14 color options.
For any weekend away, you have to have a reliable, stylish, comfortable backpack to bring along with you. And even better, you'll have the backpack for your longer trips when you need something to carry the things you need constant access to. You have nine color/pattern options all made of sustainable recycled cotton. The comfort, softness, and vibrancy you love have been kept alive in this Vera Bradley backpack. While we are all enamored by the outside, the good stuff is on the inside. There are two interior mesh slip pockets that can hold your laptop or tablet, plus a zippered top closure. In total there are two side slip pockets, a front zip pocket with a hidden front pocket, the main entry compartment, an additional front compartment, the laptop pocket, and a hidden back zip pocket. This bag is meant for organization in style so you can travel stress-free.
With over 33k ratings, this is the go-to hardside spinner luggage for work travel, vacations, or weekend getaways. This case is 26″ with a protective extra thick hard shell and a scratch-resistant black finish. The double spinner wheels and durable handles allow for convenient mobility wherever your case goes with you. The fully-lined interior has an organizer with a divider made of three zippered pockets for storing smaller items. And you can't beat the expansion of up to 15 percent for ideal packing space. The dimensions are 11.4″ L x 18.3″ W x 26.7″ H, including the wheels.
This is the perfect getaway set including a 21″ carry-on and a 28″ spinner. You will have all your bases covered whether you are taking a solo trip or packing for two for a week. The possibilities are endless when you have a combo like this. These cases are ultra-light and ultra-strong to withstand the rigors of your travels. The cases also have recessed TSA combination locks to provide security for your packed belongings. And the cases have expansion capacity to make sure you're getting whatever you need in for your trip. One specific perk of these cases is the 10-year limited Samsonite warranty against defects in materials and workmanship. A final note: The little case fits perfectly in the big one for easy storage!
This deal is for those who need more than just the two cases or are packing for a longer trip. This set includes a 20" carry-on, plus 24″ and 28″ spinners. These ideal sizes are great for packing the whole family on your vacation. With lightweight, effortless mobility, you won't have to stress about lugging your cases through the crowds. These cases have side-mounted TSA locks to deter theft while ensuring only you or a TSA agent will have access to your belongings. And when you have inevitably packed everything but the beach towels, these cases allow for an inch and a half of expansion.
The design on the front and back shells hide any potential scratches and scuffs from your journeys. And in any of the 12 color options, the cases are made of 100 percent polycarbonate for a tough and scratch-resistant shell. And of course, you can't beat the 10-year limited Samsonite warranty.
This Kenneth Cole case has everything you've been looking for and more. It has 8-wheel multi-directional spinners for effortless handling. The main compartment has several zippered organization pockets including an elastic shoe pocket and a garment restraint panel. And we all know we pack too much at the last minute, so this case is able to expand an additional two inches! The sleek and stylish exterior has corner guard reinforcements to help protect your bag from damage. The overall dimensions are 22" H x 14" L x 9-11" D with a weight of just over 7 pounds. This case will become your best friend, and you have plenty of color options to choose from so you get the one that suits you the best.
For more ideas on Luggage, check out these articles:
Deeply Discounted Luggage Deals You Can Steal Before Amazon Prime Day
The Top Travel Backpacks For Men And Women
The Best Hard Shell Luggage Review 2022