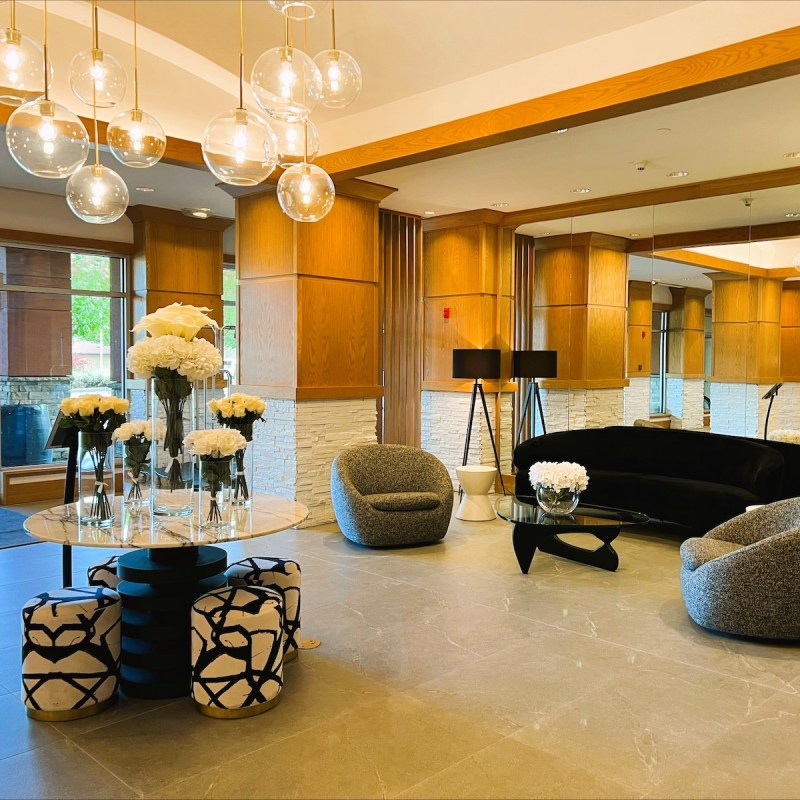 Osoyoos sits in the Okanagan Valley region of British Columbia. Located at the Sonoran Desert's tip, it's Canada's warmest, driest location. The Watermark Beach Resort features 1,000 feet of waterfront on Lake Osoyoos, Canada's warmest lake, which makes it an excellent place for summer beach days. At the same time, its proximity to Mount Baldy allows for wintertime down-hill skiing at British Columbia's third-highest elevation ski area.
Since I was arriving from Michigan, I flew into Kelowna (YLW) and drove 2.5 hours to Osoyoos. If you're road-tripping, you can cross the border at Oroville, Washington, and take BC Highway 97 for the 11-minute drive to Osoyoos. In any case, I recommend you drive into the surrounding area for stunning mountain views.
Here are seven reasons why the whole family will love using the Watermark Beach Resort as a home base to explore Osoyoos and the surrounding region.
Thank you to Watermark Beach Resort for hosting my stay. All opinions are my own.
Accommodations
As the only full-scale resort on Lake Osoyoos, the Watermark Beach Resort offers 153 luxurious units, including studios and one-bedroom, two-bedroom, and three-bedroom condominiums. I frequently travel with my daughter and two granddaughters, and a single hotel room is often chaotic, yet renting two rooms for the four of us seems excessive. A two-bedroom, two-bathroom condominium would be the perfect solution. We could all be together, yet the whole family would love their own space.
While Osoyoos has several restaurants within walking distance, including the onsite 15 Park Bistro, foodies will appreciate the condos' gourmet kitchen, perfect for those who want to explore the many roadside fruit and vegetable stands and cook their own farm-to-table meals.
Families with children will be glad to have the ensuite washer and dryer, so you can throw in a quick load between trips to the beach without missing a beat.
You'll find an onsite swimming pool, outdoor hot tub, water slide, steam rooms, spa and yoga studio, and marina. And I must admit, there's nothing like having my morning coffee on the private balcony overlooking the lake. The balcony also has a family-size table, so the whole family can dine al fresco together.
15 Park Bistro
Chef Nick Atkins leads the onsite restaurant 15 Park Bistro, offering a unique perspective on seasonal, sustainable ingredients that complement the restaurant's farm-to-table ethos. Open for three meals a day, the plates are as much a feast for the eyes as the palate. Chef Atkins elevates even a simple burger to something special by making it with grass-fed beef and adding a black truffle aioli. Other favorites were the lobster mac and cheese and the lobster ravioli. While you can't go wrong with anything on the menu, due to seasonal ingredients, what I had may not be on the menu; however, I'm confident you'll find your own favorite.
I particularly enjoyed sitting on their patio and taking in Lake Osoyoos with stunning mountain views as a backdrop. I noticed simply by changing my seat, I had a whole new perspective. Due to their updated heaters and retractable sides, you can comfortably sit on the patio when it's chilly outside.
Wine Tours
Osoyoos is Canada's warmest area and the red wine region of the country. You'll find plenty of cabernet sauvignon, cabernet franc, merlot, and syrah to fill your glass. While the area has a wide range of wineries, one that's perfect for the whole family is Covert Farms Family Estate.
The adults can sit on the rustic outdoor covered patio, where one of their team members will guide you through your experience. With one of their wine-tasting packages, you'll taste your way through seven wines from their award-winning portfolio, including some of their newly certified organic releases, grand reserves, and sparkling wine. You'll sample wines alongside a locally sourced charcuterie board.
While the adults enjoy their wine, the kiddos can experience a guided tour of the farm animals and enjoy some bouncy activities. Additionally, with 100 acres of ground crops and another 40 acres of tree crops, a fun family activity is visiting the U-pick area. Grab some fresh fruits and vegetables to prepare in the Watermark Beach Resort's gourmet kitchen. You won't find a fresher meal.
Water Sports
With its lake location, the resort has many watersports opportunities. Boat rentals and other sports equipment are readily available at venues on the warm lake. Sailing, kayaking, SUPs, wakeboarding, and swimming all provide fun in the sun.
Desert Adventures
While in the area, explore these two venues to learn about the desert and its culture.
Nk'Mip Desert Cultural Centre
The Nk'Mip Desert Cultural Centre (pronounced in-ka-meep) is a family destination. The state-of-the-art interpretive center is an architectural marvel constructed into the hills. Indoor and outdoor exhibits are a fun, interactive learning environment. The hands-on displays and education stations are fun for the whole family. They offer two multimedia theater experiences, where you'll learn about Canada's only desert.
Osoyoos Desert Centre
In 1998, the Desert Society opened a hands-on interpretive facility, the Osoyoos Desert Centre, to conserve the South Okanagan's unique habitats. The 67-acre attraction features a 1.5-kilometer elevated boardwalk, an excellent place for the kids to stretch their legs while exploring the desert. The boardwalk is wheelchair-accessible and accessible for strollers and walkers to use. You can take a self-guided tour along the boardwalk or guides are available during certain times.
Pro Tip: The Osoyoos Desert Centre is open seasonally, April through October.
Golfing
With long summer days, little rain, and little to no snow in the winter, golfing offers year-round enjoyment. If the number of golf bags coming off the baggage claim area is any indication, many people come to Osoyoos to play golf. With five championship golf courses, it's easy to understand.
Osoyoos Golf Club offers two full-length courses, while Sonora Dunes Golf Course is a nine-hole course. Fairview Mountain Golf Club, one of Canada's top public courses, features an 18-hole course with a practice facility. Nk'Mip Canyon Desert Golf Course is a full-length championship course. Twin Lakes Golf Course, 20 minutes south of Penticton, is an 18-hole, regulation-length course. The mountain views are stunning no matter which course you choose to play. So, whether you're a beginner or an advanced player, you'll find the perfect course in the region.
Snowbird Getaway
Retirees and digital nomads may find themselves wanting to get away from Canada's cold and snow. Osoyoos typically receives only 2 inches of snow annually and you won't find a warmer destination anywhere in the country. With wineries to explore and the resort only a block from Osoyoos's business district, it makes for convenient living. In addition to the onsite restaurant, 15 Park Bistro, you'll find several others within easy walking distance of the resort.
Pro Tip: Favorable short and long-term rates from October through spring make Watermark Beach Resort the perfect place for a snowbird getaway.
While planning your trip to British Columbia, check out these other towns you may pass through on your way to Osoyoos: