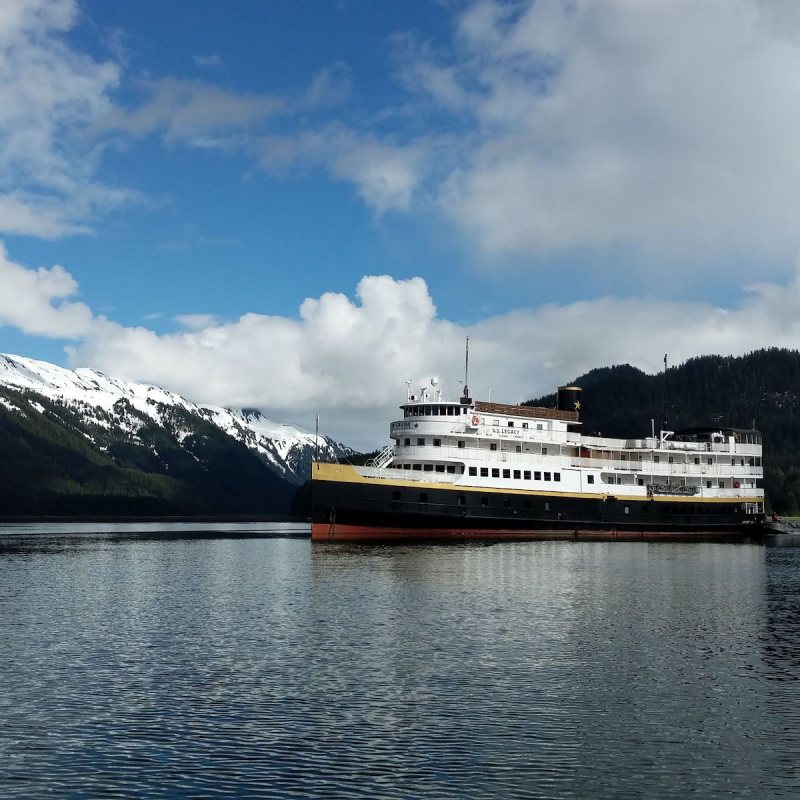 The name says it all.
UnCruise Adventures doesn't consider itself a cruise line. It just happens to use ships to bring you into the wilderness for its signature expeditions. The company has been crafting one-of-a-kind active adventures since 1996 (it was called American Safari Cruises back then) in places like Costa Rica, Panama, Hawaii, the Sea of Cortez in Mexico, and the Columbia and Snake Rivers in the Pacific Northwest.
However, UnCruise Adventures is especially adored for its Alaska expeditions. Nobody does it better in a destination that is a wonderland for wildlife, scenery, and activities like hiking, kayaking, bushwhacking, and shore walks.
I've enjoyed eight expeditions with UnCruise on nearly all the itineraries featured in its program. During my experiences, I learned why a trip with UnCruise is perfect for adventure- and wilderness-focused travelers.
1. Small Ships Mean Small, Tight-Knit Groups
UnCruise has nine ships and they carry anywhere from 22–86 passengers. On most of its ships, though, you'll be sailing with about 50–60 like-minded travelers who quickly grow to become like one large family. These are well-traveled cruisers who typically are 50 and older and mostly come from North America. But I have sailed with people from as far away as Australia on these trips.
During every one of my trips with UnCruise, I have heard some version of this: "I'm not at all interested in big cruise ships. I don't care about casinos or shopping. I can't imagine being trapped on a ship with thousands of people. I love hiking and being outdoors and want to see animals."
That is essentially a composite of the typical UnCruiser. And when you get a few dozen travelers who share that mindset, being led by an expedition team with an incredible passion for nature and wildlife, it makes a fantastic community on board.
I've always made new close friends and I've seen several other couples and families traveling together make fast friends with others. They go on to have one of the most fun weeks of their lives. Many people travel again on another UnCruise (or other) trip after they meet during their voyages.
2. Passionate Guides Lead The Way
UnCruise Adventures' guides organize thrilling activities like challenging hikes, snorkeling and kayaking outings, tide-pooling shore walks, and bird-watching walks. These guides are naturalists with educational backgrounds and certifications in disciplines like marine biology, geology, ecotourism, anthropology, and environmental studies, among other proficiencies.
This means they also give fascinating enrichment talks during the cruise program, with after-dinner chats in the ship lounges. Additionally, they are always willing to engage in spirited discussions informally throughout the voyage, as curious travelers engage their guides to learn more about their lives. They want to know where they've been and what they've seen, and the expedition team, captains, and other crew members are always happy to share their favorite stories from their jobs.
UnCruise says that its crew is picked not just for their expertise in each given field but also for possessing genuinely engaging and warm personalities. This always shines through, in my experience.
3. Fully Flexible And Varied Daily Excursions
While each UnCruise voyage has a listed itinerary, this is a loose plan that is always subject to change based on weather conditions and where the animal activity has been observed. Additionally, shore excursions can be adjusted to account for the specific abilities or desires of travelers within the group.
There are daily activities, usually two sessions, with morning outings in one location and more excursions or activities offered in the afternoon when the ship relocates to a new position. This means your week is jam-packed with a great variety of adventures.
In Alaska, I've taken hikes that have covered more than 8 miles and taken 6-plus hours. This is called a hard-charger and is offered when the expedition team gauges that there are some cruisers on board who would like to have a more challenging outing. We hiked through rugged rainforest, scrambled over logs and boulders, through waterfalls and streams, and across swampy muskegs. This Bailey Bay Hot Springs hike took us deep into the forest and eventually to a beautiful meadow where we gazed up at snow-capped mountains. We were able to slide into a natural hot spring "tub," then sit on a plank bridge and let the sun wash over us as we enjoyed a packed lunch before heading all the way back to the ship, thoroughly exhausted and satisfied.
That is an extreme example. Each day, the expedition team offers a range of activities that can get everyone of all abilities out to have fun. You can pick a shorter hike or shore walk, medium-to-difficult hikes, or the occasional hard-charger.
Hikes are just one of the activities. The ships carry kayaks, stand-up paddle boards, snorkel equipment, and zodiacs. So, there are all kinds of activities available. You can go on bushwhacking hikes in temperate forests in Alaska. This means you make your own way (no set paths) and follow ancient animal trails while exploring. I've also done snorkeling in Hawaii, the Sea of Cortez, and even Alaska, as well as kayaking everywhere UnCruise goes.
Each cruise in Alaska, the line holds a signature Polar Plunge event with brave cruisers jumping into the frigid waters during a session that is always a lot of raucous fun.
4. Gourmet Food With An Emphasis On Sustainability
The ships are modest, rustic, and built for adventure. They offer cozy and comfortable (not fancy) cabins. There is no internet or cable TV channels. The program is built around socializing and enjoying time in nature "unplugged."
In addition to the daily excursions, much of this camaraderie takes place over food and drink. The ships offer a main lounge with a bar. This is where expedition team members give enrichment talks about the regions you'll visit — highlighting animals, culture, history, and geology, among other topics.
You'll also find a few other amenities, like a small area with some fitness equipment on the outer decks. Some ships also have hot tubs.
The dining rooms have open seating, with all cruisers changing tables and dining together throughout the voyage and learning about their lives and travels. It's over these meals and drinks in the lounge that strangers become friends and the journey becomes extra special.
Breakfasts, lunches, and dinners feature specialties from the regions you are visiting. You always get meat, fish, and vegetarian options for your lunches and dinners. The chef comes out each morning to explain what's on the menu and cruisers are asked what they would like to enjoy for their lunch and dinner that day. You can always change your mind when you sit down to that meal later, but the idea is that the cooks can get a good estimate for how much to prepare that day to reduce waste to nearly zero.
We had scrumptious meals on the Sea of Cortez and Hawaii voyages that reflect the culinary traditions of Mexico and the Hawaiian Islands. In Alaska, you're going to get great seafood, such as salmon dishes and king crab, of course.
UnCruise partners with farmers and food producers on a hyperlocal level to ensure it is getting fresh and sustainable meat, fish, and vegetables. For example, UnCruise sources its food from farmers in Baja California, placing its order for the next Sea of Cortez season so that its partners produce the right amount on a dedicated farm.
Pro Tip: We often are faced with tough choices because the dishes are so enticing. You can order a "half and half" to get a meal of two different dishes (but in smaller portions).
5. Excellent Destinations Where Nobody Else Goes
The small ships from UnCruise get into isolated areas that the big ships can't go. The company is the only one that is allowed to sail from the Hawaiian Island of Molokai, for example.
I have also had wonderfully intimate trips on the Columbia and Snake Rivers in the Pacific Northwest; off the coast of Washington in the San Juan Islands; in protected bays and national parks in Alaska; in the Sea of Cortez and Baja California Sur, Mexico; and in Costa Rica and Panama that included a transiting of the Panama Canal. These are all amazing destinations where UnCruise Adventures thrives.