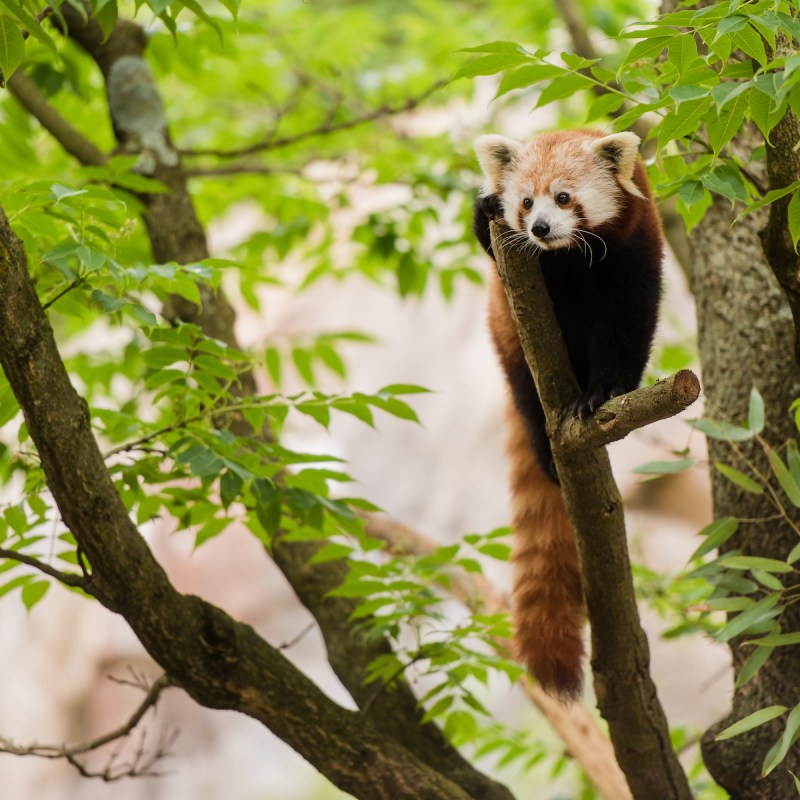 TravelAwaits' 2023 Best Of Travel Awards, presented by
AllTrails
and with the support of
Luggage Free
, the premier luggage shipping service, showcases our readers' favorite destinations and businesses. Nominations and voting took place earlier this year, and we hope the final selections inspire your future adventures; congrats to all of the winners!
When it comes to encountering exotic wildlife and exploring diverse ecosystems, there's no better place than a well-curated zoo. Every year, TravelAwaits asks its readers to vote for the best zoos in the country as part of our annual Best Of Travel Awards and we're thrilled to present the 2023 results! Spread across the U.S., these remarkable zoos exemplify the highest standards of visitor experiences, animal care, and conservation efforts.
Drumroll, please! And the best zoo in the country is…
1. San Diego Zoo (Winner)
San Diego, California
Our 2023 Best Of Travel Award winner for Best Zoo in the U.S. is the San Diego Zoo! Situated in sunny San Diego's beautiful Balboa Park, this southern California zoo is renowned for its diverse collection of animals and dedication to conservation. With more than 14,000 rare and endangered animals from more than 700 species and subspecies, the zoo provides visitors with an unforgettable wildlife experience.
Open-air, cageless exhibits recreate the animal's natural habitats. In addition to clouded leopards, bonobos, red pandas, and California condors, the San Diego Zoo is also home to botanical gardens. Take a ride on the Skyfari Aerial Tram for a bird's eye view of the whole place!
2. Smithsonian National Zoological Park
Washington, D.C.
Attracting nearly 2 million visitors a year, Smithsonian National Zoological Park is in the heart of our nation's capital. Established in the late 1800s in an attempt to save several native North American species such as deer, foxes, beavers, and bison from extinction, the national zoo is one of the oldest in the country.
Almost 250 animals representing 20 species reside on the Smithsonian National Zoological Park's 163 acres. It is one of few zoos in the country that has giant pandas, which is one of its biggest draws. Observe and learn about more familiar members of the animal kingdom, such as the bald eagle, California sea lion, and beaver on the American Trail.
Pro Tip: Admission to the Smithsonian National Zoological Park is free, but parking is limited and pricey. TravelAwaits contributor Sage Scott recommends taking the Metrorail to Cleveland Park and then leaving from Woodley Park, which makes the walk to and from the zoo entirely downhill.
3. Omaha's Henry Doorly Zoo And Aquarium
Omaha, Nebraska
Nationally recognized for its animal care, exhibit design, and conservation, Omaha's Henry Doorly Zoo and Aquarium is regarded as one of the best zoos in the world. Sprawling over 160 acres, it boasts the largest indoor rainforest in the country and the largest nocturnal exhibit and indoor desert in the world. In the Lied Jungle rainforest exhibit, visitors can look out from behind a 50-foot-high waterfall. Other popular attractions include the 70-foot shark tunnel, Skyfari (the open-air chairlift), and the African Grasslands exhibit where guests can feed a giraffe. Unique species include David's deer, bongos, Amur tigers, and bush babies.
Pro Tip: Golf cart tours are available for those who don't want to walk around the large and hilly zoo.
4. Bronx Zoo
New York City, New York
As the largest metropolitan zoo in the U.S., the Bronx Zoo is a remarkable urban oasis teeming with wildlife. Situated on 265 acres of parkland, the zoo houses over 10,000 animals of more than 700 species. Its incredible variety of exhibits, including Tiger Mountain, Jungleworld, and the Children's Zoo, allow visitors to immerse themselves in the wonders of the animal kingdom. Treetop Adventures invites visitors to don a harness and tackle the ropes course high in the trees and ride the zipline over the Bronx River.
5. Saint Louis Zoo
St. Louis, Missouri
Nestled in Forest Park, the Saint Louis Zoo is renowned for its commitment to conservation and exceptional animal care. Several structures built for the 1904 World's Fair have been repurposed to showcase over 16,000 animals across the zoo's 90 acres. With over 600 species, this zoo offers a captivating experience for visitors, featuring exhibits like River's Edge where visitors can observe hippos, elephants, and gorillas in their natural habitats.
6. Cincinnati Zoo & Botanical Garden
Cincinnati, Ohio
Combining a stunning botanical garden with a top-notch zoo, the Cincinnati Zoo & Botanical Garden is a delightful attraction for nature lovers. Home to adorable hippo siblings, Fiona and Fritz, this zoo showcases a vast collection of animals — over 500 animal and 3,000 plant species — while providing educational programs and conservation initiatives. Check out the University of Cincinnati mascot, the bearcat, in the Night Hunters habitat.
7. ZooTampa At Lowry Park
Tampa, Florida
Situated along the scenic Hillsborough River, ZooTampa at Lowry Park offers a fantastic blend of entertainment and education. Known for its immersive exhibits and interactive experiences, this zoo provides visitors with an opportunity to get up close with animals like manatees, giraffes, and orangutans.
Although it only takes up 24 acres, its habitats are home to 1,100 Asian, African, and Australian animals, plus native Florida wildlife. ZooTampa is also noted for its animal veterinary care and rehabilitation of endangered species.
8. Fort Worth Zoo
Fort Worth, Texas
With its commitment to animal conservation and an extensive collection of species, the Fort Worth Zoo stands as a premier destination for wildlife enthusiasts. Spanning 64 acres, the zoo features exhibits like Texas Wild! and African Savanna, providing visitors with a chance to witness the incredible diversity of animal life.
9. Brookfield Zoo
Brookfield, Illinois
Situated in a suburb of Chicago, the Brookfield Zoo is a beloved attraction that combines education, conservation, and family fun. Home to a wide range of animals — including lions, gorillas, and dolphins — Brookfield Zoo offers engaging exhibits and interactive experiences that captivate visitors of all ages.
Over 200 acres feature large exhibits in a wooded setting because it is also an arboretum. Keep an eye out for wildlife as you walk around the flat, midwestern forest. Lying at the center of grassy lanes, the Roosevelt Fountain makes for a great spot to meet up.
10. Arizona-Sonora Desert Museum
Tucson, Arizona
The Arizona-Sonora Desert Museum offers a unique and immersive experience that showcases the beauty and diversity of the desert ecosystem. Combining a zoo, botanical garden, and natural history museum, this remarkable institution allows visitors to explore the desert landscapes while encountering animals like javelinas, desert tortoises, and Mexican wolves.
11. Lincoln Park Zoo
Chicago, Illinois
Lincoln Park Zoo is one of the oldest zoos in the U.S., offering a delightful escape within the bustling city of Chicago. With its free admission policy, the zoo provides access to a diverse range of animals, from playful primates to majestic big cats, while fostering a deep appreciation for wildlife conservation.
Read more from our 2023 Best Of Travel Awards.