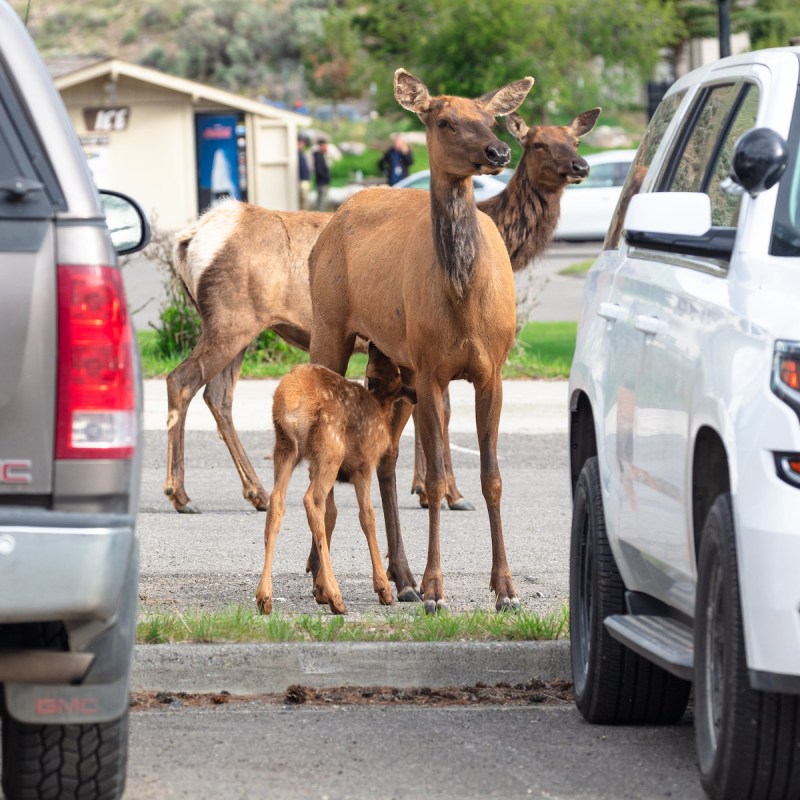 Yellowstone National Park has a warning for visitors — and it's not the type of message they may be used to seeing.
"Danger: Elk calving season has begun in Yellowstone National Park," the National Park Service warns. "Be aware of your surroundings!"
During calving season, cow elk are much more aggressive toward people while they protect their newborn calves, the National Park Service (NPS) continues. They may even run toward you or kick at you.
"Attacks can be unprovoked and unpredictable," the NPS warns. "You are responsible for your own safety."
The NPS offers several tips to keep visitors, and the elk, safe.
First, always be alert.
"Look around corners before exiting buildings or walking around blind spots," the NPS cautions. "Cow elk may bed their calves near buildings and under cars."
If you do see elk, always stay at least 25 yards away from them.
Finally, if an elk runs toward you, take shelter in your vehicle or behind a tall, sturdy barrier as quickly as possible, the NPS advises.
What You Need To Know About Elk
Elk are the most abundant large mammal found in Yellowstone National Park.
Yellowstone's high-elevation grasslands provide summer habitat for an estimated 10,000–20,000 elk from six or seven different herds, according to the NPS.
Interestingly, less than 4,000 elk spend the winter in the park. The other elk migrate looking for food.
Those food sources include grasses, sedges, herbs, shrubs, the bark of aspen trees, conifer needles, burned bark, and even aquatic plants.
Males, or bull elk, have antlers. They can be 5 feet or taller at the shoulder and may weigh more than 700 pounds, the NPS explains.
Females, or cow elk, are shorter and may weigh around 500 pounds. Their calves weigh around 30 pounds at birth.
Know Before You Go
Yellowstone — in parts of Wyoming, Montana, and Idaho — was established on March 1, 1872. That makes it the nation's oldest national park.
People from around the world travel to Yellowstone each year to see the park's thermal features such as the Old Faithful geyser, the majestic Grand Canyon of the Yellowstone River, and of course, its elk, bison, wolves, bears, and other wildlife. Yellowstone, which encompasses more than 2.2 million acres, is also home to more than 900 miles of hiking trails.
Be sure to read all our Yellowstone National Park content, including: