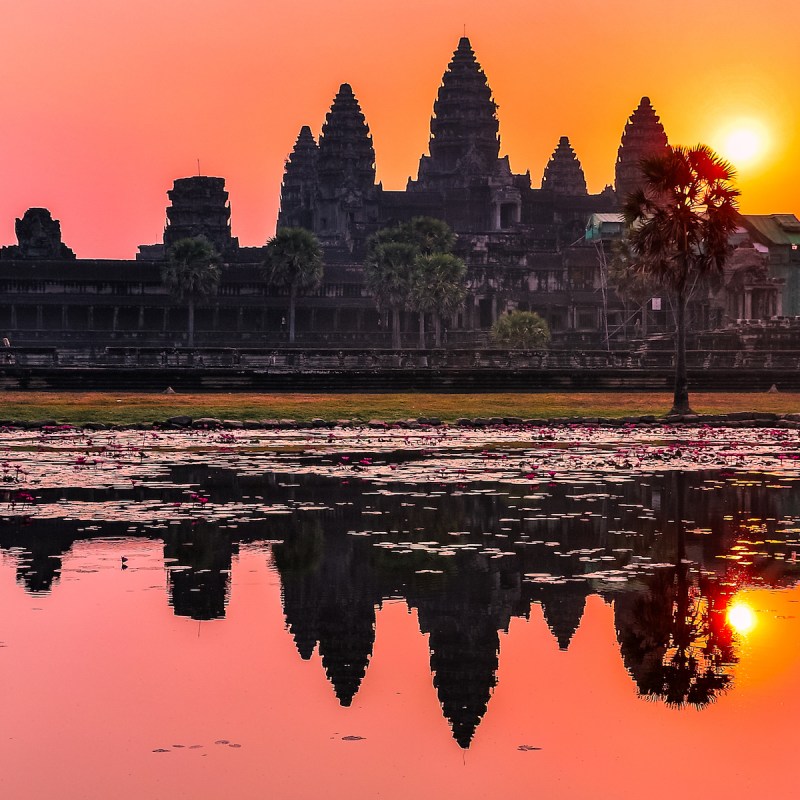 Siem Reap is the gateway to the fascinating UNESCO-listed Angkor Archaeological Park and attracts travelers seeking to learn about the ancient Khmer Kingdom — which ruled from the 9th to 15th centuries. Many people are also now visiting Cambodia to experience the spirit and resilience of this free-from-conflict and developing country.
As you wander the bustling streets of downtown Siem Reap, you'll be swept up in the colorful chaos of tuk-tuks, street vendors, and bustling markets. But beyond this, Siem Reap offers an incredible array of experiences — from indulging in delicious Cambodian cuisine, exploring traditional Khmer villages, participating in Buddhist rituals with saffron-robed monks, or delving into the burgeoning art scene.
Let me introduce you to my favorite experiences from a recent trip to Siem Reap, Cambodia.
1. Angkor Archaeological Park
The Angkor Archaeological Park contains the magnificent remains of the Khmer Empire's different capitals, stretching over 155 square miles. Star attractions include Angkor Wat, the world's largest religious site; Bayon, renowned for its massive stone faces; Ta Prohm, with trees growing through the ruins; and Banteay Srei.
You can visit the park independently, by tuk-tuk, bicycle, or motorbike. The best option is to engage a park-accredited guide to understand the stories behind the structures, sculptures, and history.
Being a fan of small group touring, I found Vespa Adventures offered me the sense of freedom I was after. Then there is the fun of being piloted around the park on a gloriously maintained Vespa by an experienced bike rider. We traveled on quiet laneways and through forest paths, giving us a sense that we were the only visitors. We also arrived at less-crowded temple entrances and other sites. Our guide shared Angkorian stories at each stop.
Vespa Adventures offers full and half-day tours of Angkor Park, plus countryside tours and even an evening food tour. These have to be the best fun for people wanting a sense of independence and adventure while benefiting from a guided small group tour.
Pro Tip: Angkor park passes (personalized photo ID tickets) are only available from the official park ticket office. Single-day, 3-day, and 7-day passes are available, but one day is never enough. A 3-day pass, valid for 7 days, allows you to intersperse your park visits with other Siem Reap activities.
2. Grasshopper Adventures
What better way to see the countryside and gain glimpses of local people's daily lives than by cycling? Grasshopper Adventures' guided half and full-day tours around Siem Reap and the Angkor temples offer a selection of itineraries. And for us 60-something-year-old travelers, their E-bike Ultimate Countryside Tour sounded perfect.
Our guide, Bunvath, familiarized us with the e-bikes and gave us a safety brief — ready for the 7:30 a.m. start to beat the heat. We traveled on almost traffic-free back streets, and once in the country, it was down village lanes, between rice fields, and skirting through local farms.
The half-day tour had many breaks, including a temple with some friendly novice monks, a local fresh food market, and a scenic reservoir for a traditional late-morning snack. Plus, we visited two local villages to see people making rice noodles in one and sticky rice snacks in another. These were not "shows" put on for us, just life happening as it always does.
Pro Tip: Though Grasshopper Adventures offers regular bikes, an e-bike is recommended unless you are a seasoned bicycle rider. We traveled over relatively flat terrain; the e-bike made the 35 miles much more manageable, allowing us to take in the scenery and enjoy more of the experience.
3. Kulen Elephant Forest
Kulen Elephant Forest is 1,100 acres of protected forest an hour from Siem Reap. It is now home to the elephants that, until a few years ago, provided tourists with rides around the Angkor temples — a practice that has since ceased. Now retired, these elephants enjoy a long-awaited and well-deserved saddle- and chain-free life, rediscovering relationships within the herd while receiving the best care.
Visitors can do a morning or afternoon tour and learn about elephant conservation. In a hands-on approach, you'll make snacks to feed the elephants and then wander with these giants as they graze and play. With only 75 captive elephants remaining in Cambodia, the leaders at Kulen Elephant Park aim to inspire other elephant owners across Cambodia to look more toward the conservation model as a natural alternative. The tour price contributes to this noble cause and is a tourism model I gladly support.
4. Phare Circus
Phare, the Cambodian Circus, is a cross between a highly energetic and engaging theater in the round on a smaller scale, though equally enthralling as Cirque du Soleil. Opening in 2013 to create meaningful employment opportunities for Cambodian artists, it continues to provide highly entertaining nightly shows under a 330-person big top.
The back story makes this venture even more compelling. Nine young Cambodian men in a refugee camp during the Khmer Rouge time found the provided drawing classes to be a powerful form of healing. Returning to their home district of Battambang in 1994, they began offering free drawing classes to street children.
They then opened a school named Phare Ponleu Selpak, which translates to "The Brightness of the Art." Today, more than 1,200 pupils attend this open school, from entry-level to year 12. Additionally, some 500 students participate in vocational programs with professional visual arts, theater, music, dance, and circus training. All of this education is free to students, with much of the funding coming from Phare's daily performances.
Phare's spellbinding circus performance would attract adoring crowds at any international venue. Knowing that your ticket price does so much more than just keep these artists in work makes it a double "must-do"' when visiting Siem Reap.
Pro Tip: Go early, enjoy street food and pre-show entertainment in the leafy courtyard, and browse the quality boutique and gift shop. Once again, all profits go back to the schools.
5. Cuisine Wat Damnak
A native of Lyon, France, Chef Joannès Riviere first came to Cambodia as a volunteer cooking instructor in 2003. While at the Siem Reap Hotel School, Johannes created a "Cambodian Cooking" cookbook. The goal? Record and preserve recipes and the culinary knowledge of a country that had seen much of its past wiped out by the Khmer Rouge. Joannès then spent several years as executive chef at the city's famed Hotel de la Paix before opening Cuisine Wat Damnak in 2013.
The setting is a transformed traditional teak timber house in a sculptured garden in the trending Wat Bo village within Siem Reap. With a dedication to farm-to-table and seasonality, Joannès and his business partner, Nguon Venchhay (Chai), offer a regularly changing six- to eight-course tasting menu showcasing the best of Cambodian cuisine, along with a plant-based tasting menu. The outcome is a decidedly delicious tour of Cambodian produce and culinary style served in a refined manner and well worth an evening of your time.
Pro Tip: If you are also visiting Cambodia's capital city — Phnom Penh — book a table at the gloriously renovated villa that is Cuisine Wat Damnak, Phnom Penh.
6. Siem Reap Arts Tours
Robina Hanley, a 15-year resident of Temple Town, operates Siem Reap Arts Tours. Her behind-the-scenes tours not only take you to the exhibitions, galleries, workshops, ateliers, and boutiques of the surprising cadre of resident local and international artists, but she can also often introduce you to the artists themselves.
Examples of just two artists we met on this tour were Cambodian Master Artist Lim Muy Theam from Theam's Gallery. His family became refugees in France due to the Khmer Rouge regime. Gaining fine arts and design qualifications, Theam returned to Cambodia in 1997 and has led initiatives reviving the arts and craft sector.
And the other artist we met in his new Siem Reap gallery, Belgium-born and now Cambodian-based Christian Develter exhibits his large, bright, and compelling pieces — like his Chin series depicting the intricately tattooed faces of Burmese tribal women.
Pro Tip: Robina curates tours for your particular interests. Be prepared to be wowed and impressively surprised at the creative arts and fashion scene in Siem Reap.
7. Sokkhak Riverside Spa
After hours of tramping around the ancient Angkor temples or Siem Reap's bustling streets, your body will need a reward. Of the many massage studios and spas available, Sokkhak Riverside Spa stands out. Sokkhak means "tranquil" in Khmer and seems appropriate given the spa's restful riverside location and invitingly spacious and luxurious ambiance.
Sokkhak Spa offers a broad range of spa and beauty treatments, facials, romantic packages, and massages, including their signature Khmer Traditional Massage —said to pre-date the famous Thai massage. Being a lover of Thai massages, I had to try the Khmer signature, and at the usual 90-minute finishing mark, I did not want it to stop. Bookings for Sokkhak Riverside Spa are recommended, and you may thank yourself (and me) once you visit.
8. Angkor Zipline
Ziplining has long been on our bucket list. The opportunity to soar through Angkor Archaeological Park's treetops resolved our dilemma. Being apprehensive first-timers, the Angkor Zipline team impressed us with their dedication to safety and the comfort of their riders.
There are two tour options: "Gold" offers the most flies between the trees, plus the highest and longest runs; "Silver" misses out on the longest runs but has the bonus of abseiling down from the last platform for one final adrenaline hit. Part of the adventure is climbing narrow stairs and crossing sky bridges to reach various platforms. However, you are constantly clipped onto safety cables with the undivided attention of the safety rangers. At over 700 feet above the ground, the views are well worth it.
Our rangers mentioned that an 82-year-old lady had recently completed the course, dashing the thought we may have been the oldest.
Pro Tip: Angkor Zipline now offers a mountain bike tour to combine with ziplining. This way, you explore the tree tops and forest floor in a half-day tour.
For places to stay in Siem Reap, Cambodia, check out these six hotel experiences.