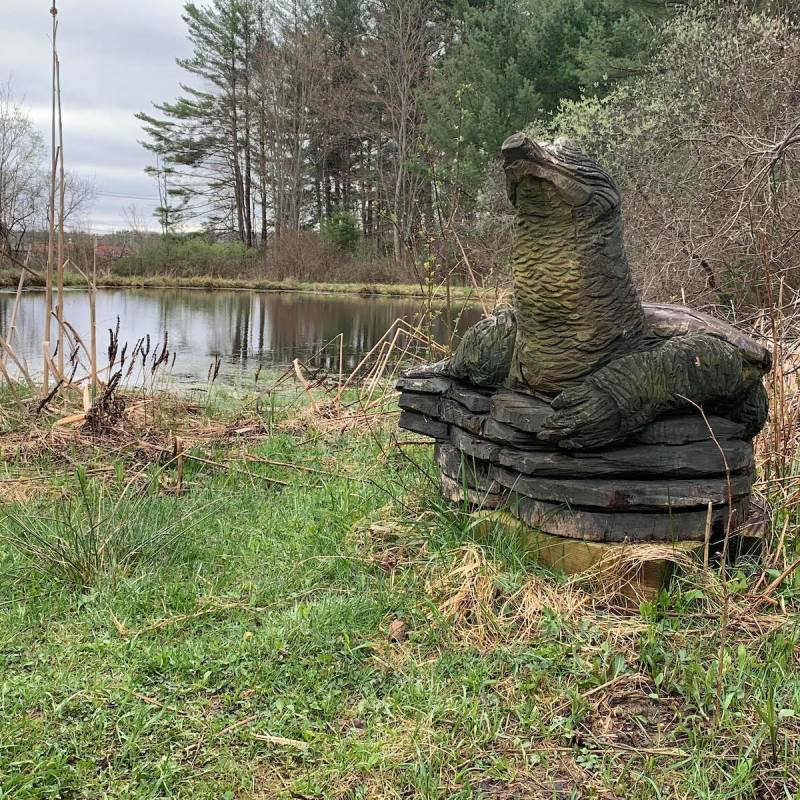 Beautiful Chautauqua Lake is one of the many popular getaways in New York State for outdoor activities. Boating, birding, and fishing join hiking trails and wine-tasting trails that will keep you happily exploring the beautiful scenery and sun-drenched days.
Chautauqua Lake, a freshwater lake, is 17 miles long and up to 2 miles wide at its widest point. One of the highest navigable lakes in North America, Chautauqua Lake has an elevation of 1,308 feet above sea level.
Note: Some information in this piece was obtained during a sponsored press trip, but all recommendations are my own.
1. Bird Watching
Where better to seek out migratory birds than at the institute housing the history and memorabilia of the author of the Peterson Field Guide to Birds of North America? At the Roger Tory Peterson Institute of Natural History (RTPI) ornithologists and recreational bird watchers/listeners can wander the two half-mile-long trails snaking through the 27-acre preserve. The successive woodlands and meadows are a perfect habitat for birds, butterflies, and bees. Pack your best binoculars and discover the birds of western New York.
Enjoy the exhibits of Peterson's art and other naturalist artists adorning the inside of the architecturally stunning RTPI home. Weekly spring bird walks, outdoor yoga with the birds, and other seasonal events allow you to relax and absorb the natural beauty of the RTPI sanctuary.
2. Panama Rocks
When you want to hike and explore something a little different, Panama Rocks is a fabulous option. The 1-mile loop trail takes hikers past massive rock formations, small caves, narrow canyons, and deep crevices weaving through a cool moss-covered forest. The dappled sunlight plays off the dark rocky formations and the vibrant green moss imparts a forest primeval experience. The intriguing natural wonders at Panama Rocks are why we take a walk in the woods — to contemplate interesting landscapes and to breathe in the fresh, rejuvenating woodsy air.
The trail requires traversing uneven ground but is rated easy by AllTrails.
3. Swimming
There are oodles of swimming spots along the shores of Chautauqua Lake.
Long Point on Lake Chautauqua State Park is a day-use park with a sandy beach, hiking and biking trails, a boat launch, kayak rentals, and a bathhouse.
The Chautauqua Institution Beaches come in a variety of flavors. Children's Beach, noted for its shallow waters, sits next to Pier Beach — a deepwater swimming beach.
If you want to swim in Lake Erie, then the under-1-hour drive to Hanover Town Beach is a great option. They have a bathhouse and marina so you know this is a popular spot during the hot summer months.
You can find lots of wonderful beaches to swim and soak up some sunshine along the shores of Chautauqua Lake and nearby Lake Erie.
4. Lake Erie Wine Trail
The conditions along Lake Erie are great for growing grapes. You will pass many picturesque vineyards and busy tasting rooms as you navigate the area. The Lake Erie Wine Trail encompasses 20 vineyards that offer a broad selection of lovely wines and beautiful landscapes.
A visit to Noble Winery offers guests a stunning panoramic view of Lake Erie from an expansive porch, enhancing your sipping experience. There are several companies that offer wine tours along the Lake Erie Wine Trail. One of the best ways to visit is to leave the driving to a professional — that way you can taste all the wines.
5. Barcelona Lighthouse State Park
Lighthouse aficionados will love the charming Barcelona Lighthouse State Park. Perched high on a bluff, the lighthouse had its first keeper in 1829. The Barcelona Lighthouse's claim to fame is that it was the first natural gas-fueled lighthouse in the United States. While you are not able to climb to the top of the 40-foot structure due to deteriorating stairs, the view from the small park is lovely.
6. The Chautauqua Belle
Touring Chautauqua Lake on the water offers some of the nicest lake views. The Chautauqua Belle is a charming steamboat offering historic tours on the lake, cocktail parties, and private events. Sit back and enjoy a trip along the calm waters and catch a view of all the lovely vacation homes along the shoreline.
7. Audubon Community Nature Center
The Audubon Community Nature Center offers a variety of interesting outdoor programs focused on birds and other critters native to the western New York area.
In the spring, local ornithologists capture birds for bird banding — a technique that provides insight into migratory and resident bird behaviors. Bird-a-thons, nature photography competitions, and other animal and habitat events are scheduled throughout the summer.
8. Golfing
An all-time favorite outdoor recreational activity is hauling your beloved bag of sticks around undulating verdant fairways and chasing a little white (or pink) ball. There are lots of golf course options in Chautauqua County; you could play a few rounds during your getaway stay.
Chautauqua Golf Club offers 36 holes of great golf to keep your swing well-tuned. At Bemus Point Golf Club & Tap House, you can enjoy nine holes of forgiving golf and finish with a great al fresco lunch. Another great nine-hole course is Willow Run Golf Course, a family-friendly option perfect for newbie golfers.
9. Bemus Point
A charming lakeside enclave, the village of Bemus Point draws visitors to explore this tip of Chautauqua Lake. Shops and restaurants paint the area with colorful quaintness. Alpacaville is always a hit, offering tours, alpaca wool, and handcrafted goods. Bemus Point Pottery is just the place to find your perfect getaway souvenir.
When you are ready for a break, stop by Guppy's Tavern for a great lunch and local brews; it will be a meal to remember.
10. Fishing
Just hang up the "Gone Fishin" sign and be on the lookout for muskellunge, walleye, and bass. Sport fishing is one of the most loved outdoor adventures on Chautauqua Lake. Seasoned and novice anglers will enjoy fishing in the calm lake waters. Bring your camera and a waterproof cover; you will want to get a picture of your monster catch.
Chautauqua Fishing Charters will customize your fishing experience based on your desired catch of the day. You can enjoy an evening dining on your catch at a local establishment that offers a cook-your-catch meal prep.
Muddy Creek Fishing Guides offers a wonderful angler experience on Chautauqua Lake. They have half- and full-day fishing adventures that will satisfy your bucket-list fishing experience.
11. Boating
When you are vacationing in a beautiful area like Chautauqua Lake, you need to get out on the water to fully enjoy the outdoor experience. Whether it is a kayak adventure, a relaxing stand-up paddle board ride, zipping around on a jet ski, or cruising on a beautiful boat, there are rental shops to accommodate your on-the-water happy place.
Bemus Bay Water Toys is the spot for your fun water toy rentals. Whether you require a pontoon boat, catamaran, kayak, hydro bike, bass boat, or floating water mat, you will be playing on the water and enjoying the #LakeLife vacation vibe.
When you want to explore the lake in style, One Fine Day Boat Charter is just the thing. Captain Johnson will plan a custom trip out on Chautauqua Lake in his vintage Lyman Day Cruiser. Enjoy stories of lake history while you sit back, take in the view, and leave the driving to the captain.
Chautauqua Harbor Hotel
After exploring all the outdoor recreation opportunities, you will need a spot to rest up for the next day of exploring. The Chautauqua Harbor Hotel is perfectly situated to enjoy all the surrounding Chautauqua County outdoor activities. The seasonal outdoor Carousel Bar is a hub for evening libations and sunset watchers. Their onsite restaurant, the Lakehouse Tap & Grill, is an upscale casual dining experience just steps from your cozy room. The bread basket is amazing with several varieties of goodies, two types of butter, and a tapenade. I recommend the Reuben — corned beef topped with sauerkraut, house-made Thousand Island dressing, and Swiss cheese on the best rye bread.
Choose a room with a view of the lake. Sitting on your balcony enjoying your favorite beverage as boats motor past is a wonderful way to end the day. Alternatively, an after-dinner stroll along the water begins right at the back gate. If you desire something more relaxing, grab an Adirondack chair and enjoy the beautiful sunset by one of the fire pits.
Chautauqua County
There is so much to do and see in Chautauqua County, you will want to plan a several-day-long getaway. Boating, fishing, swimming, and hiking will keep you outdoors and active. Beautiful sunsets, wineries, and fun dining round out the days of exploring; coming together for a memorable lakeside vacation.
Pro Tip: The summer season in Chautauqua Lake runs from May to October and, of course, is at its height in July and August.
Related Reading: