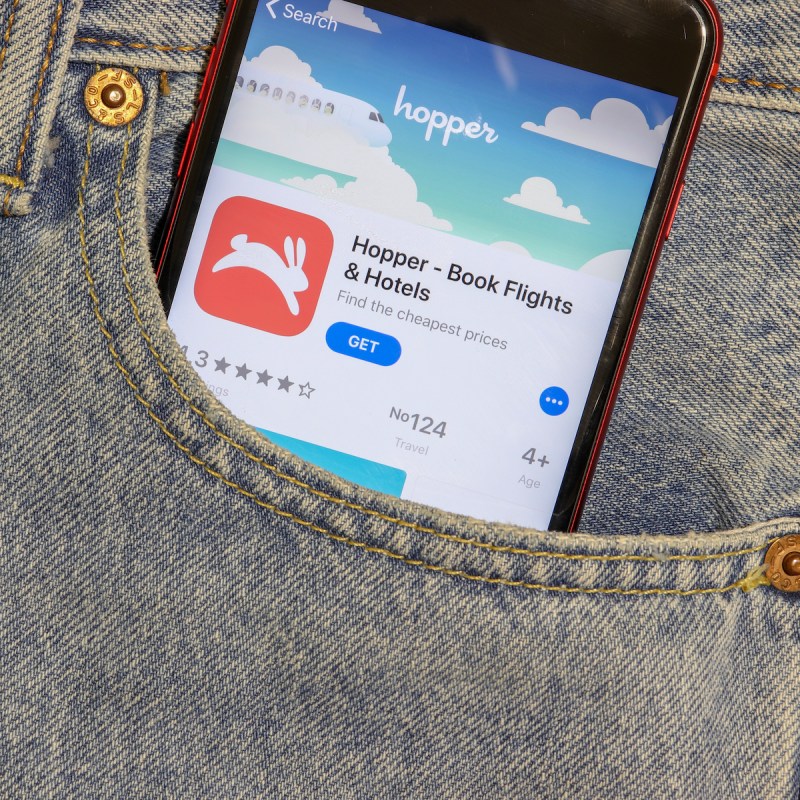 Anybody who still needs to book airfare for travel this summer may not want to wait much longer to finalize their plans; that is, if they want to save some money.
The price of domestic airfare will continue to rise this month before accelerating this summer, according to the Q2 2023 Consumer Travel Index from the travel pricing app Hopper. Then, in the mid and late summer, fares will slightly drop.
"Today, domestic round-trip airfare is averaging $285 per ticket, down 15 percent or about $50 per ticket, compared to this time last year," Hayley Berg, lead economist at Hopper, wrote in the report. "Fares are in line with 2019 levels — only 1.4 percent higher than prices in April 2019."
On the other hand, international travel is still pricey.
"International travelers are in for some sticker shock this year. High demand and lower supply on international routes [are] driving airfare to the highest levels in at least 5 years," Berg notes. "Europe and Asia will capture more than half of international travel demand this summer, but will see some of the highest price increases in the last 4 years, at least."
Indeed, airfare for flights to Europe from the U.S. is currently averaging around $1,032 — up 35 percent over last year and up 24 percent over the pre-pandemic year 2019, according to data from Hopper. Meanwhile, flights to Asia are $1,619, which are up 23 percent over last year and a staggering 61 percent over fares in 2019.
When To Book Airfare
Domestic airfare is expected to continue climbing through June, Hopper notes, so you may want to book summer trips sooner rather than later.
Specifically, domestic airfare will rise more than 7 percent to $321 per round-trip ticket in May, Berg wrote. Then, it will rise another 5 percent to a summer peak of $328 in June.
While peak summer airfare in June will be 10 percent lower than the record peak at $400 per ticket in June 2022, it will still be 4 percent higher than airfare in 2019, Berg points out.
After that, airfare will fall seasonally in July and August as it does each year. Indeed, airfare will drop to $304 in July, before dipping slightly to $286 in August, then $282 in September, according to Hopper's report.
Why Airfare Remains High
Strong demand, a low supply of seats due to airlines' decreased number of flights, and jet fuel prices are largely behind the continued high price for airfare, Berg explains in Hopper's report.
"Jet fuel prices, a considerable cost for airlines, remain about 16 percent higher than pre-pandemic levels, however, they have dropped 40 percent from this time in 2022," Berg wrote.
"Though fuel costs have improved considerably in the last 15 months, prices remain the highest they've been since late 2014," continued Berg. "Higher fuel costs will continue to put pressure on airfares, especially on expensive long-haul international routes."
Hotel Rates And Car Rentals
It isn't just airfare that makes a dent in travelers' budgets.
Hotel prices in the U.S. currently average $216 per night, Berg writes. That number is up 29 percent compared to April 2022.
Interestingly, despite those higher hotel rates, travelers are willing to pay a premium for certain amenities, like pools and pet-friendly accommodations.
For example, travelers are paying premiums as high as $123 a night in New York City for access to a pool, Berg notes. Meanwhile, in sunny Florida, travelers are paying as low as $30 per night for pool access.
As you may have noticed in recent years, the number of people who travel with their pets is noticeably rising. According to the data, 60 percent of Hopper's hotel bookings in 2022 were at pet-friendly properties.
Berg notes in the report that pet-friendly premiums are typically 30–51 percent higher per night than other accommodations.
Finally, if you also need to book a rental car this summer, there is some consolation.
The average cost of a rental car is down 21 percent over this time last year. The average, per day is now $38, Berg notes.
For more about flying, be sure to read all of our Travel News and Airports and Flying content, including: