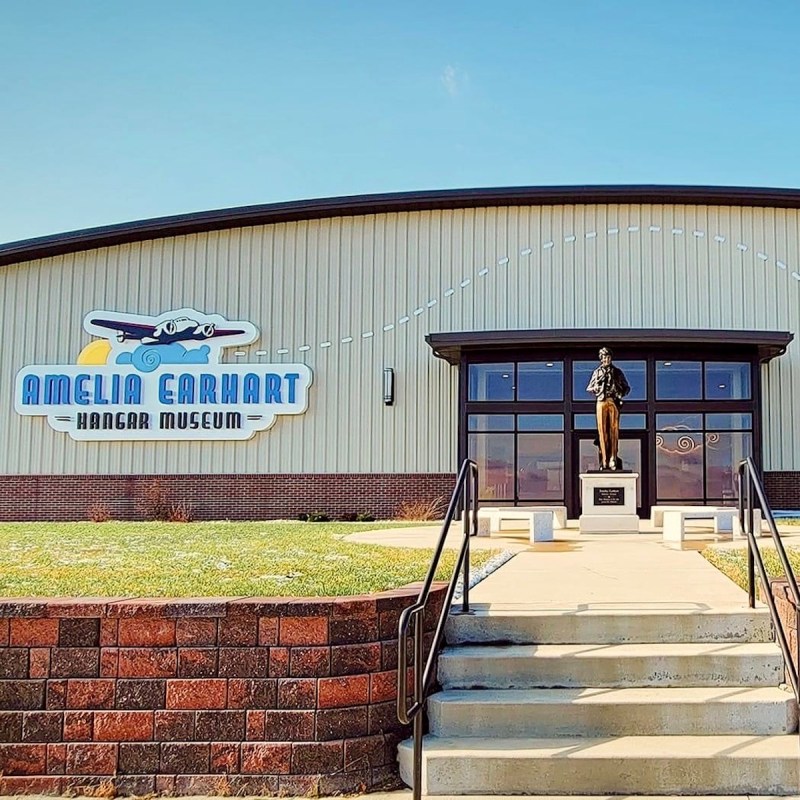 Aviation pioneer Amelia Earhart is finally getting her due, and you can help celebrate.
While Earhart set many aviation records and was a celebrated author, she is perhaps best known for being the first woman to fly solo across the Atlantic Ocean. She and Fred Noonan, her navigator, disappeared in 1937 somewhere over the South Pacific while attempting to fly around the world.
The Amelia Earhart Hangar Museum, located in Atchison, Kansas, opened April 14 to honor "Earhart's aviation legacy and inspire all generations in the pursuit of flight." The museum's site, at the Amelia Earhart Memorial Airport (K59), is important because Earhart was born and spent part of her childhood in Atchison.
"We're thrilled to celebrate our grand opening and welcome visitors of all ages to journey through Amelia Earhart's trailblazing life as a world-renowned aviator, innovator, educator, and activist," Karen Seaberg, founder and president of the Atchison Amelia Earhart Foundation, said in a statement. "It is an honor to bring Amelia's courageous and persevering legacy to life in Atchison, her hometown, to inspire all generations in the pursuit of flight — and like Amelia, encourage others to boldly pursue their dreams."
The museum's main attraction is a plane named "Muriel," which is the last remaining Lockheed Electra 10-E. The plane, which is identical to the plane Earhart flew on her final flight, was named after her younger sister — Grace Muriel Earhart Morrissey.
Interestingly, Muriel is one of only 14 Lockheed Electra 10-E aircraft ever produced.
The museum also features 14 interactive, immersive STEM (the technical disciplines of science, technology, engineering, and mathematics) exhibits to help educate visitors about aviation.
Muriel's Own Exciting History
Built in 1935 by Lockheed, the plane was first sold to Pan American Airways, where it was used to fly mainly between Brazil and Argentina in South America. One of the reasons the plane has been preserved is because it was used in South America rather than flying in World War II, the museum explains.
Later, in the 1950s, the plane was sold to Provincetown Boston Airlines, where it flew Cape Cod, Boston, and New York routes until it was purchased in 1970 by Zephyrhills Parachute Center in Florida.
Eventually, Grace McGuire, a female pilot and mechanic, acquired the plane and spent 30 years meticulously working on Muriel's restoration. Amazingly, McGuire's restoration even included adding the red lining on the wings and a circular antenna on top so the plane is identical to Amelia's.
McGuire then sold the plane to the Atchison Amelia Earhart Foundation in 2016.
Your Chance To Fly Like Amelia
In addition to seeing Muriel, visitors have the chance to explore 14 interactive, immersive exhibits including entering a full-scale replica of Muriel's cockpit to experience Amelia's perspective from what she called her "cozy cubbyhole." They can also hear Amelia's Lockheed Electra 10-E aircraft's Pratt & Whitney R-1340 WASP engine and see a modern Pratt & Whitney Geared Turbofan engine in operation.
Visitors can even test their own navigation skills and simulate recreating Earhart's historic 1932 flight across the Atlantic Ocean in the museum's Virtual Reality Flight Experience. The experience mirrors the obstacles Earhart overcame when she earned the distinction of being the first woman to fly solo across the Atlantic.
"Given the option of 'easy' or 'challenging' mode, visitors will follow prompts to fly to Paris, France," the Amelia Earhart Hangar Museum explains. "If you succeed, you will land in Paris; fail, like Amelia did, and you will land in Northern Ireland! Adventure awaits!"
Know Before You Go
The Amelia Earhart Hangar Museum is located at K59 airport in Atchison, Kansas, roughly a 1-hour drive from Kansas City, Missouri.
The museum is closed on Mondays and Tuesdays. Then, Wednesday through Saturday, it's open from 10 a.m.–5 p.m. On Sundays, the museum is open from 12–5 p.m.
Tickets for adults are $15 plus tax, and tickets for senior citizens (60+) and military members are $12 plus tax. Tickets for children between 4 and 12 years old are $8 plus tax.
Tickets for the Virtual Reality Flight Experience are an additional $5 plus tax.
Finally, the Amelia Earhart Memorial Airport is a 24-hour airport and terminal. If you are a pilot and would like to fly to the museum, you can call the airport's fixed-base operator to coordinate your arrival.
You can learn more about the museum at Amelia Earhart Hangar Museum.
For more about history, be sure to check out all of our museum content, including: