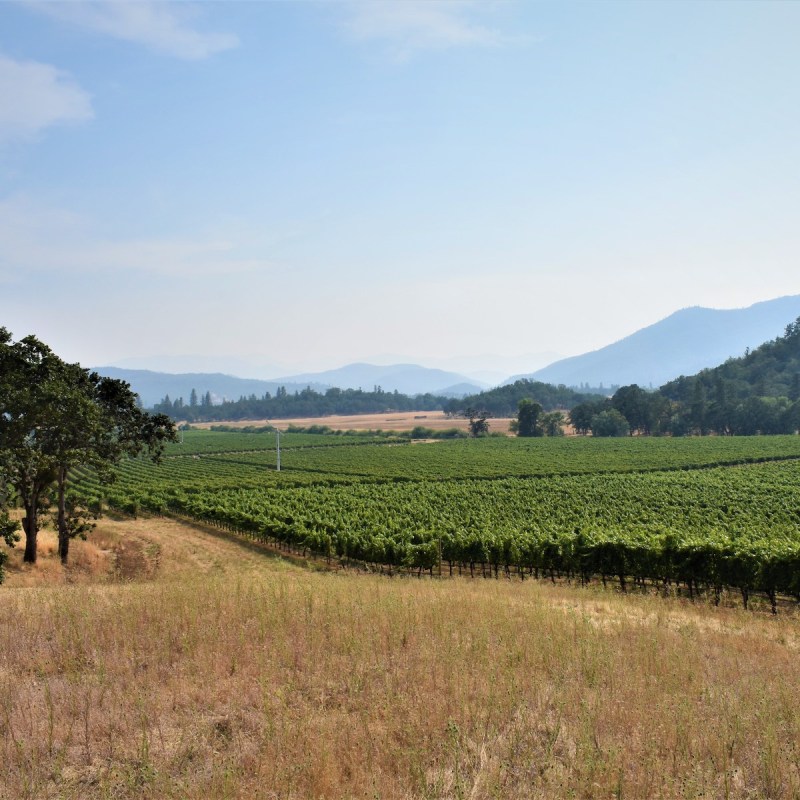 Rogue Valley Wine Country in southern Oregon was recently named a top global wine destination by Wine Enthusiast and Forbes magazines. It is easy to see why with all the area has to offer. Winemakers and farmers love the microclimates and terroir that allow more than 70 different varietals to thrive in the valley. Discover four unique wine trails each with stunning scenery, miles of vineyards, and destination wineries you'll want to spend the whole day at.
But there is more to the Medford area than wine. Crater Lake is Oregon's only national park and well worth the extra miles. It's a gorgeous, picturesque drive with viewpoints and waterfalls along the route. Table Rocks offer two beautiful hikes just 5 minutes from Medford. Summer brings festivals worth driving for and agritourism abounds in the area from spring into the fall.
Fly into the Rogue Valley International-Medford Airport and you can be at a winery within 10 minutes. The Interstate 5 corridor cuts right through the center of the area making it very accessible. This is a friendly destination and families are welcome at many wineries. Medford makes a great, centrally-located town to make your base while you discover and explore the Rogue Valley. Visitors will find a variety of hotels and restaurants and surprisingly little traffic or crowds. Traveling with family, friends, or a couple's getaway, there is something for everyone.
Pro Tip: Fly Alaska Airlines and a case of wine flies home with you for free. You can also show your boarding pass at 43 southern Oregon wineries for complimentary tastings. Most wineries have boxes suitable for flying, or they use a wine suitcase such as this one: I Just Traveled With This Wine Suitcase And I Am Not Sure How I Lived Without It. Just note the suitcase can only have wine in it to travel for free.
I was hosted by Travel Southern Oregon and Travel Medford, Heart of the Rogue on a press trip. All opinions are my own.
1. Upper Rogue Wine Trail
The Upper Rogue Wine Trail is just northeast of Medford and rolls through a beautiful countryside of the northern end of the valley.. Enjoy views of lush vineyards, snow capped mountains, and Instagram-worthy family farms. Each winery along the trail is unique and embodies the neighbor helping neighbor mentality of the Rogue farming culture.
Cliff Creek Cellars
The second and third generations of the Gavin Family run Cliff Creek Cellars, which is known for its "Big Reds." Syrah and cabernet sauvignon varietals comprise the majority of their acreage, with cabernet franc, merlot, and sangiovese comprising the rest. The tasting room at their Gold Hill Vineyard is rustic yet charming with its outdoor patio, not just overlooking the grapes but practically in them. Make sure to try their award-winning 2020 Red Red Wine, a red blend comprised of 70 percent syrah, 18 percent tempranillo, 6 percent sangiovese, and 6 percent zinfandel. At $19.99, it is a bargain for this stellar estate-grown wine.
Pro Tip: Visit the websites of the four wine trails to see if there are any events or promotions during your visit. An example is Roam the Rogue, a fun event that sells out every year.
Kriselle Cellars
To really experience the terroir of southern Oregon, you need to visit Kriselle Cellars. Owner Scott Steingraber is a self-described soil geek. In his previous career, he served as one of the engineers building the Tacoma Narrows Bridge. Now, he is the owner and winemaker for the brand. The site of these vineyards has really unique soil shaped by thousands of years of alluvial deposits and geologic upsets. It created a low-vigor soil where the vines struggle. It produces less grapes but of an exceptional quality. Steingraber likes to say there's a millennia in every bottle. This obsession with soil continues to the wine labels, each representing a different type of soil. Wife Kriselle serves as the vineyard and ranch manager.
The tasting room is stunning with both indoor and outdoor spaces open year-round. On weekends, enjoy wood-fired pizzas with your tasting. Make sure to try the Di'tani, a red blend of five varietals that really highlights Steingraber's skill as a winemaker.
2. Crater Lake National Park
Crater Lake is Oregon's only national park and it's also the deepest lake in the United States. The drive to Crater Lake National Park from Medford is an iconic one. Make sure to get an early start for a day trip because you're going to want to stop at quite a few pull outs for photos. Heading to the park, use the OR-62 East highway — also known as the Crater Lake Highway, part of the Rogue-Umpqua Scenic Byway, a National Scenic Byway. This picturesque drive is nicknamed the "Highway of Waterfalls." It parallels the "Wild and Scenic" Rogue River. Plan to stop near Prospect at the Rogue River Gorge Viewpoint where the river roars through a narrow canyon and, if time allows, hike the short 15 minutes to Mill Creek and Barr Creek Falls.
Once at Crater Lake National Park, plan to hop on the Volcanic Legacy Scenic Byway which will take you around the lake. Make sure to stop at Rim Village in the park to visit the historic Crater Lake Lodge and take the walking tour of the Historic Rim Village. When you are ready to head back to Medford, continue to follow the byway for an alternative route. It is an All-American Road and one of only 42 in the United States. It highlights how the area is dominated by volcanoes and how they molded the landscape of the area.
Check out How To Visit Crater Lake National Park In Oregon.
3. Applegate Valley Wine Trail
The Applegate Valley Wine Trail meanders along the Applegate River in a bucolic area of hills looming over a fertile valley. I loved this expansive area of small family farms, grass-fed cattle, and stellar wineries. Its remote location lends itself to a more leisurely approach to wine tasting with onsite tasting rooms you'll want to stay at all day long.
Wooldridge Creek Winery
This is one of my favorite vineyards in the area. At Wooldridge Creek Winery, visitors can enjoy spectacular wines and cheese made from the organic milk of local cows. It is Oregon's first creamery and winery. The tasting room spills out into a garden with views for miles. Shady spaces beckon you to linger and I did. I found it hard to leave this beautiful location. The farm also serves as a sort of shelter for unwanted animals, which children really enjoy seeing. Make sure to try the 2017 Warrick Red Reserve, a unique blend of tempranillo, zinfandel, and malbec grapes. The grapes began ripening in a process known as "veraison" during the eclipse of 2017, a year with a wet spring, moderate heat, and a dry harvest producing the perfect conditions for a great wine.
4. Festivals
Medford and southern Oregon are known for the arts and culture. Visitors can enjoy beautiful historic theaters and a variety of performing arts. Annual festivals are a huge draw as well.
Heart Of The Rogue Festival
Recently awarded Festival of the Year by the Oregon Festival & Events Association, The Heart Of The Rogue Festival is produced by Travel Medford and highlights the best of the Rogue Valley. Taking place in October each year, this 2-day festival brings together local artists, makers, musicians, and unique experiences. The bounty of the fall harvest is offered from local farmers. It is held in downtown Medford.
Britt Music And Arts Festival
The Britt Music and Arts Festival is an outdoor amphitheater with some seating but mostly a grassy hill to spread a blanket on in true Oregon fashion. The festival events run from June through August and features dozens of outdoor summer concerts by big names we all know and love. Visitors will enjoy an eclectic mix of world-class artists in jazz, reggae, rock, pop, and country music– even stand up comedy celebrities come on the Britt stage every year. Oregon Shakespeare Festival
One of the oldest and largest professional nonprofit theaters in the United States, the Oregon Shakespeare Festival was founded in 1935. The 2023 season kicks off with a production of Romeo and Juliet and runs from April to October.
5. Rogue Valley Food Trail
The Rogue Valley Food Trail is a self-guided tour that highlights the bounty of the Rogue Valley. Download the brochure, which includes a map and information on what to see and do, where to stay, what to eat, and where to shop. Visitors will enjoy agritourism at local family farms, orchards, and ranches. There are 52 businesses on the trail, which extends from Grants Pass in the north to Ashland in the south.
6. Bear Creek Wine Trail
Explore back roads through the beautiful Bear Creek Valley on the Bear Creek Wine Trail. Although it feels like the middle of nowhere, you are just a short drive from Medford. Historic estates beckon with magnificent views of the Rogue Valley.
Irvine And Roberts Vineyards
Although not officially on the Bear Creek Wine Trail, Irvine and Roberts Vineyards are in the area. I fell in love with their stunning tasting room set in the foothills of the Cascade and Siskiyou Mountains. Visit on either Friday or Sunday and book the Vineyard to Table experience. During this 2-hour tasting extravaganza, you'll try three wines carefully selected by the winemaker to pair with a three-course meal designed by the vineyard chef. It is created using seasonal ingredients from the Rogue Valley.
7. Artisan Corridor
Great wine needs a good selection of pairings to really enjoy it. Stop by the Artisan Corridor where you can experience excellence. Visit Lillie Belle Farms where the chocolate is not just eaten but experienced. Try their delectably unique flavors such as Stella Blue — an original concoction of chocolate and Rogue Creamery's blue cheese which just begs to be paired with a bottle of Rogue Valley red wine. Pick up a variety of artisan provisions to picnic at one of the local wineries. Next door, stop by the Coquette Bakery for a freshly baked European-inspired loaf of bread and visit Rogue Grape for a bottle of wine to go with it.
Pro Tip: Make sure to visit the Harry & David Country Store in Medford. In addition to its iconic products, visitors will find a variety of local products, a selection of fresh produce, and the largest selection of local wines from the Rogue Valley. It's well worth the stop.
For further reading: