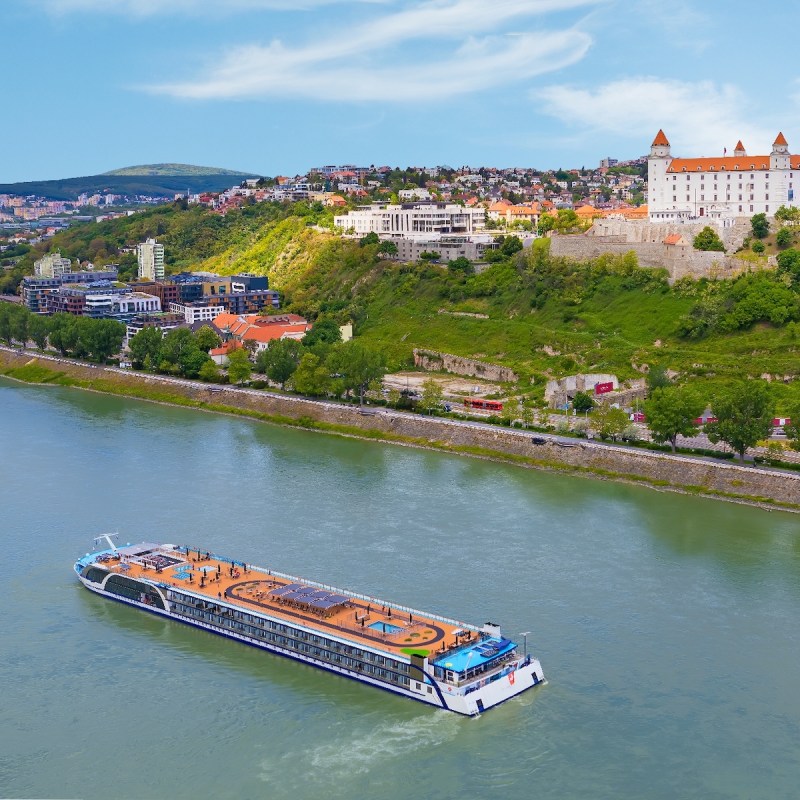 Pickleball has become one of the fastest-growing sports in the country. Chances are you've tried it, or at least thought about it since courts and clubs are being served up everywhere. It's not just popular on land. You can take your racquets to the water and play as you sail. In fact, two river cruise lines are now offering pickleball courts and itineraries so you can take your skills to the ship. If you're looking to up your game and play among the wonders of popular rivers, these ships have just what you're looking for.
What Is Pickleball?
Pickleball combines tennis, badminton, and ping-pong. It's played on a badminton-sized court with paddles and a plastic ball with holes. You can play singles or doubles, indoors or outdoors. It was invented in 1965 on Bainbridge Island, near Seattle, by three dads who came up with a new activity for their kids. It's now grown to be a very popular sport with USA Pickleball membership reaching 70,000 members in February of 2023.
Pickleball On AmaWaterways
Debuting this year on the Sun Deck of the one-of-a-kind AmaMagna, passengers can enjoy the all-new pickleball court. This sailing season, AmaWaterways is introducing the first full-sized court of its kind on a river cruise ship. You can grab a paddle and dink the ball around with others.
The AmaMagna is the flagship of the award-winning river fleet. It sails the Danube River with itineraries that include Austria, Bulgaria, Croatia, Czech Republic, Germany, Hungary, Romania, Serbia, Slovakia, Turkey, and Poland.
The ship is twice the width of traditional European river ships and has four dining venues, spacious suites with full balconies, a sun-deck pool and whirl-pool, and the Zen Wellness Studio.
Pickleball On Amadeus
Amadeus River Cruises is launching pickleball-themed cruises. While the ship will have a court, you can also play pickleball on the local courts at port. Zoltan Bohm, president of the Hungarian Pickleball Federation, and six-time National Hungarian Pickleball Champion Kara Feelsöbüky are ambassadors and hosts for the new themed cruises.
To read other articles about river cruises, check out: