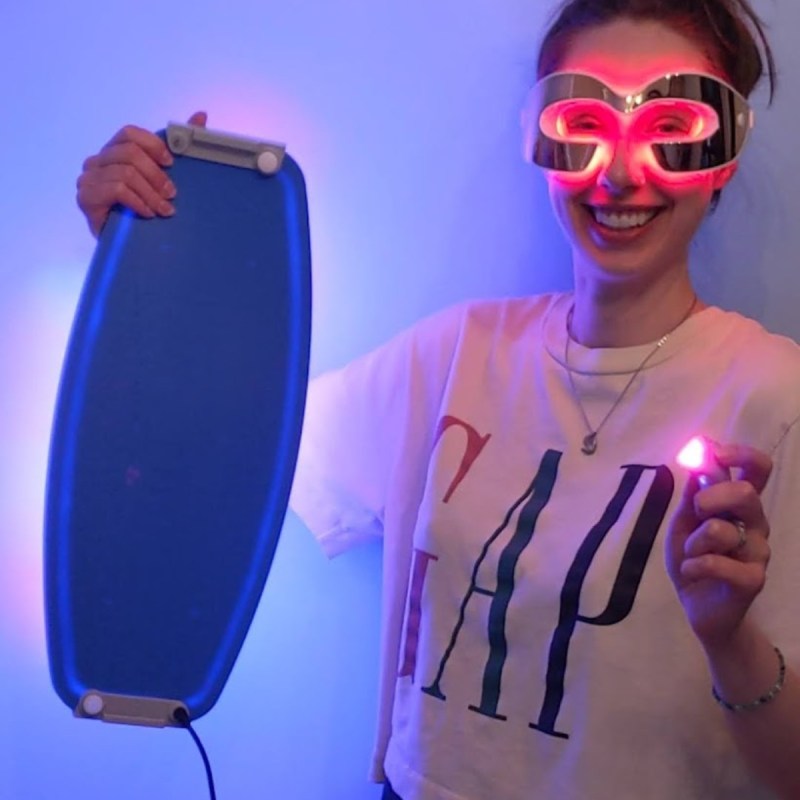 The carry-on-only craze is real, and with liquid limits alive and well, less really is more when it comes to packing, especially for shorter trips. But trip duration and packing limitations aside, I'm here to suggest that going makeup-free on your next vacation could be one of your most liberating travel experiences yet, and I'm speaking from experience.
Packing my cosmetics used to be one of the most time-consuming parts of getting ready for any trip, and makeup sliding, smudging, and smearing during warm-weather outings (climbing the pyramid at Coba comes to mind) were a regular part of travel for me. I believed I had bad skin and there was nothing to do about it other than starting each day with concealer and foundation, which I started wearing in my teens.
Everything changed when I started using LED light therapy to treat a stubborn patch of rosacea. Today, my skin looks and feels better than ever. I enjoy going makeup-free and wholeheartedly recommend you incorporate these light therapy devices into your skincare routine if you want to do the same.
Hydraskincare 3-Color LED Photon Light Therapy Panel
This is the device that started it all for me. Prescription cream was not helping a painful patch of rosacea that developed above my lip a little over 3 years ago, and I read that light therapy might help. I tried and returned a number of LED face masks and ultimately decided to invest in this panel that can also be used on other parts of the body. After a few weeks of using the red + blue light combination for 30 minutes every other day, the patch cleared up and the pain was gone. I also noticed fewer clogged pores and inflamed spots on my forehead, cheeks, and jawline.
This is a significant investment in creating a medspa-like experience at home and not super travel-friendly, but whatever your skin concerns (redness and inflammation, acne, fine lines, and beyond) and wherever they are on your body, using this panel regularly before you hit the road will have you feeling confident when you do.
Pro Tip: You don't need to commit to a full 30-minute treatment every time you use the panel. My esthetician has a similar device that she uses during facials for ~8 to 10 minutes with good results.
Solawave Bye Acne Red And Blue Light Spot Treatment
This micro-mini device is perfect for throwing into your cosmetic bag and using as a spot treatment. I purchased mine 3 months ago and have been using it every other day on some hyperpigmented spots (I'm already seeing results) and whenever a little blemish pops up (bye-bye, chemical-based creams). When used as a spot treatment, you'll literally see results overnight, meaning you'll feel that much more confident about going makeup-free in the morning.
Pro Tip: This isn't the best device for those looking to harness the collagen-boosting ("anti-aging") benefits of LED light therapy as it targets a small area and needs to be used for 3 minutes a spot for best results, which would add up fast if you were trying to treat your whole forehead, face, jawline, or chest. Solawave does make a wand that's intended to treat larger areas, but I haven't tried it.
SpectraLite EyeCare Max Pro From Dr Dennis Gross Skincare
This is the newest addition to my LED lineup, and while I have never enjoyed the feel of a full-face LED mask, I am a huge fan of this product. The fit is superb (the full silicone lining inside definitely helps), and I appreciate that it targets the areas around my eyes and hits the tops of my cheeks as well. I especially like to use it after plucking my eyebrows, which I do before bed roughly once a week (my full regimen is wash, pluck, SpectraLite treatment, apply Seaside Medical Technologies' Post-Traumatic Response Gel, turn in for the night, and wake up relieved!).
After using it for a couple of weeks, I was more ready than ever to enjoy an Easter weekend getaway without wearing — or even packing — a stitch of foundation, concealer, or powder.
Pro Tip: While you can open your eyes and look around during the 3-minute SpetraLite treatment, if you're light sensitive like I am, you might want to turn inward for 3 minutes of meditation and keep your eyes closed.
I packed my Solawave Bye Acne (which I used on one jawline blemish Friday night) and left my SpectraLite at home. For future checked-bag trips, I can see throwing it in to keep up with my self-care regimen.
Pro Tips: In addition to taking care of my skin with these light therapy devices, I've had great results with these gylcerin-free products and like to splurge on getting my eyelashes tinted from time to time. This past trip I did pack and wear mascara to my dinner date at Omaha's Committee Chophouse.