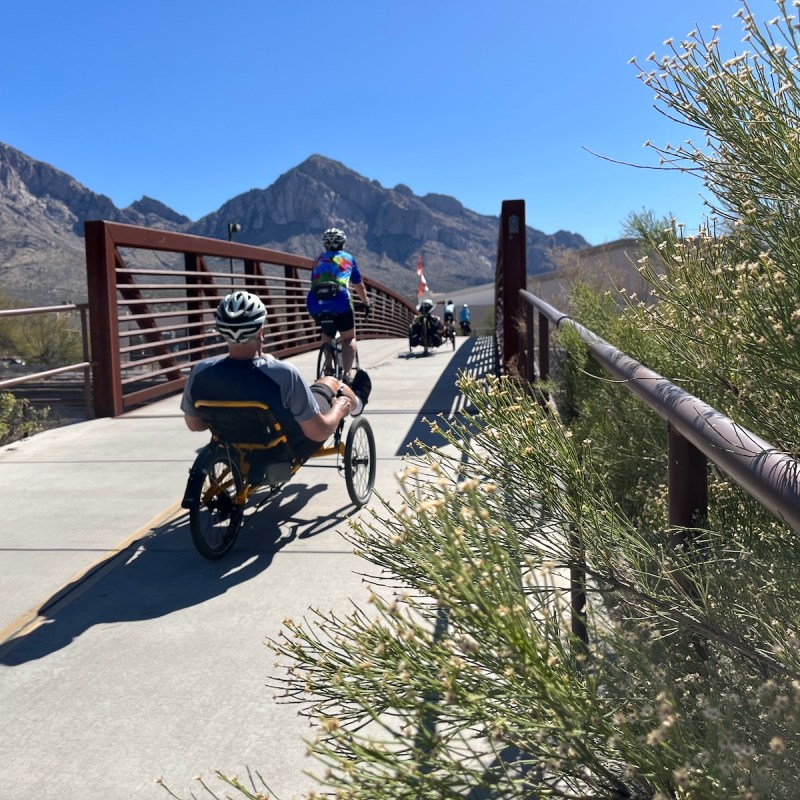 The craggy mountain views go on forever, the trail is fast and smooth, and the food and refreshment choices are varied and plentiful. If ever there was a trail that has it all, it would be the Cañada Del Oro River Park Trail in the southern Arizona city of Oro Valley.
Cutting through the heart of the Tucson suburb, the 11-mile Cañada Del Oro River Park Trail has the distinction of being both incredibly scenic and decidedly urban. With the imposing Santa Catalina Mountains looming all around, the smooth asphalt trail passes through a steady stream of lush city parks, bustling shopping areas, and expanses of rugged Sonoran Desert terrain.
For anyone who likes their trails to be picturesque but with a bit of luxury as well, the Cañada Del Oro is the route to try. It is a not-to-be-missed feature during a visit to Oro Valley.
Here are seven of the best stops along the trail.
1. The Chuck Huckelberry Loop
Adding to the appeal of the Cañada Del Oro River Park Trail is the fact that it is part of Tucson's 137-mile Chuck Huckelberry Loop, a world-class route that has given the community a reputation for being a bicycling paradise.
Biking is perhaps the most popular activity on the loop, but it is far from the only one. On my recent winter visit to Oro Valley, I found a trail that is also full of walkers, joggers, and parents pushing strollers.
While the Cañada Del Oro River Park Trail is a destination in itself, ambitious cyclists could also use the trail as a convenient base for a long-distance ride that will take them through downtown Tucson, along the network of riverside trails that make up the loop, and past industrial areas and quiet neighborhoods. Featuring off-road riding, the loop is a perfect way for visitors to take in much of what Tucson has to offer, largely without driving the busy streets.
Pro Tip: The Chuck Huckelberry Loop is home to dozens of works of art that range from steel sculptures of bats on bikes to colorful southwestern-themed murals to massive arches that soar above the trail. Small white arrows painted on the trail's asphalt surface alert users to the works of art that are located just off the route.
2. Catalina State Park
Near the northeastern end of the Cañada Del Oro River Park Trail lies the gorgeous Catalina State Park, a 5,500-acre desert haven known for its nearly 5,000 majestic saguaros, pretty canyons and streams, and an abundance of desert plants and wildlife.
Among the highlights of the state park is the network of eight trails that take hikers, cyclists, and horseback riders into the cactus-covered hills and through streams that run seasonally. For an easy trail that heads up a hill and offers great views of the desert plant life and surrounding mountains, I loved the 1-mile Nature Trail Loop.
Pro Tip: For RVers and tent campers, the Catalina State Park's 120-site campground is a convenient option that offers easy access to the Cañada Del Oro Trail.
3. Oro Valley Mural
Oro Valley Marketplace
Just across Oro Valley's busy Oracle Road, from Catalina State Park, is the large shopping area known as the Oro Valley Marketplace. Among the features trail users will find there is the colorful Oro Valley mural that conjures up the town's outdoorsy desert vibe. The mural is just one of the many pieces of art located along the trail.
The Oro Valley Marketplace is also a great place to stop for breakfast or lunch at one of its many chain restaurants. Or, for those looking for a handy trailhead to access the Cañada Del Oro River Park Trail, there are several parking areas located across the street from the shopping area.
4. Heirloom Farmers Market
Steam Pump Ranch Park
Featuring dozens of vendor stalls and attracting hundreds of shoppers each week, the Heirloom Farmers Market is a local favorite on Saturdays at Oro Valley's Historic Steam Pump Ranch. Located right along the Cañada Del Oro River Park Trail, the farmers market is a great place to stop for a weekend snack or lunch before heading back down the trail.
Steam Pump Ranch lies at the base of the Santa Catalinas' Pusch Ridge, which serves as a stunning backdrop for the market's booths. Even when the farmers market is not underway, the Steam Pump Ranch Park makes for an interesting stop. The 16-acre site is listed on the National Register of Historic Places, commemorating the ranch which dates back to the 1870s.
5. Tacos, Beer, And Gourmet Sandwiches
A portion of the Cañada Del Oro River Park Trail runs roughly parallel to and near Oro Valley's Oracle Road, a main city artery that is lined with restaurants, grocery stores, and shopping centers.
Its proximity to businesses makes for easy access to food and refreshments for the cyclists and walkers on the trail. As an added bonus, I found a number of places that were capitalizing on Oro Valley's sunny, mid-70-degree winter/early spring temperatures with their outdoor decks.
Street Taco And Beer Co.
One quick and easy spot to try is Street Taco and Beer Co., located in the Rooney Shopping Center on Oracle Road. The restaurant is casual, with a counter for ordering and a self-serve salsa bar. It serves a number of tasty taco varieties, as well as beers and soft drinks, and has a sidewalk patio that offers stellar views of the nearby Pusch Ridge.
What To Order: Grilled chicken tacos, street-style, with a side of tortilla chips and spice salsa
Baggin's Gourmet Sandwiches
Another dining spot with a location just off the trail is the local chain sandwich shop, Baggin's Gourmet Sandwiches, known for its fresh sandwiches and salads.
What To Order: Asian chicken salad served with chunks of chicken, Chinese sesame noodles, cucumbers, and carrots — all served up in a bread bowl; or the signature Unforgettable Baggin's sandwich with roasted turkey, cream cheese, bacon, sprouts, and avocado on 12-grain bread.
Pro Tip: Oracle Road is also home to a number of hotels that offer close proximity to the Cañada Del Oro River Park Trail. The Holiday Inn Express & Suites borders the trail, and the Fairfield Inn & Suites is nearby.
6. Riverfront Park
For a calm and shady place to rest or have a picnic, Oro Valley's Cañada Del Oro Riverfront Park offers something for the entire family. The 30-acre park has softball and soccer fields and tennis, basketball, and volleyball courts, along with three shade ramadas with picnic tables.
I also loved the cool art that seemed to be everywhere at Riverfront Park, such as a colorful mosaic seating area surrounded by flowering cacti. The park also offers parking for the trail and is a convenient place to stop for a water or restroom break.
7. Christina Taylor Green Memorial River Park
Toward the southern end of the trail, cyclists and walkers will come to the Christina Taylor Green Memorial River Park, a beautiful desert garden that commemorates Christina Taylor Green, the 9-year-old girl who was one of the victims of the tragic 2011 mass shooting at a Congress on Your Corner event held by Arizona Congresswoman Gabrielle Giffords.
The park features drinking fountains, equestrian access, restrooms, walking paths, and moving butterfly-themed artwork, some created by children. The park was established as a place where families could enjoy desert gardens in a space that celebrates the spirit of the young girl and her love of butterflies. I found it to be a peaceful spot and a wonderful tribute.
When To Visit The Cañada Del Oro River Park Trail
Spring, fall, and winter are the best seasons to check out the Cañada Del Oro River Park Trail. March, April, October, and November all post average high temperatures in the 70-and-80-degree Fahrenheit range, making for great cycling and hiking weather.
Winter might be Oro Valley's most beautiful season, with its December, January, February, and March average highs in the 60s and 70s. Summers in Oro Valley tend to be hot, with June posting an average high of 102 and May, July, August, and September all in the 90s.