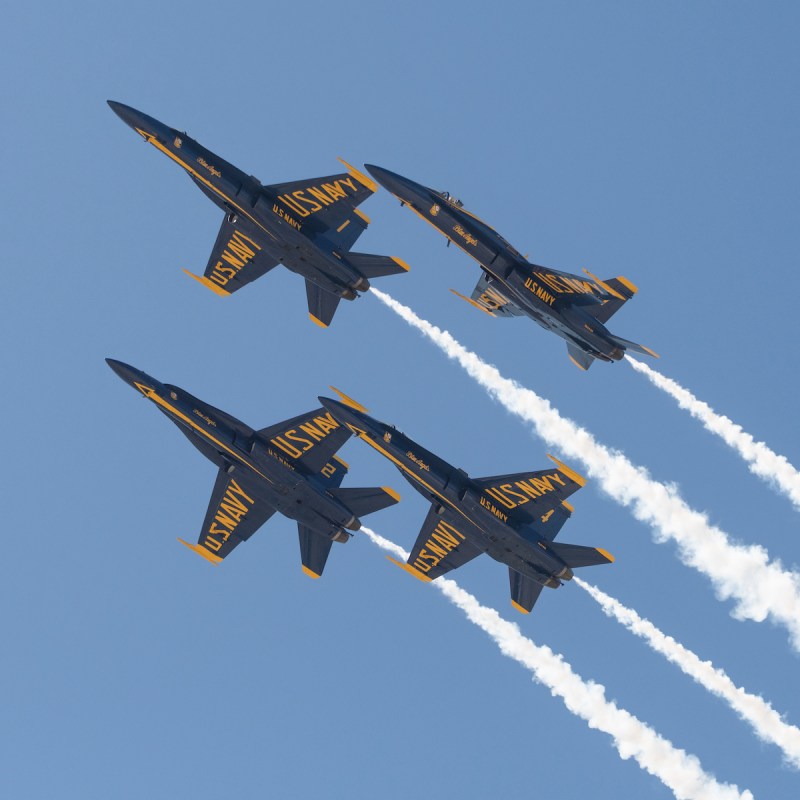 If you love the Blue Angels and the sights and sounds of fighter jets screaming by at speeds up to 700 miles per hour, it's time to get excited — and begin making travel plans.
Here's why: The Blue Angels have already begun performing at air shows this year.
If you aren't familiar with the squadron, Admiral Chester W. Nimitz, the U.S. Navy's Chief of Naval Operations, ordered the establishment of the U.S. Navy Blue Angels in 1946 "to create a flight exhibition team in order to raise the public's interest in naval aviation and boost Navy morale," the Blue Angels explain.
"The mission of the Blue Angels is to showcase the teamwork and professionalism of the United States Navy and Marine Corps by inspiring a culture of excellence and service to [the] country through flight demonstrations and community outreach," the Blue Angels continued. "Since 1946, the Blue Angels have performed for more than 500 million fans."
Indeed, the Blue Angels first performed at Craig Field in Jacksonville, Florida, on June 15, 1946.
Today, the pilots fly F/A–18 Super Hornet fighter jets. In an amazing feat, during the Diamond 360 maneuver, a mere 18 inches separate the planes' wingtips.
You can see what it's like to fly in one of the aircraft in this Blue Angels video.
If you'd like to see a Blue Angels demonstration in person, here is the Blue Angels 2023 show schedule:
April
April 15–16: Key West Southernmost Air Spectacular
Naval Air Station Key West, Key West, Florida
April 22–23: MCAS Beaufort Air Show
Marine Corps Air Station Beaufort, Beaufort, South Carolina
April 29–30: Fort Lauderdale Air Show
Fort Lauderdale, Florida
May
May 6–7: Wings Over South Texas Air Show
Corpus Christi, Texas
May 13–14: Scott AFB Air Show
Scott Air Force Base, Illinois
May 20–21: Wings Over Wayne Air Show
Seymour Johnson Air Force Base, North Carolina
May 24: U.S. Naval Academy Air Show
U.S. Naval Academy, Annapolis, Maryland
May 26: U.S. Naval Academy Graduation Flyover
U.S. Naval Academy, Annapolis, Maryland
May 27–28: The Great Pocono Raceway Air Show
Long Pond, Pennsylvania
June
June 10–11: The Great Tennessee Air Show
Smyrna, Tennessee
June 17–18: Columbus Air Show
Columbus, Ohio
June 24–25: New York Air Show
Montgomery, New York
July
July 1–2: Tinker Air Show
Oklahoma City, Oklahoma
July 8: Pensacola Beach Air Show
Pensacola Beach, Florida
July 15–16: Duluth Air And Aviation Expo
Duluth, Minnesota
July 22–23: Milwaukee Air And Water Show
Milwaukee, Wisconsin
August
August 5–6: Boeing Seafair Air Show
Seattle, Washington
August 12–13: Yellowstone International Air Show
Billings, Montana
August 19–20: KC Air Show
New Century, Kansas
August 26–27: Guardians Of Freedom Air Show
Lincoln, Nebraska
September
September 2–4: Canadian International Air Show
Toronto, Ontario
September 16–17: NAS Oceana Air Show
Naval Air Station Oceana, Virginia
September 23–24: MCAS Miramar Air Show
Marine Corps Air Station Miramar, California
September 30: Oregon International Air Show
McMinnville, Oregon
October
October 1: Oregon International Air Show
McMinnville, Oregon
October 7–8: San Francisco Fleet Week
San Francisco, California
October 14–15: Grand Junction Air Show
Grand Junction, Colorado
October 21–22: Jacksonville Sea and Sky Air Show
Jacksonville Beach, Florida
October 28–29: Crossroads Air Show
Greenfield, Indiana
November
November 3–4: Blue Angels Homecoming Air Show
Naval Air Station Pensacola, Florida
Know So You Can Go
You can learn more about the Blue Angels and their show schedule at the Blue Angels 2023 Show Schedule.