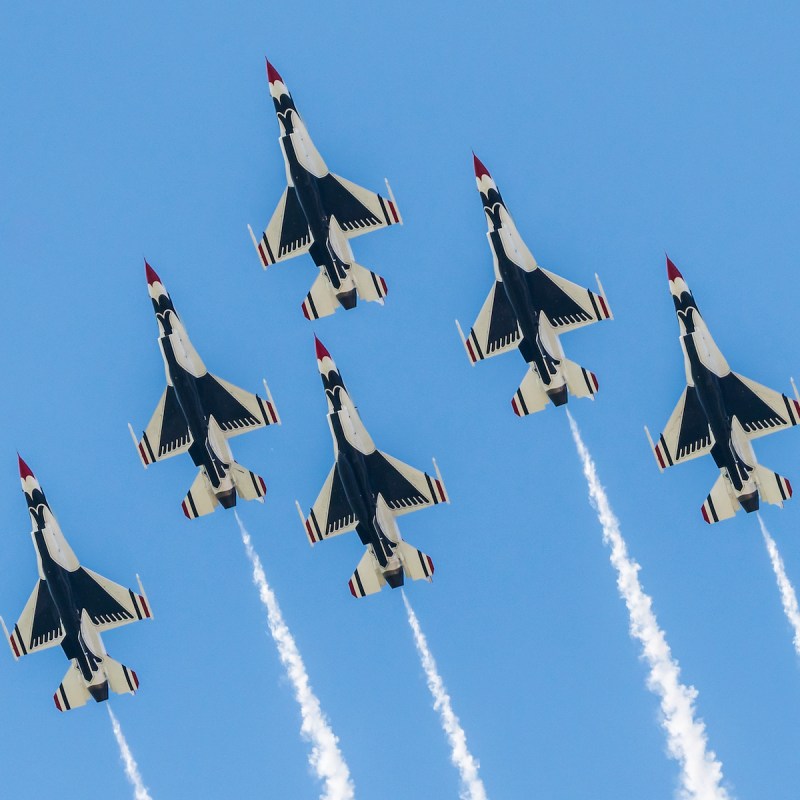 Now that the weather is getting warmer, aviation fans can rejoice. That's because winter's end
means the U.S. Air Force's Thunderbirds are performing at demonstrations again.
As it is officially known, the United States Air Force Air Demonstration Squadron "Thunderbirds" was created on May 25, 1953, just 6 years after the U.S. Air Force became its own branch of military service.
"The Thunderbirds perform for people all around the world to display the pride, precision, and professionalism the U.S. Air Force represents," the U.S. Air Force explains. "Through air shows and flyovers, they aim to excite and inspire. In addition to showcasing the elite skills all pilots must possess, the Thunderbirds demonstrate the incredible capabilities of the Air Force's premier multi-role fighter jet, the F-16 Fighting Falcon."
More than 300 million people in all 50 states and 58 foreign countries have seen the red, white, and blue jets as they've flown in more than 4,000 aerial demonstrations, the Air Force explains.
Amazingly, the pilots perform about 30 aerial maneuvers in each demonstration.
If you'd like to see a demonstration in person this year, here is the Thunderbirds 2023 show schedule:
April
April 1–2: Wings Over Homestead Airshow 2023
Homestead Air Reserve Base, Florida
April 15–16: Cocoa Beach Air Show
Cocoa Beach, Florida
April 22–23: SoCal Air Show
March Air Reserve Base, California
April 29–30: Thunder Over The Sound 2023 Air And Space Show
Biloxi, Mississippi
May
May 6–7: Air Power Over Hampton Roads 2023
Langley Air Force Base, Virginia
May 13–14: Augusta Air Show
Augusta, Georgia
May 20–21: Chennault International Airshow
Lake Charles, Louisiana
May 27–28: 2023 Bethpage Air Show
Wantagh, New York
June
June 1: USAF Academy Graduation Flyover
Air Force Academy, Colorado
June 10–11: Ocean City Air Show
Ocean City, Maryland
June 17–18: Westmoreland County International Airshow
Latrobe, Pennsylvania
June 24–25: Quad City Air Show
Davenport, Iowa
July
July 1–2: National Cherry Festival Air Show
Traverse City, Michigan
July 15–16: JBLM Airshow-Warrior Expo
Joint Base Lewis-McChord, Washington
July 22–23: Dayton Air Show
Dayton, Ohio
July 29–30: Sioux Falls Airshow
Sioux Falls, South Dakota
August
August 12–13: A.P. Property Services Rochester Airshow
Rochester, New York
August 16: Thunder Over The Boardwalk 2023
Atlantic City, New Jersey
August 19–20: 2023 Chicago Air-Water Show
Chicago, Illinois
August 26–27: Gowen Thunder 2023
Boise, Idaho
September
September 2–4: Cleveland National Air Show
Cleveland, Ohio
September 9–10: Volaria Airshow 2023
Mirabel, Quebec, Canada
September 16–17: Owensboro Air Show
Owensboro, Kentucky
September 23–24: California Capital Airshow
Mather, California
September 30–October 1: Pacific Airshow
Huntington Beach, California
October
October 7–8: California International Airshow, Salinas
Salinas, California
October 14–15: 2023 Wings Over Houston Airshow
Houston, Texas
October 21–22: North Little Rock Airshow
Little Rock Air Force Base, Arkansas
October 28–29: Orlando Air and Space Show
Sanford, Florida
November
November 4–5: Florida International Air Show 2023
Punta Gorda, Florida
Know Before You Go
You can learn more about the Thunderbirds and see their complete 2023 show schedule at Thunderbirds See A Show.