Solo Traveler Snapshot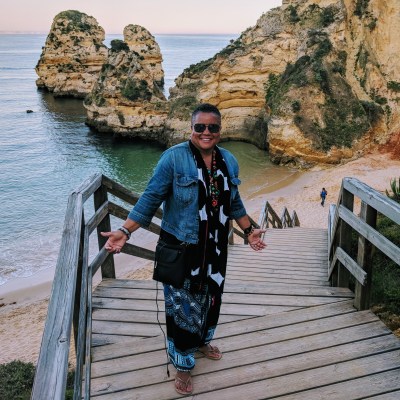 Name:

Irma C.

Age:

61

Location:

New Jersey

Marital Status:

Long-Term Partner

Favorite Solo Trips:

Vietnam, Portugal, Central & South America
Irma retired early at age 46. All of her friends and family were still working full-time, so she knew that if she wanted to travel, it would be solo. She admits she's a natural introvert so it wasn't a stretch for her to easily adapt once she gained confidence and realized she could navigate independently.
First Solo Trip
TravelAwaits: What was your first solo trip?
Irma: Nicaragua was my first solo trip. It was inspired by my love of HGTV's House Hunters International. The country had been featured several times and I was drawn to the natural beauty of what had been featured. There were jungles that opened to beautiful deserted beaches — which I love — exotic flowers, and landscapes. It was a place that I knew nothing about, so I decided to visit for about 5 days. I felt this would be the perfect amount of time to decide whether I would like the place and be able to get around by myself. I immediately met people and never felt alone during the entire trip. That experience gave me so much confidence that as soon as I returned home, I immediately started planning my next trip.
Favorite Aspect Of Solo Travel
TravelAwaits: What is your favorite part of traveling solo?
Irma: The best part of solo travel is designing an itinerary that captures all the things you enjoy, then having the ability to change everything at the last minute, if you so choose. It also is a great confidence builder, especially when the things you planned end up much better than imagined. I also like meeting new people, whether fellow travelers, or locals, that become unexpected participants in your daily adventures.
Favorite Solo Trip
TravelAwaits: What is your favorite solo trip so far?
Irma: I have traveled to over 90 countries — at least 60 of them solo. Hence, it is difficult for me to identify one favorite trip. However, one trip that will always stand out is my first trip to Vietnam. I decided to leave Ho Chi Minh City (Saigon) to spend a few days in a village along the Mekong River Delta. I was riding a bike and ended up along the river where there was a wooden ferry that took locals over to a small island where they lived. That's the type of unexpected adventure that I'm always hoping for.
As I awaited the ferry, a local woman made eye contact and we tried to communicate even though there was a language barrier. We were pointing and laughing and I could tell she was just curious about me and my bike and why I was in that part of the village. The ferry eventually came and she was transporting her motorbike on the ferry and let me know that I could bring my bicycle.
When we arrived on the island a few minutes later, she pointed to her motorbike and convinced me to just leave my bike and hop on the back and ride with her. She drove me all over the small island and showed me around. She even introduced me to her family, gave me some of the largest mangoes I've ever seen, and then took me back to the ferry to collect my bike and head back to my guesthouse.
Through Google Translate, we made arrangements to meet up the next day and she showed me so many places in the area. After I returned home to the U.S., we continued our friendship over Facebook. Our friendship has lasted several years now and I will visit her again in Vietnam when I return to the area.
Biggest Solo Travel Concern
TravelAwaits: What was your biggest concern before your first solo trip and how did you overcome it?
Irma: My biggest concern was feeling that I would not be able to navigate through a country, especially without knowing the language and with no one to help me. What I found out was that local people are so willing to assist, especially when you are solo, because you are much more approachable. In most places, they can spot a tourist, so I'm sure the look of concern or bewilderment is much more obvious on your face than you can imagine.
Group Or Independent Travel
TravelAwaits: Do you travel with a group or independently and why?
Irma: I am not a group traveler for all of the reasons stated above. Even when I sometimes travel with family, I will still venture off on my own at times.
Recommended Tour Company
TravelAwaits: Do you have a favorite group tour company for solo travelers?
Irma: The name is "Discover Why I Love Egypt" by Roz Obayemi Barbour for those who really want a great travel experience while also learning about the history of Egypt.
Favorite Travel Product
TravelAwaits: What is one product you cannot live without on your trips?
Irma: My cell phone. I use it for everything you would use a computer for: It's my navigation system, my camera, my translator, my itinerary planner, my television and home entertainment center, and everything else you can imagine.
I Wish I Would Have Joined A Group For This Trip…
TravelAwaits: Is there a solo location/destination that would have been better in a group and why?
Irma: Even though I love the beach, this is the only place where I would prefer to travel with others. I find myself being hesitant to go in the water because I'm concerned about leaving valuables alone on the beach, and while I'm just laying around, it would be nice to be able to talk to someone I know.
Best Advice For Solo Travelers
TravelAwaits: What advice would you give someone who is considering solo travel?
Irma: Start off slow by spending a long weekend solo in a familiar place and determine whether you actually like being alone. For many people, they realize that they don't like being solo. It is also important to know who you are and what you love because these things are key to having a great time. So many people have never spent much time alone, and if there aren't activities on your itinerary that you love, a solo trip can be lonely.
A smile in any language is universal. It will connect you to others no matter where you are in the world and is a prerequisite for having a wonderful solo experience.
For more Solo Traveler Journals, check out these stories: