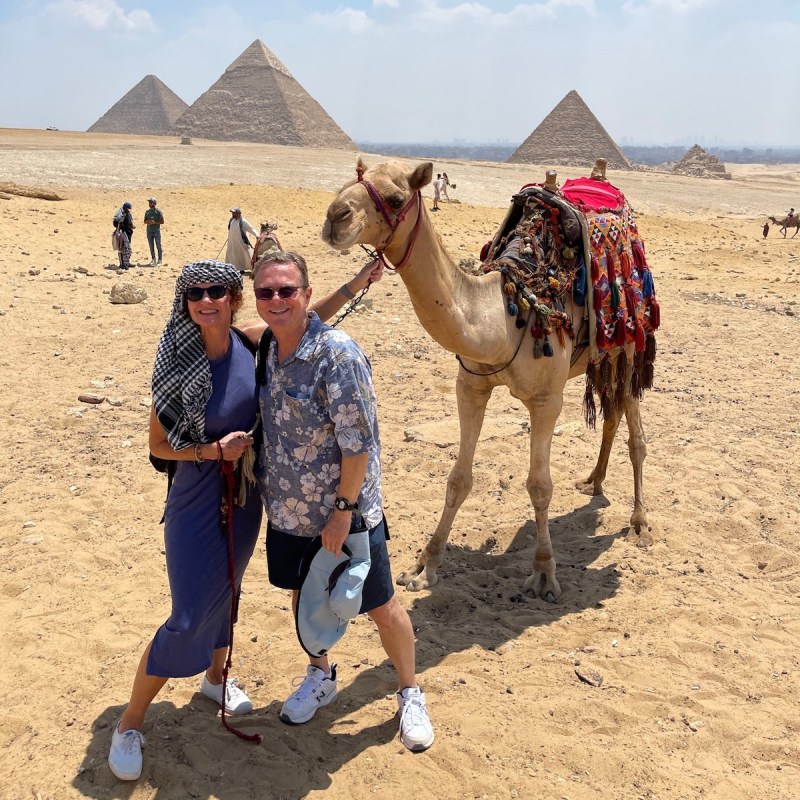 One might think that, as a flight attendant, I love to travel off the cuff — just land in a foreign country and hit the ground exploring. However, I have found my calling in group tours! The ease, comfort, and fun of group tours are addicting! So far, I've been on five group tours. My family has toured Australia, Italy, Greece, Egypt, and even taken a photo safari in Kenya, Africa.
Group tours give you the opportunity to experience the culture and the people of the area you are visiting more fully and without worrying about the details of your trip. This might not happen if planning a trip on your own. Big decisions are made for you on a group tour. The hotel, most meals, and driving and entrance tickets are all handled, leaving you to relax and enjoy the experience. If there are any mishaps, the tour director will handle them. Your vacation is of the utmost importance.
Things I Love About Group Tours
1. Local Tour Leader
Our group tour leaders have been from the country we are visiting. They are the perfect hosts with language abilities and local knowledge of the region.
One big plus is the knowledge gained by having a tour leader. They have great insights about the region and share stories and anecdotes. They were chosen for their job because of their expertise and familiarity. Below are examples of how having a local tour leader saved me money and headaches.
Egypt
In Egypt, at the pyramids, the tour leader guided us to trustworthy camel drivers and bartered the $20 fee. Other travelers were charged $250 just to dismount.
Australia
We were in Alice Springs, Australia, in the middle of the Outback. Our flight to Cannes was canceled. Our director called us in our hotel room. She had already informed the hotel we would be staying longer and rescheduled our flight and our airport transfers. Everything was handled.
Italy
In Italy, our tour leader efficiently took extra care of travelers who were not as mobile as they once had been. She had passenger carts waiting to whisk those travelers away to wait in cooler places and in shorter lines to visit the Vatican. Later, they talked about how wonderful their visit was as they could physically enjoy the day because of the extra care given by our tour guide.
Greece
Tour directors are your personal organizers. In Greece we discovered we had to leave the tour a day early and very quickly! Our tour director took over and scheduled our taxis, got our luggage, and kissed us goodbye.
2. Transportation Provided
It is a luxury to have transportation already arranged. Flights get delayed or canceled, and things happen. No matter what happens, the tour company is there to help. Travelers are met at the airport and guided through visa purchases and baggage retrieval. Once that's complete, you never have to worry about transportation. The tour director lets you know what time the bus departs. Porters then handle your luggage.
Pro Tip: Many tours include tipping the porters in the price of the trip. That's one less thing to worry about!
Tour buses often receive special consideration. You are dropped off in front of exhibits and in special areas passenger cars cannot enter. The buses take tour travelers to the door and when they are finished, voila, there they are to whisk you away. All transportation worries vanish.
Pro Tip: The bus drivers are tipped by you at the close of your visit. They are excellent photographers. Do not hesitate to ask them to take your photo!
3. First Access
Group tours have first access to many attractions. Directors sweep their groups inside, so you won't be waiting in a 3-hour line like the one everyone complains about at the Sistine Chapel. When we were there, we walked right in with our tour guide, who introduced us to a Vatican guide who regaled us with stories of Michelangelo.
4. Most Meals Included
On group tours, most dinners are included and are carefully chosen for scenic locations and the variety of menus. Tour paperwork will disclose special dietary needs and the tour director ensures you will enjoy each meal. They have special needs covered.
Typically, I book my tours through Affordable Tours. This company includes complimentary breakfast at your hotel. It's usually a wonderful buffet that will fill you up until dinner!
About 85 percent of lunches and dinners are included. This helps keep everything on schedule. If the meal is not included, the tour director will recommend great local eateries that will give you a fee for the destination you are visiting.
Pro Tip: Arrange to have local currency in smaller bills for tipping and buying souvenirs. Aside from tipping your tour director and bus driver, most tipping is covered by the tour. Of course, you will still need to tip if you go outside of the group.
5. Accommodations Arranged
The tour has already reserved your rooms and arranged everything. No matter what time of day you arrive, you are granted immediate access to your room. There are no check-in or out times to worry about and no waiting for your room to be ready. The hotel is selected for security, comfort, and location.
Pro Tip: After a day of touring, hotels usually have a place downstairs where you can order a cool drink and talk with fellow tourists about the day. When you get to your room, your luggage will be waiting for you.
Possible Downsides Of A Group Tour
1. Too Many People
People who have anxiety about talking to others or do not like schedules may not enjoy group tours. You are with the same people for the majority of your tour. However, you do get to pick your seat on the bus. If you want to sit alone, sit on the aisle seat so no one can sit next to you.
2. The Annoying Person
There will be a person on your tour that feels they are special and deserve extra. The tour director knows exactly how to handle them. That is their job and it is not the first nor the last time they have to deal with "that person."
My Favorite Group Tour
Choose tours based on the published itineraries of the cities or exhibits you want to visit. I use a group tour website called Affordable Tours. They contract with many established reputable tour companies. I have used this website for over 10 years and have had excellent, attentive service. Purchase one of the many tours offered by the different companies and Affordable Tours will assist with visas, travel insurance, and flights.
People think group tours are expensive, but having traveled as much as I have, I consider them a bargain. The ease and comfort of knowing everything is decided is valuable. Having a driver and luggage handled is comfortable. Even tipping is included, aside from the driver and director.
Each tourist's needs are met, whether they are dietary or mobility related. The director wants you to have a wonderful visit and works tirelessly toward that goal. Having decisions made will immeasurably enhance your excursion experience. The group tour is for the traveler who wants to relax and enjoy their travels.