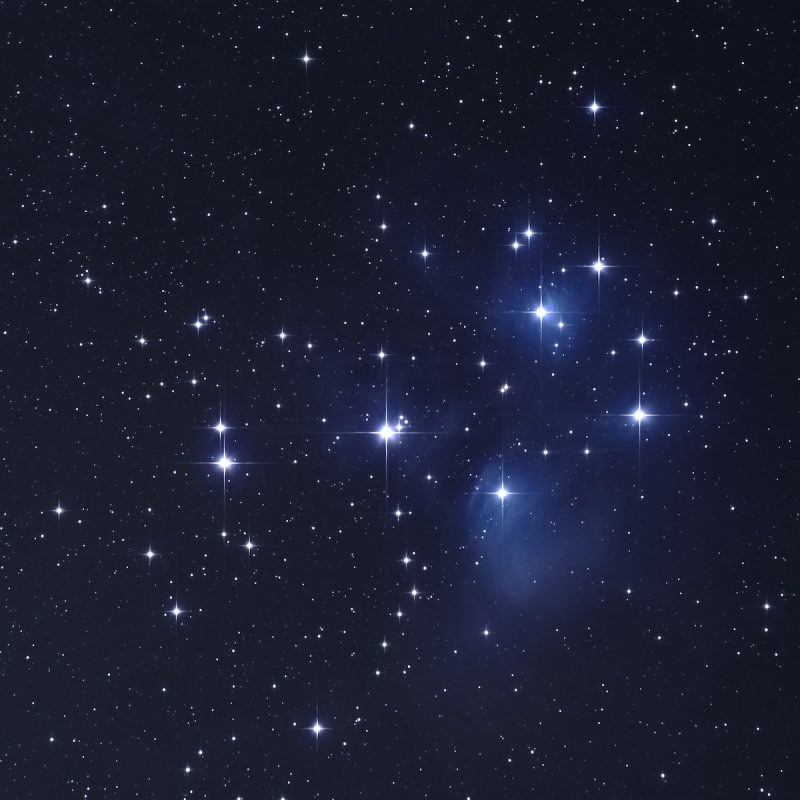 Anybody who enjoyed looking at the planetary alignment last month, or anybody who missed the event, is in for a treat. Four planets are about to align in the evening sky just after sunset on Tuesday, April 11.
While Mercury, Uranus, Venus, and Mars will appear in a line known as planetary alignment on April 11, they'll also be visible in the days before and after that as well.
Plus, in what is sure to make viewing more special, the Messier 45 star cluster — also known as the Pleiades or "Seven Sisters" — will be visible just to the right of Venus, according to NASA.
Amazingly, there are more than 1,000 stars in the cluster, which is around 445 lightyears from Earth. Seven of those stars are generally visible with the unaided eye.
The star cluster gets its name from Greek mythology. The Pleiades, or Seven Sisters, were the daughters of the Titan Atlas and the sea nymph Pleione. After Atlas led an unsuccessful rebellion against Zeus, he was condemned to hold the heavens on his shoulders eternally. His seven daughters were so distraught that Zeus transformed them into stars so they could be near Atlas.
All About Planetary Alignment
When numerous planets gather on the same side of the sun at the same time, it's called a planetary alignment. Three planets together are called a mini planetary alignment, while four planets together, such as what will happen next week, are known as a small planetary alignment, Star Walk explains.
A large planetary alignment is made of five or six planets, and a great, or full, planetary alignment consists of all the planets in our solar system plus Pluto. Although the planets can be thought of as being in a straight line, it's more of an arc stretching from horizon to horizon.
How To Get Ready For The Alignment
You'll need to do two things in advance if you want to make the most of seeing the planetary alignment.
First, you'll need to find a good viewing area.
Due to its orbit, Mercury — the closest planet to the sun — never rises very high above Earth's horizon. While Mercury will be at its greatest elongation, when it is farthest from the sun in its orbit, at 5 p.m. Central on April 11, it will still be low in the evening sky, EarthSky explains.
That means you'll need a viewing area that offers an unobstructed view of the horizon. Good options include anywhere you can look west across water to the horizon or across a large field with no trees or buildings on the other side.
Secondly, you'll need binoculars or a telescope.
Mercury, Venus, and Mars will be easy to see with the unaided eye but you'll need binoculars or a telescope to see Uranus. Plus, they will help you see the Pleiades star cluster more clearly.
How To See The Planetary Alignment
While the planets and star cluster will be visible for several days, the alignment actually occurs just after sunset on April 11.
To see the planetary alignment, face west and first look for Venus, which is the brightest object in the evening sky — other than the Moon.
Next, look for the Pleiades star cluster, which will be just to the right of Venus.
"Depending on your eyesight, the cluster will appear as anything from a vague misty patch to seven or more individual stars," according to NASA. "Some viewers with excellent vision may see 12 or more stars."
Then, look for Mars. The red planet will be above and to the left of Venus.
Mercury, just above the horizon, will be shining brightly below and to the left of Venus, explains When The Curves Line Up.
Finally, with binoculars or a telescope, look for Uranus. It will be above Mercury and below Venus, Star Walk explains.
You can see a rendering of the planetary alignment made using Stellarium Astronomy Software at The Planetary Society.
Pro Tip: To be sure you're looking at Mercury, Uranus, Venus, and Mars in order looking up from the horizon, keep in mind that the illumination of planets is steady and doesn't appear to twinkle the way stars do.
A Final Word
If you miss the planetary alignment or if the weather in your area doesn't cooperate, don't worry too much. You'll soon get more chances to see similar alignments.
First, on April 24, Mercury, Uranus, Venus, and Mars will align again in the evening sky, Star Walk explains.
Then on June 17, a large planetary alignment of five planets will be visible early in the morning. That alignment will include Mercury, Uranus, Jupiter, Neptune, and Saturn.
While you're thinking of it, be sure to read all of our stargazing content, including: