Retirement Snapshot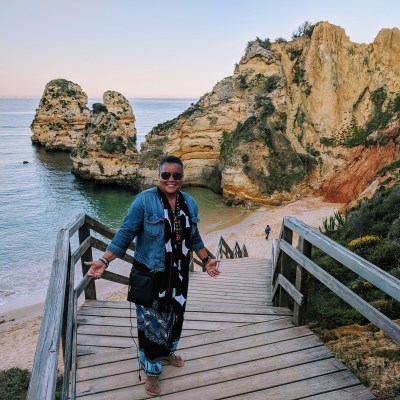 Name:

Irma C.

Location:

New Jersey

Age:

61

Retired At:

Tried to leave her job at 45 but actually left at 46

Marital Status:

Life partner of 20+ years

Profession:

Tax Attorney and Certified Public Accountant (CPA)
Irma spent her career as a tax attorney and director of taxes for an international pharmaceutical company. In 2008, she decided to take what she thought would be a short break from her career to evaluate her life and decide how she wanted to live going forward. That was the beginning of her retirement journey.
Decision To Retire
Retirement Awaits: How did you know when to retire?
Irma: My mother had passed away a few years before I retired. She had a massive heart attack the weekend after she had retired. She was only 63 years old and still so full of life. Unfortunately, she never had the opportunity to do the things she wanted to do in retirement. I was determined not to let the same thing happen to me. My sabbatical from corporate life included enrolling in electricity and carpentry classes to pursue my interest in home improvement, encouraged by my addiction to HGTV. These shows featured vacation homes in different countries and piqued my curiosity to learn more, eventually leading to my first solo travel experience — visiting Nicaragua. That trip gave me the confidence to incorporate solo travel into my sabbatical plans.
Retirement Reality
Retirement Awaits: What does a day in retirement look like for you?
Irma: I'm up by 6 a.m. every morning. My day starts by watching the news while either planning/researching for an upcoming trip or deciding on a plan for the day. My travel schedule is usually booked up to a year in advance, so I am constantly researching the destinations on my itinerary to decide how to set up my trip to maximize my time abroad. I almost never travel to a destination and stay in just one location. My trips are open-ended so that I have the flexibility to add or change course as I make new discoveries or learn of additional sites to visit. For instance, I will book one-way tickets and then book the return once I am confident in my itinerary. I have also developed a love for gardening, so in the summer, I spend time cultivating my urban deck garden while home.
Your Retirement Plan
Retirement Awaits: Did you have a solid plan going into retirement?
Irma: When I decided to leave my job, I paid off the majority of my bills with the exception of my mortgage. Although I had the money to pay off my mortgage, I chose not to do so because of the extremely low-interest rate. Instead, I chose to invest the money and earn a higher return than the interest rate on my mortgage. I was fortunate that this strategy worked and the earnings paid my mortgage for many years.
Best Part About Retirement
Retirement Awaits: What's the best part about retirement?
Irma: There is no better feeling than waking up in the morning and deciding exactly what you want or don't want to do. Because travel is so embedded in my lifestyle, if I'm not on a trip, I am planning a trip. This delights me to no end.
Challenges In Retirement
Retirement Awaits: What's the biggest challenge in retirement?
Irma: Finding out who you are and what makes you happy is fundamental. In my case, because so much of my time was spent crafting and building a career and working constantly, it was critical for me to learn what made me happy and figure out how to make that happen on a daily basis. A lot of people do not know how to create the life they want because they are living the expectations of others and may feel undeserving of good things. It took me a while to let go of my professional identity and realize and accept that I deserve all the things I worked hard to attain.
Cost Of Retirement
Retirement Awaits: We want people to understand how much retirement really costs. How do you manage your money now? Do you have a budget, meet with your advisor on a regular basis, etc?
Irma: Because of my career and financial background, I've always had a good handle on savings, investments, tax planning, etc. Having a clear budget is a requirement and being disciplined is a necessity. This becomes even more important when you don't have a guaranteed paycheck coming in. Keep things simple; don't spend more than the money you know you have, and try to spend even less if you can.
As a child, I always knew the importance of money and the importance of saving more than you spend. Every Sunday, I watched my father sit at the dining room table writing out checks to pay bills. He always had a smile on his face. When I asked him about it, he said that there are few better feelings than being able to pay your bills and have a little money left over. As a result, I've always lived below my means even when I could afford to live at a much higher standard. I still incorporate that approach in retirement.
Retirement Advice
Retirement Awaits: What's the best piece of advice you'd give someone about to retire?
Irma: Know the things that make you happy and surround yourself with those things whether it's friends and family, hobbies, travel, cooking, gardening, etc. In my case, it has been solo travel. But even then, you must have something that motivates you and occupies your time while you're traveling. I love food, architecture, and blending into the culture while traveling. I could never just sit on a beach and be inactive for long periods of time, but again, you have to know what makes you happy and then pursue it.
Things I Wish I Would Have Known
Retirement Awaits: What are a few things you wish someone would have told you about retirement/this season of life/transition?
Irma: I never knew you could feel so young as you get so old. My plan is to keep on doing the things I love for as long as I can, whether it is traveling or finding something else that piques my interest. I used to be the type of person who was always planning for the future and not living in the present. Today, I'm the type of person who remains present and makes the most of what is right in front of me.
Best Retirement Vacation
Retirement Awaits: What is your favorite vacation or vacation spot?
Irma: I have now traveled to over 90 countries, so picking one spot is difficult because the world is so beautiful. But if I have to choose, I really love Portugal, Vietnam, and so many places in Central and South America. I always say if bougainvillea grows there, I will have fun there and thus far, I've always been correct.
You are only as old as your mind allows. I know that at some point, my body will break down, but until then, my plan is to keep it moving until it can't move any longer.
You can follow Irma on her two Instagram accounts: her travels and her architectural photos.
For more retirement diaries, check out these stories: