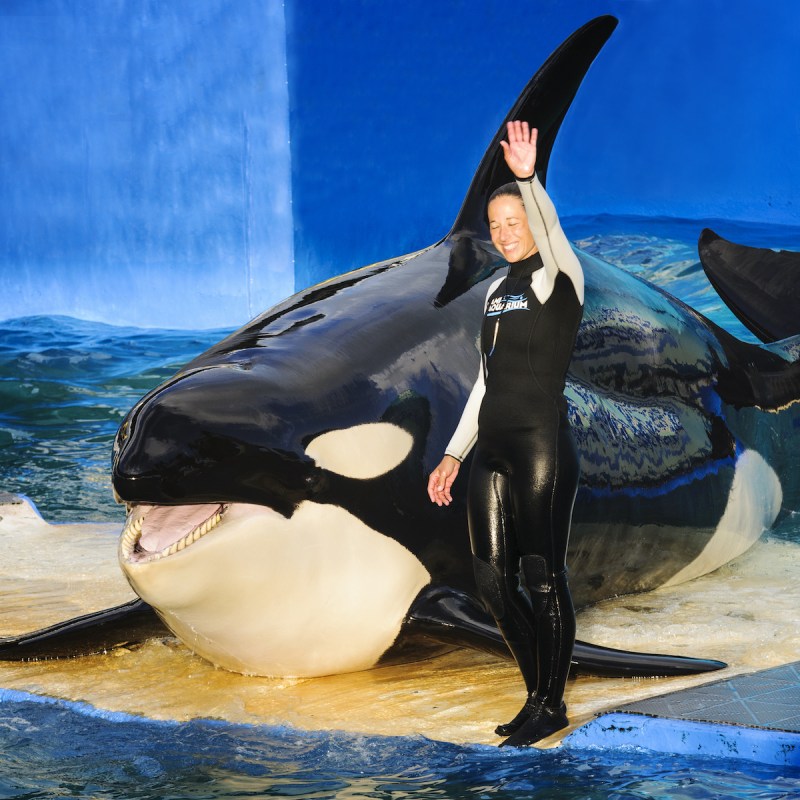 It's taken more than 50 years, but plans are underway to send the killer whale known as Lolita home.
The whale, also known as Tokitae or "Toki" for short, was taken from her family and home waters in Puget Sound in the summer of 1970 when she was 4 years old. Since then, she spent decades performing at a Miami tourist attraction before becoming ill.
Now, thanks to a coordinated effort among the theme park's owner, an animal rights group, and an NFL owner-philanthropist, plans are underway for Lolita to eventually rejoin her clan, known as a pod, in the waters of the Pacific Northwest. Amazingly, a killer whale believed to be her 95-year-old mother still swims with that pod.
"This is such a special creature who is loved by so many people around the world," said Miami-Dade Mayor Daniella Levine Cava, according to CBS News Miami. "So many people are concerned about her well-being after decades of being in a small tank. Here we are looking at the real possibility that she will spend the rest of her life in nature's waters and live freely."
Jim Irsay, the Indianapolis Colts owner who is helping to pay for Lolita's move, said he knows Lolita wants to get to free waters.
"She's lived this long to have this opportunity," said Irsay, according to CNN. "I'm excited to be a part of Lolita's journey to freedom."
All About Killer Whales
Killer whales, also known as orcas, are the largest member of the Delphinidae family, or dolphins. All dolphin species, as well as other larger species such as long-finned pilot whales, belong to this family.
They are found in every ocean in the world, from cold waters to tropical and subtropical waters.
Killer whales, which are the ocean's top predators, are also one of the most recognizable marine mammals. Their distinctive bodies are mostly black on top with white undersides and white patches near the eyes.
The whales can weigh up to 11 tons and reach lengths of 32 feet. Males typically live about 30 years, but they can live up to at least 60 years, explains the National Oceanic and Atmospheric Administration Fisheries. Females, on the other hand, typically live about 50 years, but they can live up to at least 90 years in the wild.
Killer whales are highly social and most live in social groups of a few to 20 or more members. However, larger groups sometimes form for temporary social interactions, mating, or to capitalize on seasonal concentrations of prey.
Lolita's Planned Journey Home
Last year, after Lolita became ill, the Miami Seaquarium — under an agreement with federal regulators — announced it would no longer stage shows with her, the Associated Press reports.
However, Lolita, who weighs around 5,000 pounds, still lives in an 80-foot-by-35-foot tank that is 20 feet deep.
Importantly, the agreement among Irsay, Eduardo Albor (who heads The Dolphin Company, owners of the Seaquarium), and the Florida non-profit Friends of Toki still requires government approval. In the meantime, the group is moving ahead with their plan.
That plan, which could end up costing as much as $10–$20 million, currently involves moving Lolita by plane to an ocean sanctuary in the waters between Washington State and Canada. Once there, Lolita will swim inside a large net while trainers and veterinarians teach her how to catch fish.
Since she has lived in a tank for most of her life, Lolita will also need to strengthen her muscles. That's because orcas in the wild typically swim around 100 miles per day, explained Raynell Morris, an elder of the Lummi Indian Tribe in Washington who also serves on the board of Friends of Toki.
"She was 4 when she was taken, so she was learning to hunt," said Morris, the Associated Press reports. "She knows her family song. She'll remember, but it will take time."
Lolita will be under 24-hour care while she acclimates to her new home.
As for when this will all happen, that has still not been decided.
"There is no rush. This is not like a fire drill," said Irsay, CBS News Miami reports. "I am doing it because I have loved whales since being a kid, and to me, she is an inspiration and changing the world is so important to me."
Be sure to also read all of our wildlife content, including: