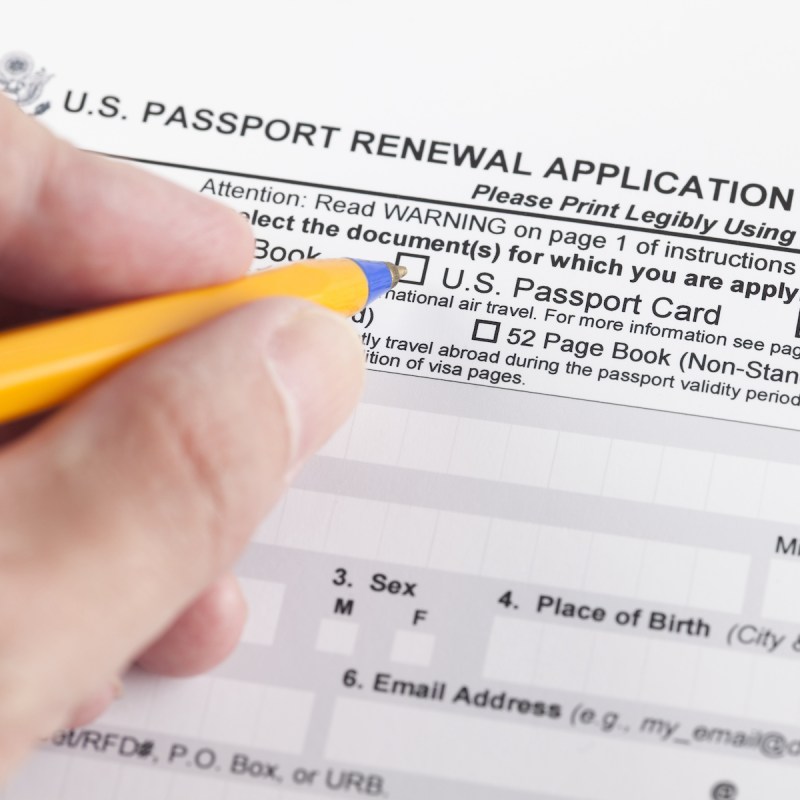 The U.S. State Department has some sobering advice for anybody who is planning international travel but still needs a passport.
"We strongly urge Americans to check their passport expiration dates before booking travel and apply for their passports at least six months ahead of planned travel or expiration date," the State Department wrote on Twitter.
Yes, that's right. Six months.
Here's why.
"In response to increased passport demand, as of today, March 24, routine passport processing takes 10 to 13 weeks from the time we receive the application. Expedited processing ($60 extra) takes 7 to 9 weeks," the State Department continues. "Processing times begin when the application is received by a passport agency and do not include mailing times."
Adding to the delay, it may take up to 2 weeks for passport applications sent in the mail to be delivered to a passport agency or center, the State Department explains on its webpage. It may then take another 2 weeks for you to receive a completed passport after the agency mails it to you.
Why Passport Processing Is So Delayed
Part of the problem, which is evident every time you go to the airport, is that large numbers of Americans are flying. Plus, the combination of most international destinations having lifted COVID-19, pandemic-related travel restrictions and the busy spring break travel period being underway means high numbers of Americans are traveling internationally.
In fact, U.S. Secretary of State Antony Blinken recently said the State Department is facing an "unprecedented demand" for passports, according to CNN.
The State Department is currently receiving approximately 500,000 applications a week for passports, which is between 30 and 40 percent more than were received last year at this time, Blinken said.
"Historically, the demand's been cyclical, the busy season is kind of March to late summer," Blinken explained. "Basically, it's full time now."
In addition to new demand, there is still a backlog of passport applications submitted during the pandemic due to federal layoffs and facility closings.
Fortunately, the State Department is working to address these issues.
"We've hired staff to increase the adjudicative capacity to make sure that we've got the customer service, phone lines manned, and we have more people in the pipeline," Blinken explained. "It's hugely important."
Blinken went on to note that the department is also authorizing overtime, opening satellite offices, and taking measures to assist in streamlining processing times.
Finally, while the State Department has been testing an online passport renewal system since early last year, pilot programs of that system have been stopped for now.
"On March 8, we paused our limited release of the online renewal service, so that we can introduce improvements based on customer feedback," the State Department explains on its website.
However, once that system is back in what Blinken calls a "bigger, better way," he expects it to help address the passport processing backlog considerably.
"We expect that 65 percent of renewal customers for passports will be able to do so online once this program is fully up and running," Blinken said.
Know So You Can Go
If you haven't applied for a passport yet but need to, your best bet is to apply as quickly as possible.
You can learn about current processing times at the State Department's Processing Times for U.S. Passports webpage.
If you already applied for a passport in person or renewed your passport online and need to check its status, you can do so using the Online Passport Status System.
Finally, there are some exceptions to the long passport processing wait times. If you need to travel internationally in the next 3 days due to a life-or-death emergency, you may qualify for what the State Department calls "Life-or-Death Emergency Service." Also, if you need to travel internationally within 14 calendar days, you may qualify for "Urgent Travel Service."
You can learn more about those situations on the State Department's Get my Passport Fast page.
For new developments about travel, be sure to read all of our travel news content, including: