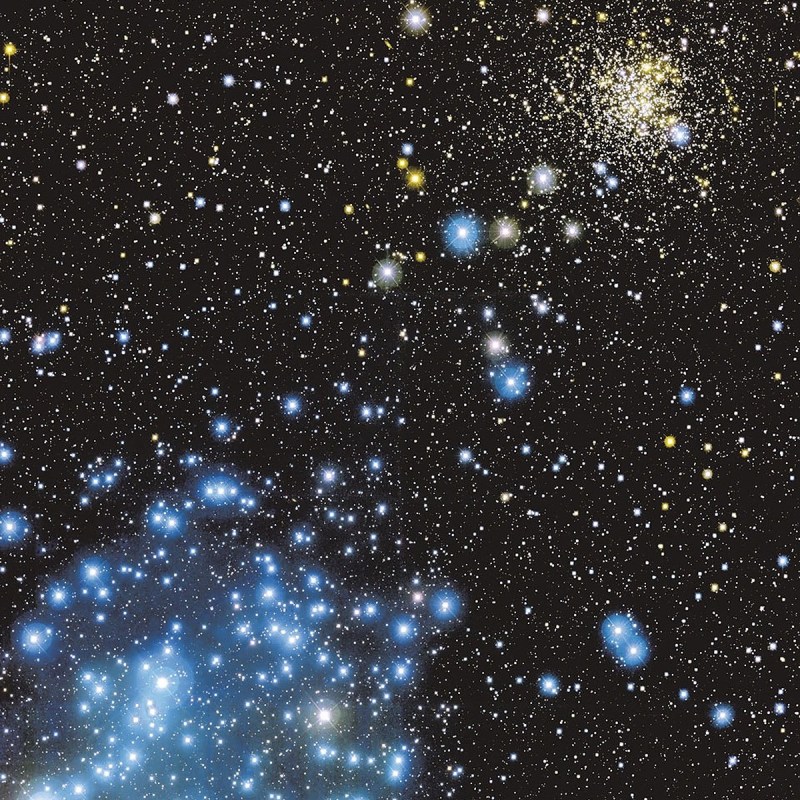 Stargazers take note: For a few evenings next week, you'll be able to see something special just after sunset.
Jupiter, Mercury, Venus, Uranus, and Mars, plus the moon will appear in a line that's known as planetary alignment. However, it is sometimes called a "planetary parade."
The celestial event even has the attention of former astronaut, engineer, and fighter pilot Buzz Aldrin, who made three spacewalks as pilot of the 1966 Gemini 12 mission and was the second astronaut to walk on the moon during the 1969 Apollo 11 mission.
"Don't forget to look to the sky [at] the end of the month for the planetary alignment, which will have at least five planets — plus the moon — all visible in almost an arc shape as seen from Earth," Aldrin wrote on Twitter.
The event will be even more special because stargazers with binoculars should also be able to see a star cluster known as Messier 35, or simply M35, according to the Farmers' Almanac.
Amazingly, M35 has around 2,500 stars that appear bright blue in high-resolution images, according to NASA. While it's 2,800 light years away, M35 is still considered "relatively" near Earth.
To put that vast distance in perspective, one light year is the distance light travels in one Earth year. Since one light year is about 6 trillion miles, M35 is about 16,800 trillion miles from Earth.
All About Planetary Alignment
When numerous planets gather on the same side of the sun at the same time, it's called a planetary alignment. Three planets together are called a mini planetary alignment, Star Walk explains, while four planets together are known as a small planetary alignment.
A large planetary alignment, such as what will happen next week, is made of five or six planets.
A great, or full, planetary alignment consists of all the planets in our solar system plus Pluto.
Although the planets can be thought of as being in a straight line, it's more of an arc stretching from horizon to horizon.
How To Get Ready For The Alignment
You'll need to do two things in advance if you want to make the most of seeing the planetary alignment.
First, you'll need to scout out a good viewing area.
Jupiter and Mercury will be low in the sky just above the horizon after sunset so you'll need to find a place that offers an unobstructed view of the horizon.
"Your best option is looking out over a water horizon that is perfectly flat and wide open with nothing to block your view," the Farmers' Almanac explains. "Another option is a large field with no trees or buildings."
Secondly, you'll need to make sure you have some 7 by 35 millimeter or 7 by 50 millimeter binoculars. If you don't have binoculars, that's ok.
"Mars, the moon, and Venus will be shining brightly and there is even a chance that you'll be able to catch Jupiter and Mercury if you are in a dark location with a western horizon free from obstructions!" the Farmers' Almanac continues.
How To View The Planetary Alignment
There's some debate about whether the best viewing of the alignment will be on March 27 or 28, but that doesn't matter because the planets will be visible for several days before and after those dates.
About 20 minutes after sunset you'll need to look west. From upper left to lower right, you'll see M35, Mars, the moon, Uranus, Venus, Jupiter, and Mercury.
Here's how to see them.
Start by finding Venus because it will be the brightest planet and easiest to spot, the Farmers' Almanac advises.
Then, using binoculars, look to the lower right of Venus, just above the horizon. Jupiter will be about twice as bright as Mercury, just to the right of Jupiter. They will be separated by approximately 1 degree, which is "the width of one fingertip of your outstretched arm," the Farmers' Almanac continues.
To find Uranus in the night sky, look at Venus again. Then, using binoculars, Uranus will be slightly above and to the left of Venus. It will be faint and have a greenish tint.
To find Mars, first look at the moon. Mars will be just above and to the left of the moon. It will appear yellow/orange.
Finally, to find M35, the star cluster, you'll need binoculars again. M35 will be slightly to the left of Mars.
One Final Note
If you miss the planetary alignment around March 28, don't worry too much. You'll soon get more chances to see similar alignments.
First, on April 11, Mercury, Uranus, Venus, and Mars will be in alignment in the evening sky. On April 24, Mercury, Uranus, Venus, and Mars will again align in the evening sky, Star Walk explains.
Then on June 17, another large alignment of five planets will be visible early in the morning. That alignment will include Mercury, Uranus, Jupiter, Neptune, and Saturn.
While you're thinking of it, be sure to read all of our stargazing content, including: