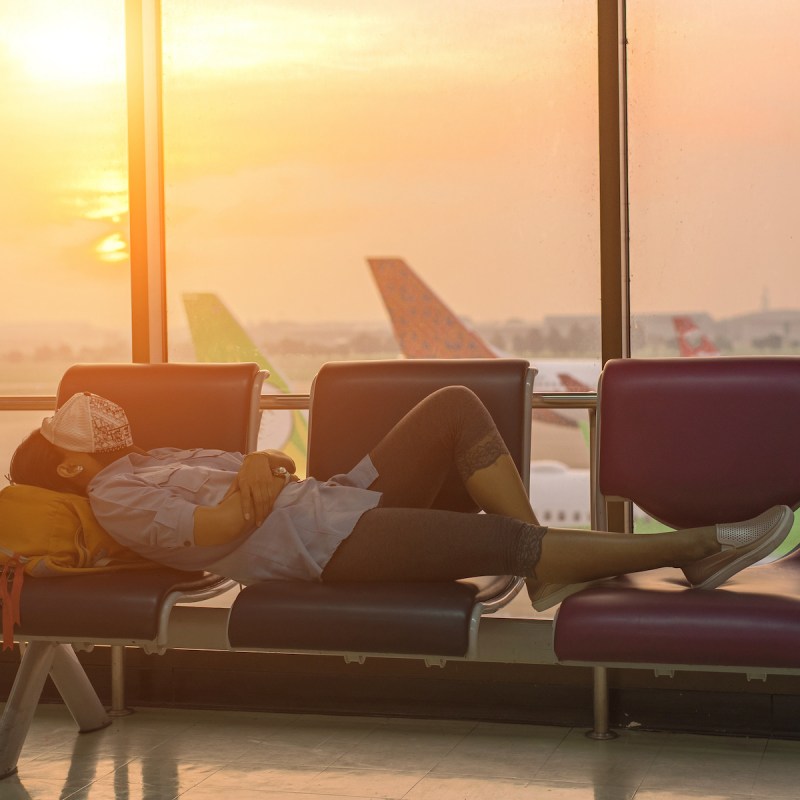 Jet lag can be a real, well, drag. It's caused by a new time zone not matching a person's daily rhythms. Typically, this annoying travel companion can affect your sleep, mood, concentration, and even physical ability. We asked TravelAwaits airline experts how they combat jet lag.
1. Sleep
Our flight attendants vary on sleep habits to avoid jet lag. Some say napping helps and others avoid it like the plague. Plus, one has an unusual type of nap she recommends.
Adjust Depending On Travel Direction
If you are traveling west, Lee suggests to try to stay up a little later each day and also take a late night flight if possible. When traveling east, like to Europe, she says, try to sleep a bit earlier each night before your flight. Both of these help her with jet lag while traveling.
Nappuccino
Earl has a secret weapon: the Nappuccino. For a transoceanic flight arriving in the morning, as soon as she arrives at her layover hotel, she orders a double shot espresso with a bit of foamy milk on top. She heads to her room, sets her phone timer for 2 hours, and lies down for a nap. When the timer goes off, the caffeine kicks in and she is able to get up and not feel groggy. She says the magic hour that you absolutely must stay awake until is 9 p.m.
Nap Vs. No Nap
Charles opts for a longer nap. He will usually sleep for 3–4 hours after arrival and then stay up until a regular bedtime. He has also worked with others who prefer to use the time difference the day before travel to adjust sleep, eating, and daily activities if that's an option.
Now, Ketterman is an anti-nap kind of gal. She says napping leaves her groggy (her definition of jet lag!). She has found even a short 2-hour nap makes her cranky and affects her full night of sleep that evening.
Pro Tip: Ketterman changes her tune when it comes to napping during the flight. She says flight attendants have crew bunks onboard for longer flights where they can take turns napping during the long hauls. This helps them stay refreshed and ready to tour when they land. So napping during a flight will help with jet lag.
2. Sleep Aids
Earl has a few sleep aids at her disposal for optimum sleep. She uses a silk eye bag and ear plugs to block out external stimuli while sleeping. If she happens to wake up in the middle of the night, she uses a guided sleep meditation audio recording to help relax and hopefully drift back to sleep. She resists the temptation to sleep late, even if she woke up during the night.
Lee usually takes benadryl or melatonin to help fall asleep a bit earlier each night. She's not a coffee drinker unless she needs to wake up early in the morning. If you need to stay up, Lee says to pull out your phone and start scrolling. But do the opposite if you need to sleep. She also sets her room temperature to 69 degrees Fahrenheit and uses a white noise app on her phone. She recommends putting your phone on Do Not Disturb mode.
3. Sunlight And Exercise
Our experts also suggest a little vitamin D when you arrive at your destination. Earl says lots of exercise and sunshine during the day will help you sleep at night. Ketterman is her crew's honorary travel agent. She schedules all sorts of activities to keep jet lag at bay. When in London, she's scheduled bike tours, Jack the Ripper walking tours, High Tea at Princess Diana's garden, and tours of St Paul's Cathedral. Ketterman says keeping busy and being outside helps her sleep through the night.
4. Hydrate
Hydration seems to be a key weapon in the war against jet lag. Charles says he enjoys skim milk to keep from becoming groggy. He also avoids coffee the evening before his trip and he can't emphasize water enough. He suggests drinking some before, during, and after your flight. Also, if he has a cocktail after arriving, he drinks a glass of water for each libation he consumes.
Earl and Ketterman recommend electrolytes and lots of water. Earl doesn't drink alcohol on the flight or the first evening of her arrival.
One of Ketterman's fellow flight attendants recommends Drip Drop Hydration packets or Liquid IV in a bottle of water before and after the flight. She says it leaves her with zero jet lag and feeling ready to go. Ketterman asked another international flight attendant friend and transatlantic commuter what she does, and her answer was "hydration, hydration, hydration." She drinks a bottle of water each hour she is in the air.
5. Eat Healthy
There are definitely foods that can help you avoid jet lag. Charles suggests berries, bananas, and leafy greens. Foods containing lots of water, like cucumbers and watermelon, can also make a difference. A New York Times article suggests an entire meal plan 2–4 days before you depart. In the article, Dr. Charles F. Ehret shares his plan for beating jet lag. The senior scientist at the Argonne National Laboratory in Illinois says his diet plan "can greatly diminish or even eliminate entirely the disruptive symptoms of jet lag if you use his diet to reset your internal clock in advance of your departure."
6. Adjust To Local Time
Our experts also agree to set your body clock to the time zone in your destination. Ketterman says this is her number one way to fight the effects of jet lag. She may go to bed earlier than usual, but if she lands at 9 a.m., she tells her body it's 9 a.m. and enjoys the start of her trip. If she goes to bed early, she will take melatonin. This helps her sleep through the night and wake up refreshed and ready to go.
Earl suggests acclimating to the local time for both eating and sleeping. She does this through the duration of her trip. She says it helps get your body into a cycle that will allow you to enjoy every day of your vacation.
For more tips from a flight attendant, check out these articles: