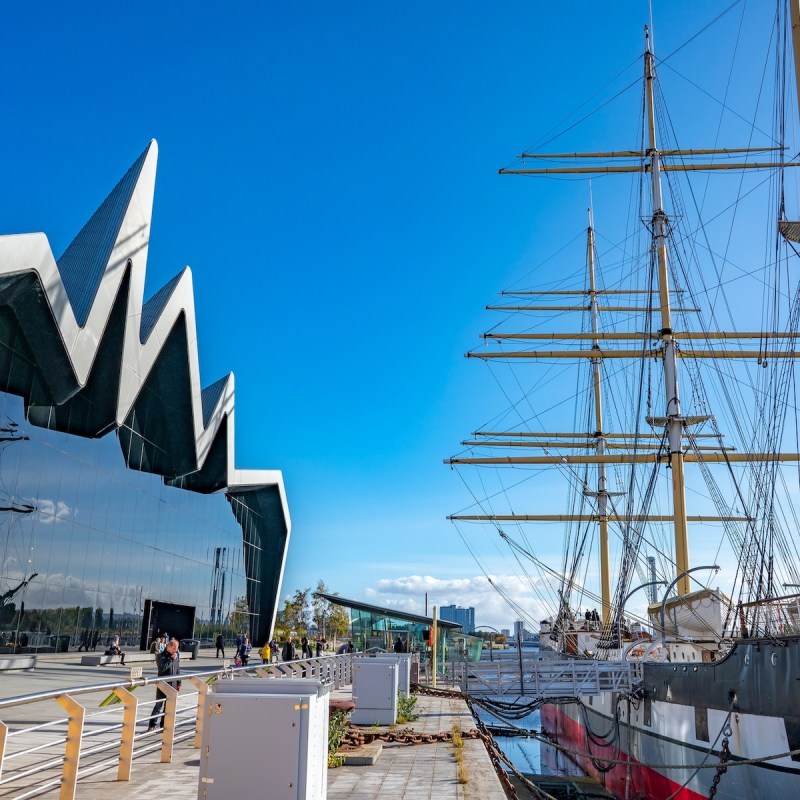 Glasgow is often dismissed when compared to Edinburgh. When visitors only have time to visit one of the two cities, Glasgow usually loses out. In a way, it is understandable. After all, Edinburgh is the capital of Scotland, has an imposing castle, and a Harry Potter-inspiring city center, while Glasgow has… What exactly?
I admit that I had previously always chosen Edinburgh over Glasgow. But on my last visit to Scotland, I had a closer look and found great sights, much history, and a thoroughly enjoyable city well worth visiting.
Here are some fantastic things, in no particular order, to put on your Glasgow itinerary.
1. Glasgow Botanic Gardens
Victorian Greenhouses
I am generally hesitant to add a botanical garden to any itinerary that might be somehow poor of time because they are often quite similar. But the Glasgow Botanic Gardens in the West End of Glasgow stand out because of its greenhouses. The gigantic, iron-framed, glass Victorian structures are beautiful in their own right. They also hold not only various precious flora that cannot cope with the weather outside, but also an exhibition of sculptures. Walking around is a delight, and you can also follow the River Kelvin, which runs alongside the gardens and takes you to the next item on the list — Kelvingrove Art Gallery & Museum.
Pro Tip: Just outside of the Great Western and Byres Road exit stands the loveliest little police hut, all blue and looking like the TARDIS time machine from the UK cult TV series Doctor Who. Walk along Byres Street for some great little individual stores, such as the home décor store Time & Tide.
2. Kelvingrove Art Gallery & Museum
Modern Art And History
One of those typically Victorian buildings built to bring knowledge to the people — like the grand museums in London — Kelvingrove is a lovely, vast building filled with displays that have something for everybody. There is the building with its magnificent staircases and modern art — such as Sophie Cave's Hanging Heads installation — dotted throughout. There is a room of Mackintosh furniture and there is history. The history ranges from Egyptian artifacts and Scottish history to stuffed animals, including a highland cow's calf (sad, but adorable) and much more. Eclectic for sure, but the museum will keep you busy and is perfect for a rainy day.
Pro Tip: Entrance to the museum is free. If you want to add to the experience, head inside at 1 p.m. each day for an organ recital (3 p.m. on Sundays).
3. Riverside Museum
Architectural Treats
Follow the River Kelvin down to where it flows into the larger River Clyde and you'll find the Riverside Museum. Not only is this a building by my favorite architect, the late Dame Zaha Hadid, but there is also more to the museum and surroundings than you'll appreciate at first glance. The museum offers another eclectic mix and a quirky assortment of Glasgow's transportation and technology history. This might sound boring, but it is an entertaining slice of Glasgow life, filled with cars, trains, ships, and more. And speaking of ships, there is The Tall Ship Glenlee moored right behind the museum, which is worth a closer look. And don't miss the fabulous little gift shop by the entrance of the museum. It has some wonderfully quirky souvenirs for you to bring home.
Pro Tip: If you continue on along the Clyde, you'll end up walking past the Clydeside Distillery and end up at the wonderfully nicknamed Armadillo — a concert hall shaped like something crossed between the Sydney Opera House and an armadillo.
4. Gallery Of Modern Art
Modern Art In A Historic Venue
When my friend heard that I was on the way to Glasgow, she immediately said to look out for the "dude on a horse with a cone on his head." I did not think much more about this, until I found myself in front of the neoclassical Gallery of Modern Art, with the very "dude" right outside the entrance. The dude in question is in fact Duke Wellington. Although a classical statue at first, since the 1980s, he has always worn a traffic cone on his head and has become the icon of Glasgow. The statue pretty much sums up the gallery, with its juxtaposition of old and modern art. The building itself is a gorgeous 1778 former private home with an exquisite interior and makes for a great setting for very contemporary art.
Pro Tip: Walk to the main shopping drag along the left hand side of the gallery, through Exchange Square to Buchanan Street.
5. City Chambers
A Grand Staircase
Steps away from the Gallery of Modern Art lies George Square, the heart of Glasgow where many events are held, including the Christmas Fair. On the right side, coming up along Queens Street, lie the City Chambers, housing Glasgow's council offices. A nice enough building from the outside, with turrets and a façade somewhat reminiscent of the Hôtel de Ville in Paris, it comes into its own inside. The grand staircase, vaulted ceilings, and tiled floors are especially worth popping in for, but there are also other rooms to be admired. It's best visited via one of the public tours, giving you some of the history of this beautiful building.
Pro Tip: Practically next door is the Piper Whiskey Bar if you fancy a drink in a traditional pub setting.
6. Mackintosh Guided Tour
Charles Rennie Mackintosh is probably the best-known son of Glasgow. He was an architect, designer, and artist who left his mark on the city and helped spread its fame. What could generally be described as Art Nouveau has been made into a style immediately recognizable as Mackintosh's work; with a more severe approach to the organic curlicues so iconic of the style.
You might have already seen some of his work in the Kelvingrove Art Gallery & Museum, but you can really be immersed in the Willow Tea Rooms on Sauchiehall Street, the Glasgow School of Art building, and The Lighthouse (sadly closed at the moment, but hopefully opening again soon). For the background and history of his style and influence, book yourself a guided walking tour.
Pro Tip: Together with his wife and two other designers, Mackintosh formed a group called "The Four," more liked and influential on the continent than in his hometown.
7. Glasgow Cathedral
Medieval History
Dating to 1197, Glasgow Cathedral is famous for its age, beautiful architecture, and stained-glass windows. It is also the oldest church and only medieval cathedral found on the Scottish mainland to still be standing nearly perfectly intact after the Protestant Reformation of 1560. The cathedral is dedicated to Saint Kentigern — the patron saint of Glasgow, also known as Saint Mungo — who is buried in the church.
Pro Tip: Behind the cathedral lies the atmospheric Glasgow Necropolis, a vast Victorian cemetery filled with grand tombs. Go on a guided tour to hear some incredible stories.
8. Ardnamurchan Restaurant
Sample Some Haggis
You cannot come to Glasgow without trying some good, traditional Scottish food. While a lot of it is fresh seafood based because of the city's proximity to the ocean, there are local specialties such as haggis, usually served with neeps and tatties; Cullen skink; and stovies, which are a must-try. In the case of haggis, try not to read the ingredients list. Instead, allow yourself to be wowed by the excellent taste. There are many restaurants that serve the best-loved local dishes, but my favorite is the Ardnamurchan Restaurant for its mix of modern settings and traditional food options.
Pro Tip: A great way to learn more about traditional Scottish foods, and try them with a bit of wine and whisky, is on a Glasgow Food Tour.
9. Falkirk Wheel
Unique Engineering
After the transport history in both the Riverside Museum and the Kelvingrove Art Gallery & Museum, I give you another quite unique transportation-related must-see: The Falkirk Wheel. Lying some 23 miles roughly a 30-minute drive outside of Glasgow, it is a bridge-cum-lock invention that connects the Forth and Clyde Canal to the Union Canal. Because one canal lies 115 feet higher than the others, the two canals used to be joined by 11 locks that took all day to traverse.
Opened in 2002, what The Falkirk Wheel does is provide a basin for a canal boat, closing it in, complete with water and all, and turning the wheel until the boat reaches the lower — or upper — section. This cuts travel time to a couple of hours or so. It is a bit like a Ferris wheel for boats. You can even go for a ride yourself.
Pro Tip: Nearby you can visit the world's largest equine sculpture, Home of the Kelpies, by Andy Scott. Kelpies, according to Scottish legend, are shape-shifting water horses.