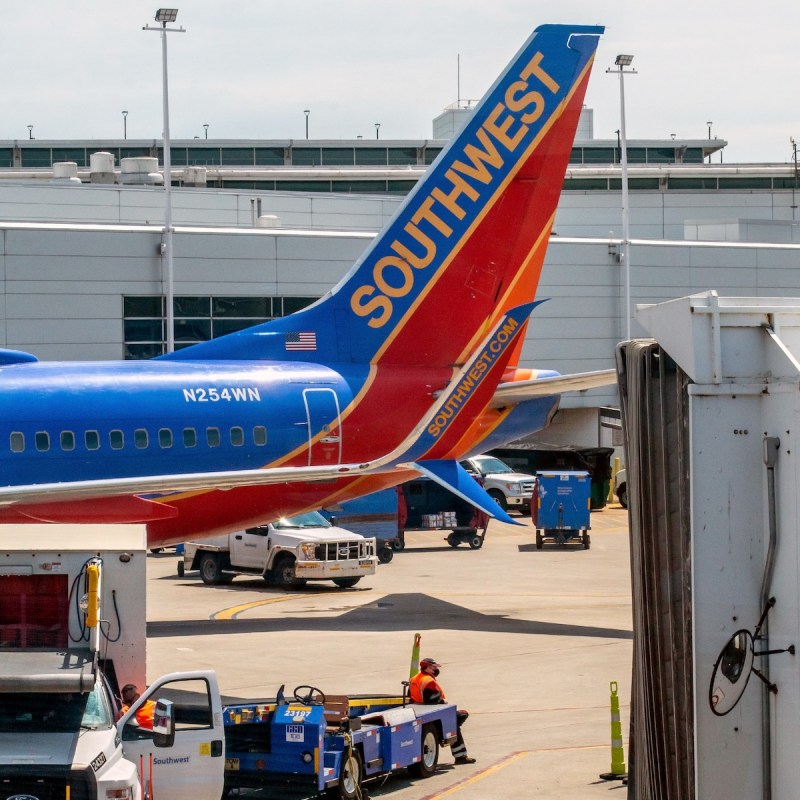 Last December didn't go as planned for Southwest Airlines.
A significant winter storm during the busy holiday travel period crippled the airline's operations, forcing Southwest to ultimately cancel nearly 17,000 flights — stranding tens of thousands of passengers. As a result, the airline ended up losing millions of dollars of revenue, according to CNBC.
Since then, Southwest has been working with aviation consulting firm Oliver Wyman to assess what happened, identify the root cause of the disruptions, and develop a three-part "Tactical Action Plan to boost operational resiliency in key areas across the company," Southwest explains.
"We understand the root causes that led to the holiday disruption, and we're validating our internal review with the third-party assessment," Bob Jordan, Southwest's president and chief executive officer, said in a statement. "Now we expect to mitigate the risk of an event of this magnitude ever happening again."
The events last December began with Winter Storm Eliot, which was more sudden and severe than predicted, Jordan recently said at an event, according to Aviation Week. Secondly, "outsized impacts" at Denver and Chicago Midway, two of Southwest's largest airports, resulted in "waves and waves" of close-in flight cancellations, with multiple-day airport shutdowns, continued Jordan.
"While the airline had existing technology and staffing in place to handle many types of irregular operations, the pace and breadth of disruptions during this extreme event strained the ability to create timely operational solutions," Southwest explains.
"I'm very encouraged by the work underway to address the challenges we faced in December," said Andrew Watterson, Southwest's chief operating officer. "I'm confident in our path forward and truly believe our best days are ahead."
Here's an overview of Southwest's three-part "Tactical Action Plan."
Accelerate Operational Investments
Before the storm last December, Southwest had already begun what it calls a 5-year "Operational Modernization Plan to support operational resiliency." While many of the initiatives in that plan are already underway, the airline is now focusing on prioritizing plans to implement new technology that will allow it to recover from extreme events quickly.
Indeed, Southwest now plans to spend more than $1.3 billion on investments, upgrades, and maintenance of information technology systems in 2023.
For example, crew optimization software has already been upgraded. Southwest will also upgrade crew scheduling and customer phone systems to provide "better surge protection and efficiency during periods of high call volumes."
Prepare For Winter Operations
Importantly, challenges with "infrastructure, winter equipment, and winter weather preparedness" either have been or will be addressed as Southwest prepares to avoid an incident such as the fallout from the winter storm last December.
That includes, for example, purchasing more deicing trucks, securing more deicing pads and deicing fluid capacity at important airports, and buying more engine covers and engine heaters for cold weather operations. In fact, Jordan recently said Southwest is in the process of purchasing five deicing trucks for both the Denver and Chicago Midway airports, according to Dallas Morning News.
Southwest notes that it also will boost its winter staff levels so it will be better prepared for times when ground operations staff is limited to the number of hours they can work outside in extreme temperatures.
The airline also plans to implement a new weather application that will give crews more real-time and dynamic weather indications so they can better determine when aircraft must be deiced before departure.
Cross-Team Collaboration
The final part of Southwest's tactical action plan is to ensure operations staff are all working together with the same objectives in mind.
For instance, Southwest has already taken steps to align various network planning and network operations control teams so they have one senior leader. That way the teams can better execute operational plans, according to Southwest.
The airline has also enhanced data on its early-indicator dashboards to highlight key operational metrics. Other plans call for Southwest to "better integrate aircraft and crew recovery decision making and optimization."
For more travel news about flying, be sure to read: