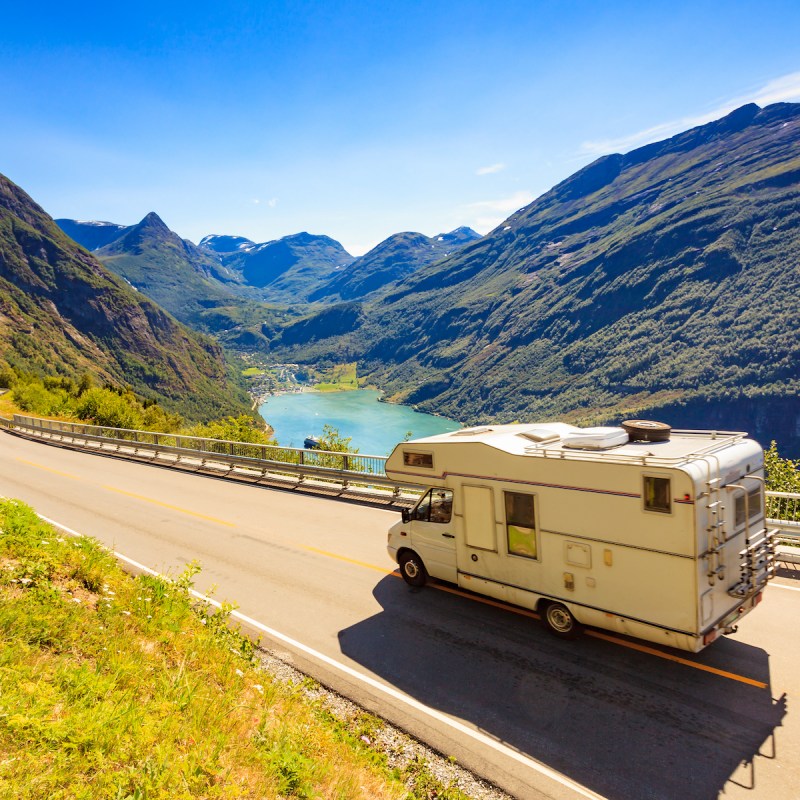 Rising costs and inflation putting a damper on your summer plans? There's a way that you can still go on vacay without busting your budget. Enter RVing. Whether camping out in one spot or going on a road trip, RV travel can save you big bucks. Let's compare the cost of air travel and a hotel to an RV vacation.
Flights Vs. Cost Of RV Rental
Flights aren't cheap anymore, folks. According to the Bureau of Transportation Statistics (BTS), the average domestic itinerary fare in Q3 of 2022 was $382.55. Add baggage fees — then multiply per person and costs can add up quickly. And that doesn't even take into account transportation to and from the airport or parking fees.
Conversely, RV rentals from RVshare start as low as $50 a night for pull-behind travel trailers and $75 for drivable motorhomes. Of course, the cost of renting an RV can vary depending on the size and type of vehicle. However, even if you go with a more expensive option, you will be dividing the cost between the people in your party instead of multiplying.
Plus, you get all of the pros of traveling in an RV as opposed to flying. You don't have to wait in line at TSA. Unlike a flight, your RV is unlikely to be canceled. There's no chance of losing your bags. And if you have a pet, they can come along without having to jump through airline hoops.
If you take a road trip in an RV, the journey becomes the destination. Unlike air travel, you can stop wherever you want. An RV adventure gives you the opportunity to experience local eateries, roadside attractions, scenery, and landmarks along the way. Plus, the trip is likely to be much more memorable than a flight.
Transportation Vs. Gas
If you are staying at an RV in a campground or if you opt to have your RV delivered, gas prices may not even factor into the equation, but of course they will if an RV road trip is on your agenda. Figuring the cost is as easy as multiplying miles by the price of gas. For more info, see RVshare's Ultimate Guide to RV Gas Mileage and tips on taking an affordable RV trip.
In contrast, flying to your vacation destination means you'll need to arrange ground transport. According to a study by NerdWallet, the average cost of a rental car is about $500 per week. Rideshares are another option. Costs vary by city, time of day, and length of ride, but Uber and Lyft rides certainly aren't getting any cheaper. Taxis and public transportation, alternatively, are not always available.
Hotel Stay Vs. Campsite
Looking at the price tag on any hotel or motel room stay versus a campsite at any campground and the campground is always going to be the more cost-effective option. Just like air travel, the cost of hotel accommodations varies widely depending on where you are staying, the time of year, and the length of stay. Statista estimates that the average hotel rate last year in the U.S. was about $145, but Hopper reports that hotel rates are now more than 50 percent higher than in January 2022.
Vacation rentals and hotels can be quite expensive, especially if you are traveling to a popular destination during peak season, even if it isn't a luxury or high-end stay. On the other hand, RV vacations can offer a more budget-friendly travel option with accommodations at about $30 for a campsite per night. Campsites at popular destinations such as national parks fill up quickly, so be sure to book ASAP!
Eating Out Vs. Cooking
Not only can you skip shelling out big bucks on airport food, but RV travel allows you to save money on food expenses because you can buy groceries and prepare meals yourself instead of eating out at restaurants. Of course, if you have a hotel room with a kitchenette or a vacation rental, then cooking is still an option. There's also something to be said for not having to grocery shop and do dishes while on vacation. But three meals a day per person gets pretty pricey pretty quickly!
More Considerations
Overall, while the cost of air travel and hotels can be high, an RV vacation can offer a more budget-friendly alternative. However, it's important to consider your individual travel needs and preferences to determine which option is the best fit for you. Here are some more factors to consider in your cost comparison:
How many people will you be traveling with?
How many miles away is the destination from your home?
Is RV delivery available?
How long is the trip?
No matter where you're traveling this summer, it's best to book as soon as possible as prices continue to balloon. To get the best deals, book your RV getaway ASAP!
Related Reading: