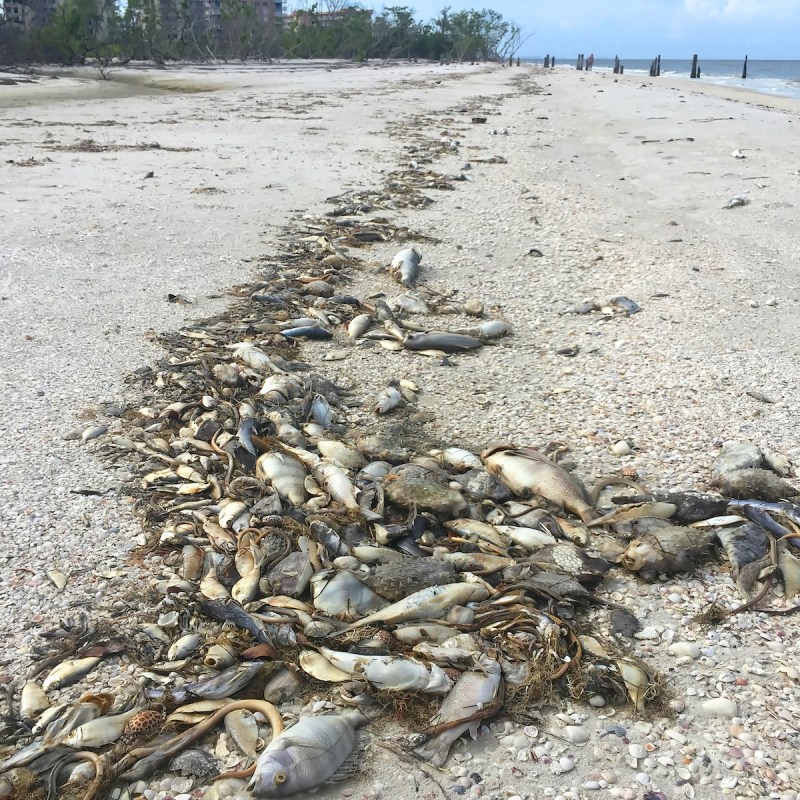 People heading to some Florida beaches are dealing with bad smells and discomfort instead of relaxation. Red tide has been found on beaches along the western coast of Florida in the Gulf of Mexico. It has not been detected on the eastern coast.
The worst areas are the places where people like to enjoy spring break. According to the Florida Fish & Wildlife Conservation Commission, counties in Southwest Florida — including Pinellas, Hillsborough, Manatee, Sarasota, Charlotte, Lee, Collier, and Monroe — are experiencing low-to-high concentrations of the bloom. These counties are home to popular areas like Clearwater Beach, Siesta Key, Naples, and Fort Myers.
What Is Red Tide?
In Florida, Karenia brevis, the species that causes red tide, creates higher-than-normal amounts of microscopic alga. It can make the water a red, dark green, brown, or cloudy color.
Red tide can last days, weeks, months, or even years. It can fade and then return. Currents and a shift in wind direction can cause changes in red tide on a daily basis.
No one thing causes red tide. Florida Fish & Wildlife says it's been happening in Florida long before the coasts were developed. According to the website, "Blooms form because of interactions between biology, chemistry, and currents that unite with light and carry red tide to the beach."
Is Red Tide Harmful?
Red tides produce toxic chemicals that can have negative impacts on marine life and humans. The Florida Department of Health says while some people swim in the water with red tide, it can cause skin irritation, rashes, and burning of the eyes. If this happens, you should get out of the water and rinse off.
If you're on the beach, you may notice watery eyes, a stuffy nose, and coughing. Once you leave the beach, these symptoms should go away, but if they don't, you should see your doctor. People with respiratory issues like asthma, emphysema, or bronchitis should avoid areas with red tide as it could make your condition worse.
Florida Fish & Wildlife is reporting fish kills in each of the counties where there is red tide. Dozens of dead fish and other marine life have been found along the beaches. Karenia brevis produces toxins that affect their central nervous systems, causing them to die.
Dealing With Red Tide
There are ways you can check conditions before you head out to the beach. The Gulf of Mexico Coastal Ocean Observing System (GCOOS) has an interactive map that updates daily with respiratory issues caused by red tide.
Mote Marine Laboratory also has a Beach Conditions Report that tells you whether dead fish are on the beach, what color that water is, wind direction, and respiratory conditions.
To read other articles about Florida, check out: